An archeological dig in Buckinghamshire is dredging up artifacts from England's remote past—ahead of a high-speed rail that's laying the groundwork for UK's rapid land-transportation future.
Researchers from high-speed rail project HS2 unearthed at Stoke Mandeville a set of remarkable Roman busts from beneath what was once a Norman village church. The HS2 research team are calling the find "uniquely remarkable for us as archaeologists" and a "once-in-a-lifetime" discovery.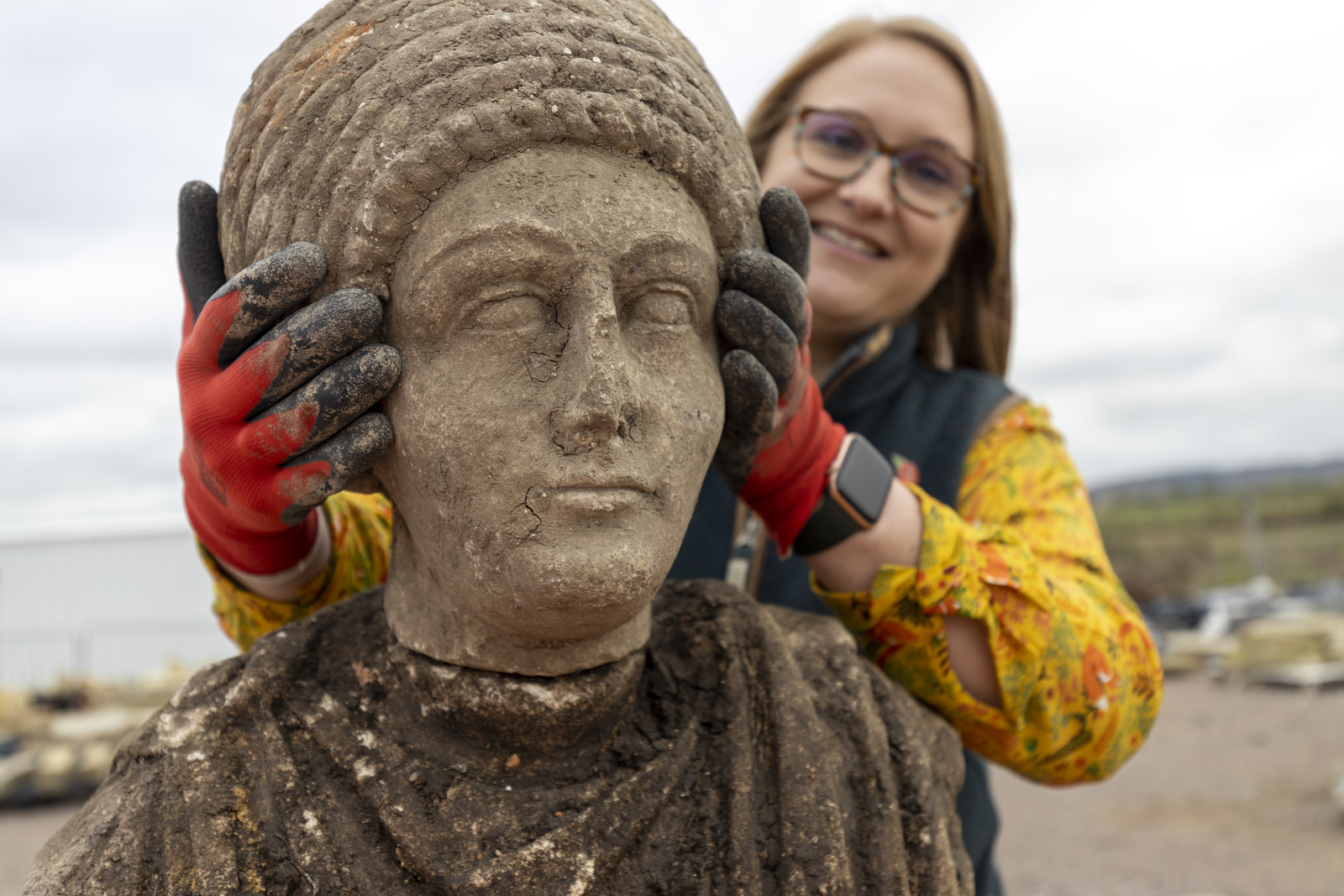 Atop a natural earthen mound at the site, additional soil might have been added to form what once was a Bronze Age burial ground, later to be replaced by a square structure which could originate from Roman times, according to an HS2 press release.
During the Norman Conquest, the village church St. Mary's was built directly overtop of this square structure, which had been demolished after possible reuse during the Saxon age, without dirt accretion between layers. Saxon pottery was found in a cut of the ditch, as well as a Saxon coin.
The leveled Roman building was probably a mausoleum, researchers said, judging from the unusually ornate and sparsely distributed items found therein, which is atypical of domestic buildings.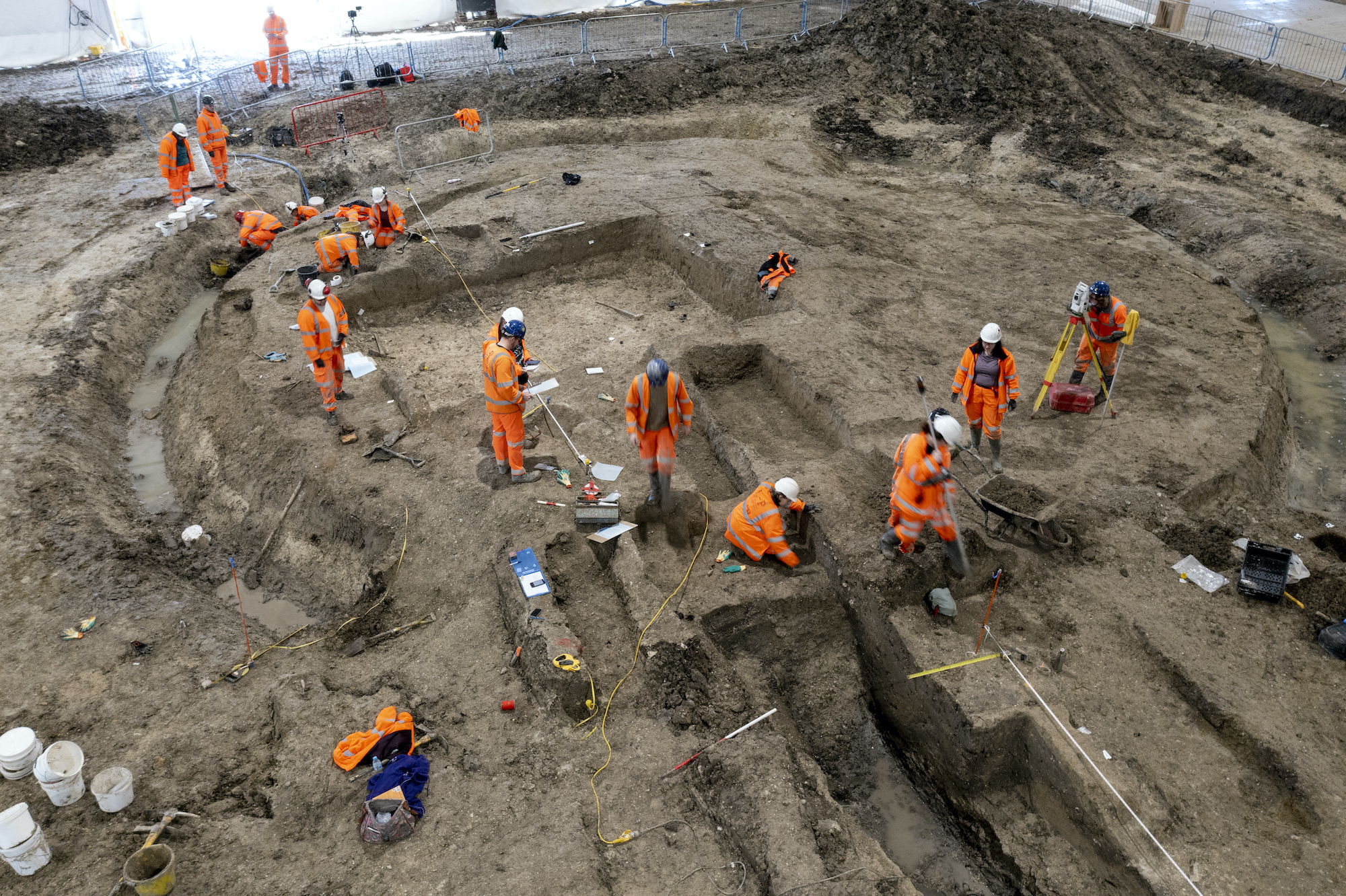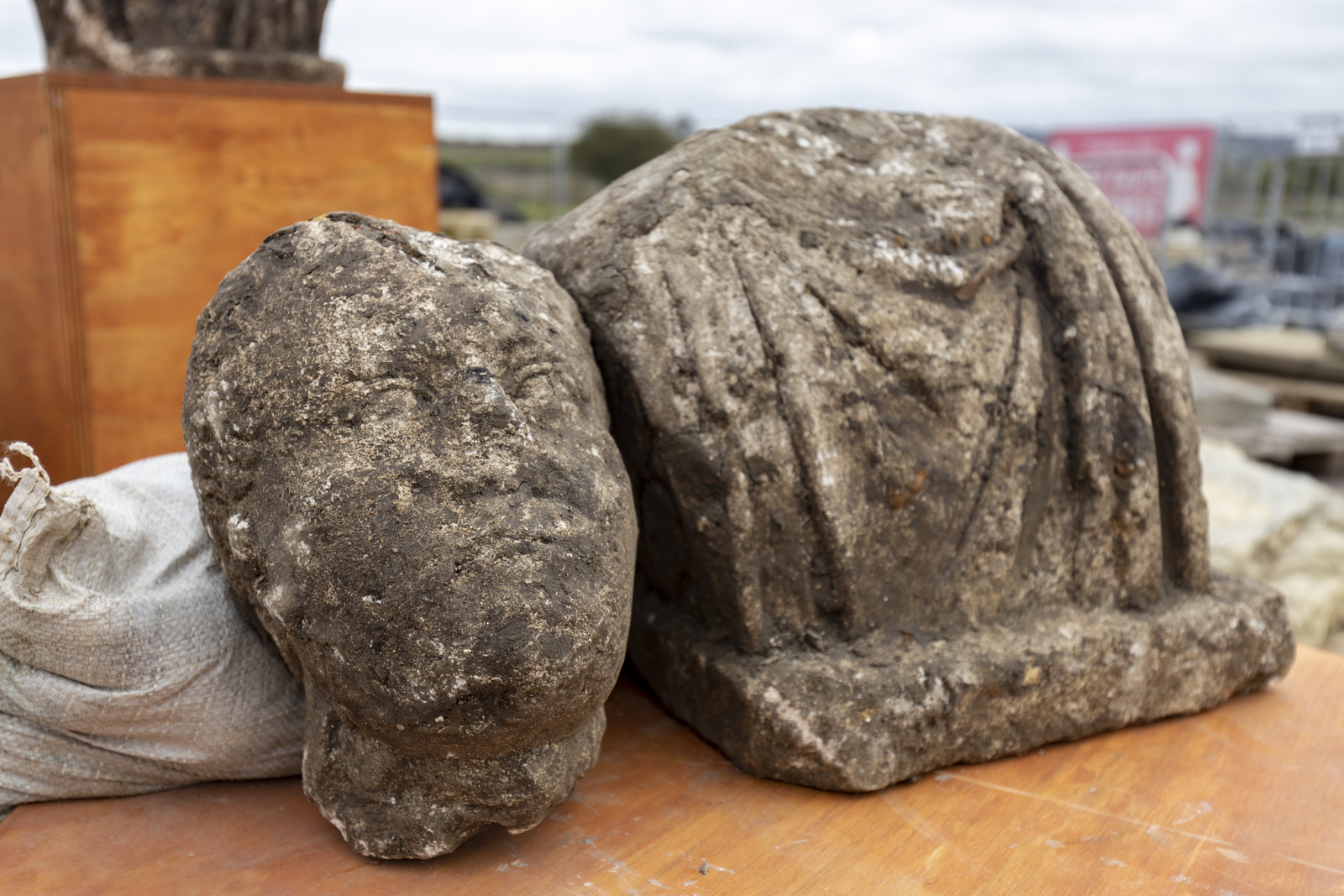 Archaeologists excavated from a ditch surrounding the foundation of an Anglo-Saxon circular tower two Roman busts, each with heads separated from their shoulders, plus a third head with no body. The two busts depict adults, one male and one female; the third head depicts a child.
"For us to end the dig with these utterly astounding finds is beyond exciting," said Dr. Rachel Wood, lead archaeologist contractor with Fusion JV. "The statues are exceptionally well preserved, and you really get an impression of the people they depict—literally looking into the faces of the past is a unique experience.
"Of course, it leads us to wonder what else might be buried beneath England's medieval village churches. This has truly been a once in a lifetime site and we are all looking forward to hearing what more the specialists can tell us about these incredible statues and the history of the site before the construction of the Norman church."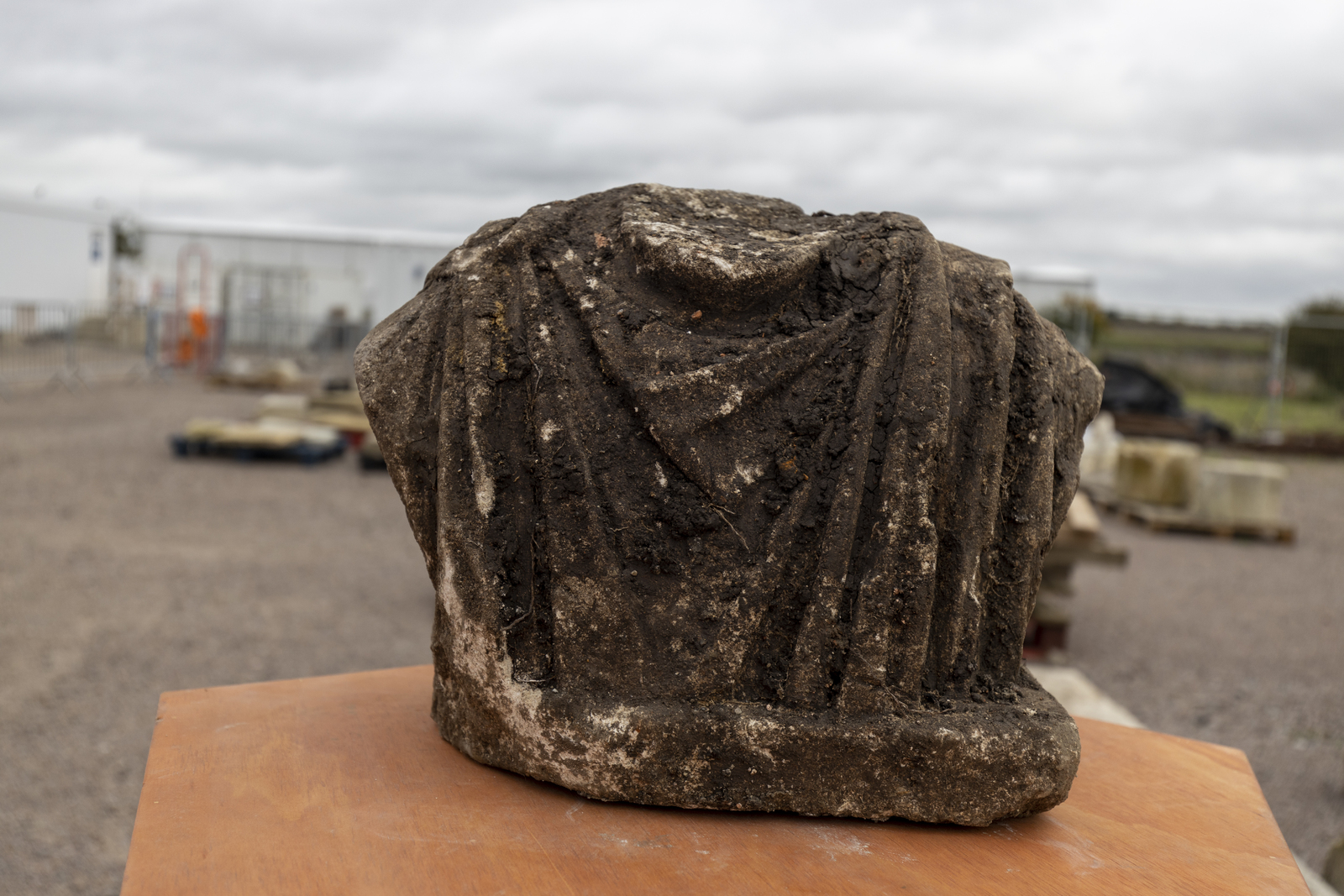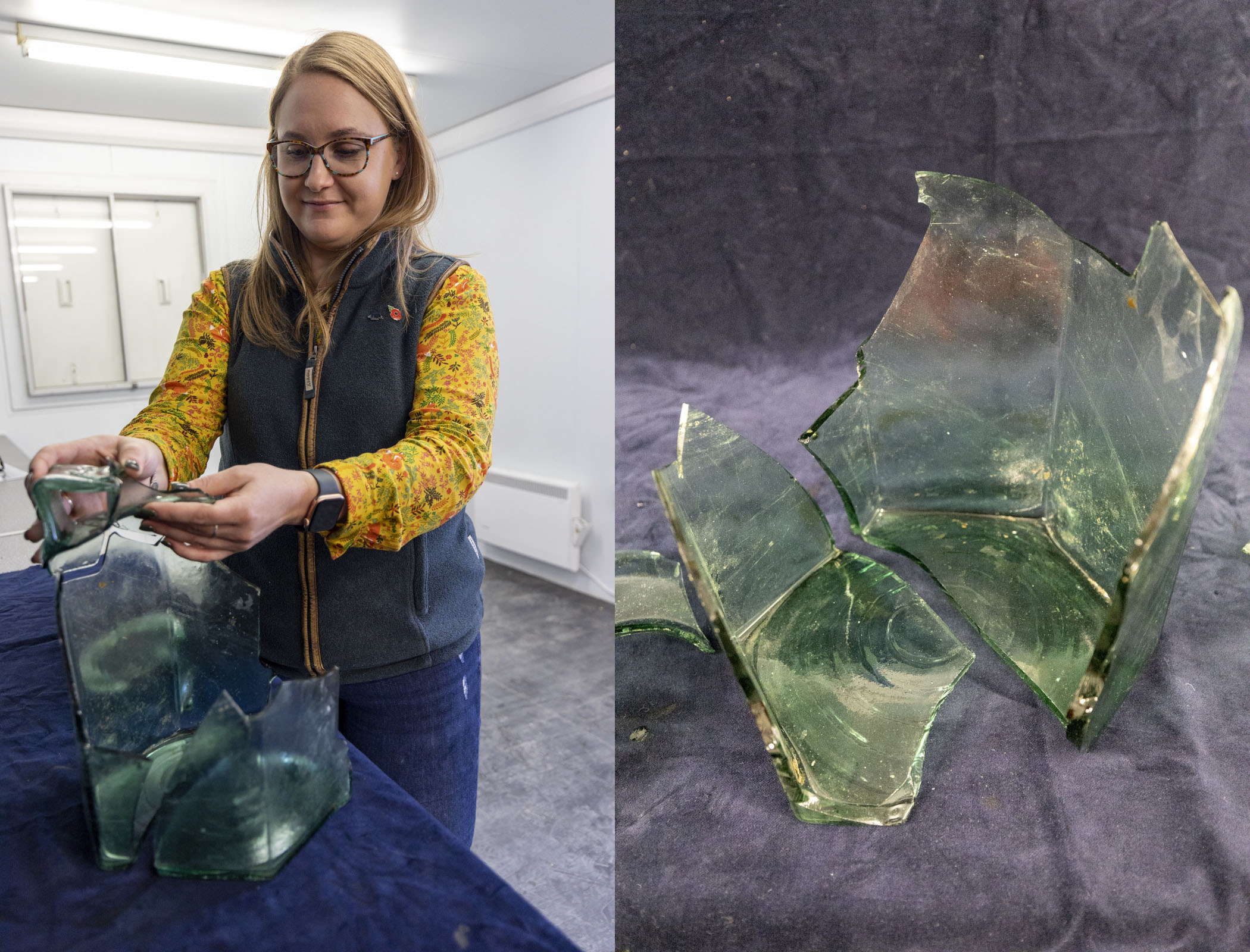 Along with the figures, an incredibly well-preserved hexagonal glass Roman jug was recovered nearly in its entirety, it's believed, which despite being over 1,000 years old, has most of its pieces still intact. The team identified only one comparable container for comparison: a glass vessel on display in the Metropolitan Museum in New York. Other finds from the site include large roof tiles, painted wall plaster, and Roman cremation urns.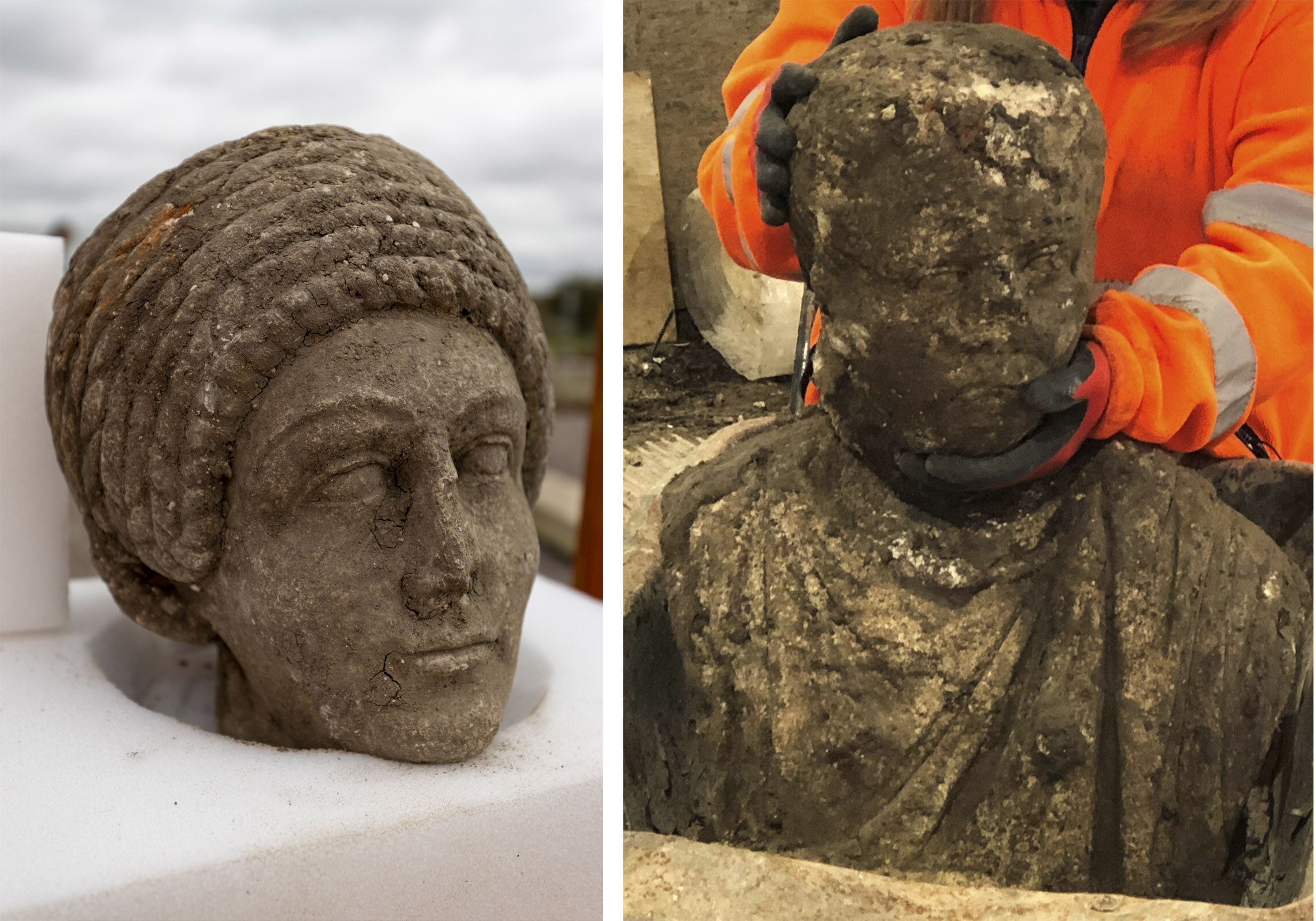 "HS2's unprecedented archaeology program has given us new insights into Britain's history, providing evidence of where and how our ancestors lived," said Mike Court, lead archaeologist at HS2.
"These extraordinary Roman statues are just some of the incredible artifacts uncovered between London and the West Midlands. As HS2 builds for Britain's future, we are uncovering and learning about the past, leaving a legacy of knowledge and discovery."
The ancient sculptural objects will be transported to a specialist laboratory to be cleaned and further studied. As Roman statues were once painted in bright colors, creases on the artifacts will be analyzed to search for traces of paint pigment. Where the remarkable Roman figures will end up will be decided in due course.
Share your stories with us at emg.inspired@epochtimes.com, and continue to get your daily dose of inspiration by signing up for the Epoch Inspired newsletter at TheEpochTimes.com/newsletter