Peering into my refrigerator—which seems to have become my favorite pastime over the past month—I am faced with a mountain of vegetables. They no longer fit into the crisper drawers; instead, they are spilling out onto the shelves, intermingling with the milk and the cheeses, draping themselves over the miso paste and the pickle jar.
I am having not one, but two CSA (Community Supported Agriculture) boxes delivered to my house every week from local farms. It's an effort to support small local farms in my region, as well as to feed my family safely by limiting trips to the grocery store—and the results have been delicious.
Farm-to-Doorstep
Small family farms have been severely hurt by the effects of the pandemic, as health and social distancing restrictions are inhibiting their sales at farmers markets and to now-shuttered local restaurants. Many have completely changed their business models in a matter of weeks to adapt, including pivoting to home deliveries in efforts to keep cash flowing. 
I've been buying produce from Hall's Organic Farms in Monterey County since I first moved to Carmel in 2017. They have a stand at the Thursday market in downtown Carmel, where, until my recent move up to the valley, I walked every single week. 
Like most of the farmers I interact with at the market, Stevie Hall, a first-generation organic farmer, is a really, really good guy. He's kind, he's always slinging out samples of his delicious fruits and vegetables, and he'll let you pay him next week if you've run out of cash by the time you reach his stand. When I taught a kid's cooking camp last summer, we took a field trip to the market every Thursday and he'd hand out tons of samples, help me teach the kids how to pay for their produce, and field their questions about organic farming. 
Shortly after the Shelter In Place policy was enacted in Monterey County, I received a text from a friend: "Text this number to order organic produce from Hall's to your house—the strawberries are insane!" I obviously immediately texted, received a list of produce from which to choose in response, and shot back my order. 
The next day, everything showed up on my doorstep. Beautiful, fresh-from-the-fields produce, delivered to my doorstep! Even with everything that's going on in the world right now, I couldn't help but feel a bit giddy at the sight of it.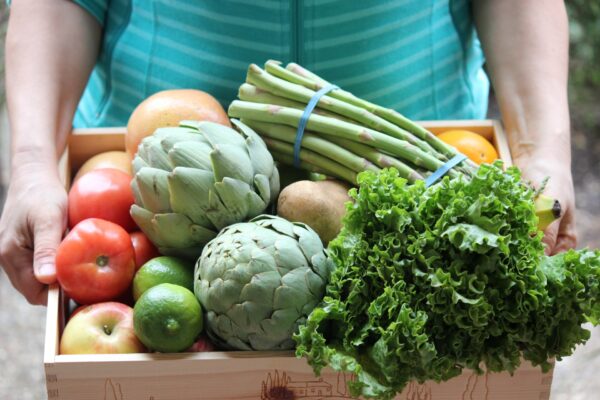 I was lucky to get the word about Hall's from a friend, but here are ways to track down similar small farm deliveries where you live:
Post on NextDoor.com, a community site for the specific neighborhood where you live, and ask if anyone has heard about CSA deliveries in the area.
Find the Facebook page for your local farmers market and search to see if any of the vendors have posted about deliveries. 
Contact your favorite farmer directly to ask! If you can't remember their name, go to your farmers market's website, search through the vendors until you find your favorite vendor, then look up their information and contact them. 
Search through LocalHarvest.org's comprehensive online catalog of CSA farms across the country; they're updating their site with new information as they get it! 
A Stir-Fry Formula
I hope everyone has been able to find silver linings during this time. For me, those silver linings have been spending more time together as a family, laughing hysterically while making tons of cooking videos on Instagram with my husband, and having my culinary creativity spurred by all of the produce arriving on my doorstep. 
I've grilled bok choy and smeared it with lemony miso butter. I haven't let a single beet green go to waste (whereas I am typically guilty of throwing them away). I've made more kale salads in the past month than I had in the previous year, each one different from and more delicious than the one before it. 
But mostly, I've been whipping up so many grain and veggie stir fries. 
I've developed a versatile stir-fry sauce using basic pantry ingredients: Soy sauce for salt and umami, sriracha for heat, sesame oil for nuttiness, and rice vinegar for a bit of tang and contrast. I've suggested a substitute for every single one of these ingredients below, in hopes that you can make this dish on any given night, without a run to the store.
For the grains and veggies, a mix of dense vegetables and tender greens, I've provided more of a loose formula than a strict recipe, so that you can use up whatever needs to be eaten at your house. Let your gut tell you which vegetables will take longer to cook—if you're using both a really dense vegetable, like a carrot, and a tender vegetable, such as corn, add the carrot to the pan several minutes before the corn—but don't stress too much over it. 
I tested this recipe multiple times to get the ratio of sauce to grains and veggies just right, each time using whatever produce I had on hand. For one test, I had only a white onion, green cabbage, and brown rice. For another, I had an array of spring vegetables—asparagus, scallions, carrots, and cilantro. And for yet another, a disproportionate amount of celery dominated the mix. I would never have thought to throw celery into a stir fry, but it was absolutely delicious: it became perfectly crisp-tender, and added a really fresh flavor to the entire dish. 
All this is to say: there are no rights or wrongs with this anything-goes stir fry. The sauce will bring all of the different flavors together cohesively, and you'll find yourself stir frying anytime your fridge becomes too full of veggies.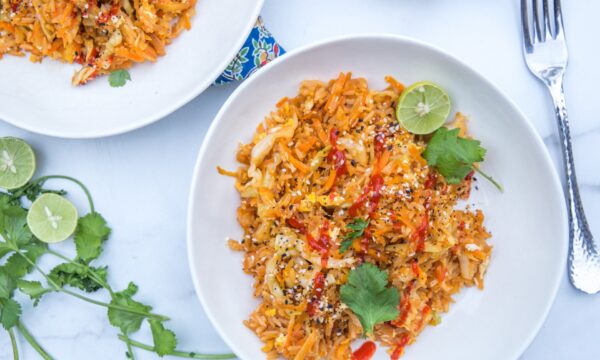 Anything-Goes Stir-Fried Grains and Veggies
Serves 2 generously
1/4 cup soy sauce
2 tablespoons rice vinegar
1 tablespoon sriracha
1 tablespoon sesame oil 
2 tablespoons water
1 teaspoon honey
2 tablespoons neutral cooking oil (such as vegetable, coconut, avocado, olive)
2 to 3 cups diced dense vegetables 
1/2 cup finely chopped onion 
3 cloves garlic, thinly sliced
1-inch piece fresh ginger, grated or finely minced
2 cups cooked rice, or other grain (preferably day-old; leftover rice works great)
1 packed cup finely chopped leafy greens 
2 large eggs
Optional for garnish: sriracha, sesame seeds, cilantro, chives, lime wedges
Whisk together the soy sauce, rice vinegar, sriracha, sesame oil, water, and honey in a small bowl. Set aside.
Warm oil in a 12-inch nonstick skillet over medium-high heat. Add the diced vegetables and onion and stir frequently using a wooden spoon for 3 to 4 minutes, or until almost tender. Stir in the garlic and ginger and cook for another 30 seconds.
Stir in the rice, greens, and soy sauce mixture and stir until everything is coated in sauce. 
Push the rice to the side to create a large clearing. Crack the eggs into the skillet and use the wooden spoon to scramble rapidly. When the eggs are cooked, stir them into the rice. 
Serve immediately.
Recipe Notes
The sky is the limit here! You can truly use absolutely any vegetables or grains here and make a fabulous meal. Even the sauce ingredients and aromatics can be swapped out for what you have, proof that you can cook any recipe if you think creatively about what's in your pantry. Here are some suggested substitutions:
Soy sauce: Coconut aminos, tamari
Rice vinegar: Lime or lemon juice, or any light-colored vinegar
Sriracha: Any Asian hot sauce, or 1/4 teaspoon red pepper flakes
Sesame oil: Peanut butter, tahini, almond butter, cashew butter, sunflower butter
Honey: Sugar, maple syrup
Dense vegetables: Broccoli, celery, asparagus, carrots, fennel, radishes, bell peppers
Onion: Green/spring, white, yellow, and red onions all work
Garlic cloves: 1/4 teaspoon garlic powder, or omit
Fresh ginger: 1/4 teaspoon ground ginger, or omit
Rice: Any cooked grain (I made a lovely version with half jasmine rice and half barley) or noodles (ramen, soba, or spaghetti would be my picks) 
Leafy greens: Spinach, Swiss chard, beet greens, dandelion greens, kale, bok choy
Eggs: If you don't have them, omit them! You could also stir in some cooked, chopped, or shredded meat at this point.
Caroline Chambers is a recipe developer, food writer, and author of "Just Married: A Cookbook for Newlyweds." She currently lives in Carmel Valley, Calif., with her husband, George, and son, Mattis. Follow her on Instagram for cooking tips and snippets from her life in Northern Calif. @carochambers