This holiday season, entertaining as we knew it is no longer so. How things have changed! I am not throwing our annual Christmas cocktail party, nor entertaining business colleagues, nor going to our local lighting of the tree.
We won't be entertaining on Christmas Eve, or making Christmas Day breakfast for a houseful of family and friends, or hosting a casual Boxing Day lunch to exchange presents.
So, to cheer up my friends and get into the seasonal spirit, I decided to celebrate by doing a series of micro-Christmases, recreating traditional feasts from different countries on a smaller scale.
One evening, I made my version of the classic Italian Festa dei Sette Pesci, the Feast of the Seven Fishes. In Italy, it is custom to not have meat on Christmas Eve, but a meal of either seven kinds of fish, or fish made in seven different ways.
We had marinated anchovies as hors d'oeuvres, and for dinner, cioppino, an Italian American seafood stew with clams, mussels, shrimp, and scallops in a light tomato broth, followed by grilled branzino and gnocchi in a creamy sauce. And of course, there was panettone for dessert. During dinner, we listened to The Three Tenors singing Christmas carols and we all felt like we were in Rome.
Another night, we made an Austrian feast inspired by their traditional Christmas carp cooked in butter. I made roasted sea bass with dill and baby potatoes, and served it with a chilled Riesling wine. For dessert, we had sachertorte, purchased at our local pastry shop.
I resisted the urge to decorate the Christmas tree with real, lit candles, an Austrian tradition, but we did listen to the Vienna Boys' Choir sing even more beautiful carols, and were transported this time to the Alps.
This week, our yuletide adventure takes us to the UK. I went to boarding school in England, and since then, I've adored visiting friends especially during the weeks before Christmas. I love feeling the nip in the air, walking along Bond Street and visiting the Burlington Arcades, caroling at Westminster Cathedral, and strolling along the Mall. Christmas in London is truly magical.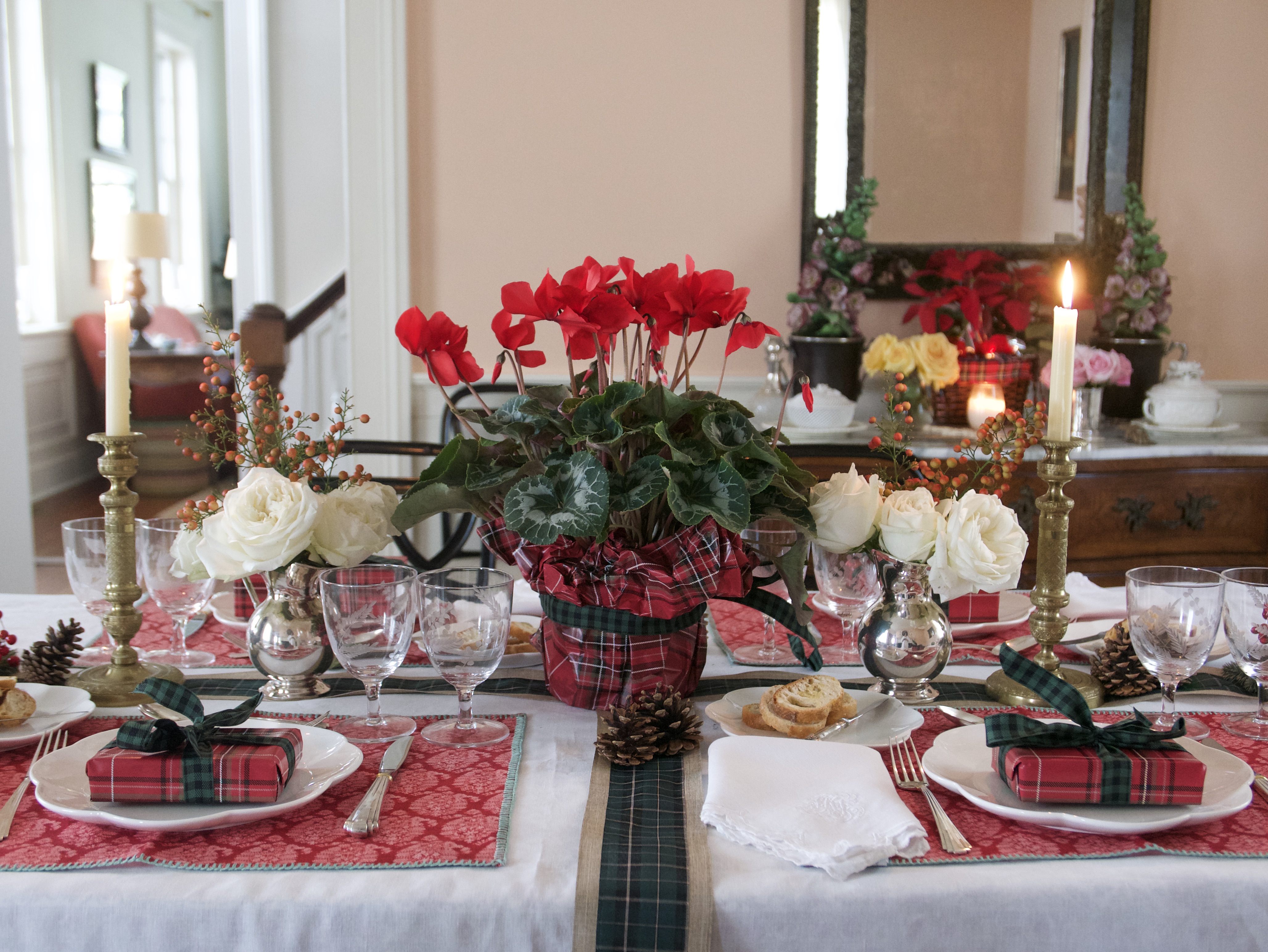 For hors d'oeuvres, I'm serving Stilton cheese, a strong-flavored blue, with toasted baguettes and vintage port. The first course is slices of Scottish smoked salmon accompanied by boiled baby potatoes and a dollop of sour cream.
For the main course, a traditional British Christmas dinner typically stars a whole roast turkey or goose. But for an option better suited for a small gathering, yet still special enough for a celebration, I chose a beautiful herb-crusted rack of lamb, cooked just rare.
The roast lamb is served with Yorkshire pudding, made using the same pan to capture all the drippings and flavor from the meat, and English peas just barely cooked, tossed with butter and fresh mint. On the side, I am arranging small bowls of whipped horseradish sauce, mint jelly, and the classic British mint sauce, made with sugar and a touch of vinegar.
For dessert, a flaming Christmas pudding with brandy butter ends the meal on a totally decadent note. We open crackers, don our paper crowns, and gather to watch, you guessed it, the Christmas episode of Downton Abbey.
Setting the Table
I have set the table in the dining room and decorated it with tartan ribbons and greenery from the garden. A red cyclamen in the center adds wonderful height and color, while white roses in silver pitchers give a serene and elegant touch.
There are presents for everyone on the plates, instead of place cards, and the backs of the chairs are each adorned with a small wreath. I love small touches that are meaningful: my favorite china and silverware, white linen napkins, and small bouquets of roses to add Christmas cheer for all.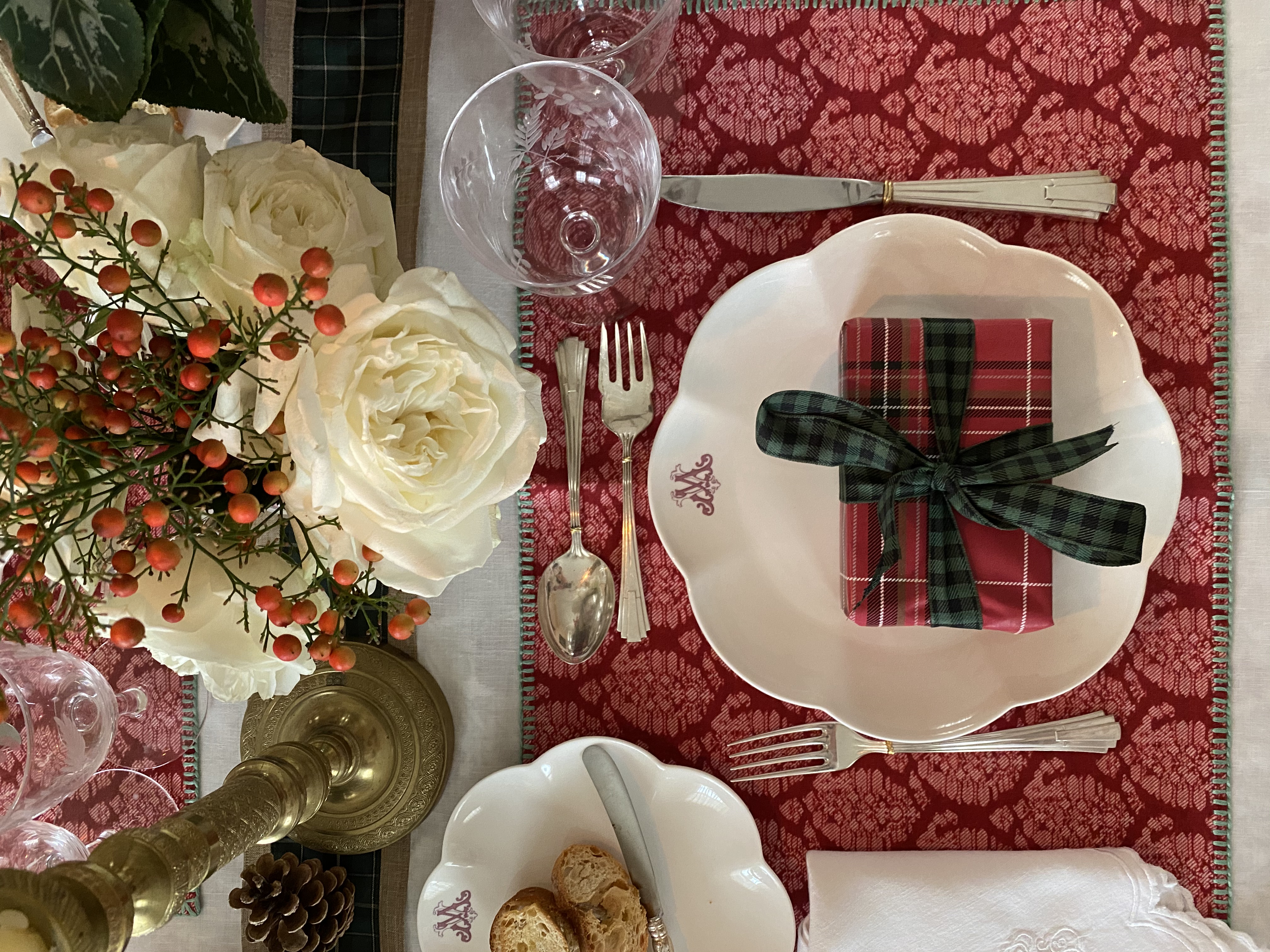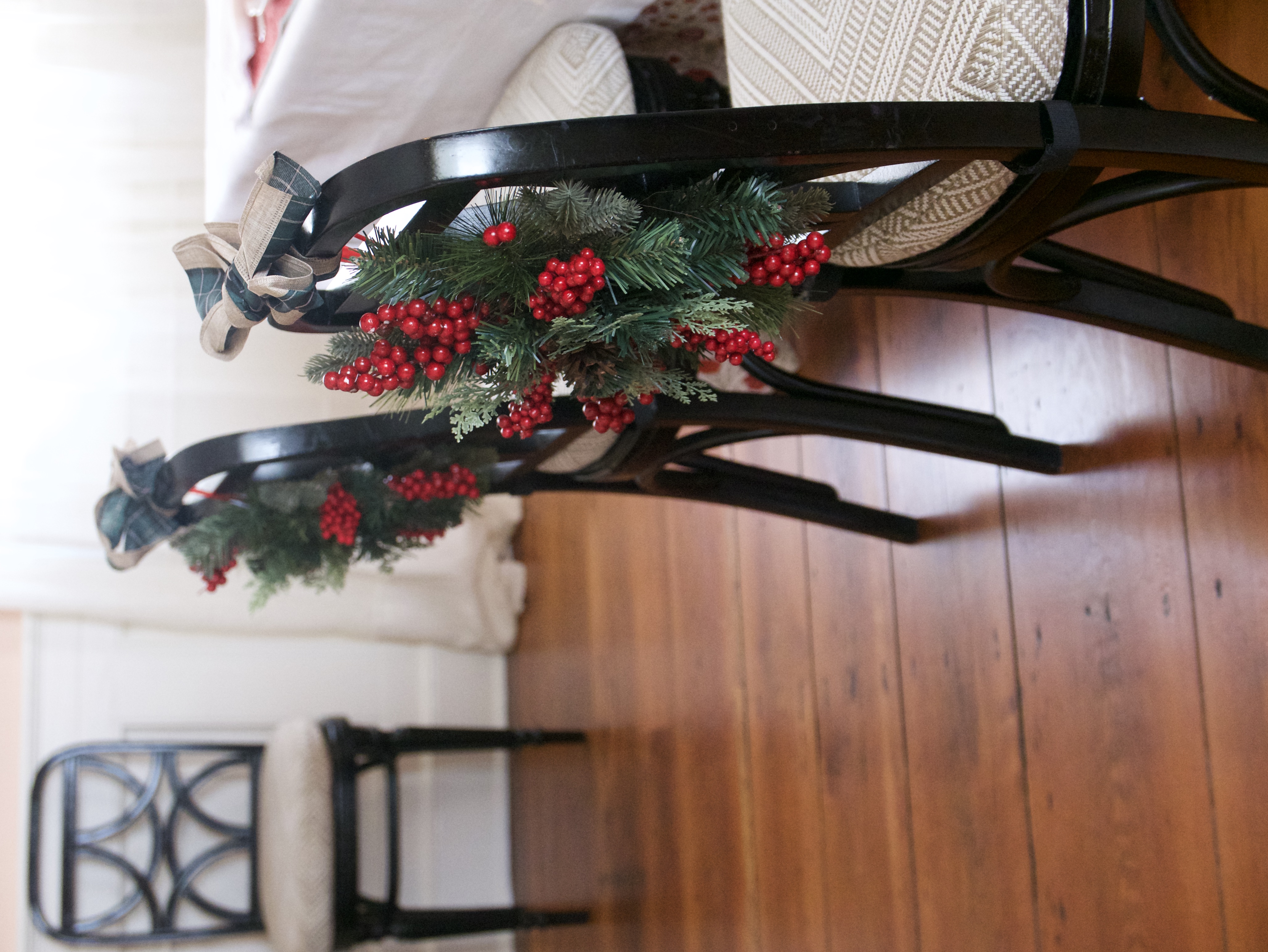 And with this, I would like to wish you a safe, healthy, merry, and very happy Christmas.
RECIPE: Herb-Crusted Rack of Lamb
Use 1 or 2 racks of lamb as needed. I usually calculate 2 or 3 chops per person, and typically racks of lamb are sold in groups of 8.
Serves 4
4 cloves of garlic, peeled and finely chopped
1/4 cup fresh herbs, such as rosemary, tarragon, thyme, and sage, stems removed and leaves finely chopped
4 tablespoons butter, at room temperature
4 tablespoons olive oil
1/4 teaspoon salt, or to taste
1/4 teaspoon freshly ground black pepper, or to taste
1 or 2 racks of lamb, frenched, 1 1/4 to 1 1/2 pounds each
In a small mixing bowl, mix together the garlic, herbs, butter, and olive oil to make a thick paste. You can make this in the food processor, for a smooth green paste, but chopping by hand is also just fine. Season with salt and pepper.
Spread the herb paste on the fatty side of the rack of lamb and let it marinate for at least 20 minutes, and no more than 1 hour, at room temperature.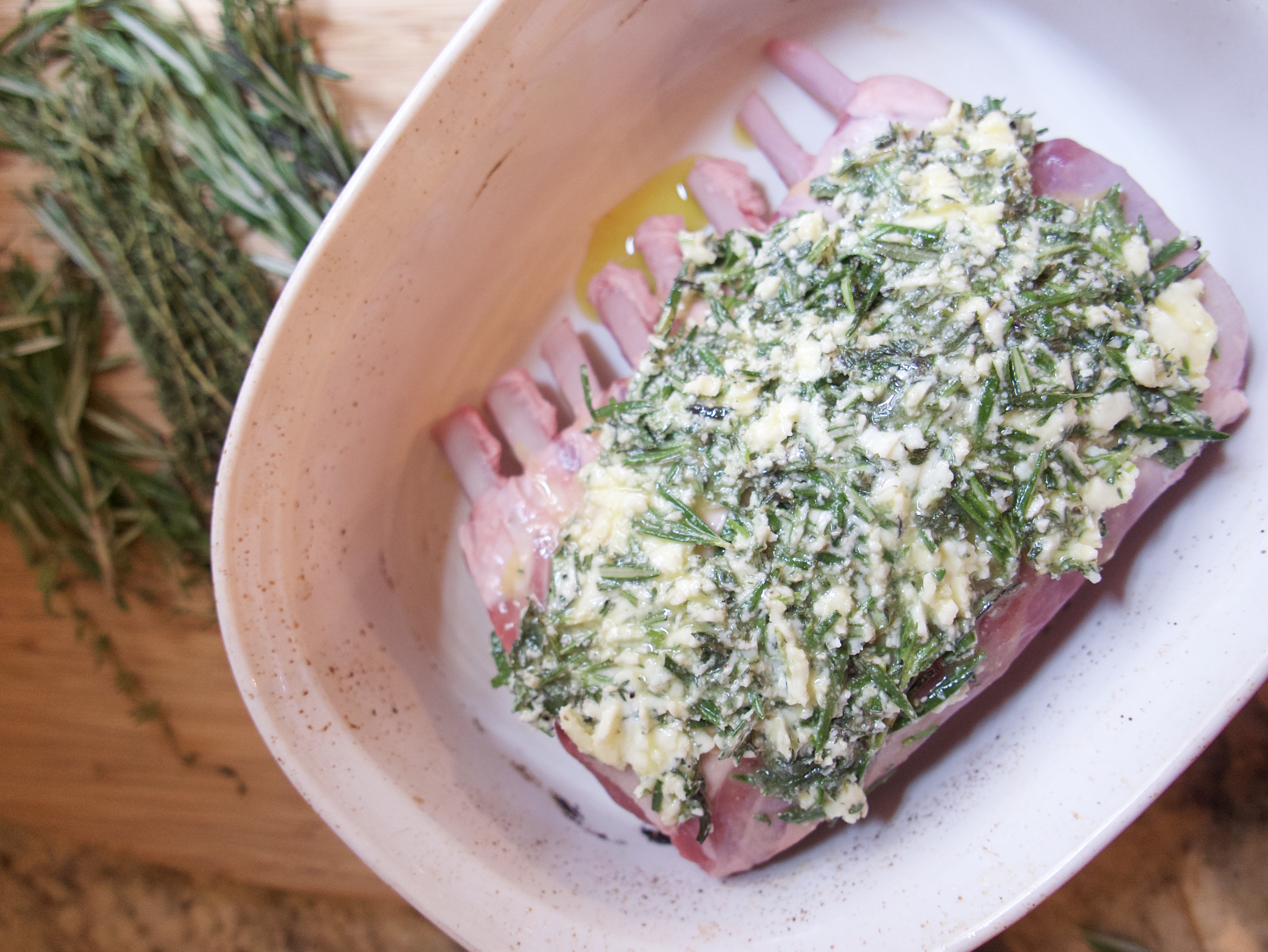 Preheat the oven to 450 degrees F, with an oven rack in the middle of the oven.
Place the rack of lamb in a 2-quart casserole dish or deep rimmed roasting pan. Roast for 20 minutes for rare; you want the lamb to be crusty on the outside and pink and soft inside. If you like it medium-rare, leave it in the oven for another 5 minutes.
Take the lamb out of the oven and cover tightly with aluminum foil to rest for at least 10 minutes before carving.
Cut the rack into individual lamb chops by slicing in between each bone, and arrange on a platter to serve. Keep the pan drippings in the pan to make the Yorkshire pudding (or, if you used a larger pan, transfer the drippings to an 8-inch square baking pan or casserole dish for the pudding).
RECIPE: Yorkshire Pudding
Serves 4 to 6
Approximately 1/2 cup of pan drippings from lamb roast
3/4 cup all-purpose flour
1/2 teaspoon salt
1 cup whole milk
3 eggs
Preheat the oven to 450 degrees F.
Return the baking pan with the lamb roast drippings to the oven to heat up.
In a medium bowl, sift together the flour and salt. In a large bowl, whisk together the milk and eggs until foamy. Add the dry ingredients and mix until smooth. The batter should be thin, like pancake batter.
Once the pan drippings are hot and smoking, carefully remove the pan from the oven and pour in the batter. Bake in the oven for 15 to 20 minutes, until fluffy and the surface looks dry and set. Do not even think of opening the oven while it bakes—your pudding will deflate!
Cut into large pieces and serve hot alongside the lamb.

RECIPE: Fresh Peas and Mint
Serves 4 to 6
1 pound fresh shelled peas (or use frozen)
3 tablespoons butter
3 tablespoons fresh mint, chopped
1/2 teaspoon salt, or to taste
1/2 teaspoon freshly ground pepper, or to taste
In a medium saucepan, bring about 2 inches of water to a boil. Add the peas and cook until they turn just a little soft, about 5 minutes. Drain and return to the pan. Add the butter and mint and toss until the butter melts and coats all the peas. Season with salt and ground pepper. Serve hot.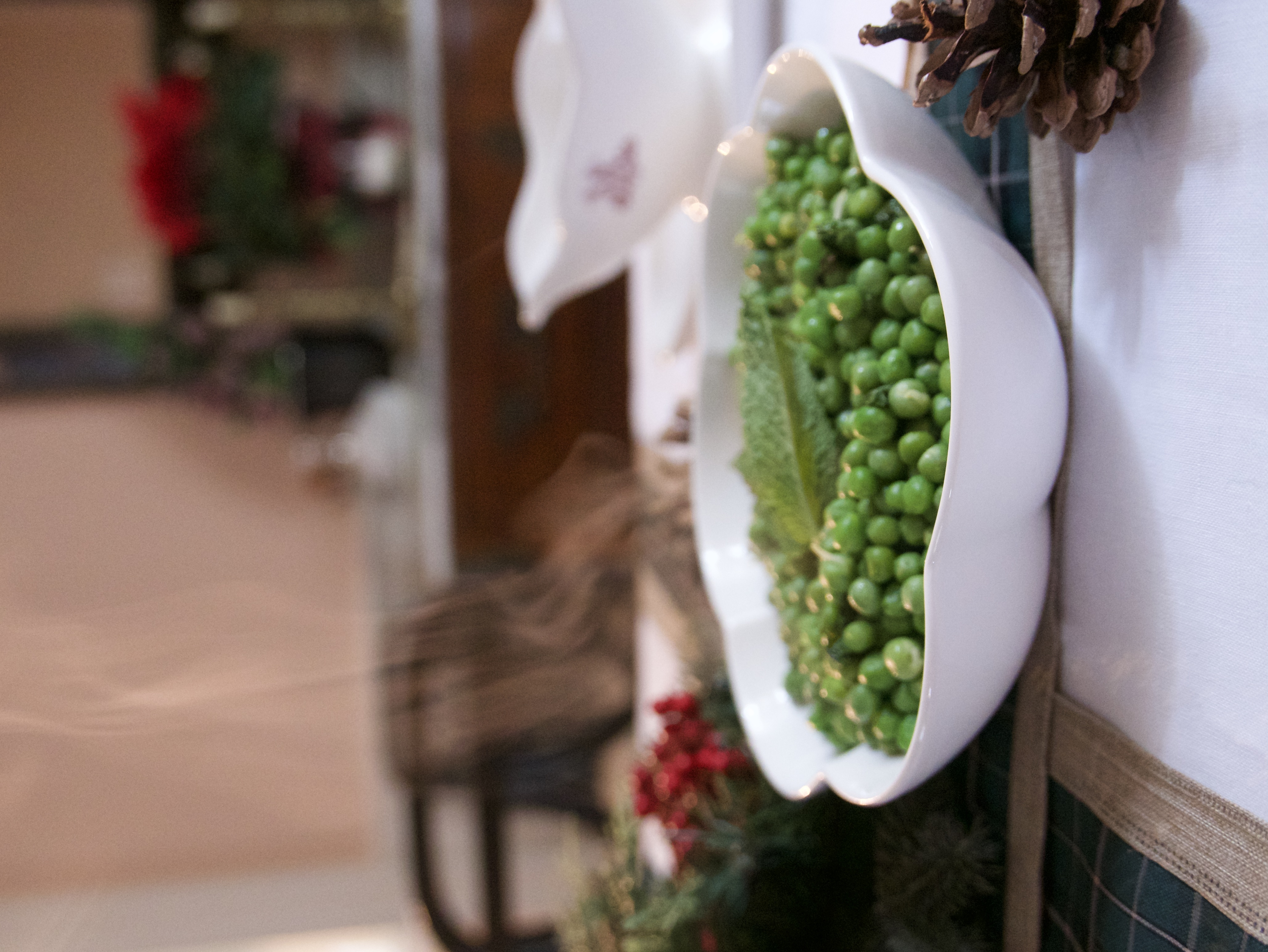 RECIPE: Classic British Mint Sauce
Makes 1 cup
1 1/2 cups water
2 tablespoons sugar
3 tablespoon white wine vinegar or white vinegar
1 cup fresh mint leaves, stems removed and roughly chopped
In a saucepan over medium heat, bring the water, sugar, vinegar, and mint leaves to a boil. Lower the heat to a simmer and cook for about 4 to 5 minutes, just to steep the mint leaves. Serve warm.
Victoria de la Maza is an award-winning cookbook author, columnist, and international TV host. Passionate about great food, she combines American traditions with her European heritage to create classic-with-a-twist recipes and ideas for stylish entertaining at home.