Burgers are my husband George's spirit food. If he could, he'd eat a thick, juicy cheeseburger every single day of the week, chased down with his favorite IPA. 
Unfortunately for George, eating a quarter pound of red meat everyday isn't exactly advisable. Doubly unfortunate for George, every turkey burger he's ever eaten at a restaurant (because I forced him to order it) has been dry and bland, not exactly helping to pry him away from his beef burger obsession.
A beef burger doesn't need much help to be delicious. Simply seasoned with salt and pepper is one of my favorite ways to enjoy one, as the meat's fat content makes it naturally juicy and flavorful. 
If you take a pound of ground turkey or chicken and simply form it into patties, on the other hand, you will have a very disappointing burger on your hands. Poultry's low fat content means a lack of flavor, and a lack of juiciness. No good. 
We have to put in a little bit of extra work to make turkey and chicken burgers as delicious. 
Last summer I published a recipe for Cholula-Cheddar turkey burgers and I still get emails and Instagram messages from their fans. So juicy! So flavorful! People can't believe they're turkey burgers! My secret? I added an egg and Cheddar cheese directly to the ground meat.
As soon as Memorial Day arrived, marking the official start of summer, I knew I had to start dreaming up my next non-beef burger. 
Breaking It Down
I knew chicken had just as much potential to shine as a burger as turkey does, so I started there. I use chicken sausage in my burgers because it's such a great shortcut: it comes pre-seasoned, taking out a lot of the work for us! If you can't find chicken sausage, though, you can easily use a mix of plain ground chicken and pantry dried herbs. 
Then, I grated in a whole zucchini to keep the chicken juicy. Adding grated zucchini to ground meat, such as in meatballs or meatloaf, is an old trick, one that I picked up from one of my favorite chefs, Ottolenghi. He has a turkey meatball recipe involving grated zucchini and a boatload of Middle Eastern spices that I adore. 
Zucchini is made up of 94 percent water, so it adds a ton of moisture to the patty. It turns soft and tender when cooked, and while you'll still see beautiful green flecks throughout the burger, you won't be able to taste it at all.  
Here, the combination of chicken sausage, zucchini, and an egg yolk are what keep the burgers so tender and juicy. Chopped fresh basil and mint then add a jolt of fresh, light flavor.
After cooking to perfection on the grill (or indoors, on a grill pan or skillet!), the burgers are topped with melty fresh mozzarella and crunchy, tangy red wine vinegar-marinated red onions, for a welcome contrast in texture and acidity. The onions are a riff on classic pickled red onions, but also incorporate a glug of extra-virgin olive oil, which mellows out the sharpness.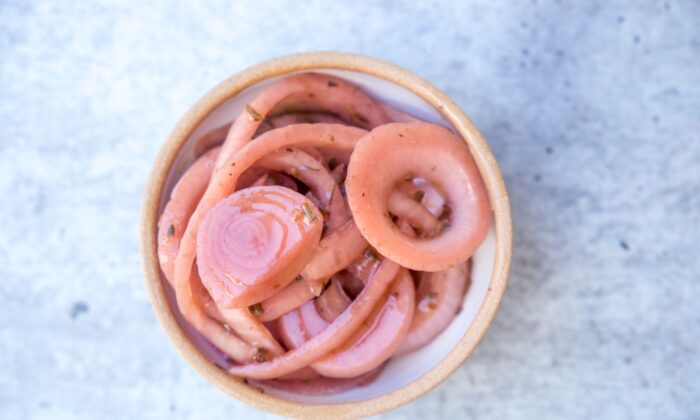 After several iterations (oh, how happy George was while I was testing this recipe!), I finally perfected a chicken burger that you could eat every night of the week, if you really wanted to. And, honestly, you might want to.
Everything here can be made ahead of time; in fact, the onions and the burger patties are even better if they're given a day to marinate and rest. On busy days, I'll throw together the burger patties whenever I have a moment of downtime, then I'll put George in charge of grilling them while I put the baby down.  
They're the perfect make-ahead summertime meal: just fire up the grill when you're ready to eat!
Chicken Sausage and Zucchini Burgers
Makes 4 burgers
For the marinated red onions:
1 small red onion
1/2 cup red wine vinegar
2 tablespoons extra-virgin olive oil
1 teaspoon dried oregano 
1/4 teaspoon kosher salt
For the burgers:
1 pound ground chicken sausage, casings removed (not precooked links; see notes below for substitutions)
1 large zucchini, grated (about 1 1/2 cups)
1/3 cup panko breadcrumbs
1 large egg yolk
1/4 cup fresh chopped basil leaves
2 tablespoons fresh chopped mint leaves
1/2 teaspoon kosher salt
Non-stick cooking spray
4 ounces fresh mozzarella, cut into round slices
4 burger buns (I like using English muffins)
4 tablespoons mayonnaise
To make the marinated red onions: Thinly slice the red onion crosswise into rings, then pop the rings apart so they're not attached. Toss onion rings, red wine vinegar, extra-virgin olive oil, oregano, and salt in a large bowl and leave at room temperature while you cook. If possible, do this the night before; the onions get tangier when they're able to absorb more of the vinegar, and they turn hot pink with more time! Store any leftovers in a sealed container in the refrigerator. They keep in the refrigerator for up to 2 weeks.
To make the burgers: Combine chicken sausage, grated zucchini, breadcrumbs, egg yolk, chopped basil, chopped mint, and salt in a large bowl. Use your hands to combine the mixture.
Divide the mixture into four patties. Grab one of your burger buns for reference, and make your patties slightly larger than the buns. They should be about 1/2-inch thick. They'll shrink when you cook them and become the perfect size. 
Cover the patties with plastic wrap and refrigerate for at least 30 minutes, or freeze for 10 minutes to firm them up before grilling. You can refrigerate the patties for up to 24 hours before cooking. 
Preheat an outdoor grill to 450 degrees F. (See notes below for how to cook indoors.) 
Spray both sides of the burgers with non-stick cooking spray, then place on the grill. Cook for 6 minutes. If the burger does not release easily from the grill grate after 6 minutes, give it another minute. It should not stick if it's ready to flip.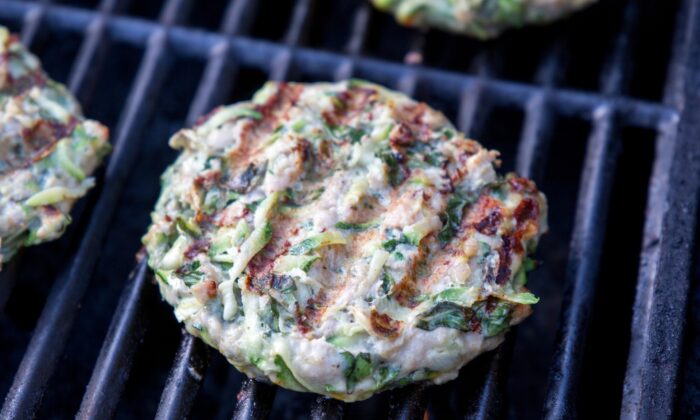 Meanwhile, smear mayonnaise all over both cut sides of the burger buns. 
Flip burger and cook for 3 minutes. Add a slice of mozzarella to each burger, then close the grill and continue cooking for 3 additional minutes. 
During the last minute of cooking, add burger buns to the grill, cut side down, to toast. 
Serve the burgers on the buns with marinated red onions. 
Recipe Notes
No grill? No problem. Smear mayo all over the cut side of the buns, place on a baking sheet, and broil for 2–3 minutes until light golden brown. Warm 1 tablespoon olive oil in a 12-inch nonstick skillet or grill pan over medium heat. Use a paper towel to smear the oil all over the skillet. Cook the burgers for 6 minutes, then flip and cook for an additional 4 minutes. Add mozzarella on top of each burger, pour about a tablespoon of water directly onto the skillet, and quickly cover the skillet with a lid or baking sheet and cook for 2 additional minutes, until the cheese is melted and the burger is cooked through. This steams the burger to help melt the cheese.
I love to grab a couple of extra zucchini so that I can serve grilled zucchini with these burgers. I cut them into quarters lengthwise, then cut each spear in half. Toss with a small amount of olive oil, just enough to coat, then season with lots of salt and pepper. Grill for 3 minutes per side, or until charred, about 9 minutes total.
Love toppings? Add more! These burgers have so much flavor, and get so much oomph from the marinated onions, that I like keeping them simple. But some butter lettuce, ripe summer tomatoes, or dill pickles would be delicious on there!
Make it paleo by using iceberg lettuce to create a crunchy lettuce "bun." Instead of cheese, make a yummy burger sauce by mixing together mayo, lemon juice, and garlic powder.
Ingredient Substitutions
Red onion: Use any onion or shallot.
Red wine vinegar: Red wine vinegar will make the onions turn beautifully pink, but any vinegar works. 
Extra virgin olive oil: Omit if you don't have it. We add it to the onion simply for the flavor; we don't need oil here.
Oregano: 1 teaspoon of any dried herb you have, like rosemary or thyme.
Chicken sausage: I love using chicken sausage here because it has so many great seasonings already in it, making my job easier. To mimic chicken sausage, simply use ground chicken (or turkey!) but add another 1/2 teaspoon salt, 1/2 teaspoon garlic powder, 1 teaspoon oregano, and a pinch of cayenne.
Zucchini: Yellow summer squash.
Panko breadcrumbs: Any kind works! If you have a couple slices of bread, you can blend them up into crumbs and use that.
Egg yolk: 1 tablespoon ground flaxseed plus 2 1/2 tablespoons water. Stir together and let it sit for 5 minutes. This "flax egg" will work in a pinch.
Basil and mint: Use whatever fresh herbs you have; cilantro, parsley, and oregano will all work. Or, use 1 teaspoon dried herbs.
Non-stick cooking spray: Lightly drizzle each burger with cooking oil and rub it all over. You don't want it to drip off—that will cause grill flare-ups.
Mozzarella: Gouda, white cheddar, shredded mozzarella (instead of fresh), goat cheese, blue cheese … really whatever you have!
Burger buns: I almost always use English muffins as burger buns, and that's what's pictured here. If you want to forego the bun, these burgers would also be lovely on top of a big salad with lots of summer-y toppings, like blueberries and cucumbers.
Mayonnaise: Use room temperature butter or nonstick cooking spray to toast the buns instead.
Caroline Chambers is a recipe developer, food writer, and author of "Just Married: A Cookbook for Newlyweds." She currently lives in Carmel Valley, Calif., with her husband, George, and son, Mattis. Follow her on Instagram for cooking tips and snippets from her life in Northern California. @carochambers