Oftentimes, it's not the caffeine that makes giving up a coffee addiction so difficult, but the place it holds in our culture. Coffee is the American ritual—a treat for getting out of bed in the morning and starting your day. While coffee in moderation isn't necessarily a bad thing, drinking more than one cup per day can dehydrate you, tax your adrenals, and make you jittery. This is especially true for those who are sensitive to caffeine.
So why not consider starting your day with a beverage that does nothing but nourish your body and soul? Warm or cold, try one of these super healthy treats and change up your morning ritual:
1. Matcha Green Tea
With a little bit of caffeine, this green tea powder is a great way to transition away from other, more potent morning beverages. Sourced from the Camellia sinensis bush, the leaves are stone ground into a fine powder. The tea has high concentrations of antioxidants and polyphenols that fight the free radicals that damage your DNA and cells, according to Dr. Weil.
2. Dandelion and Chicory Root Tea
Dandelion and chicory roots are a match made in health heaven. Dandelion roots are blood purifiers that help both the liver and kidneys remove impurities. Chicory is good for digestion and cleansing the urinary tract and liver. The tea looks like coffee and has a rich taste without the caffeine.
3. Filtered Water and Lemon
It may not be the most exciting combination in the world, but that doesn't mean it's any less effective. Filtered water and lemon rehydrates and helps your body with elimination. It also helps rid the liver of toxins.
4. Teeccino
Teeccino is an amazing invention because it tastes like coffee but it's made from herbs, grains, fruits, and nuts, all roasted together in a similar preparation to coffee, according to Dr. Oz. And it's caffeine-free, so for those in love with the taste of coffee that are sensitive to caffeine, it's a good choice.
5. Peppermint Tea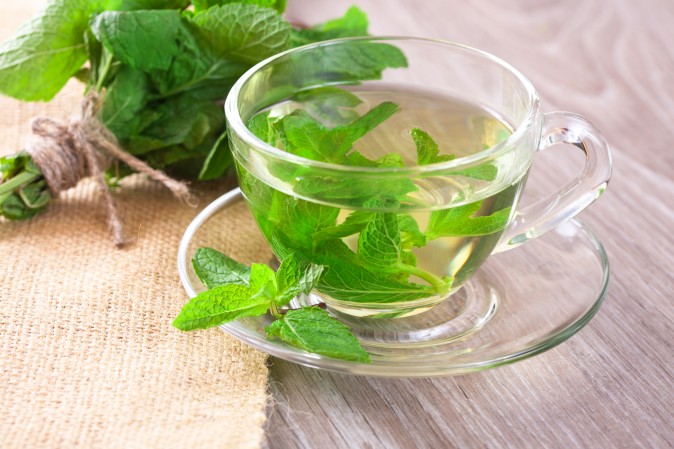 This caffeine-free tea rejuvenates your body without the jolt. It's known as a natural healer that can soothe a sour stomach and relieve heartburn. If you're starting to get a cold, it can even help loosen phlegm.
6. Fresh Pressed Juice
Juicing is a great way to pack a serious nutrient punch into a single cup of juice. You'll feel awake after starting your morning with fresh, organic fruits and vegetables. Try this sunrise special:
Morning Glory
• 1 medium orange
• 1 small apple
• 3 carrots
• 1 tsp ginger
• 1/2 small lemon
Directions: Juice and enjoy.
7. Green Goddess Smoothie
While fresh juices pack more fruits and vegetables into a smaller space, smoothies are loaded with nutrients and fiber. The Green Goddess Smoothie combines coconut milk, bananas, fruits, and kale into a nutrient-rich smoothie.
Green Goddess Smoothie
• 1 cup plain coconut milk
• 1/2 banana
• 1/2 cup seasonal fruit (like blueberries, peaches, pears, etc.)
• 2 leaves kale
• 2 tsp raw honey
• 1 tsp spirulina (in powder form)
Directions: Add to a blender and blend until smooth. Serve immediately.
8. Licorice Tea
Licorice tea has the warming, bold taste of coffee but without the caffeine. Licorice has been used in food for its medicinal properties for thousands of years. It's used to treat canker sores, ulcers, eczema, and upper respiratory infections, and for weight loss. It's also known to support adrenal health.
9. Carob
Raw carob is an alkaline-forming food rather than an acid-forming food like coffee. Carob is a member of the legume family and it tastes like a mix of coffee and chocolate. Carob comes from an evergreen flowering shrub and it's loaded with protein, omega-3 fatty acids, fiber, folate, magnesium, and potassium, among a host of other nutrients. Try this hot carob beverage:
Hot Carob
• 1 cup rice milk
• 1 tbsp carob powder
• Raw organic sugar, to taste
Directions: Heat up in a sauce pan and stir constantly, until smooth and free of lumps.
Related Coverage
Sara Novak specializes in health and food policy writing for Discovery Health. Her work has also been featured on TreeHugger, HowStuffWorks.com, TLC Cooking, and Animal Planet. After graduating from the Grady School of Journalism at the University of Georgia, Sara headed up the communication efforts for a national scholarship program in Washington, D.C. This article was originally published on NaturallySavvy.org