This tiny kitten was just a few weeks old and only the size of a pho spoon, yet his life was in the balance—that is until a very special veterinary team took him under their wing.
Rescued kitten size of a spoon is determined to grow big and strong. See full story and updates: https://t.co/YeuQUIK1xs pic.twitter.com/zrZwrYGI2y

— Love Meow (@LoveMeowdotcom) November 8, 2018
Francis was nowhere near the weight of his siblings when he was born, and at 3 weeks old, he weighed just 4 ounces (113 grams.) He had been taken in by an animal shelter, and when staff realized he was not normal, they sought out expert help.
"His siblings weighed in at 10 ounces and more, but he was just four ounces," said Ellen Carozza, a Feline Licensed Veterinary Technician at NOVA Cat Clinic, where Francis was brought.
A vet's examination revealed the little fella had a heart murmur and was suffering from hair loss, with a body smaller than it should be. Francis had a voracious appetite, and staff kept a vigilant eye on him and fed him around the clock. Carozza took Francis home and also carried him around in her back pocket at work, as he needed  constant care.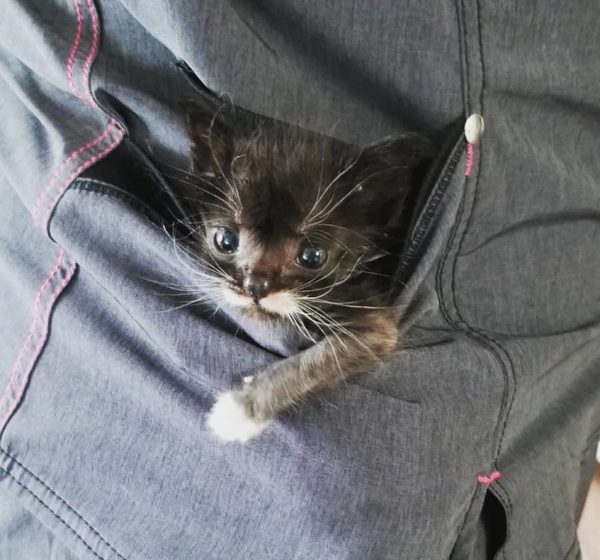 That's when a special helper by the name of Benny began to play a role as Francis's carer as well. He would bathe him and keep a lookout as he began to be toilet trained by using the kitty litter tray, and he was there when Francis tasted his first solids. Not to mention the affection he poured onto the little guy.
Oh, did we mention Benny was a male cat with great mothering skills? He is a natural at taking care of baby kittens, and thanks to his extra care and attention, Francis was thriving.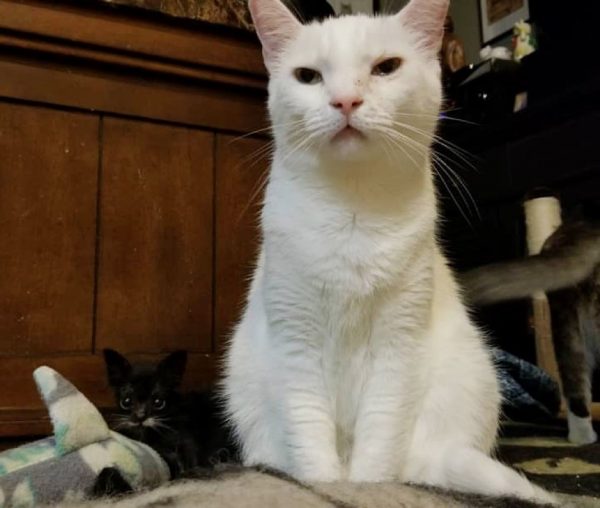 "The weekly weigh-in at 0.755 pounds…most of it is belly," said Carozza, according to  Love Meow. By the time Francis was 6 weeks old, he had grown to the size of a 3-week-old kitty, although he still had other health issues.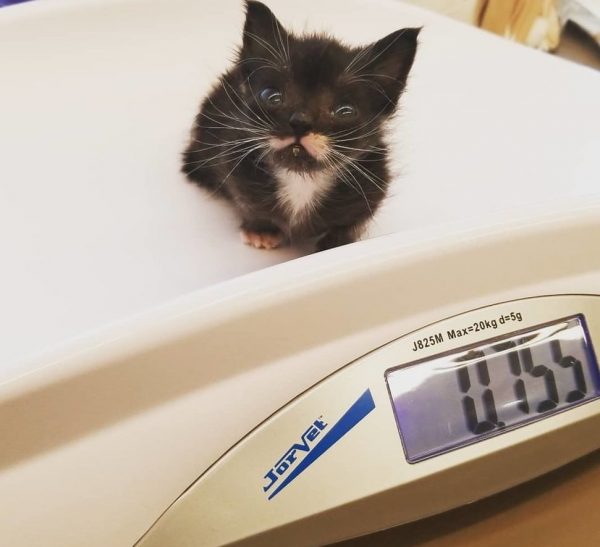 "After speaking to several specialists, he is not hypothyroid due to confirmed additional tests but may have a growth hormone deficiency," Carozza said.
"He has multiple issues we are working on, not just him being small," she added.
And the best part—Carozza has found him a forever home with a member of her family.
"Patience, perseverance and patient advocacy saved his life. Never give up on your most difficult cases, someone is out there to help you," she said. With his white mustache and perfect little tuxedo, the little miracle kitten is sure to collect many hearts, human and feline.
And as for Benny the surrogate dad?
When Carozza took another tiny kitten home in February 2019, Benny was there to lavish affection on the tiny scrap of fur. At just a day old, it was an orphan and had to be placed in an incubator.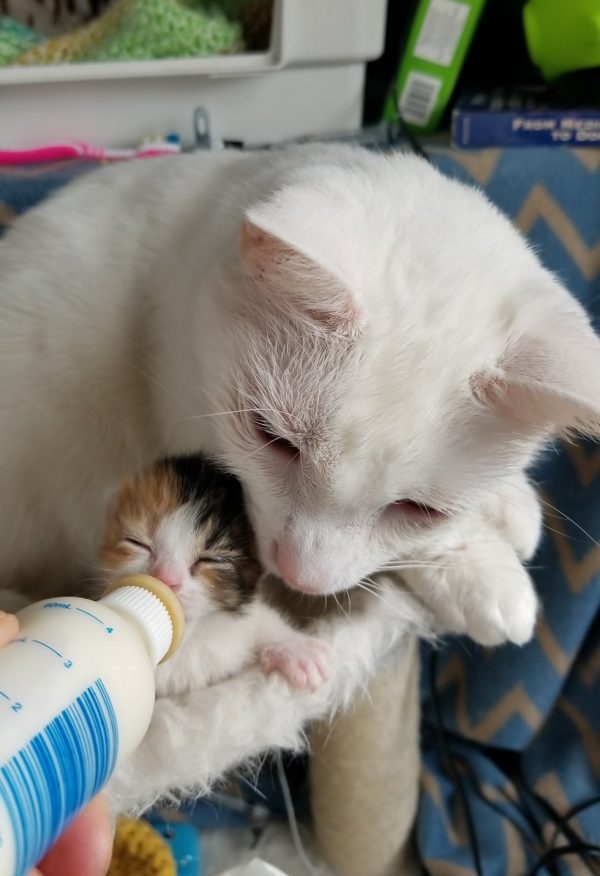 "When I came home, he saw me approaching our home incubator with the kitten travel bag and immediately sat up and knew I had a baby for him," Ellen told Love Meow.
"Benny has to help her be fed under his watchful eye and loves to groom her."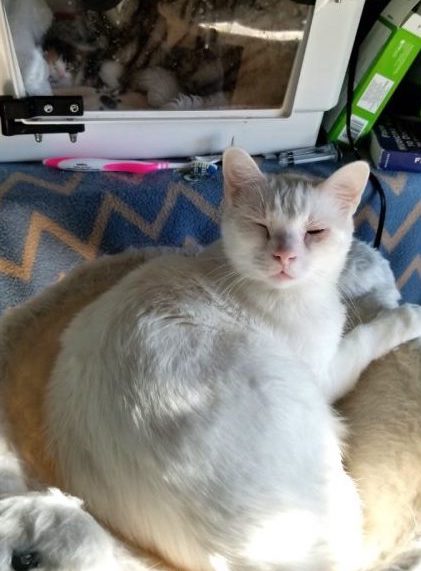 The little kitten, named Adora Belle, has thrived under the expert eye of Benny. "Her eyes opened early and loves to be groomed by Benny and her toothbrush when she isn't with him," Carozza said.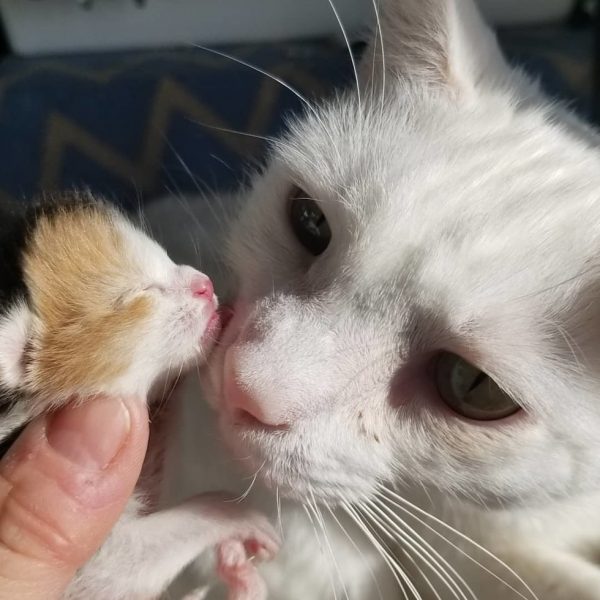 Adora spends her nights in the incubator, and Benny keeps a vigil beside her. She has doubled her weight in one week and grows stronger by the minute.
The Chris Griffey Memorial Feline Foundation at Nova Cat allows rescued kittens like Francis and Adora to obtain the care that they need to survive and thrive.
And Benny sees to it that they get that extra love and attention only a surrogate dad can give.
You may also want to watch this video
Poor kitty's down the drainpipe, can they reach it in time?