The mighty artichoke! Varying in size from enormous to mini, artichokes are easily steamed, boiled, sautéed, broiled, stuffed, fried, and yes, even blended, to make delicate-tasting recipes to celebrate the arrival of spring. There's a lot more to this seasonal star than that ubiquitous spinach artichoke dip.
These prehistoric-looking green globes are actually the buds of a species of thistle and will turn into beautiful purple flowers if left to grow unattended. The outer leaves are tough and fibrous, but the heart and inner leaves are tender, nutty, and delicious.
The most popular kind, the globe artichoke can be as large as the palm of your hand, with a sweet, clean flavor and a meaty heart perfect for stuffing or eating steamed. At the market, I always go for the biggest ones I can find.
You will also find baby artichokes that have tender leaves and small hearts, less than 2 inches long. These are actually fully mature artichokes that grow on the lower parts of the stems. They are perfect for sautéing in a light sauce, and are often cooked with garlic and wine and served in generous mounds. These tender baby artichokes need little preparation, and once the tough outer leaves are removed, you can even slice them really thin and eat them raw, with slivers of parmesan and a drizzle of olive oil. For this variety, the smallest ones are the most tender.
Long-stem artichokes with thick petals and small heads are another variety, wonderful to eat as even their stems become tender when cooked. Serve them grilled, slightly charred, with their stems intact. Their nutty flavor pairs deliciously with herbed mayonnaise or tartar sauce.
At the market, look for unblemished artichokes with few black spots and tightly gathered, bright green leaves. The ones with open leaves tend to be older and tougher.
Spring is the best time to take advantage of fresh artichokes, but they are also available in jarred, canned, and frozen forms. These can be time-saving essentials to blend into soups, toss into salads, and yes, make that ubiquitous dip.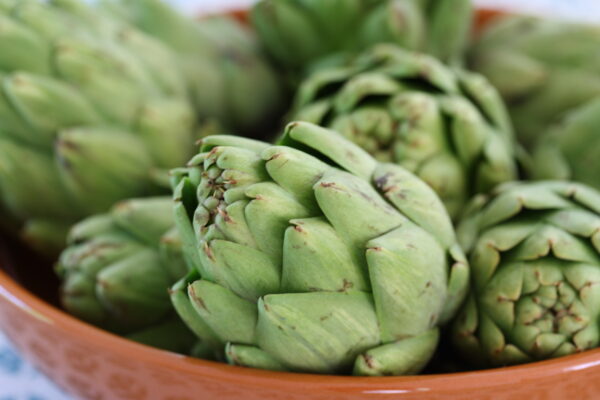 The recipes I am sharing today are a great introduction to the world of artichokes, and are varied in style and cooking techniques.
Classic steamed artichokes are a sensational first course that can be served warm or cold. I give you options for two different sauces, one buttery and garlicky for a hot preparation, and another creamy and lemony for the cold version.
Braised in a white wine sauce with jamón serrano and tons of garlic, trimmed artichoke hearts make a great family-style dish that takes a bit of time to prepare but is worth every second.
Finally, an artichoke heart gratin, made with frozen or canned hearts, is an elegant first course for a dinner party.
Victoria de la Maza is an award-winning cookbook author, columnist, and international TV host. Passionate about great food, she combines American traditions with her European heritage to create classic-with-a-twist recipes and ideas for stylish entertaining at home.
RECIPE: Steamed Artichokes With Garlic Butter or Lemon Mayo
RECIPE: Wine-Braised Artichokes With Jamón Serrano