Artichokes braised in white wine with jamón serrano is quintessential spring fare, as suitable for a family-style meal as it is for a mid-week supper. I serve it with a toasted baguette, to mop up all the juices, and a chilled glass of wine. If you can't find jamón serrano, prosciutto is a great alternative; even diced bacon will work.
The artichokes do need to be trimmed of their outer leaves and sliced into quarters (though smaller ones can be left whole), a kitchen chore that is time-consuming but rewarding at the same time. I just play some loud music and sing while I prep the artichokes, knowing that the end result is going to be sensational. As I trim them, I put them in a lemon water bath so they don't discolor.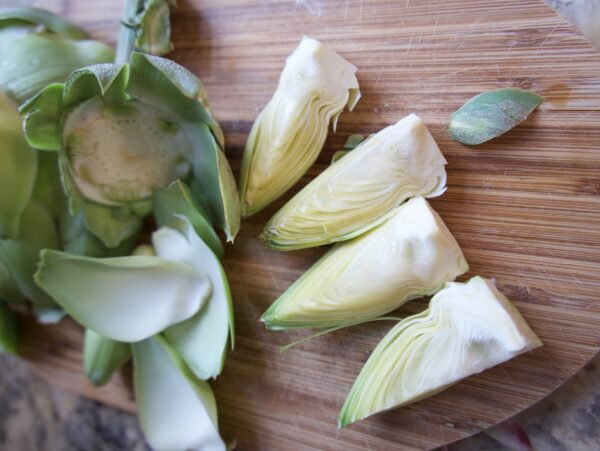 If you find them in the market, use tender baby artichokes for this dish. But you can also make it with great results using small or medium globe artichokes, peeled until you see the pale green center leaves. Either way, it is a great dish worthy of the work.
Serves 4 to 6
1 lemon
12 small globe artichokes or 24 baby artichokes
1/4 cup olive oil
6 cloves garlic, sliced thin
2 large shallots, peeled and sliced thin
2 cups dry white wine, like pinot grigio or sauvignon blanc
1 bay leaf
4 ounces jamón serrano, cut into slivers
2 tablespoons chopped parsley, for garnish
Sea salt and pepper to taste
Peel the lemon with a vegetable peeler or sharp knife, trying to get long strips of zest while avoiding the bitter white pith. Reserve the strips. Halve the lemon and squeeze the juice into a large bowl of water, then toss in the squeezed halves, too.
Prepare the artichokes by removing the outer layers until you get to the pale green parts. Slice them into quarters and remove the hairy choke if needed. Trim the tops and the bottoms and place them in the lemon-water bath until ready to cook.
In a large (10- to 13-inch) sauté pan, add the olive oil and heat over medium heat. Add the garlic and shallots and cook until golden, about 2 to 3 minutes. Using a slotted spoon, remove the garlic and shallots and set aside.
Lower the heat. Dry the artichokes and add them to the pan in one layer, cut side down. Cook for a minute or so, just to brown the leaves. Pour in the wine and add the bay leaf and reserved lemon peel, and season with salt and pepper. Cover and simmer for about 25 minutes, or until the wine has nearly evaporated and the artichokes are cooked through and fork-tender. If they are not done, add 1/4 cup of water and continue to simmer until soft.
Remove the lid, add the jamón serrano and reserved garlic and shallots, and mix well. Discard the bay leaf and lemon peel. Transfer to a serving dish.
Reduce the pan juices for about 1 minute, to gather all the bits. Strain and pour on top of the artichokes. Garnish with chopped parsley.