Whether you're 8 or 80, you're always the perfect age to enjoy a lovely ice lolly. Keep them healthy by making your own. There are lots of possibilities: pack them full of your favourite fruits, or make them creamier with the addition of coconut milk. Or if you're feeling a little bit devilish, why not pop some alcohol into them for an adults-only treat at the end of a hot summer's day?
All you'll need is a popsicle mould, some sticks, and a big fruit bowl. The hardest part will be having to choose from these 21 deliciously healthy ice lolly recipes!
1. Jamie Oliver's Breakfast Lollies
This recipe from Jamie Oliver is pretty enough for parties but healthy enough for breakfast on the hottest of days.
All you need is 1 large banana, or 2 small bananas, 300 g frozen mixed berries, 50 g porridge oats, 400 ml pure organic apple juice, and if you like them a bit sweet, some honey. Blend all until smooth, pour in the moulds and let freeze for at least 2 hours. Want to add a decadent touch? Melt 200g of quality white chocolate in a microwavable bowl. Swirl the frozen lollies around in the melted chocolate and wait a few minutes to let each lolly set. Serve immediately. Makes 12.

2. Creamy Summer Ice Lollies by Deliciously Ella
Sometimes, the best kind of lolly is a creamy one, in more than one flavour! This recipe by Deliciously Ella is a favourite for those who love chocolate-dipped strawberries. Far from a childish treat, this is a very sophisticated recipe and would be a welcome end to any summer dinner party.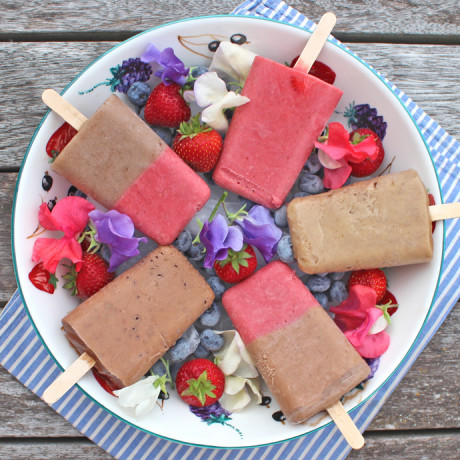 3. Mango & Lime Popsicles  
These will quite literally take you seconds to throw together, and yet they look (and taste!) as if they've taken hours. The creamy coconut milk mingled with the mango and zesty lime is a refreshing explosion of flavour against this heat. Get the recipe here.

4. Super Orange & Mango Ice Lollies
Madeleine Shaw is never far from our radar, and we knew we could count on her for an easy peasy lolly recipe. These are refreshingly tasty and easy to throw together. Who doesn't love the thirst quenching flavours of orange and mango? Get the recipe here.

5. Pomegranate and Limeade Popsicle 
Unsure how to integrate super antioxidizing pomegranate seeds into your diet? Simple. Chuck them into a lollipop! The addition of pomegranate seeds here adds a nice little crunch to this refreshing treat. And the tangy addition of the lime works well with the ripe pomegranate tones. Tip: instead of sugar, add a few drops of Stevia instead to nix the calories and make these even healthier. Get the recipe here.

6. Strawberries & Cream Popsicle
Strawberries and cream are possibly 'the' classic British summer combo. The layering takes a bit more time to make, but the result is well worth it.  Get the recipe here:

7. Tropical Avocado Popsicle 
Avocado is certainly having a moment! Full of healthy fats and offering a naturally creamy texture, these are far more tangy and delicious than you would probably suspect. Get the recipe here: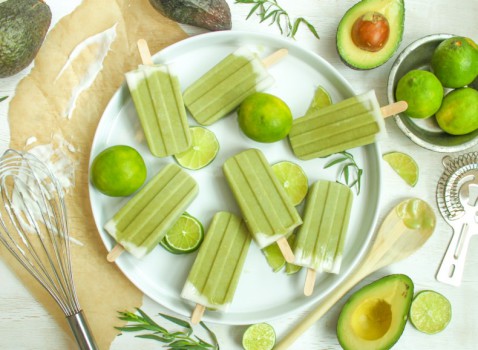 8. Orange Creamsicle  
Remember this one from your childhood? Bring back days gone by with these citrusy delights. Extra bonus: the addition of protein powder in this recipe makes this even better to enjoy after a tough workout. Get the recipe here.

9. Chia Seed Nectarine Popsicles 
These are so easy to make with just four ingredients, and yet they look shop bought. And who'd have thought about sneaking chia seeds into an ice lolly?! Get the recipe here:

10. Mango, Strawberry & Lime Popsicle  
These popsicles are a true sweet & sour combo. With the sweetness from the strawberry and agave nectar mixed with the tart lime and dominant mango, they'll tickle your tastebuds with a torrent of  flavour. We predict kids will absolutely love these this summer! Get the recipe here:

11. Coconut Orange Creamsicles 
Who needs real cream for a rich summer treat? These ones are super easy to make and taste like a holiday somewhere exotic and beachy. Get the recipe here.

12. Rainbow Fruit Popsicles  
It doesn't get easier than simply blending fruit into a popsicle now does it? That really is all that's needed in this very simple yet incredibly tasty recipe–and it's much healthier than the store-bought ones that are usually full of artificial colourings and flavourings. Get the recipe here:

13. Watermelon Whole Fruit Popsicles 
Who doesn't LOVE watermelon? It's the perfect natural refreshment on a hot day, and the 'watermelon colours' of these popsicles makes them simply adorable, too. Get the recipe here: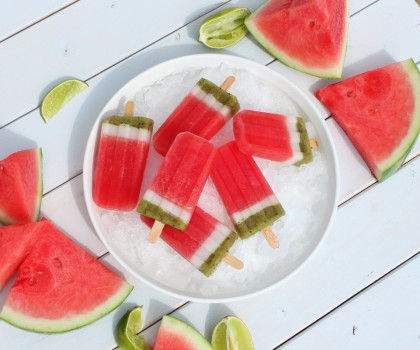 14. Avocado, Coconut and Cacao Popsicle 
Think 'ice cream truck fudgsicle,' but way, way healthier! Yep, that's right: these may look extremely indulgent but believe it or not, everything in this recipe is good for you. Get the recipe here: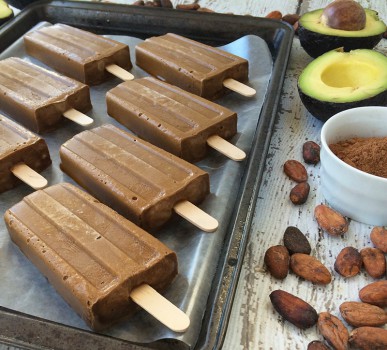 15. Fruit Popsicles with Coconut Water
It really doesn't get simpler than this; coconut water and fruit. Healthy, tasty and really pretty, too. Get the recipe here:

16. Almond Butter & Banana Popsicle
How could we not feature a banana based ice lolly? Ripe bananas are so smooth and creamy themselves, when added with a nut butter they are perfection! Get the recipe here:

17. Kiwi Popsicle
These seriously don't look like they contain banana in them, but they do. And with the tartness of the kiwi, the banana is the perfect addition of sweetness to balance these pops out. Get the recipe here: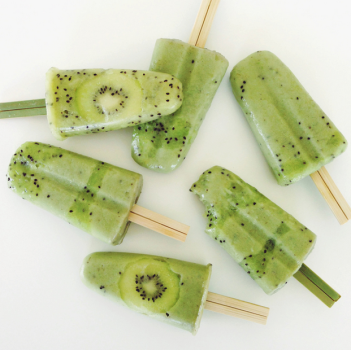 18. Raspberry, Vanilla, Coconut & Chia Popsicles 
How gorgeous are these? Almost too good to eat, but we'll somehow find a way! Creamy, chocolatey and a bit sweet but with a sharp edge from the raspberries. Get the recipe here:

19. Apple Pie Popsicle 
Some like it hot, but we like our apple pie treats cold for summer! If you're a fan of the old school flavours of apple pie (minus the crust) then this will be a real winner of a recipe for you this season. Get the recipe here:

19. Strawberry, Rhubarb & Lime Popsicle 
There's something about this sweet-sour combo that makes our mouths water. Chewing on one of these may make you pull a funny face but we can almost guarantee you'll go back for more. Get the recipe here:

20. Papaya, Coconut and Citrus Popsicle  
If you're not going away on holidays this year, why not bring the tropics to your back garden with these exotic lollies? Now just kick back on a sunlounger and pretend you're on the beach . . . Ge the recipe here:

21. Spring Bouquet Popsicles
Planning a bridal or baby shower? These are the perfect dessert! But before you go tearing up the flowers from your garden, please note that these are entirely edible flowers, and now ones plucked fresh from the soil. Find out which flowers to use and get the recipe here:

This article was originally published on www.eluxemagazine.com. Read the original here.