First off, let's address the elephant in the room: Why is the Eclipse now a crossover? A valid question for sure, because Mitsubishi's latest SUV doesn't seem to resemble the former sport compact in any way aside from maybe the all-wheel drive layout.
Let's just say it has less to do with resurrecting an old model and turning it into something it's not, and more to do with leveraging some name recognition—particularly among the older millennial set. The automaker also pointed out that many markets around the world did not receive an Eclipse in any form.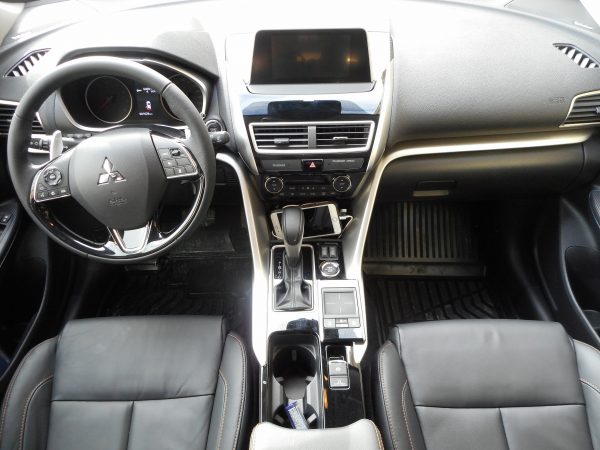 Now that that's out of the way, let's get down to the nitty gritty.
"The Eclipse Cross is a big departure from our other products," says senior manager of product planning Don Ulmer. "There's a big focus on exterior design and a totally different interior design language that's going to be utilized in future products as well.
"The whole concept of this vehicle is what we refer to as bold and spirited, broken down into three specific characteristics: stimulating design, human connectivity, and superior control."

Let's tackle the aesthetics first. The exterior looks great, possessing a sharper, edgier second-generation interpretation of the brand's Dynamic Shield front fascia styling, where the headlamps, large grille, and bumper garnish form an X-like shape.
As opposed to the Outlander, which has a somewhat traditional SUV profile, the Cross has a reverse wedge silhouette with a steeply raked front windshield and angular lines throughout. The 18-inch alloy wheels come standard on the vehicle. And, never before seen in the lineup, Mitsubishi is offering a slick dual-pane moonroof.
In terms of connectivity, Ulmer says this is one of the most tech-savvy crossovers the company has made yet. A motorized LCD-screen-based head-up display is available, mounted above the steering column relaying speed, cruise-control settings, and other pertinent information directly in the driver's sightline.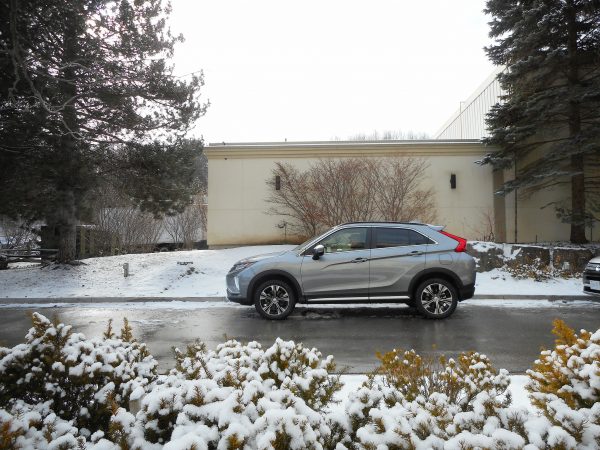 Almost a prerequisite nowadays, Apple CarPlay and Android Auto are supported, so occupants may simply plug in their phones and access important functions via voice or the 7-inch central display.
A new touchpad controller installed to the right of the shift lever quickly and accurately recognizes multi-directional swipes to navigate menus and input commands. The volume can be changed here as well by two-finger-swiping up or down, something users best get accustomed to, as a physical volume knob has unfortunately been done away with.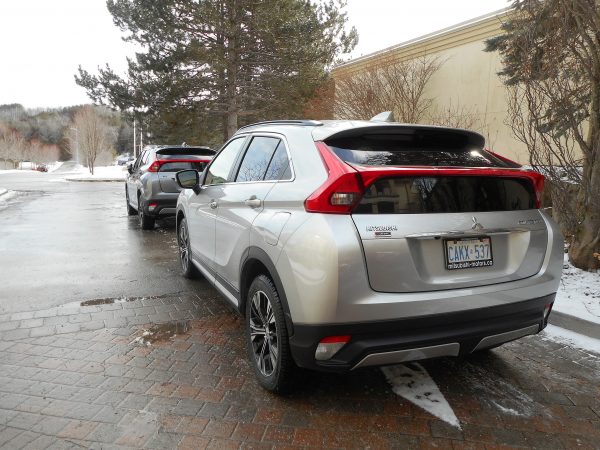 Arriving to super control, a nice touch is that every trim level in Canada receives the highly touted Super-All-Wheel Control torque-vectoring AWD system, meaning there are no front-wheel drive versions like the other portfolio products.
At a press event in early spring, when journalists set out to test the Eclipse Cross about an hour outside of Toronto, there was a fresh dusting of snow during our extensive drive. While perhaps not so lucky for photographic purposes, I was able to test the vehicle in winter driving conditions. The Cross handled the icy conditions beautifully over a variety of terrain, almost behaving as if the roads were dry.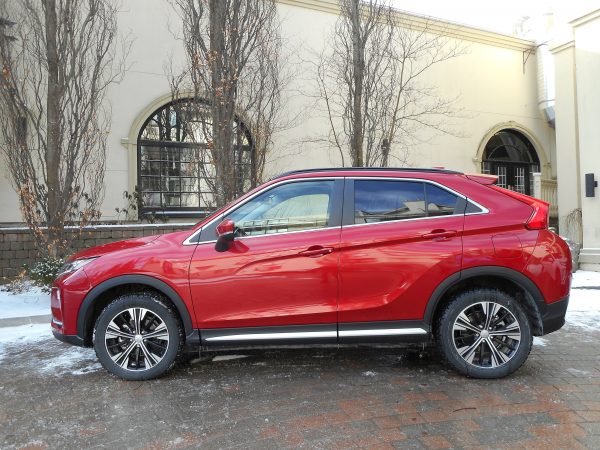 Only one engine type is bundled under the hood: a turbocharged 1.5-litre four-cylinder making 152 horsepower and 184 lb.-ft. of torque, mated to an eight-step continuously variable transmission. Not class-leading performance, however, the fuel consumption we experienced hovered between the 8- to 9-litres per hundred kilometres, which is quite good for an all-wheel drive crossover, especially at a time when cities like Vancouver are breaking records for highest gasoline prices.
The base ES grade starts at $27,798 and tops out at $35,998 for the fully loaded GT, packing LED headlamps, the aforementioned panoramic roof, leather everything, and another Mitsubishi first: independently heated rear seats.
Benjamin Yong is a freelance writer from Vancouver, B.C., and a member of the Automobile Journalists Association of Canada (AJAC). Follow him on Twitter @b_yong