The luxury sport sedan is a category that is becoming more crowded these days—in spite of the continued popularity surrounding sales of crossovers and sport utility vehicles in Canada. In this instance, we refer you to the 2018 Infiniti Q50 3.0t Sport AWD—a mid-cycle refresh for 2018. Some of the minor changes include a sharpened exterior look with a more angular front bumper, wider and lower air intakes, and a rear end that has been tweaked a little to place more focus on the twin exhausts and diffuser. Generally and to the naked eye, the exterior changes are nothing drastic but the end result may well be that this version of Infiniti's Q50 takes on a slightly more aggressive appearance. To those shopping this particular sedan category, cosmetically, the new appearance might be enough to have buyers linger and decide that a test drive is in order.
As stated, the category is becoming a little congested these days. Competitive marques include BMW's 3-series, the Audi A4, the Volvo S60, the Lexus IS250, the Acura TLX, and the Mercedes-Benz C-class. Excellent company, indeed.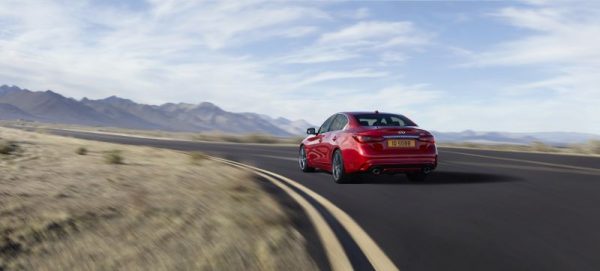 A Versatile, Spirited Every Day Driver
So if the looks of this sedan caught your eye, then you owe it to yourself to slip behind the wheel, and take this model for a spirited drive. Under the sleek hood is a brand new VR-Series 3.0-litre twin-turbo V6 engine providing a more-than-capable 300-horsepower and a respectable 295 lb.-ft. of torque—which actually feels higher than that when the throttle is engaged aggressively and this sedan tackles any road you might care to throw at it.
This twin-turbo V6 demands to be driven and very quickly proves that the engineers at Infiniti really know how to design an engine—it may be one of the quickest and smoothest power plants in the compact luxury segment, with, perhaps, only BMW's inline six-cylinder engine attaining a very slight advantage. While exhaust noise is noticeably absent, the motor does not disappoint and continues to reaffirm Infiniti's "Empower the Drive" branding. Be advised, these words are more than a slogan, a marketing catch phrase. To be clear, all Infiniti models embrace innovative design, performance enhancing, state-of-the-art technology, and an unparalleled connection between the driver and the car—regardless of whether it's a coupe, sedan, CUV, or SUV. Infiniti designers and engineers create vehicles where the sole function is to make you, the driver, feel safe and secure while driving your vehicle regardless of conditions. The Q50 3.0t Sport does not disappoint.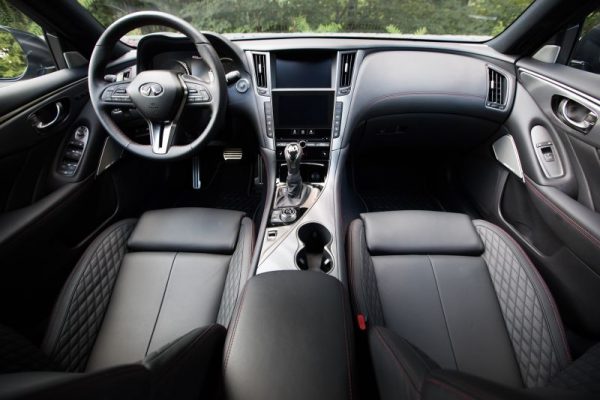 Open the driver's side door and look inside before you position yourself behind the wheel. Your eyes and yes, even your nose will signal that the teams of designers were definitely considering the sum of the parts when the Q50 was on the drawing board. The interior exhibits very high standards in terms of material quality and finish. Everything feels right—especially when the door closes gently and the car's ignition is engaged. Experience a feeling of satisfaction, knowing that you did not have to sell your soul to purchase this luxury sedan sitting front and centre in your driveway or garage.
In keeping with the Infiniti mantra, Empower the Driver, this car is very driver centric with the front seats in a separate cockpit-style featuring the InTouch communications system, which includes two, yes two large touchscreen displays (eight-inch upper and seven-inch lower) with the expected seamless integration of hands-free phone, moving map navigation and entertainment. They may initially appear almost redundant, perhaps a little dated—very similar, appearance wise to the displays in modern-day Hondas or Acuras. However, the longer you spend in the car, the sooner you become more familiar and before too long, any objections are mitigated. The top screen can display the maps and navigation instructions while the bottom screen allows you to adjust the audio and heating controls simultaneously. Both displays are touch screen too, but the top screen can also be controlled via a rotary dial under the gear shifter in the centre console. As we said, initially the multiple options may cause a bit of palpable confusion: however, the learning curve is relatively short. If there is one beef, it's that Infiniti has not added Apple CarPlay or Android Auto for seamless smartphone integration. However, Infiniti advises that both will be available soon enough.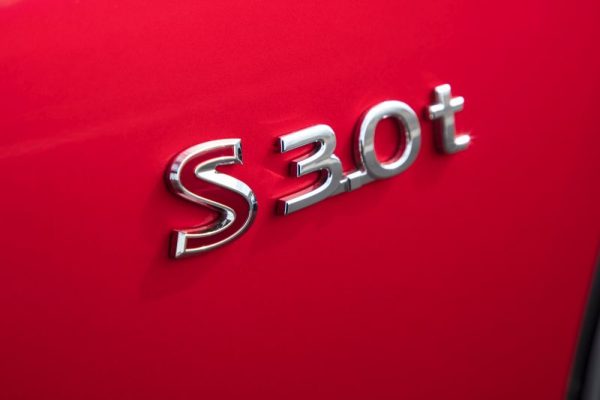 While this is a pleasing vehicle to drive, we would be remiss to avoid talking about the suite of additional features available for added safety. These include available systems such as Around View Monitor with Moving Object Detection, Intelligent Cruise Control with Full Speed Range, Forward Emergency Braking, Distance Control Assist, Blind Spot Warning, Blind Spot Intervention, Backup Collision Intervention, Lane Departure Warning, Lane Departure Prevention with Active Lane Control, Adaptive Front Lighting System, High Beam Assist technology, and Predictive Forward Collision Warning—also referred to by the acronym, PFCW. Take note. The PFCW can be a little surprising when activated but in a welcome manner. You see, in the Q50 this innovative technology can actually "see" two vehicles ahead. So if someone stops or slows suddenly in front of the car ahead of you, the Q50 slows or stops accordingly!
In conclusion, the 2018 Q50 3.0t Sport with all-wheel drive is a luxury sedan that deserves your attention.
2018 Infiniti Q50 3.0t Sport AWD
Body Style: Mid-size luxury sports sedan.
Engine: As tested, 3.0 litre twin turbo V6 for 300 hp and 295 lb.-ft. of torque.
Fuel Economy (stated): (Premium) 12.4/8.7/10.8L/100 km city/highway/combined.
Cargo Capacity: 382 litres.
Pricing: $50,766*.
*Does not include freight. PDI, HST and other taxes extra.
David Taylor is an independent automotive lifestyle writer, producer, and editor based in Barrie, Ontario who is fascinated by innovation and technology which enhance the overall driving experience. He's also a member of the Automobile Journalists Association of Canada (AJAC) and a Director of the Canadian Car of the Year. Follow him on Twitter @Omemeeozzie or on Instagram @hugoscaroftheweek.