Zuccotto, a traditional Tuscan dessert from the city of Florence, is a showstopper: a sponge cake dome, brushed crimson with a local liqueur, alchermes, and filled with a mixture of ricotta and whipped cream, chocolate, and candied fruits. 
Old-fashioned, elegant, and quintessentially Tuscan, zuccotto is still one of the most beloved sweet treats of our region.  
Noble Origins
Zuccotto's origins are related to one of the most inspiring and influential women of the 16th century: Caterina de' Medici, a woman belonging to the most important family of Florence, who later became queen of France.
In 1533, the 14-year-old Caterina de' Medici left Florence to marry the Dauphin of France, Henri d'Orleans. She brought with her a large following of courtiers, doctors, magicians, maids, and her favorite cooks and pastry chefs, as well as the influence of her wealthy family of bankers and closer attention to table etiquette, something that was missing at the French court. 
Though the line between legend and true history is blurred, with national pride perhaps influencing the story, it seems that the French culinary tradition owes to Caterina de' Medici the introduction of gelato, sorbets, zabaione (or sabayon), crêpes, canard à l'orange, onion soup, and even forks.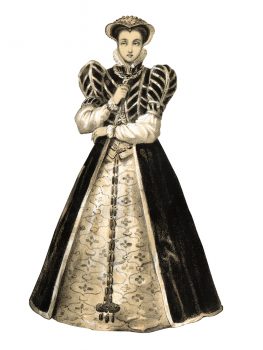 Zuccotto appeared for the first time at Caterina de' Medici's court during a banquet held for notable Spanish guests. The Tuscan cookbook author Giovanni Righi Parenti writes in his "La Cucina Toscana" that the dessert was likely created by Bernardo Buontalenti, one of the most celebrated artists of the times, an architect and the inventor of the Florentine ghiacciaie (ice houses) and gelato.  
Some say Buontalenti named the dessert "elmo di Caterina," or "Caterina's helmet," as its shape resembled an infantry helmet of that time, known as a zuccotto. Others think zuccotto's name is derived instead from the crimson liqueur, alchermes, used to brush its surface, which makes it resemble a cardinal's red cap, or zucchetto.
Given its royal origins, it is no surprise that the zuccotto has survived through the centuries. When I see one in a pastry shop window, I see a timeless dessert with a vintage look, thanks to the alchermes, but a simple, clean flavor suited to modern tastes, due to its very short list of ingredients. 
Recipes have changed slightly over time. But when I make it at home, I stay as close as possible to the original, keeping the flavors simple and the ingredients few.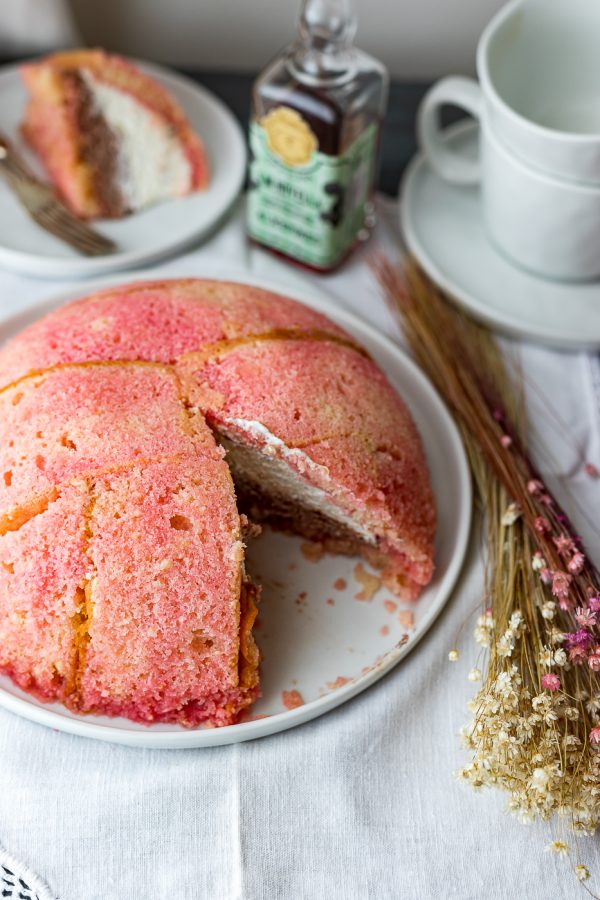 Breaking It Down
It might seem daunting to make such a delicate dessert from scratch, but all that you really need is some organization. 
Let's take a closer look at the main components: pan di Spagna, alchermes, and the filling. Then, you'll find yourself whipping up a zuccotto in no time, and I assure you it will become one of your go-to party tricks to impress your guests. 
Pan di Spagna
The typical cake used to make Florentine zuccotto is pan di Spagna, a light sponge cake that, despite its name meaning "Spanish bread," is very common in Italy.
Pan di Spagna is a simple cake, made with a very short list of ingredients. It requires no yeast or baking powder, only eggs, sugar, flour, and starch. The soft sponge is a perfect base for both traditional and inventive desserts: It can be soaked with your favorite syrup or liqueur; filled with pastry cream, chocolate, or whipped cream; and decorated with nuts, fresh fruit, or royal icing.
Along with pan di Spagna, old recipes for zuccotto sometimes call for mantovana, bocca di dama, or torta del paradiso. All of these cakes have in common many eggs, sugar and flour, and a spongy texture, ideal for soaking up an alcoholic syrup. 
Alchermes
After you bake your pan di Spagna, you'll slice it up and brush it with alchermes to line the inside of your zuccotto mold. 
Alchermes is a crimson Renaissance liqueur, a favorite of the Medici family. When you open a bottle and inhale, you will recognize cardamom, coriander seeds, mace, orange peel, star anise, and vanilla, then a subtle rose aroma.
It is an old-fashioned liqueur used to flavor and soak many Tuscan desserts, from zuppa inglese to pesche di Prato, brioche buns brushed with alchermes and sprinkled with sugar so as to resemble real peaches. 
In my family, our traditional birthday cake is a sponge cake brushed with alchermes and filled with custard and chocolate. My grandma would even add a few drops of the liqueur to the icing, to obtain a pinkish glaze and a subtle spiced aroma.
Zuccotto is the most striking example of the use of alchermes in a dessert. If you cannot find alchermes, use amaretto, brandy, or even another old-fashioned Italian liqueur, such as Rosolio or Strega. 
The Filling
Once you have lined the inside of the zuccotto mold with pan di Spagna, make the filling.
The simplest filling is made with whipped cream and a small amount of sugar, but traditionally, you can also mix the cream with fresh ricotta. If you opt for the latter, which I usually prefer, be sure to drain the ricotta properly by leaving it in a colander in the fridge for a few hours or even overnight, to remove as much whey as possible. 
Once your basic filling is ready, you can add hazelnuts and almonds, toasted and finely chopped; minced candied fruit, such as cherries or orange and citron peels; or even chopped dark chocolate. Those are the traditional ingredients, but you can play with your imagination and try throwing in toasted pistachios, chopped dried apricots, or even white chocolate chips.
I like to keep my zuccotto simple, so I usually make a filling of ricotta and whipped cream, with just a hint of sugar and lemon zest or orange zest to give it a delicate, citrusy aroma. 
I divide the ricotta and cream filling into two portions, adding a generous handful of dark chocolate chips to one, and a few spoonfuls of unsweetened cocoa powder to the other. Then, I fill the sponge cake dome first with the chocolate chip ricotta mixture, and finish with the chocolate-flavored one, for a surprise two-tone center.
RECIPE: Zuccotto
Giulia Scarpaleggia is a Tuscan born and bred food writer, food photographer, and author of five cookbooks, including "From the Markets of Tuscany." Find her online at her blog, JulsKitchen.com