Syndy Clark's cleanup crew munched on brush on an early morning in June at a residence in rural Pekin, Illinois.
Clark's goats were clearing brush on 2 acres. They already had eaten their way through 1 acre of the 2 acres they were tasked with in the previous week and had perhaps another week to clear the remaining acre.
Such is the work of Goats On The Go Peoria, "a targeted grazing service" that uses goats to clear people's properties of invasive and nuisance vegetation. Syndy Clark, her husband, Chris, and son, Connor, own Goats On The Go Peoria, an affiliate of the national Goats On The Go, organization that provides managed goats to deal with problem outdoor spaces that have either been overrun with invasive species, overgrown or unkempt spaces without the use of herbicides or other chemicals that can be harmful to a community.
Invasive honeysuckle, multiflora rose, thistle and wild parsnip were vegetation Goats On The Go Peoria were encountering on the Pekin, Illinois, property.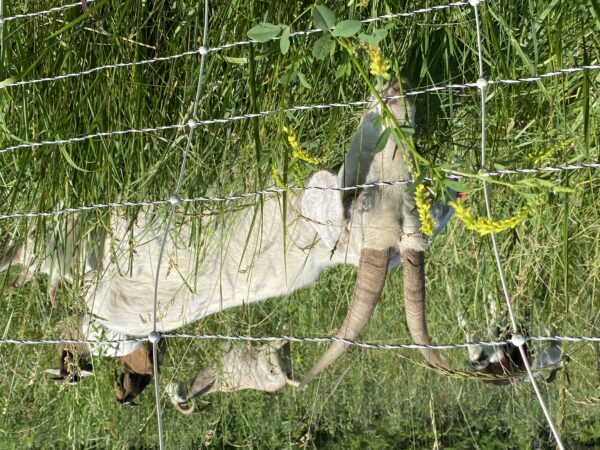 "They have a really nice creek down there, and they would like to have access to that a little bit easier, and also all of this invasive species is encroaching on their lawn as well, so this helps," Syndy Clark told Radiant Life, adding that they have over 20 goats in the herd. "This is our second year at this property. This is a different section than we did last time. Hopefully, he'll have us back, and then it will be back to prairie grass and not invasive species, after several grazing's of goats."
Goatscaping
What's been called "goatscaping," goats grazing to clear overgrown lots, is an environmentally friendly process that's gained popularity, particularly since the COVID-19 pandemic resulted in lockdowns, The Wall Street Journal reported.
"Mowing" lawns with the use of ruminant animals (chews the cud) such as goats isn't a new idea.
The 28th President of the United States Woodrow Wilson used other ruminant animals like sheep and cattle to manage the front yard at the White House, "The History of Lawns in America" said on the website American-Lawns.
"Not everyone wanted cattle or sheep grazing in the front yard to keep the green stuff at a manageable height as did Woodrow Wilson while occupying the White House," said "The History of Lawns in America." "Actually, it was an effort to draw attention to what could be done to free up men to fight and help with shortages of wool during World War I. The wool was auctioned off for $100,000 and given to the Red Cross. Speaking of presidents, early Presidents Washington and Jefferson both used sheep to keep their home lawns at manageable heights."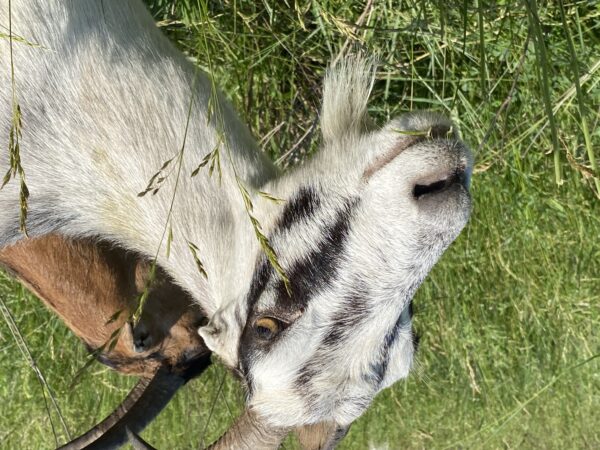 You can use goats
While sheep and goats are different species, although they both eat only vegetation and are ruminants, the American Goat Federation said, companies now throughout the United States rent out herds of goats to help people clear their properties of overgrowth, weeds and brush.
The Clarks' service is an affiliate of the national Goats On The Go, which two central Iowa families started in 2012, according to their history.
"They grew so big in their area that they logistically couldn't go outside the area," said Syndy Clark, who added that the Clarks are in their third grazing season.
"With goats, every day you check on them, when they're on a project. You've got to come every day and make sure that they're doing what they need to, they have water, if they need to be moved, if we need to move fences," Syndy Clark said. "So, we want to stay within a certain amount of driving time for ourselves, so they couldn't handle any further out logistically for them, and so they thought, 'Other people need to be doing this, too,' and so they started their affiliate program."
Syndy Clark and her family, who live on a small homestead, already had four goats that were milked for milk when she saw a Facebook post about Goats On The Go.
"My son was like, 'Yes, Mom. Let's do this,' " Syndy Clark said. "My husband was like, 'I think you're kind of nuts.' I'm like, 'This could really work,' and now he thinks it's great."
Goats On The Go Peoria uses goats that are meat and dairy crossbreeds. The kiko goat is the Clarks' favorite.
"They tend to do really well in this kind of forage, and they're very hearty, especially in these cold Illinois winters, they do really well," Syndy Clark said.
Good for goats?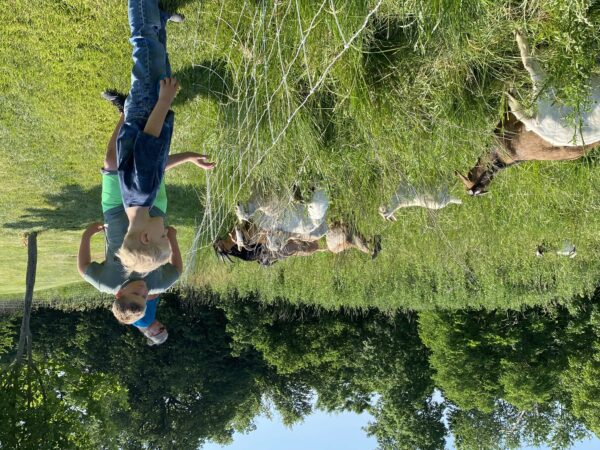 Although the Goats On The Go, Peoria goats are on jobs during the summer, they go home periodically for health checks, Syndy Clark said.
The health of the herd is a must when it comes to goatscaping, Dr. Kirk Hubbard, a veterinarian at an animal hospital, told Radiant Life.
"When it comes to goatscaping, it's a great idea to keep the invasive weeds down and goats can do that," said Hubbard, a member of the American Association of Small Ruminant Practitioners. "From a health standpoint, I think nutrition, the rumen (first compartment of the stomach) can do amazing things and can supply the goat with a lot of nutrition. On the other hand, if goats are moving across the country then we have to make sure their minerals/supplements are met."
The mineral selenium has an important role in a goat's muscle development and stabilization, Hubbard said. A life-threatening condition called "White Muscle Disease" can occur in a goat that doesn't receive selenium. That can be prevented with injections given before the goat is deployed for goatscaping.
"Another health concern is tetanus. If these goats are roaming around rusty metal objects, it can be a hazard in the right area," Hubbard said. "Tetanus is also a life-threatening disease that can't really be treated but easily prevented by giving vaccines. CD&T vaccinations before deployment would be a must. This vaccine can be given once a year for full coverage."
Predators can be a hazard of goatscaping in certain areas, Hubbard said.
"Owners will have to take that risk or have great fencing/defense to prevent any issues from occurring," said Hubbard, who suggested that owners of goats consult a veterinarian for planning and prevention.
Goats On The Go Peoria goats are fenced in with portable, eco-friendly solar electric netting at job sites they to throughout the summer.
"They eat when they want to, and they'll eat 24/7. They do bed down at night," said Syndy Clark, who added that periodically during the summer the goats return home for health checks. "In the daytime, they'll rest and nap and chew their cud."
The goat manure that is produced is very good for the soil because of nutrients.
"It also does not reseed whatever they've eaten, so like with cows and horses a lot, they'll eat, and then whatever they've eaten they're reseeding the pasture for you," Syndy Clark said. "Goats don't do that, so it's really healthy has far as getting those invasive species; they're not just spreading it to the next field. They're rendering those seeds useless."
Goats On The Go Peoria does jobs from small to large. They've gone to backyards, mowed down gardens after the season is over, and even done large jobs for an electric utility. An upcoming project will require the goats to go to a home to target areas of thick poison ivy.
"They're really good at getting rid of poisonous things that we don't want to touch, so like the parsnip and the ivy and the oak," Syndy Clark said.
For more information about Goats On The Go Peoria, call 309-431-2005.