From the archives: This story was last updated in November 2019.
Anytime a young couple gets together to shoot engagement pictures, there's something undeniably hopeful, witnessing them embark on a journey together. For Edmilson Alcântara and Karine de Souza, from Ceará, Brazil, this incredible moment was not only special for them but also for the photographer who had the opportunity to capture their beautiful and inspiring love story and share it with the world in the fall of 2018.
Karine suffers from a rare skin disorder called xeroderma pigmentosum, a genetic, non-contagious condition that makes her skin extremely sensitive to the damaging effects of ultraviolet rays. Sadly, the disease has no cure.
Now married, Karine and Edmilson are working to build a home of their dreams and have become an inspiration to people in their country and around the world.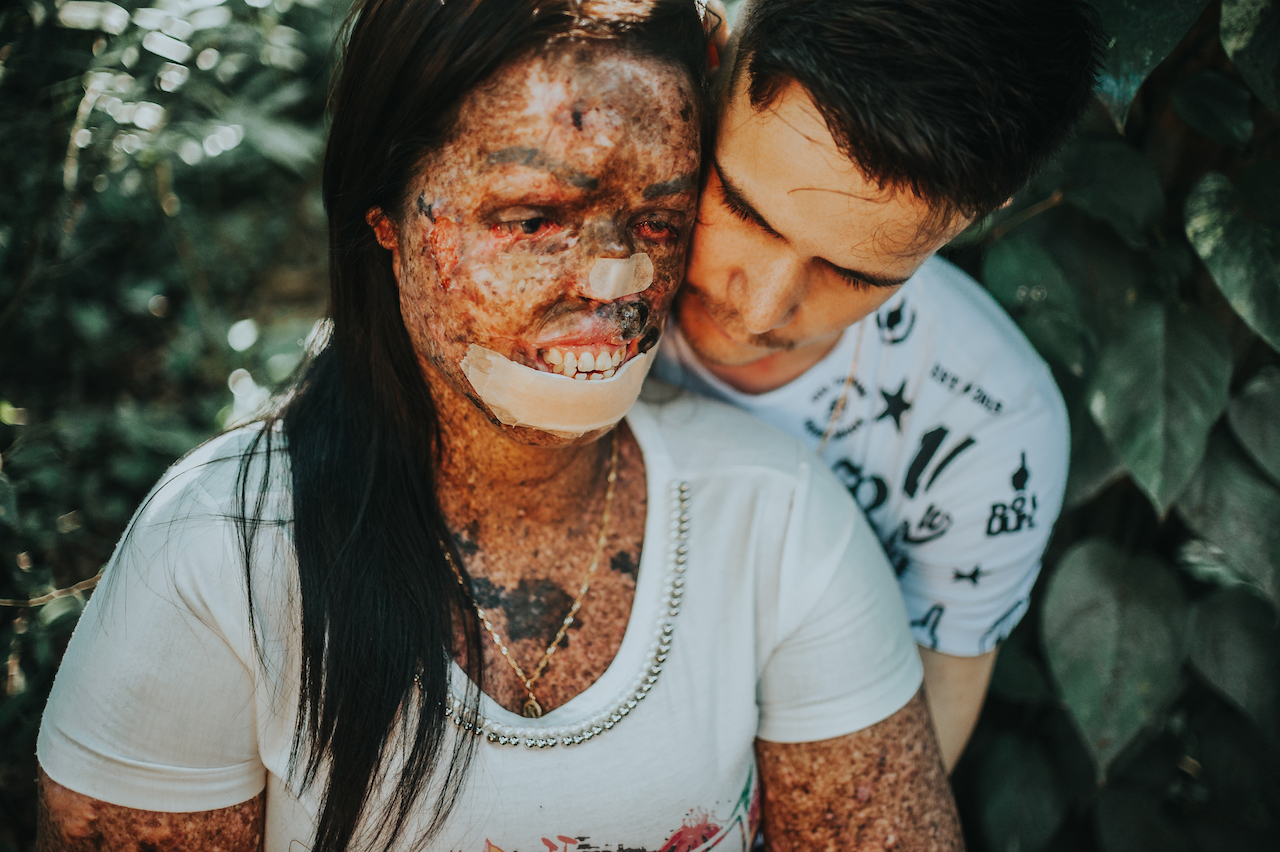 Learning to Overcome Challenges
For Karine, life has been a long and difficult road filled with lots of hurdles along the way. She was diagnosed with her rare skin condition at the early age of 3. Xeroderma pigmentosum, also known as XP, often shows itself in the form of extreme sunburns after just minutes of exposure to full sun. The two main components of the disease are dry skin (xeroderma) and alteration in skin color (pigmentosum).
National Institutes of Health (NIH) explains, "almost all children with xeroderma pigmentosum develop freckling of the skin in sun-exposed areas (such as the face, arms, and lips)."
NIH further adds, "most people with xeroderma pigmentosum develop multiple skin cancers during their lifetime. These cancers occur most often on the face, lips, and eyelids."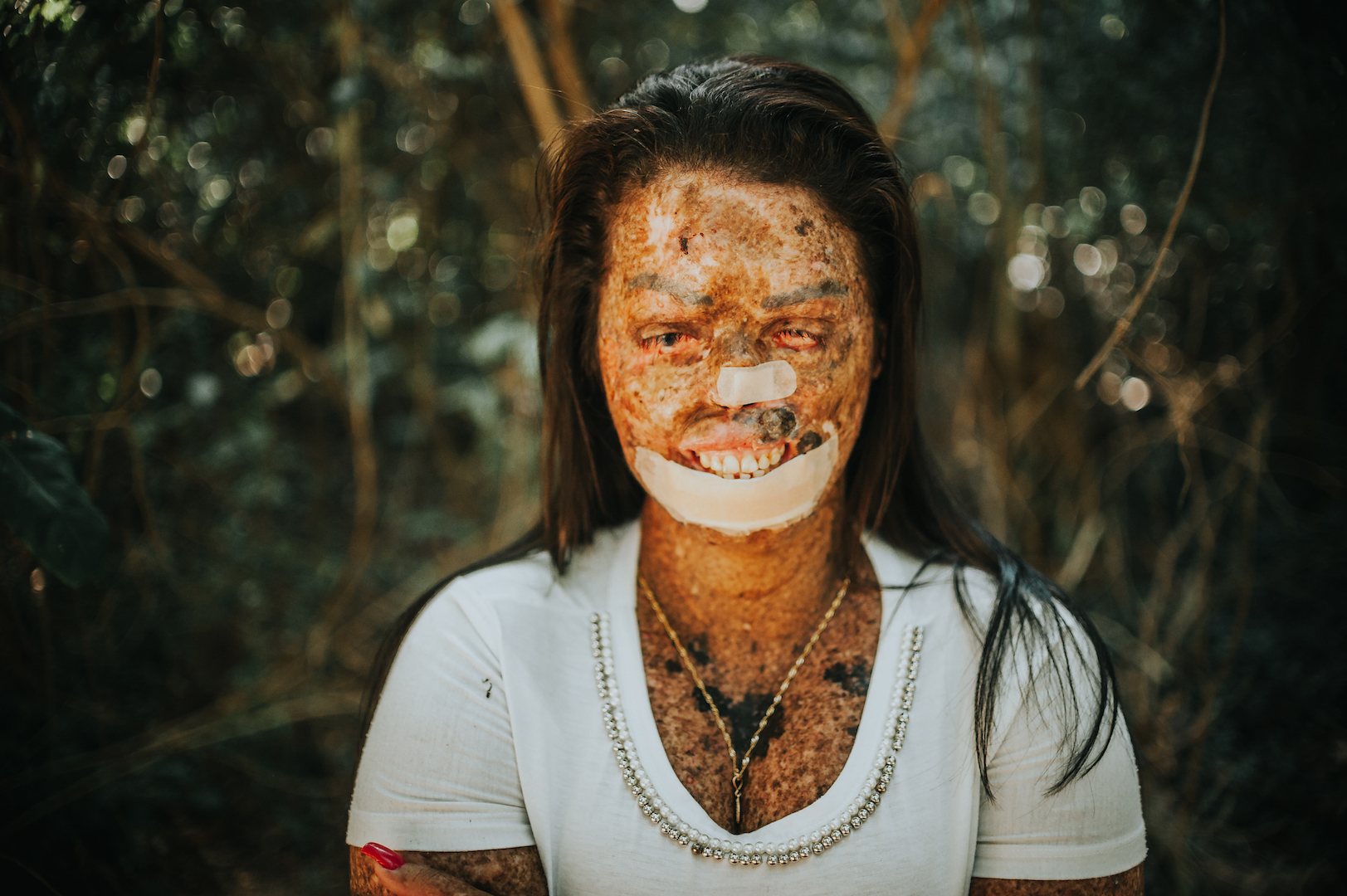 For Karine, dealing with the condition has always been difficult, especially with the considerable financial means it takes to afford the nearly constant treatment that XP requires. "It was hard to understand why I was experiencing this disease. But I learned to be strong and handle every situation without even understanding," Karine told The Epoch Times in an email interview.
From the time Karine was diagnosed, her family was one of the things, along with her faith, that has kept her going. "My family was very important in my childhood, they were always by my side, helping me whenever necessary, especially my parents," she said.
As time went by, she became better able to deal with her condition, partially out of habit. Karine explained, "over the years, I found myself learning how to deal with each obstacle. There were many consultations, exams, hospitalizations, and surgeries." Her other coping mechanism involved not talking about the struggles she was dealing with. "In adolescence, I retreated and learned to deal with my pain alone, I preferred to keep [it] only for myself what I felt, it made me stronger, made me able to overcome everything with my head held high," she said.
However, due to her condition, she had to be hospitalized many times and thus couldn't really complete her education.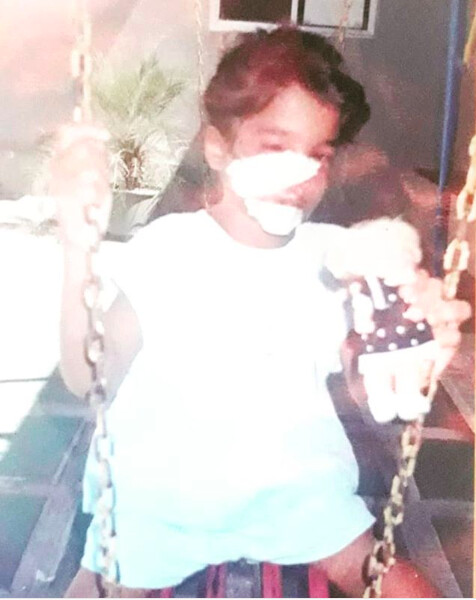 As for the steps Karine uses to manage her skin condition, she applies a lot of sunscreens (SPF 100) and wears clothes with UV protection so that she can prevent new injuries from occurring.
Finding Her Soulmate
Karine has also found a new community that consists of people beyond her family and friends to support her. She said, "I share a little of my history on social networks and thus help many people to cope with the difficult situations of life." Karine also receives messages from all over the world on her social network pages. Her Instagram feed has over 120,000 users who follow her inspirational story of how she deals with all the adversities in life.
And it was also through social media that Karine met her husband, Edmilson. On one particular day, Karine posted a picture along with a text about the prejudice she faces on her Facebook page. The post was picked up and shared by another Facebook page on which Edmilson, who was living in Rio de Janeiro, was a follower. Seeing the post, he visited Karine's profile and sent her a friend request.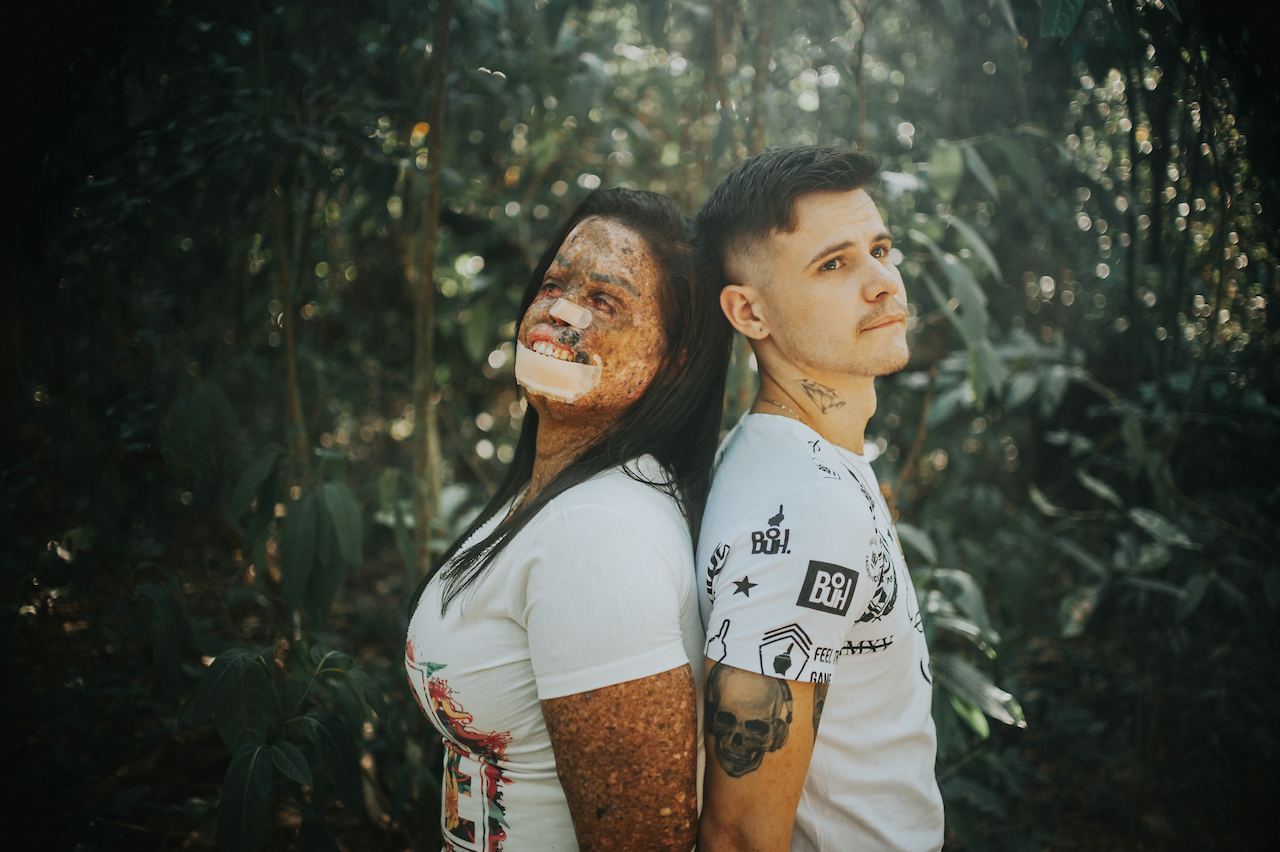 "He sent me a friend request, I accepted, but I didn't realize I was about to meet the great [love] of ​​my life," she recalled. Soon after, Edmilson began to read Karine's posts and like all of her pictures. On Jan. 28, 2018, the couple started to converse with each other. After five months of writing back and forth, Karine went to Rio de Janeiro, and they finally met in person. "I fell in love, he really is an amazing man," she said.
Not long after, Edmilson proposed to Karine and she accepted straight away. As her story went viral, professional photographer Daniel Panisson, from Rio Grande do Sul, came across it on Instagram and offered to do a photo shoot for the couple. As Karine notes, the photographer "was delighted with my life story and presented me with a photo essay."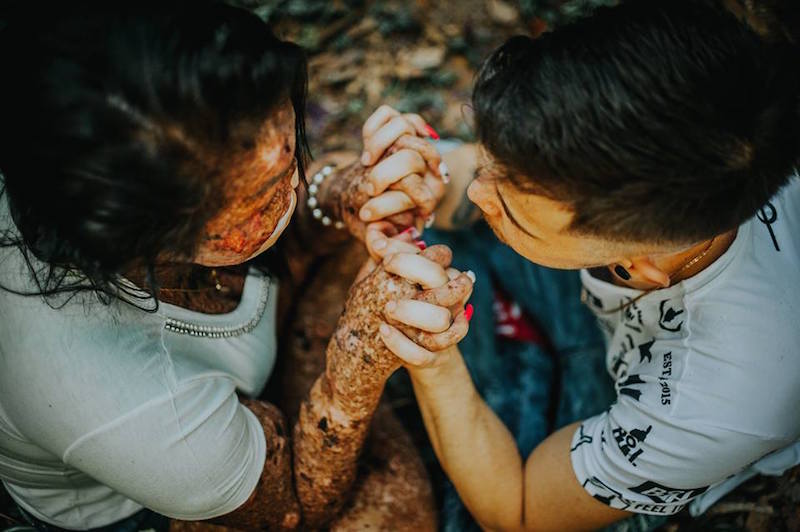 The "beautiful, magical and very special day" eventually resonated with the thousands of people around the world who saw the couple's endearing love through Panisson's lens. The photographer was touched by their authentic relationship, which was built on true feelings and not appearance. "Having depicted your love brought me peace and much inspiration for soul," a translation of Panisson's post reads.
Since then, Panisson's post has gone viral and touched the hearts of many people the world over. Karine mentioned she was touched by the hundreds of encouraging and appreciative comments and messages she has received but still had to deal with many prejudiced people who had offensive responses for her. For Karine however, "love overcomes everything, and I am grateful for everything that is happening and is about to happen in our lives."
Building Dreams Together
A few months later, Karine and Edmilson tied the knot in a beautiful ceremony on July 27, 2019, and have been happily living together ever since. Edmilson has also become a father figure to Karine's three children, Gabrielly, 14, Kauanny, 11, and Gabriel, 7.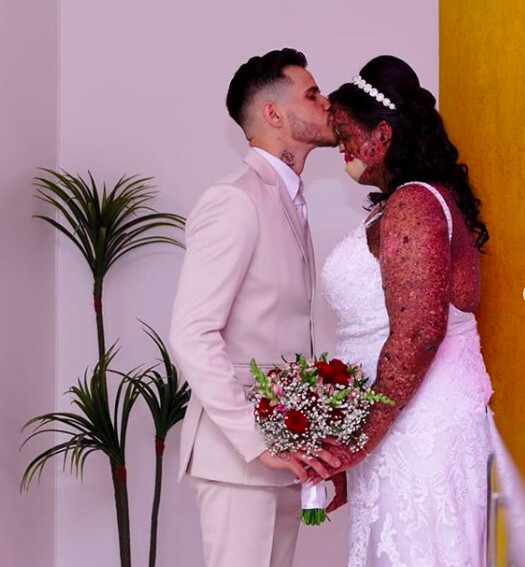 Edmilson works at a restaurant to provide for the family, whilst Karine is a proud homemaker. "I am an excellent housewife, I love to take care of the house and I love to cook," she said.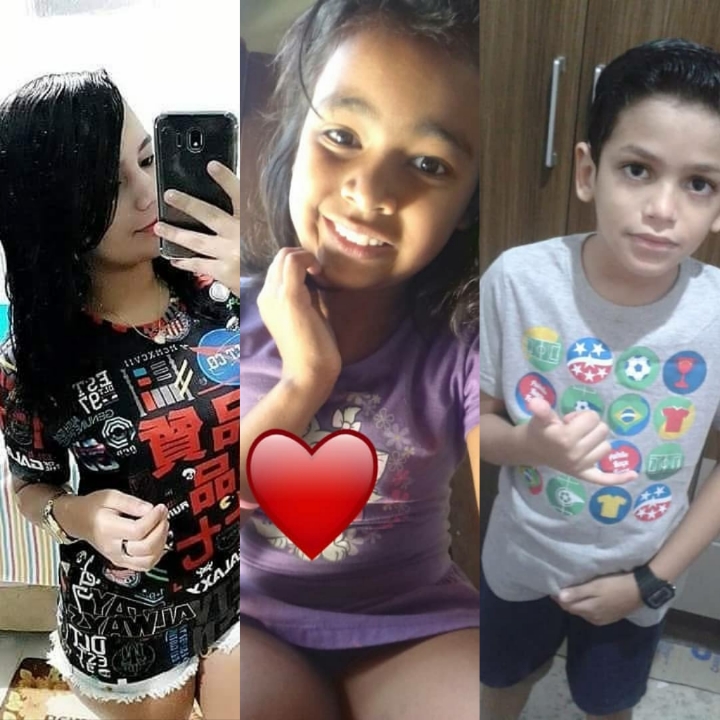 The young family's next big challenge is to have a place to call their own. Karine said, "We are fighting for our dream, which is to have our own home, but due to illness being caused by the sun the house needs to be adapted to protect me from ultraviolet rays." The couple is trying to raise 20,000 reais (US$4,000) on a Brazilian crowdfunding site, called Vakinha, to finish construction.
Meanwhile, Karine, who has visited the operating room 82 times now and lost her lower lip, the left part of her nose, and right ear, along with the disease reaching her left eye and causing blindness, has a piece of advice to those facing difficulties in life. She said, "never give up on yourself, never stop believing in better days. And most important of all is to have faith."
She further emphasizes that "[l]ove exists, believe me!"
We would love to hear your stories! You can share them with us at emg.inspired@epochtimes.nyc