NAPA, Calif.—The drive south through the Napa Valley from Calistoga to St. Helena, along the Silverado Trail, is one of the most beautiful and iconic in American wine. On one side of the trail, there is Howell Mountain, with its many historic vineyard properties. On the other side, the remarkable Three Palms Vineyard stretches across the valley floor. Along the way, the legendary Meadowood Resort is tucked away and deeply forested in the shadows of Howell Mountain.
Today, this winding ribbon of asphalt that covers about 12 miles is a painful reminder of the tragedy of the recent Glass Fire and the harvest from hell. The Glass Fire was the latest and most destructive of the fires to ravage the Napa Valley during the 2020 harvest. It consumed more than 60,000 acres of forest and vineyard land and destroyed more than 1,500 structures.
Along the northern half of the Silverado Trail, signs of the devastation are everywhere: charred hillsides dotted with smoldering ruins of buildings that burned to the ground, leaving only a few bricks where there once might have been a fireplace and blackened concrete foundation slabs.
The physical destruction is disturbing enough, but there is also the personal human side. Cindy Pawlcyn, one of the valley's most revered chefs (Mustards Grill), lost her home and a priceless collection of more than 3,000 cookbooks.
Winemaker Michael Scholz of St. Supery tells a harrowing story from the night the Pritchard Hill and Hennessey fires "actually joined up on our property." At the time, Scholz was frantically trying to defend St. Supery's 1,500-acre Dollarhide Ranch in the hills northeast of St. Helena from a potential calamity.
"We were fighting the fire with a shovel and a little water tank," he said. "If it hadn't been so serious it would have been comical. The fire department came and said, 'You're under evacuation orders, but we're not going to make you leave because we know you're trying to protect your property. But understand that if the fire comes over that hill tonight, the cavalry's not coming.'
"To just leave the property would have been giving up. It burned right along our fence line, but we were OK."
St. Supery has about 500 acres planted to vineyards on the rolling hills of the Dollarhide Ranch and lost about two acres of vines to the fire.
"Two acres out of 500, I can't really complain," said Scholz. "We escaped without too much damage."
Others in the valley have had fire fatigue, largely due to the frequent evacuation orders.
"We've been evacuated so many times we've spent more time outside our house than in it since all this got started," said veteran winemaker Ken Deis.
Despite the constant threat of potential loss and physical harm, however, there is evidence that denizens of the valley are heaving a collective sigh of relief and returning to familiar and comforting everyday patterns.
On a recent Monday evening after harvest was all but finished, Bistro Don Giovanni, a popular Italian restaurant on the northern edge of the city of Napa, was nearly fully booked, with all of its outside tables occupied despite a brisk chill in the air.
Consecutive lunches at Rutherford Grill and Bottega, two hot spots favored by locals, showed encouraging signs of the valley coming back to life. It was early in the week, yet both restaurants had robust crowds.
While much of the valley, particularly the lower valley, appears unchanged, the northern Silverado Trail, and Diamond Mountain and Spring Mountain on the other side of the valley, provide a powerful reminder of the powerful, destructive, and all-too-frequent forces of nature that are California wildfires.
Tasting Notes
Wines are rated on a 100-point scale. Wines are chosen for review because they represent outstanding quality or value, and the scores are simply a measure of this reviewer's enthusiasm for the recommended wine.
Col Solare 2017 Cabernet Sauvignon, Red Mountain ($75): Another brilliant vintage from Col Solare is the collaboration between Piero Antinori and Chateau Ste. Michelle. This blend is 97 percent cabernet sauvignon with cabernet franc filling out the rest. Rich and layered, it is a muscular wine without the rough edges. Suave and juicy with impressive depth, it offers aromas of blackberry and cassis with subtle oak influences, exquisite balance, and a bright future for those who choose to cellar it for 10 to 20 years. Rating: 97.


Duckhorn 2017 Merlot, Rector Creek Vineyard, Napa Valley ($100): Just another scintillating merlot from Duckhorn. Is anybody surprised? This vintage from the exceptional Rector Creek Vineyard is suave and powerful at the same time, with structure and muscle for the long haul despite its current approachability. It shows aromas of cherry, red currant, and blueberry, an attractive touch of wood spice, and beautifully integrated tannins. This well-balanced beauty can be enjoyed now or cellared for up to 15 years. Rating: 97.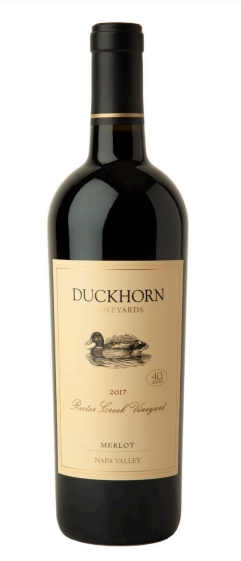 Nicolas Feuillatte Reserve Exclusive Brut, Champagne, France ($38): In the world of nonvintage brut Champagne, Nicolas Feuillatte Reserve Exclusive is a tough act to follow when it comes to price. This excellent cuvée delivers aromas of crunchy apple and citrus, shows a delicious note of toasty brioche, and exhibits impressive length on the palate. It beats just about all the other serious Champagne houses on price. Rating: 91.
Follow Robert on Twitter at @wineguru. To find out more about Robert Whitley and read features by other Creators Syndicate writers and cartoonists, visit the Creators Syndicate website at Creators.com. Email Robert at whitleyonwine@yahoo.com. Copyright 2020 Creators.com