Anyone concerned about synthetic additives, preservatives, and chemicals in the foods they eat may also want to consider the wines they drink.
Many conventionally made wines contain added yeasts to enhance the fermentation process, filtering agents to remove naturally occurring particles, and sediments and sulfur dioxide (sulfites) to stabilize them and extend their shelf life. Vineyards may be sprayed with pesticides and herbicides. Other technologies may be applied to manipulate flavors, as well as to create consistency and clarity in the wine.
However, some people are sensitive to sulfites, while others object to the use of chemical pesticides and fertilizers in farming.
Enter natural wine. Also called minimal-intervention wine, this alternative is organically farmed without the use of herbicides and pesticides. The grape juice is naturally fermented. Nothing is added to alter the wine—no filtering agents, added yeasts, or added sulfites.  
Natural winemaking dates back centuries, most notably in Europe, well before modern industrialization and technology. These days, natural wines are seeing a renaissance.
One reason is environmental: People are concerned about chemicals in their food and drink, and their harm to the planet. Another is emotional. Natural wines epitomize a back-to-the-roots approach to farming and production that appeals to both wine consumers and top sommeliers.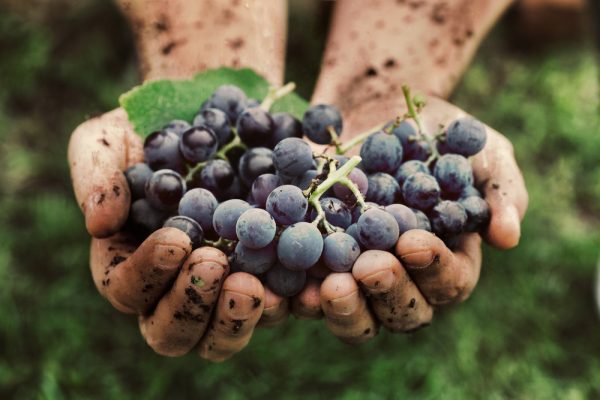 An Expert Ambassador
One of the most outspoken advocates for natural wines is master sommelier Pascaline Lepeltier, a managing partner and sommelier at Racines NY in New York City, which has an extensive list of natural wines from around the world. Lepeltier's many accolades include "Sommeliers International" magazine's Best French Sommelier 2018; Un des Meilleurs Ouvriers de France (One of the Best Craftsmen of France) 2018, a prestigious designation given by France's Ministry of Labor; and "La Revue du Vin de France" magazine's Personality of the Year 2019.
Lepeltier became hooked on natural wines as a student attending sommelier school in her native France.
"I remember tasting a beautiful 1959 Chenin from a Loire producer named Haquet. The wine was organically farmed and had no sulfur dioxide nor any other additive. That was the moment I realized low intervention wines had the potential to age beautifully," she said.
Natural wines may appear a tad cloudy or orange in color in the bottle since they are not filtered or manipulated. They may have a more penetrating aroma and taste, and even a little barnyard funk character. That's where it gets interesting, as the flavors can be initially surprising to anyone used to drinking conventionally made wines.
"With wines that are less technological and industrial, you will rediscover aromatics, texture, and structure that you may have forgotten," Lepeltier said. "It's like your first taste of a fresh-picked mango or wild strawberry, instead of the fruit you buy in the supermarket. The taste is more intense. You never forget it."
Modern Challenges
Some question the shelf life of natural wines and their ability to age, given their lack of conventional stabilizers and preservatives used in most wines. But Lepeltier emphasized that many of these wines have aging potential.
Still, she noted that there are challenges to making them. The "hands-off" natural approach requires very hands-on knowledge of farming and wine chemistry, to understand how to manage the aromatics, structure, and stability of the wines without the use of additives and pasteurization.
There is also no official regulation or certification process for natural wines. Some producers may claim to make natural wines, but there are no guarantees that corners were not cut somewhere. As natural wines' popularity increases, Lepeltier is concerned that maintaining quality and authenticity will be challenged by production demands.
This delicate balance is especially hard since natural wines tend to be made in smaller production by independent vignerons (grower-producers), rather than big wine companies. Producing more of these wines would ultimately require more intervention and investment.
The Master Seeks More Knowledge  
Despite holding the prestigious title of Master Sommelier, Lepeltier confessed that she feels she lacks sufficient training in oenology, the science of wine and winemaking, something that frustrates her.
"I want to study wine chemistry and viticulture to better understand the process. I feel responsible as a wine personality to see what can be done to preserve natural winemaking," she said.
Lepeltier recently partnered with winemaker Nathan Kendall on a natural wine project, called Chepìka, made in New York's Finger Lakes using certified-organic Delaware and Catawba grapes. Still, she remains committed to serve as an advocate and unofficial ambassador for natural wines, rather than building her own wine brand.
"I still have so much to learn. I still barely know how to taste," she said. Some surprising words from an award-winning Master Sommelier!
Pascaline's Picks: Natural Wines From Three Regions of France
Loire Valley:
Domaine de l'Ecu ("all the amphora cuvées by Fred Niger in the Muscadet")
Les Vins de Babass ("great Grolleau, Gamay, Chenin")
Domaine de la Paonnerie 
Alsace:
Jean-Pierre Frick (cuvées sans soufre)
Catherine Riss
Jean-Pierre Rietsch 
Languedoc:
Les Vins du Cabanon, Alain Castex
Clos du Rouge Gorge, Cyril Fhal
Le Temps des Cerises, Axel Prufer
A longtime wine and food industry professional, Melanie Young hosts The Connected Table LIVE! (iHeart), a weekly radio show and podcast featuring conversations with global thought leaders in wine, food, and hospitality. Her articles appear in The Epoch Times, Wine4Food, Wine Enthusiast, Sante Magazine, and Jewish Week. Twitter@connectedtable