NEW YORK—Step into Angie Vargas's home kitchen in Richmond Hill, Queens, and everything that meets the eye is pink—from the retro fridge to the KitchenAid mixer to utensils, down to her long straight hair. The color just makes her happy, and even the living room and bedroom are heavy on pink. Her husband, Ramon Ponce, drew the line when it came to the office.
In this pink kitchen, many hours of labor and love have poured into meals, welcoming both family and strangers. Vargas is a cooking instructor with the League of Kitchens and welcomes small groups of students into her home eager to learn about Mexican cooking. (Other League of Kitchen instructors specialize in a variety of cuisines, from Argentine to Uzbek, teaching in their homes in New York City; all are immigrants.)

Vargas loves sharing her passion for Mexican cooking, and her hospitality radiates warmth. "This is your house," she told me and a staff photographer one evening last fall, as we visited her for dinner.
Almost everyone but her toddler had been put to work; a sister-in-law was frying tortillas in batches of three, and a nephew was grating queso blanco, a fresh Mexican cheese.

Vargas learned cooking from her mother around the age of 7 or 8 while growing up in Monterrey, in northern Mexico. When she got married, she added the cooking of Puebla, a region in east-central Mexico, to her repertoire. Her mother-in-law and six sisters-in-law are all excellent cooks.
The night's dish was Tostadas de Tinga. The dish requires a lengthy prep, but once done it lends itself to feeding a crowd. Guests assemble their own: First, a fried tortilla, then wonderful creamy refried black beans, followed by the chicken tinga—chicken, spiced with chipotle, and shredded lettuce, queso blanco, avocado slices, crema, and a freshly made salsa roja. The avocados are perfectly ripe, from a small neighborhood Mexican grocery store called Los Poblanitos. The owner gets them for you; he won't let anyone touch them.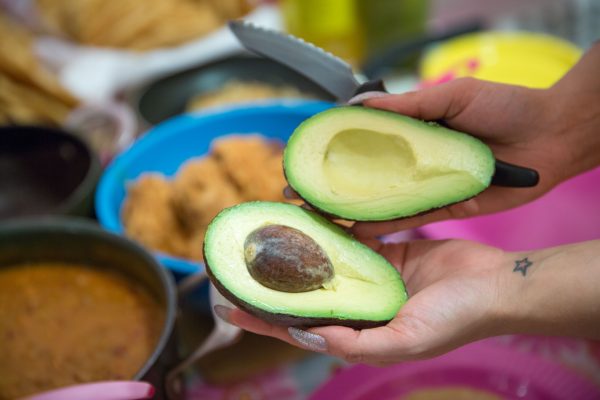 It is tempting to stack the tostadas very high. The photographer piles so much on his own that crema gets on his nose and the whole thing ends up flipping out of his hands, toppings side down, and luckily, onto the pink plate.

The tostadas are delicious, the layers coming together to deliver homemade goodness that keep everyone going back for seconds or thirds. The meal ends on a sweet note, as we head back into the kitchen to make Mexican hot chocolate, using a beautiful whisk carved out of a single piece of wood. More sweets are brought to the table: donuts and colorful concha pastries.

Tostadas de Tinga (Shredded Spicy Chicken Tostadas)

Makes 40 tostadas
Prep: 15 minutes
Cook: 1 1/2 hours
Tostadas are a typical meal from Puebla, where Angie's husband is from, whose family taught her this recipe. The very nature of this recipe calls for a party. When Angie is short on time, she buys pre-made tostada shells—her favorite is the Charras brand.

3/4 pound plum tomatoes, halved (about 5 small or 3 large)
2 cloves garlic
1/2 a very small onion
1 cup water
2 teaspoons fine Himalayan pink salt
One 7-ounce can chipotles in adobo
1 1/2 cup sunflower oil, plus more for frying
1 3/4 pounds onions, halved, cut with the grain into thin slices (about 5 cups)
3 breasts Boiled Chicken, shredded (see additional recipe)
1 1/2 pounds plum tomatoes, diced (about 4 cups)
40 corn tortillas
Frijoles Negros (see additional recipe)  
1/2 head iceberg lettuce, thinly sliced
Crema (see additional recipe)
Salsa Roja (see additional recipe)
Grated queso blanco
Puree the halved tomatoes, garlic, onion wedge, water, salt, and 5 chipotles with a spoonful of the adobo sauce in a blender.

Heat the oil in a large saucepan over high heat until it shimmers, about 3 minutes. Add the sliced onions and cook, stirring, until they soften but without any color, 11 minutes. Lower the heat to medium-high, add the chicken, and cook, stirring, until the onions turn golden, about 8–10 minutes. Add the diced tomatoes and cook, stirring, until they soften and release their juices, about 6 minutes. Add the pureed chipotle sauce to the pan and cook to evaporate the water, about 10 minutes. Stir in the remaining chipotles and sauce and turn off the heat. As it sits, the chicken will absorb more liquid. (Makes about 10 cups.)

Pour enough oil in a medium nonstick pan to come 1/2-inch up the sides (about 1 1/2 cups). Heat over medium-high heat. When an edge of tortilla dipped in the oil and starts bubbling, the oil is ready. Slip one tortilla at a time into the oil and hold down with a metal spatula so the tortilla doesn't bubble up (the oil will). This helps it become a flat, crispy tortilla to better hold the toppings. Flip with tongs and press again. Each one should take 1 to 2 minutes, quicker as the oil gets hotter. Put each in a bowl lined with paper towels. These will keep, covered with foil or kitchen towel (not plastic wrap), for a couple of days at room temperature.
To assemble the tostadas: Spread some beans on the tortilla, top with some chicken tinga, lettuce, a drizzle of crema, salsa roja, and cheese.
Boiled Chicken
Not your average boiled chicken, Angie adds garlic and onion and simmers until the meat is very tender. This recipe serves as the base for both her delicious enchiladas and tostadas.
Makes 3 breasts
Prep: 5 minutes
Cook: 1 hour 45 minutes
3 large boneless, skinless chicken breasts
1 head garlic, unpeeled, top cut off
1 large onion, top cut off
1 tablespoon fine Himalayan pink salt
Cover the chicken, garlic, and onion with water in a large saucepan. Add the salt, cover, and bring to a boil over high heat. Continue to simmer rapidly, adjusting the heat as needed, until the chicken is very tender—a fork stuck into the meat and turned will easily pull the meat apart —about 1 1/2 hours. Remove the chicken from the pan and let cool. Reserve for the tostadas.
Frijoles Negros (Black Beans)
Beans are an everyday food for everybody across Mexico. With so many varieties to choose from, the dishes are as diverse and regional as the country itself. Angie never soaks her beans—they cook up beautifully in just a couple of hours. Angie's black beans are deliciously simple, and when pureed, they add a lovely creaminess to her tostadas. They can also be left whole and served with rice or enjoyed in their juices and eaten as a bean soup.
Makes about 6 cups
Prep: 10 minutes
Cook: 2 hours 15 minutes
1 pound dried black beans, picked over for stones
1 head garlic, unpeeled, top cut off
1 medium onion, top cut off
1/3 cup sunflower oil
1 tablespoon fine Himalayan pink salt
Cover the beans, garlic, and onion with 3 inches of water in a large saucepan (it could be as much as 12 cups). Add the oil and salt, cover, and bring to a boil over high heat. Continue to simmer rapidly, adjusting the heat as needed, until the beans are very soft, adding more water as needed to keep the beans just submerged, about 2 hours.
Remove as much of the onion and garlic as you can. Ladle half of the beans and enough of their cooking liquid to just cover the beans into a blender and blend until smooth, thick, and silky. Be sure to vent the lid and cover with a kitchen towel before blending the hot beans to prevent them splattering all over. The blended beans make up part of the tostadas; the remaining whole beans can be eaten as a side dish.
Crema
An essential condiment at the Mexican table, crema gives a creamy richness and a gentle tang to dishes like tostadas.
Makes about 1 cup
Prep: 5 minutes
6 tablespoons milk
8 ounces sour cream
1/2 plus 1/8 teaspoon fine Himalayan pink salt
Stir the milk into the sour cream to achieve a thin yogurt consistency; the crema should run off a spoon very slowly. Stir in the salt.
Salsa Roja (Red Salsa)
No Mexican table is complete without some sort of salsa to accompany all the other dishes. There is no one way to make salsa, either. They come hot, cold, cooked, raw, blended, chunky, spicy, mild … just about every way imaginable. Angie likes this spicy blended red salsa to serve alongside many of her amazing dishes.
Makes about 1 1/2 cups
Prep: 10 minutes
Cook: 20 minutes
9 ounces plum tomatoes (2 large or 4 to 6 small)
3 large jalapeño chiles, stem trimmed
1 teaspoon fine Himalayan pink salt
Bring a medium saucepan of water to a boil over high heat. Add the tomatoes and jalapeños and boil until they are soft, the tomato skins crack, and the chiles pale in color, about 15 minutes. Drain. Cool, and then puree in a blender with the salt on medium-high speed until mostly smooth. Can serve warm or cold.
The League of Kitchens recipes have been professionally tested, but recipes cannot always capture every nuance on the days we cooked with our instructors. We believe these nuances are what make our instructors and their food as good as they are, and that these recipes are the best representation of their techniques, ingredients, and personal styles.
Recipes courtesy of Angie Vargas and the League of Kitchens