On the rare occasion that Champe Speidel, chef and co-owner of Persimmon restaurant in Providence, R.I., gets a long enough break to enjoy a night out, he likes to graze his way through the city.
"There are enough restaurants now where you don't have to commit to this three-hour meal, you can just stop there and have a bite or two," he said. "The talent level has gone up dramatically. If you're going to get a cocktail and an appetizer, there's 15 different restaurants who can do that well. [You can] create a sort of 'moveable feast' … in a two-square-mile radius or less."
On my recent visit to Providence, I attempted the same, packing as many meals as I could into a weekend itinerary. The result: very happy taste buds, over a protesting stomach. I recommend hitting every place—and the plenty others to be discovered—but at a slower pace, to properly enjoy each one.
Gracie's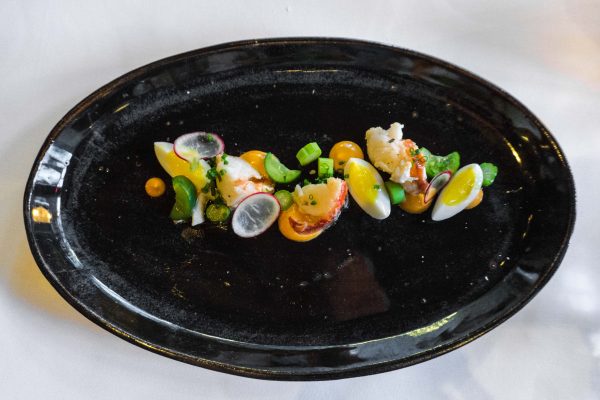 Established in 1998, Gracie's is a Providence favorite, beloved by locals for its consistently good food. Critics agree—the restaurant has won the AAA four-diamond award for five years straight. Chef Matthew Varga helms the kitchen, designing fresh, seasonally driven menus full of locally sourced—or rooftop garden-grown—ingredients, and the service is welcoming and attentive.
You can choose a three-course prix fixe or order à la carte, but better yet, put your trust in the chef and opt for a surprise tasting menu. You might receive goodies like duck breast with preserved cherries, slicing through the meat's rich flavor; plump Maine lobster, paired perfectly with smoked chili oil and quail eggs; or flint corn and polenta gnocchi with braised lamb, fava beans, and morels, a rustic display of earth's bounty. GraciesProv.com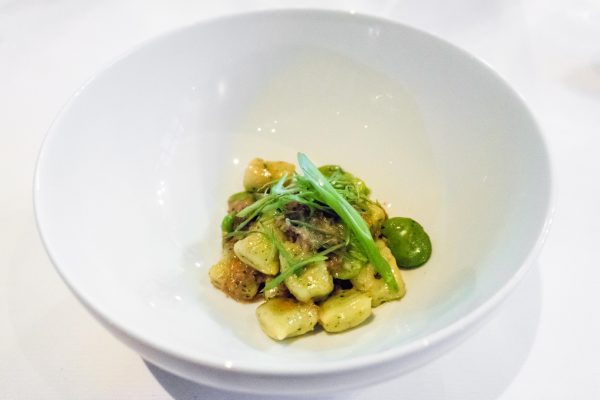 Persimmon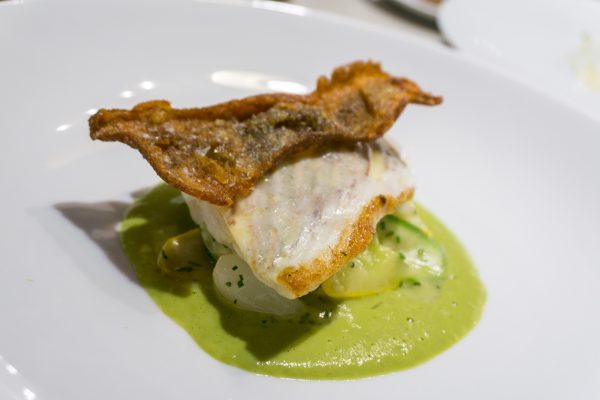 The menu at Persimmon changes a little everyday, keeping in touch with the microseasons of New England. Plates are smaller and priced accordingly, designed so you can try multiple dishes—which is great, because you'll want to try everything. The varied offerings keep things exciting: a risotto with creamed leeks and crisp green onions is rich and pungent; mild, sweet turbot in an "herb and sea broth" fragrant with dill cleanses the palate; meaty pork shoulder glazed in smoked maple syrup with bits of andouille sausage and hazelnuts excites it again.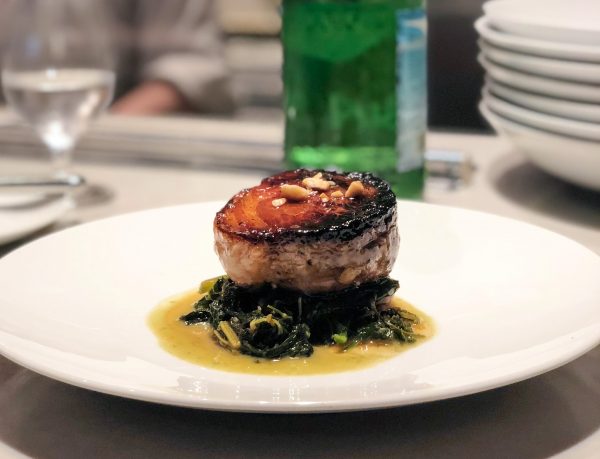 The one exception to the small plates design is a hefty 40-day dry-aged prime beef ribeye for two—"that's the best steak you'll ever have," Speidel said. "It's just a perfect steak so we had to offer that."
And don't skip dessert. Pastry chef Kristen O'Laughlin's creations are elevated but playful, like a summery take on a mille-feuille, with layers of delicate crepe cookies, local strawberries, cheesecake mousse, and rhubarb compote, plated with flavor-packed drops of balsamic vinegar meringue and three types of micro basil. PersimmonRI.com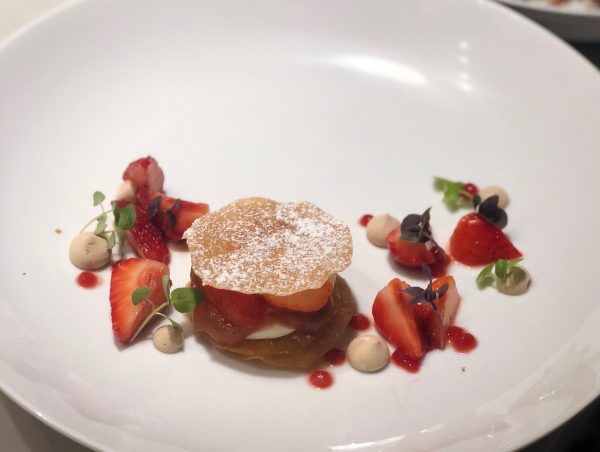 Nicks on Broadway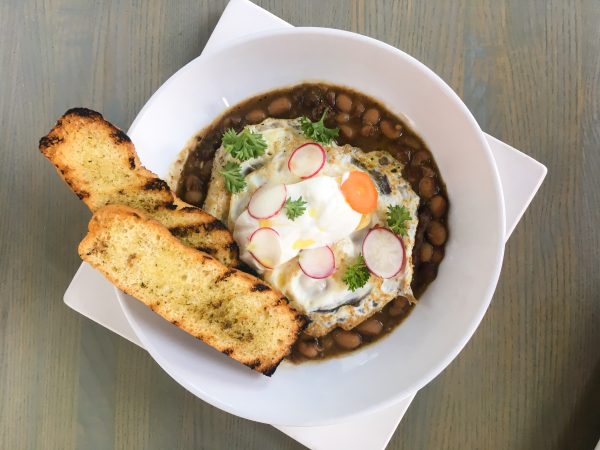 Chef and owner Derek Wagner opened Nicks on Broadway when he was just 24. Now, 17 years later, it's grown from a tiny 18-seater to a local go-to, crowded for Sunday brunch even with its 55 seats. Nicks is a beacon of farm-to-table cooking in Providence. Wagner locally sources nearly anything he can't grow on premises, and every decision is geared towards forging relationships and giving back to the community.
As for the food, "everything except the ketchup is made in-house," Wagner said, and everything is delicious. For brunch, the cassoulet is hearty and comforting, without being too heavy for the morning, and the baked polenta, made from purple heirloom cornmeal, is nutty and subtly sweet, piled with a fried egg, creamy ricotta, and pumpkin seed pesto. The bacon is a must—thick-cut, house-smoked, and brightened with a sweet cider glaze and punchy dollops of whole grain mustard. NicksOnBroadway.com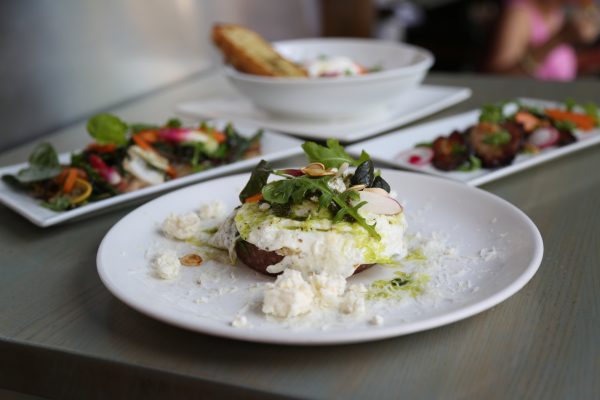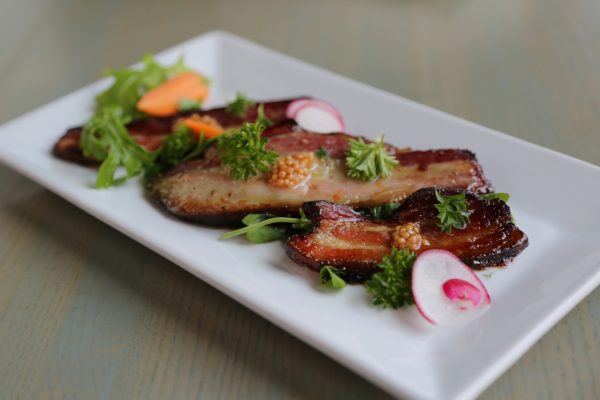 CAV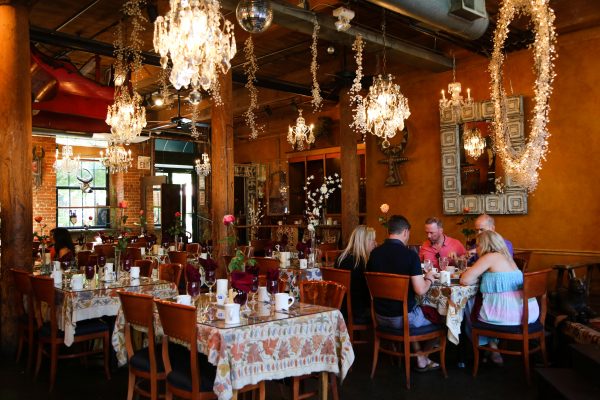 CAV wins the interior design award—the antique shop and art gallery turned restaurant is a beautiful space, with an assortment of chandeliers and glass fixtures; glitzy crystal rings suspended above the bar; and African and Asian art, from masks and sculptures to elaborate rugs, adorning the walls, window sills, and floor. The owner, who recently passed away, collected antiques from her travels across the world and put them on display at CAV. Almost everything, except for the chandeliers and a wooden sleigh hanging from the ceiling, is also for sale.
The food is delicious, too. The pistachio-crusted blue crab cake is all generous chunks of crab meat, paired nicely with a sriracha aioli with just a tinge of heat. For a lighter option, don't overlook the Sophia salad—though simple, with an unextraordinary cast of wild greens, sun-dried cranberries, walnuts, and gorgonzola, it's done exceptionally well, tied together with a savory-sweet caramelized onion champagne vinaigrette. CAVRestaurant.com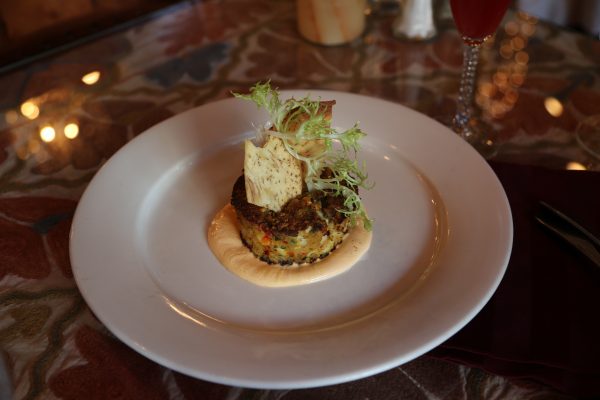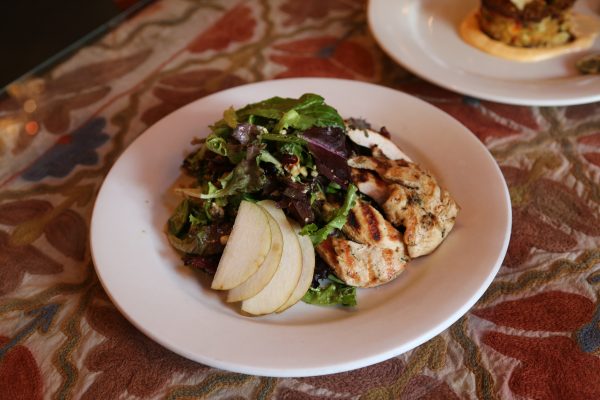 North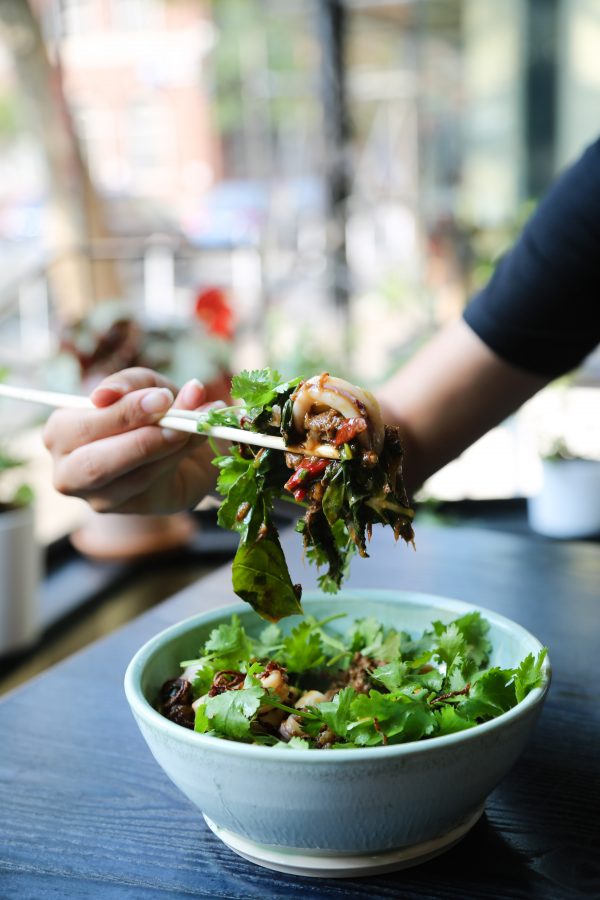 Located in the Dean Hotel, this casual eatery serves inventive dishes that lean Asian but are boldly reinvented. Take the Dan Dan Noodles, north style—they're a far cry from the traditional Sichuan dish, instead featuring a spicy mix of mutton, squid, and fermented chili, vaguely Chinese in flavor profile, over chewy Korean rice cakes. Regardless, they're delicious. The restaurant also donates 25 cents of each dish sold to nonprofit agency Amos House or the Rhode Island Food Bank. FoodByNorth.com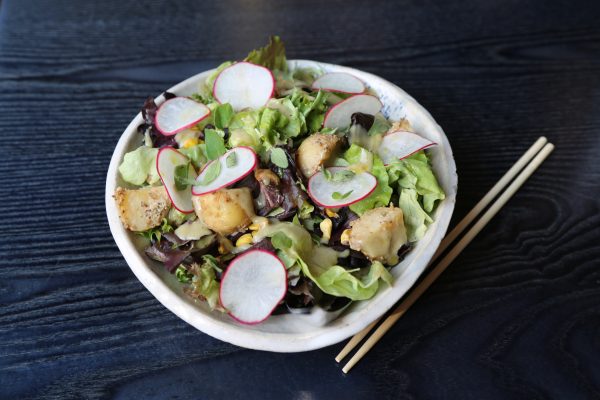 Kitchen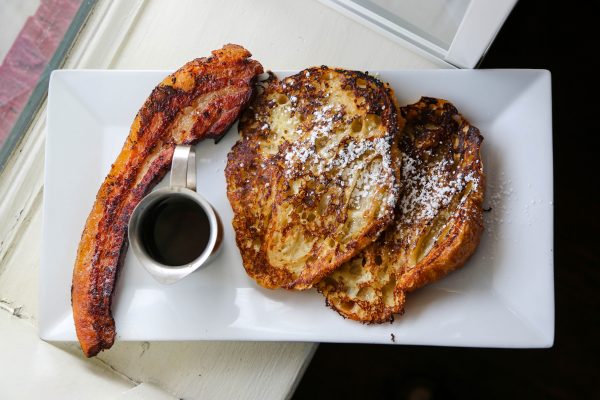 Breakfast at Kitchen is an extraordinary one-man show. The chef takes each guest's order (though some days with help from a waitress) and cooks every meal on his own, peering over the top of purple-framed glasses as he works the tiny kitchen. It's a cozy, homey space that makes you feel like you're dining in a friend's home, with only five, tiny booths, each with curving wooden seats painted dark green. That being said, unless you're among the first five parties in line at opening, expect to wait. But you absolutely should, if you can afford to.
Once you've squeezed your way in, order a grilled muffin—they sport overflowing, crackly muffin tops, and are loaded with raspberries that turn warm and jammy on the grill—or the croissant French toast, with fluffy insides and airy holes ideal for collecting puddles of syrup. But most importantly, get the bacon. It comes in a hefty, thick-cut slab, more like a strip of pork belly, with alternating stripes of salty meat and glossy fat that melts in your mouth as soon as you take a bite.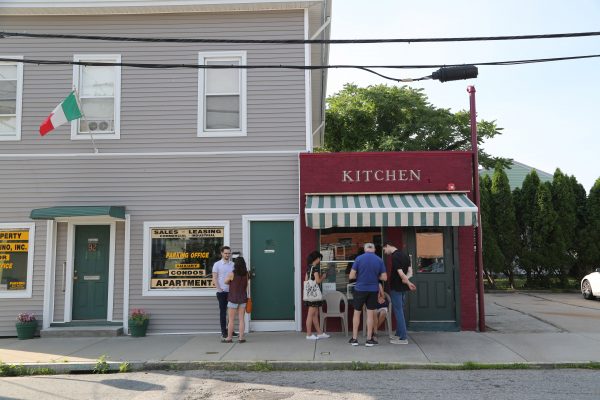 The Duck and Bunny

This adorable "snuggery," defined as "a cozy and comfortable place," breathes quiet, tea-time charm. The vintage parlor-like space is adorned with flowers and wreaths, white lace curtains, and a fireplace; in warm weather, a patio overrun with lush greenery offers outdoor seating. The place is known for its crepes and tender, fresh-baked cupcakes, but also offers a sweet afternoon tea, including a selection of finger sandwiches, two cupcakes, and a scone, all for an affordable $18. TheDuckAndBunny.com

Pastiche Fine Desserts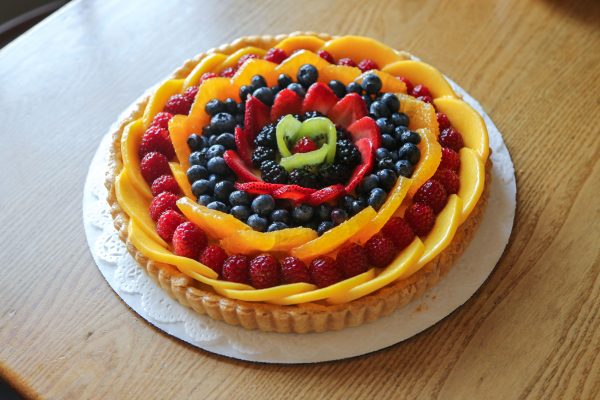 A quaint, European-style café on Federal Hill, Pastiche offers a beautiful selection of picture-perfect, handmade desserts. Get the fresh fruit tart, with its rainbow rings of glossy fruit slices atop a silky but light vanilla custard, all in a tender, sugar cookie-like crust. PasticheFineDesserts.com
PVDonuts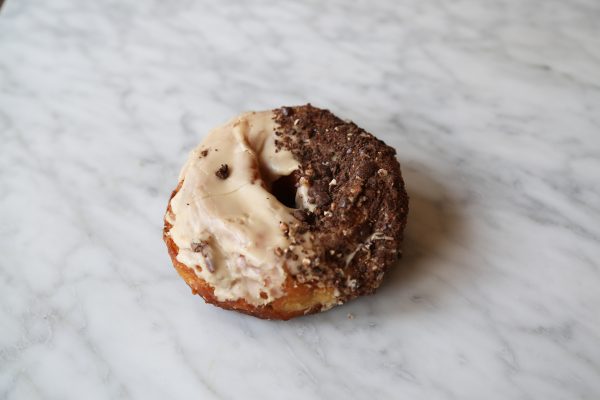 The signature handmade, brioche-style doughnuts at PVDonuts are buttery-rich and ultra-fluffy, with layered, almost stretchy insides. They're made with a 24-hour-raised dough that has more butter than sugar, so they're not cloyingly sweet, making them the perfect canvas for a slew of flavors that change every month; July's include sticky bun and strawberry lemonade. Embrace your inner Rhode Islander with a coffee milk doughnut, a shop staple, in honor of the state's official drink. PVDonuts.com
Knead Doughnuts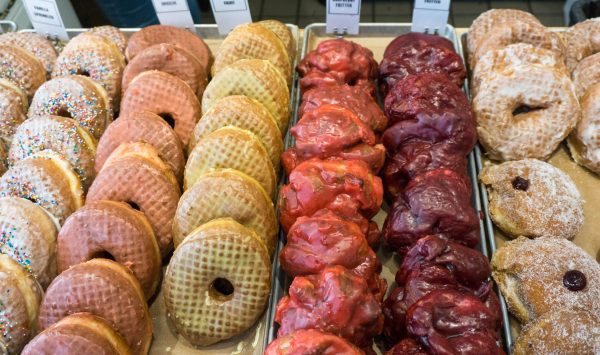 This specialty doughnut shop takes up the ground floor of a repurposed historic brick building. Flavors range from classic to imaginative, with options like sour cream old-fashioned alongside brown butter pecan and bright and tart passion fruit. Cake doughnut lovers, try the blueberry lemon basil, which is studded with fragrant basil leaves inside. KneadDoughnuts.com