Bajan fare gleans inspiration from various parts of the world—including Africa, Portugal, India, Ireland, and Great Britain—representing a potpourri of cultures. Unsurprisingly, fresh seafood from the surrounding waters often dominates dinner tables, but locals also cook with meat and poultry. Starches, vegetables, fresh fruit such as mango, coconut, cherries, and apples, as well as various herbs and spices make their way into their creations, too.
The people of Barbados love to fry and splash up a simple dish with a sweet or tangy sauce. (Be ready for some heat!) For Barbadians, flavorful, rustic cuisine lies at the heart of their cooking style. In addition to gorgeous landscapes, cerulean blue waters, and hospitality, the food is some of the most diverse and delicious you'll taste in the Caribbean, so go hungry and dig in.

Dishes to Try in Barbados
Flying Fish and Cou-Cou
The country is nicknamed after this West Africa-rooted delicacy and often labeled "the land of flying fish." Plentiful in Barbados' waters, the seafood species really does have wings and can indeed glide through the air. This mild white fish is usually steamed or fried and likely served with cou-cou, a porridge-like food similar to polenta or grits, but made by combining okra and cornmeal with water, butter, and spices. Creole gravy—a combo of tomatoes, onions, peppers, and spices—is generally the finishing touch.
Macaroni Pie
Welcome to Barbados's alternative to one of America's favorite comfort foods: macaroni and cheese. When you order this dish in any of the country's 11 parishes you'll undoubtedly hear it called "pie." This decadent pasta-based staple uses tubes rather than macaroni, but chefs add ketchup, mustard, onion, egg, and of course, cheddar cheese into the saucepan before baking. The result is a splurge-worthy side that is a savory accompaniment to pork, chicken, or seafood. But make no mistake, a rich pile of macaroni pie is fantastic on its own.
Breadfruit
Cultivated throughout the Caribbean, this football-shaped fruit takes the flavor of freshly-baked bread, but it's sweeter when cooked. Bajans often fire-roast breadfruit in its shell, but they also sauté it with olive oil, fry it, or mash it with butter and milk, transforming the prickly fruit into a unique version of cou-cou.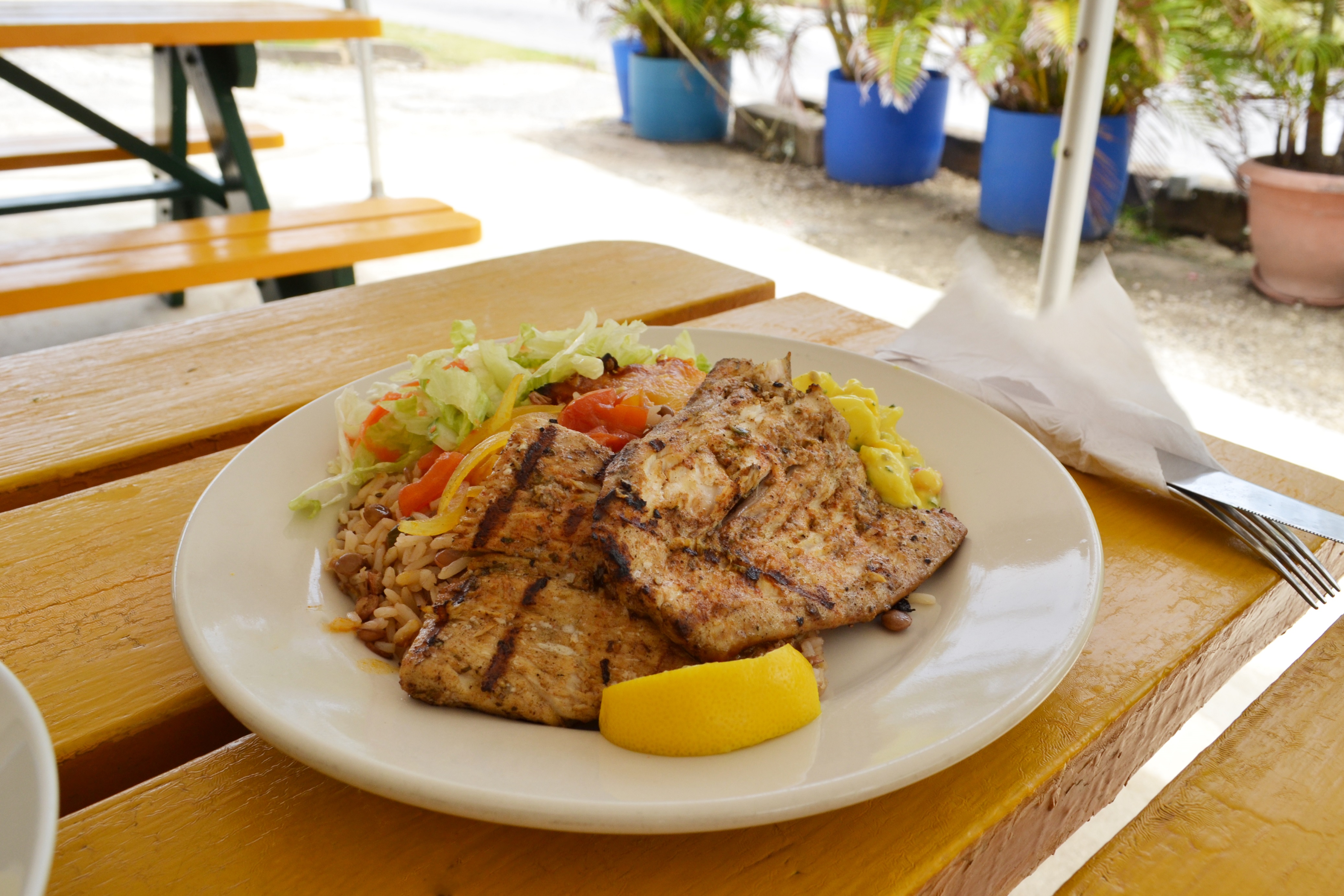 Cutters
Barbados's version of a sandwich—although locals will tell you these are so much better than the typical two bread slices with meat slapped in between—cutters wouldn't be complete without salt bread, a traditional bread made from white flour. Cutters can be stuffed with fried liver, fried fish, eggs, picnic ham, or cheddar cheese, and usually come topped with lettuce, tomato, and Bajan pepper sauce, adding a touch of tang.
Fish Cakes
Believe it or not, fish cakes are a classic breakfast item in Barbados. This must-try delicacy consists of salted cod that's been boiled, flaked, and formed into cakes before the chef fries it in oil. Bread and cheese envelop the moist and meaty fish cakes, which usually come dressed with a mustard-based pepper sauce. You'll hear Bajans refer to fish cakes as "bread and two," meaning two fish cakes stuffed into a salt bread bun.
Pepperpot
Although it has roots in Guyana, this Bajan favorite is composed of pork, beef, or mutton simmered with herbs, spices, and sugar, as well as hot peppers, and most often plated with rice. Initially, the recipe was prepared in earthenware jars with casareep (the bitter juice from cassava root) to pickle and preserve it so the pepperpot could keep for a long time. But cooking this stew in a casserole is also tasty. A few slices of white bread or even cornbread pair well with this classic dish.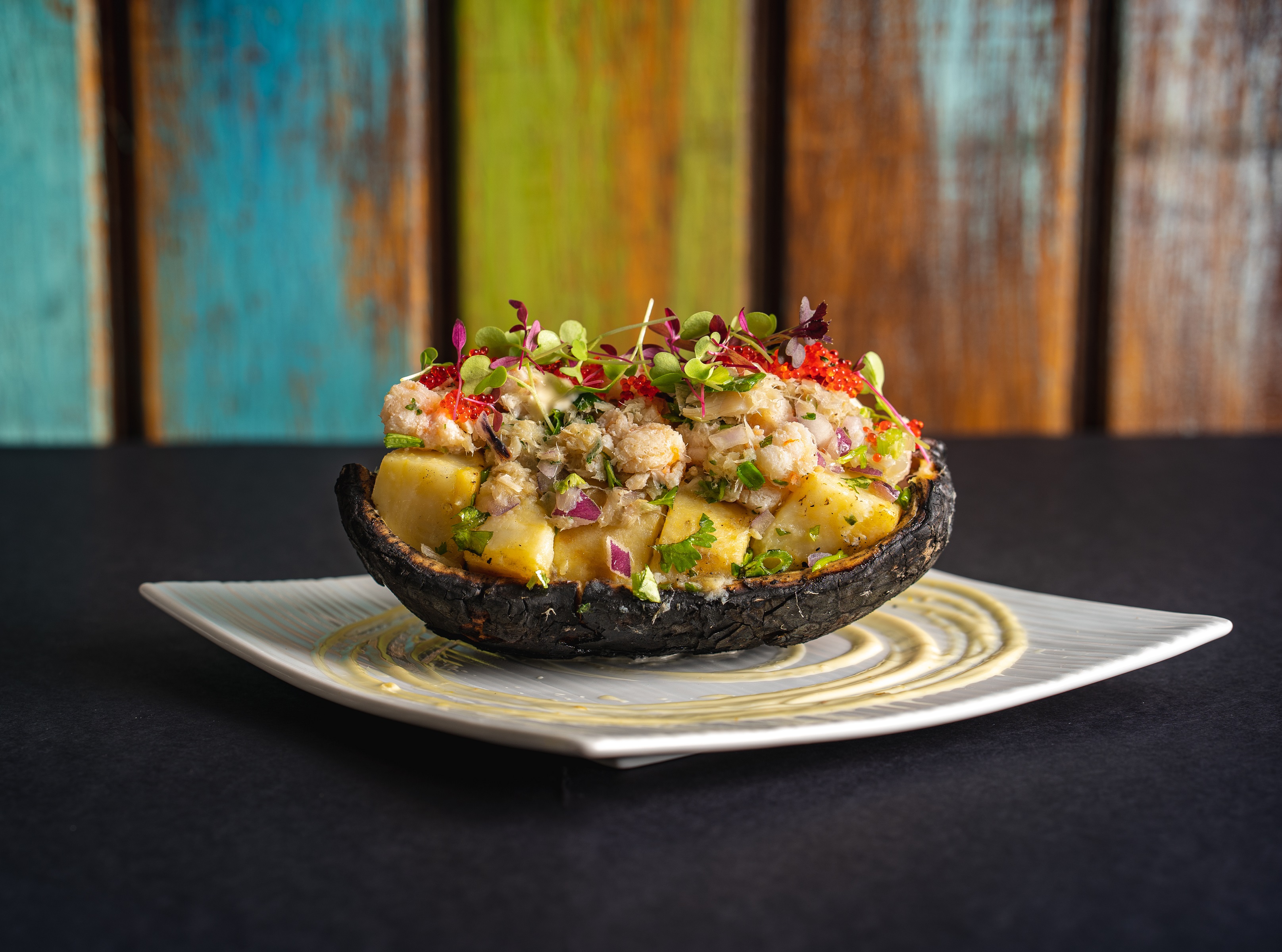 Conkies
To prepare these treats, the chef mixes cornmeal, flour, coconut, sweet potato, pumpkin, sugar, spices, and raisins, then envelops the mixture in fresh green banana leaves before steaming. This specialty is quite filling as a snack, but it is also famous for dessert, after (hopefully) a light, low-calorie meal. Barbadians most often enjoy conkies during November in honor of Barbados' independence.
Chicken Curry
Curries are typically hearty and filling, and the Bajan version of this Indian entreé is no different. Most likely cooked using a whole bird in pieces, chicken curry also features potatoes, onions, scallions, garlic, thyme, and of course, curry powder and coconut milk. Due to its rich garam masala flavor, chicken curry is best over white rice, but it also complements macaroni pie. Stuff flatbread with curry, and you have roti, another robust West Indian edible that's popular in Barbados.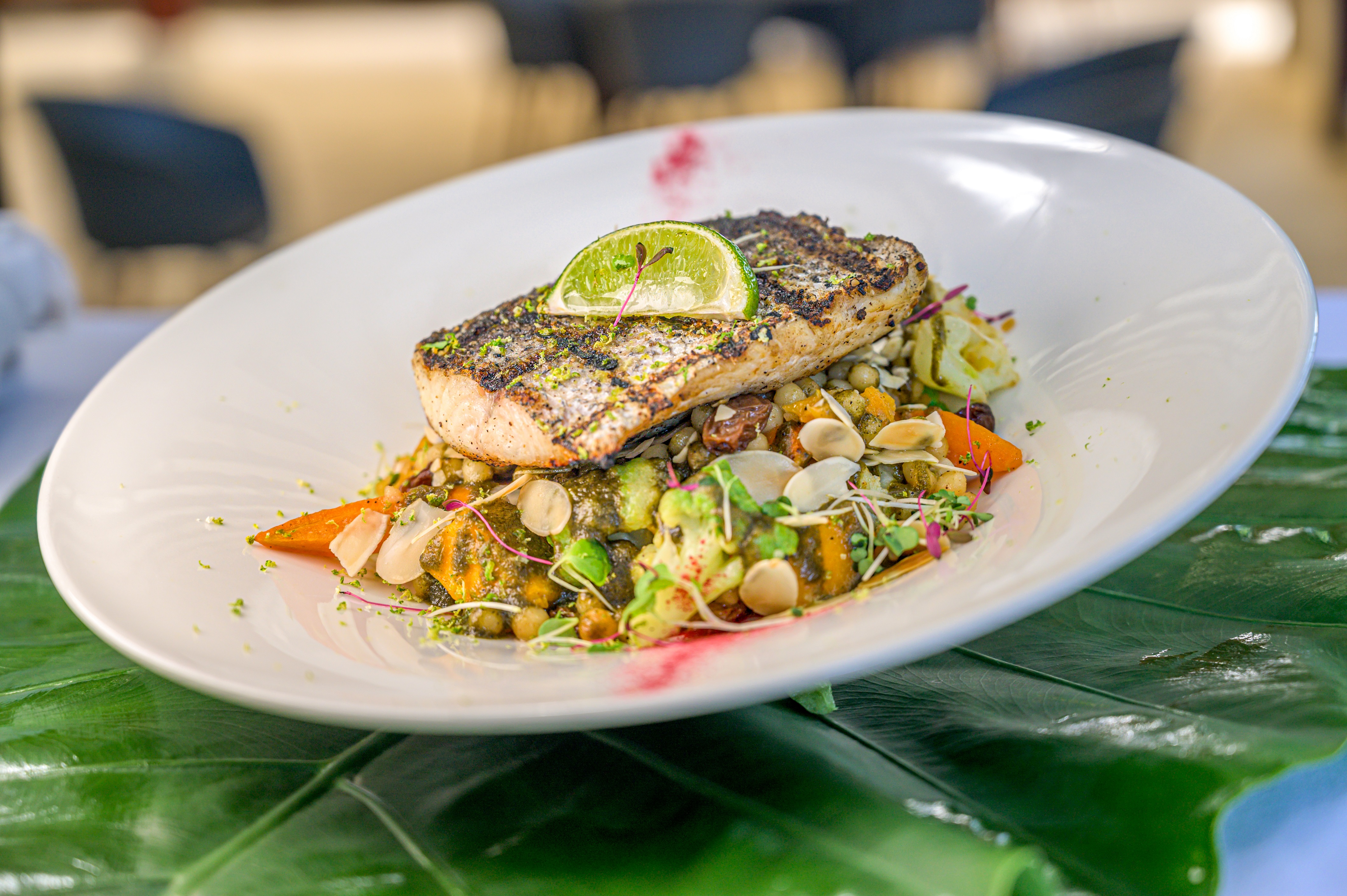 Pudding and Souse
In this go-to luncheon dish served frequently on Saturdays, the souse is customarily pig head and feet pickled in a cucumber brine, and the pudding is grated, spiced sweet potatoes mixed with water, then stuffed inside a pork casing. Pudding and souse is so quintessential to the culinary culture of Barbados that there's a souse factory in the St. John parish. The emporium draws scores of locals in the early morning hours every Saturday as they gear up for their traditional lunch later that day.
Drinks to Try in Barbados
Banks Beer
The No. 1 beer in Barbados, Banks is a pilsner-style lager that is unquestionably local, even though Guyanese entrepreneur Peter D'Aguiar founded the brew. Barbados's clear, clean water—naturally filtered through limestone rock—and a particular strain of yeast give Banks "its unique Bajan character and distinctive quality." Tasting like grains and grass with a touch of sweetness, the brew is well-stocked in every bar on the island.
Mauby
A signature beverage in Barbados, this non-alcoholic drink is made from the bark of the Mauby tree—a tree native to the northern Caribbean and packed with health benefits—then boiled with cinnamon, orange peel, nutmeg, cloves, and sugar. It's cooled, then served on the rocks. A tall glass of Mauby offers a reprieve from that Caribbean heat but be prepared for its aftertaste. Though the drink starts sweet, it turns bitter at the end.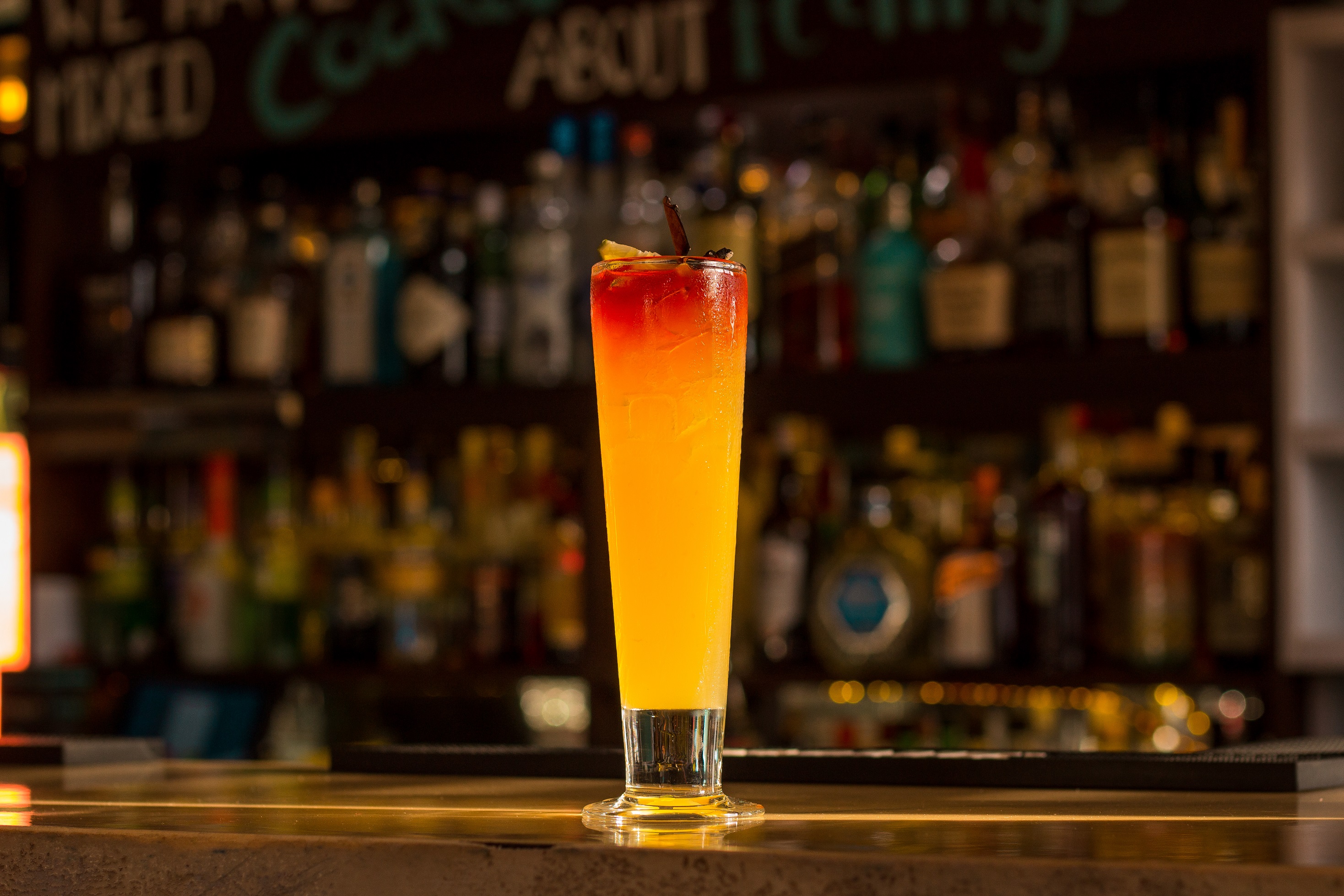 Rum Punch
With 1,500 rum shops throughout the parishes, this spirit is serious business in Barbados. And if there's one libation to try, it's the rum punch or "panch," a word in Hindi meaning "five." This five-ingredient beverage, comprised of sour, sweet, strong, weak, and spice, most likely contains dark rum, lime juice, water or passion fruit juice, Angostura bitters, and nutmeg. This national cocktail is refreshing at any time, but it's especially gratifying on a steamy day at the beach.
Tracy Kaler is a travel writer based in New York. She's written for The Telegraph, Barron's Penta, amNewYork, and other publications. When she's not glued to her laptop, she's wandering the city she loves or off discovering another part of the planet.