Photographer Rafhan Ahmed starts each day the same way. Sipping his espresso at the beach under a clear blue sky, he thanks his lucky stars.
"It's a wonderful feeling. I feel fantastic calling this tropical island paradise my home," he said.
That little part of heaven is the Maldives, where 28-year-old Rafhan works as a PADI certified divemaster and photographer.
One particular day, the feted Instagrammer was at Fulidhoo Island when he took a video of a woman lying on a paddleboard surrounded by sharks and stingrays in perfect harmony. It's a sublime scene that encapsulates the beauty of the setting—and Rafhan's own skill.
"It's incredibly relaxing to watch stingrays and sharks glide along the beach in my homeland," he told The Epoch Times. "I would always wonder how the view would be from a bird's eye.
"Maybe I was just lucky that day to get this very beautiful shot."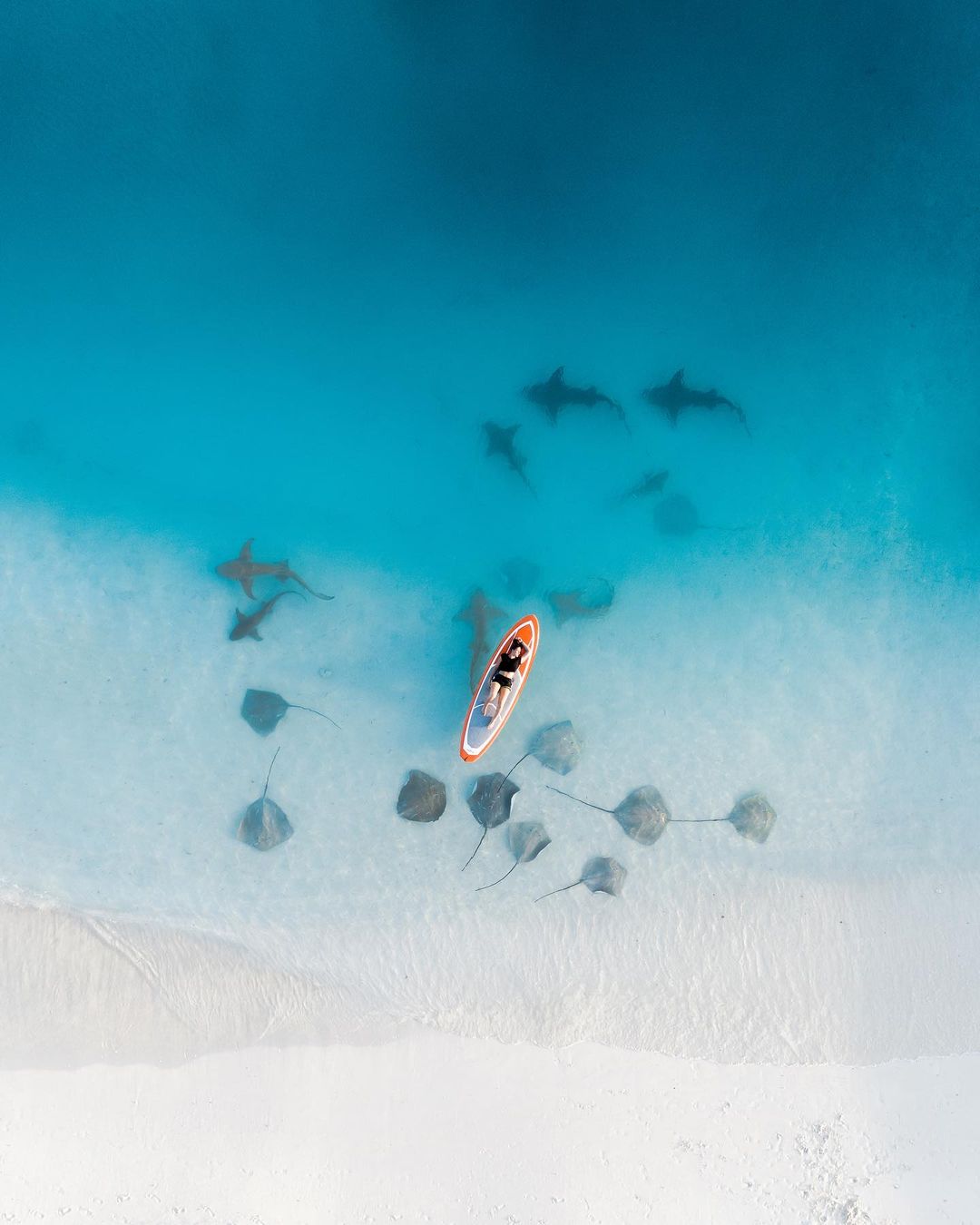 The nature lover's passion for photography led him to explore working with drones, which he says open up exciting new possibilities:
"Drone photography allows me to explore a new kind of reality from above. This type of photography shows people what they don't get to see in their everyday life."
Originally from the island of Fulidhoo but currently living in the capital city of Male, Rafhan always enjoyed taking photos. It wasn't until he qualified as a PADI certified divemaster, however, that he started underwater photography.
"Diving with confidence, knowing what I was doing, was the key to focusing on photography and videography under the water," he said.
Instagram has been key to showcasing Rafhan's amazing images of his Indian Ocean island home.
"Social networking has been a huge benefit," he said. "I promote my work on social media and on TV screens of some of the guest houses, too."
(Courtesy of Rafhan Ahmed)
Photographing sharks is one of his favorite things, but Rafhan says he sees the majesty in all sea creatures.
"It's always a challenge to snap sharks," he added. "With planned and methodical approaches, I have produced some really beautiful and memorable pictures of them.
"I'm an ocean lover; to me all marine animals are favorites in their own way."
The road he has taken was unexpected, but he's taken to it like a fish to water.
"I never had plans to take up photography as my profession, but I've always been very connected to the ocean—surfing, snorkeling, diving, or just being at the beach by the sea," he said. "Now I can't do any of these without bringing my camera along."
The setting for Rafhan's adventures couldn't be more perfect.
"There is nothing quite like the tropical scenery with the palm-fringed white sandy beaches, and turquoise waters with an abundance of marine life and coral reefs to explore," he said.
At the end his day, Rafhan will often be found back at the beach, taking photos of magical sunsets.
He has some words for people inspired by his pictures, and his nature-loving lifestyle:
"My advice for any aspiring photographers is to shoot constantly. It doesn't matter how good you are, it takes a lot of shooting to make great shots. You don't need big gear either to take a great shot. What you create from it is far more important."
Share your stories with us at emg.inspired@epochtimes.com, and continue to get your daily dose of inspiration by signing up for the Bright newsletter at TheEpochTimes.com/newsletter