Sitting with her baby son beside the gorilla enclosure at Boston's Franklin Park Zoo, a young mom had an encounter she will never forget.
Kiki, a female gorilla who had recently given birth, came over to sit beside her and her baby.
Emotions ran high as the two moms bonded through the glass.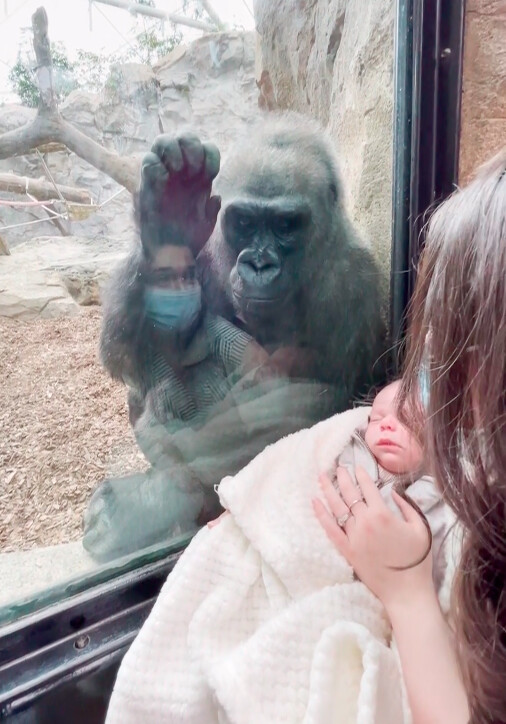 It hadn't take Emmelina Austin long to notice Kiki's curious stare from afar during the family's May 1 visit.
"She kept looking around the corner of the cave," Austin told News Center Maine. "I was like, 'She's looking at Canyon.'
"I was holding him up to the glass, and was like, 'Yeah look, it's my baby!'"
Speculating "how cool" it would be if the female gorilla approached her snoozing 5-week-old son, Austin was blown away when she actually did.
"It was so sweet," Austin said. "For like, well over five minutes she just sat there watching him."
(Video Credit: ViralHog)
Mom of five Kiki—who gave birth to her first male baby gorilla, Pablo, in October 2020—sat mere centimeters away from Austin and her baby son.
Entranced, the gorilla mom even extended her hand in an attempt to make contact when Austin placed Canyon's tiny fingers against the glass. Kiki then went to fetch her own child.
"She put her little baby on her leg and came running up to the glass to interact with little Canyon," Austin's husband, Michael, shared on Facebook.
"It was one of the most amazing things I've seen."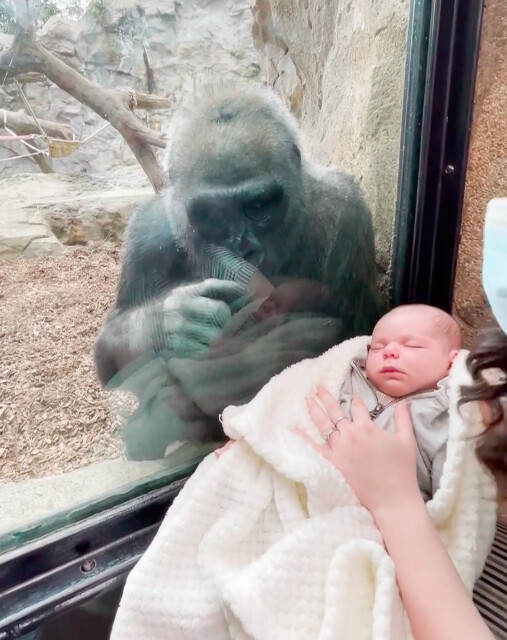 "She was showing her baby my baby," Austin told News Center Maine.
Austin, who works at a daycare, was in "awe" and said the female gorilla's "face was just so in love."
A crowd of zoo visitors soon gathered round, many taking photos and cooing over the sight. Some, said Austin, stopped to tell her family how touched they were by the beautiful interaction.
Michael later uploaded the video to YouTube, where the 4-minute clip has garnered over 3 million views and counting.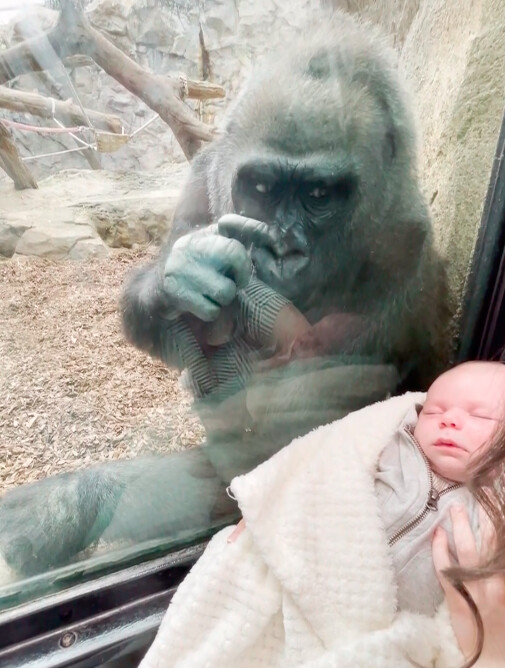 Kiki's species, the western lowland gorilla, is native to Central Africa. Habitat loss, the ebola virus, and the commercial bushmeat trade remain the biggest threats to the species's continued existence in the wild.
The Austins, of Jefferson in Maine, hope to return to Franklin Park Zoo when Canyon is older. They wonder whether they will be able to revive their special connection with Kiki and Pablo.
"I never could've imagined that we'd have this experience," Canyon's mother told News Center Maine.
"It was so beautiful, and we walked out over the moon."
Share your stories with us at emg.inspired@epochtimes.com, and continue to get your daily dose of inspiration by signing up for the Epoch Inspired Newsletter at TheEpochTimes.com/newsletter