Unable to forget her interaction with a customer who'd lost his ability to use his left arm and hand after a stroke, an Uber Eats driver returned to the address and left a curated care package on his doorstep. The kind gesture brought the man to tears.
"It was Sunday morning on Halloween, and [Tim Wilkinson] had ordered from a donut shop," driver Heather Durgin, 33, from Burleson, Texas, told The Epoch Times. "He opened the door and I handed the bag to him, seeing he was holding onto a walker.
"When he noticed that the bag was tied closed at the top, he asked me if I would untie it for him since he didn't have much control with his left hand," she continued. "You could see the sadness in his eyes having to ask me, and I told him, 'Of course.'"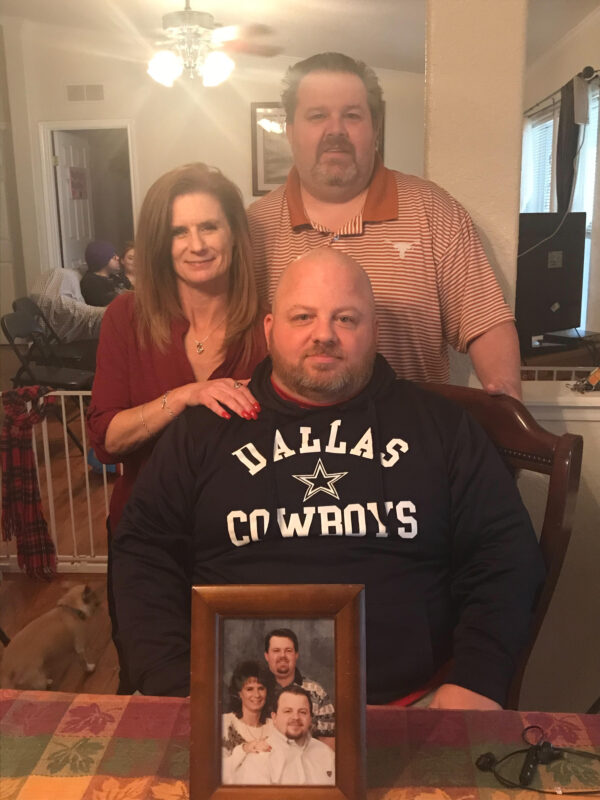 Tim, who turns 52 on New Year's, had suffered from an ischemic stroke in the occipital lobe during the spring of 2020. A former VIP chauffeur, Tim was sitting in his chauffeur's SUV at Alliance Airport in Fort Worth on May 21, 2020, waiting for a plane to land, when he realized he had lost control of his left hand and foot. He called his boss and told him to call 911.
"I didn't really understand I was having a stroke because I didn't have any classic signs: facial droop, loss of speech, headache, or blurred vision," Tim recalled. "When I got to the Texas Health Harris Hospital downtown, they actually misdiagnosed me as only having had a TIA [transient ischemic attack] … I actually had an ischemic stroke in my occipital lobe."
Due to this, Tim was left with poor balance, weakness on his left side, and an inability to use his left arm or hand in a meaningful way. Nineteen months later, he can "only hobble," uses a hemi walker for stability, and dreams of nothing more than to go back to work like he used to.
His 18-year-old daughter, who lives with her mother, stops by to help out when she can between high school and her job.
Witnessing Tim's condition and request for assistance, Heather just kept thinking of him after she left his house.
"All I could think of was what I could do to make this man a little happier, not feel so sad to ask for a little bit of help, and that he mattered," she said.
Aware of Tim's limitations, Heather then bought large-print word searches and crossword puzzles, pre-sharpened pencils, neon highlighters, and binder clips to help keep the books open. Adding snacks, hot chocolate mix, a mug, and a red blanket to the collection, she drove back to Tim's address and left the package on his doorstep, with a note.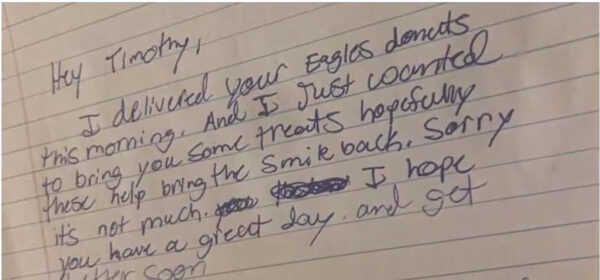 "Hey Timothy, I delivered your donuts this morning," she wrote. "I just wanted to bring you some treats, hopefully, these help bring the smile back."
However, Tim didn't find Heather's package until two days later when his daughter came by.
"I broke down crying at just the thought of her kindness, to even think that someone besides family would even care," Tim said. "I don't have a large social media footprint, so I reached out to a local Fox News morning show anchor for help trying to find her. The community is a fairly small suburb … it didn't take long."
With Fox 4 News anchor Lauren Przybyl's help, the network soon located Heather, a stay-at-home mom of four, who runs shifts for Uber Eats and DoorDash to earn extra money. Tim and Heather then reunited days later, hugging tightly as Tim broke down a second time.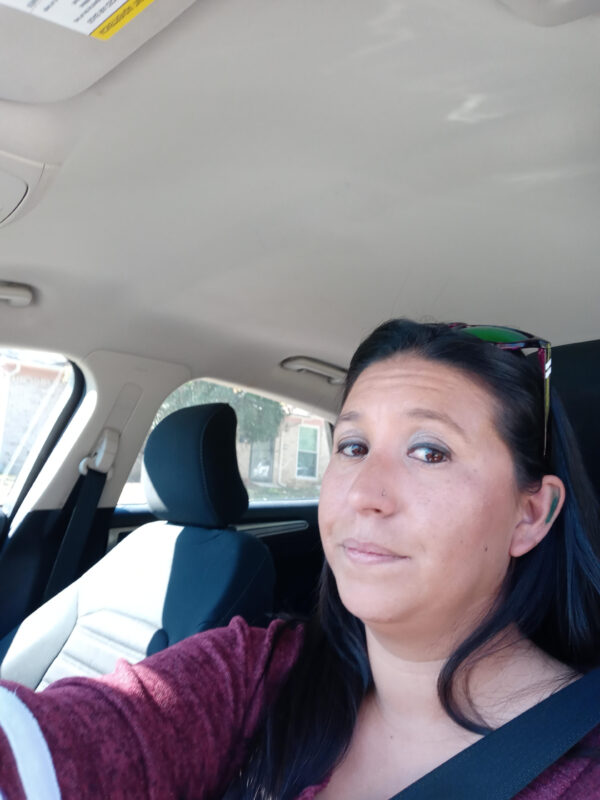 "I didn't know if he would even like any of the stuff I'd put in the gift bag," Heather told The Epoch Times. "I never thought in a million years that not only would my little act of kindness mean a lot to him, and make him smile, but make people from all over smile, too."
Heather's gift, amid ongoing hardship, meant the world to Tim.
"My philosophy, I guess just in general, is you never know what's going on in someone else's life," said Heather. "It costs nothing to just be nice."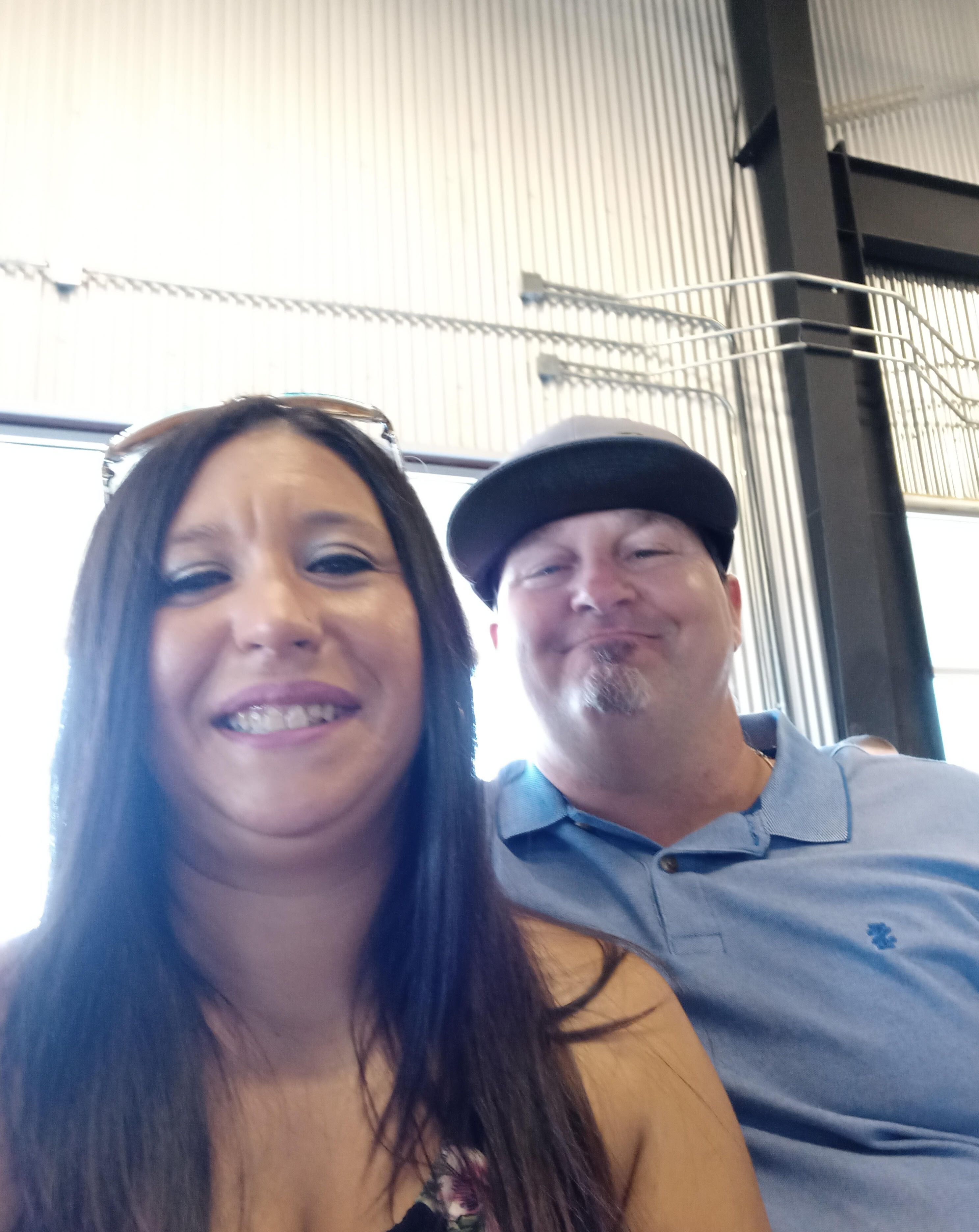 Share your stories with us at emg.inspired@epochtimes.com, and continue to get your daily dose of inspiration by signing up for the Epoch Inspired newsletter at TheEpochTimes.com/newsletter