Piedmont bluesman Blind Blake is about to get a small sliver of the fame he always deserved. Fatefully, Lee Child's signature hero, Jack Reacher, decides to swing through Margrave, Georgia, because he heard Blind Blake died there.
That didn't happen in real life, because Margrave is fictional. Regardless, a whole lot of dead bodies start piling up in the sleepy small town during showrunner Nick Santora's "Reacher" (based on Child's novel "The Killing Floor").
Rather inconveniently, Reacher (just "Reacher," don't call him Jack) came to town just when a murdered body is discovered. The linebacker-looking former military policeman definitely stands out, so he is arrested on suspicion. The Margrave police department breaks down into two camps. Chief Detective Oscar Finlay, who recently transferred from Boston is uptight, but honest and competent. Officer Roscoe Conklin (she does not look like her name) is also smart and trustworthy. The rest are basically corrupt idiots.
Thanks to his uncooperative nature, Reacher is arrested along with Paul Hubble, a material witness, whom he protects during their eventful stay in state prison. It will not be long before circumstances clear Reacher's name.
However, he has very personal incentives to continue investigating the murder (soon-to-be-murders). With the help of Conklin and Finlay, Reacher tries to protect Hubble's family and expose the criminal conspiracy afoot in Margrave. Although Reacher chose to wander (like a "hobo") after his discharge, he definitely feels some romantic chemistry brewing with Conklin. In contrast, he and Finlay disagree on everything, particularly music, but they come to grudgingly respect each other.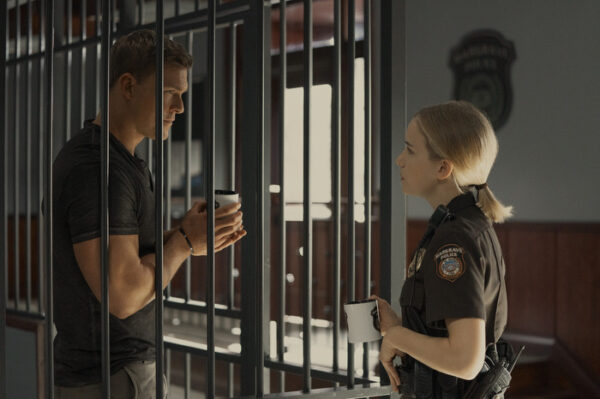 New Lead
For fans of Child's books, Alan Ritchson ("Hawk" in the DC TV Universe) represents a new and improved Reacher. Compared to Tom Cruise, he is considerably taller, stronger, bigger, blonder, and younger. Admittedly, he is not as famous, but he is also less controversial. Regardless, Ritchson is a much closer match to Reacher, as described by Child.
Perhaps even more importantly, he has the presence and energy to carry the series nicely. Of course, Ritchson's stature gives him instant credibility as an action lead. Yet, he also has the steeliness for a borderline anti-hero like Reacher.
Those who only know the Cruise movies might be surprised by the series' escalating body-count and the extent to which Reacher willingly contributes to it. However, that grittiness certainly distinguishes the series from its big-screen predecessors. Cruise could never pull off a bone-crushing Reacher like this.
Ritchson also plays off his primary co-stars quite well. He shares some appealingly ambiguous romantic chemistry with Willa Fitzgerald, who portrays Conklin as a strong, forceful woman and law enforcement officer.
Yet, the best aspect of the show's first season is the "Odd Couple"–style bickering and bantering between Reacher and Finlay, who is played by Malcolm Goodwin. They really are like Oscar Madison and Felix Unger, but with guns. (Ironically, Goodwin might present a challenge for Santora, because fans of the first season could miss him in a prospective second season, but a drifter like Reacher is not inclined to cross paths with old acquaintances.)
Willie C. Carpenter also adds some earthy gravitas as Mosley, the barber, who is the only one in Margrave old enough and hip enough to appreciate Reacher's interest in Blind Blake. Strangely, the "Reacher" marketing so far has not called out arguably the most recognizable star, Kristin Kreuk (of "Smallville"), who has a few effective scenes as Hubble's endangered wife, Charlene.
Perhaps the biggest shortcoming is the lack of a central driving villain. Instead, there is a tag-team of four or five rotating second-tier bad guys. Veteran character actor Bruce McGill is probably the most memorable, oozing sleaze as the presumably corrupt Mayor Teale.
Frankly, it is surprisingly entertaining to listen to Reacher kvetch with his kitchen cabinet. When the series ends—quite satisfactorily—viewers will miss spending time with those characters. It should also be noted the eight episodes almost never feel padded, except for a few momentum-slowing flashbacks to Reacher's childhood.
Presumably Child approved too, since he was on-board as an executive producer and filmed a brief cameo appearance (that comes very late in the game). Blues aficionados should be happy to hear a few Blind Blake songs along the way (including "Police Dog Blues") and action fans will approve of the two-fisted throwdowns. Highly recommended Child readers and franchise newcomers alike, "Reacher" starts streaming on Feb. 4 on Amazon Prime.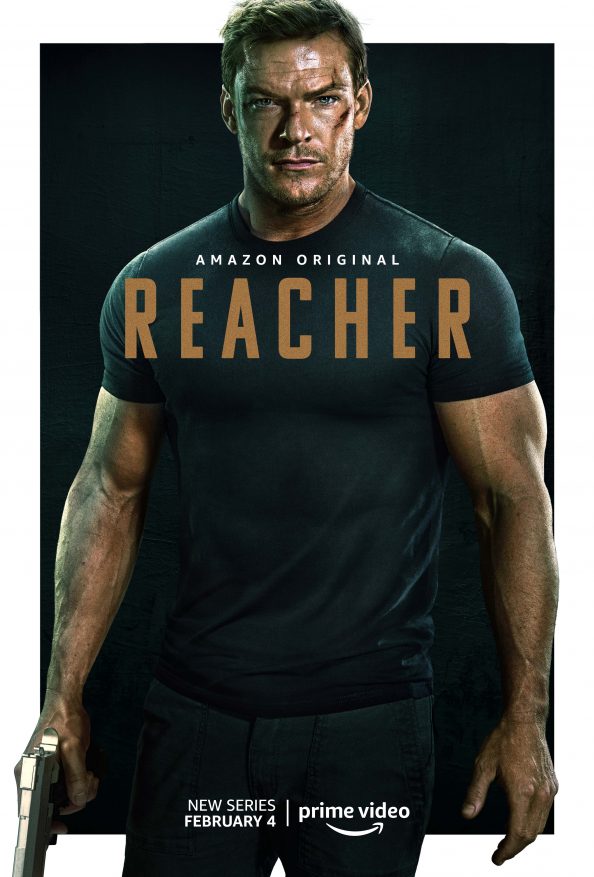 'Reacher'
Director: Norberto Barba – Episode 1
Starring: Alan Ritchson, Willa Fitzgerald, Malcolm Goodwin, Kristin Kreuk, Bruce McGill
Rated: PG
Running Time: 8 episodes
Release Date: Feb. 4, 2022
Rated: 4 stars out of 5
Joe Bendel writes about independent film and lives in New York. To read his most recent articles, visit JBSpins.blogspot.com