Time to Graze, Outdoors
April 11, 2014 3:01 pm Last Updated: April 13, 2014 6:38 am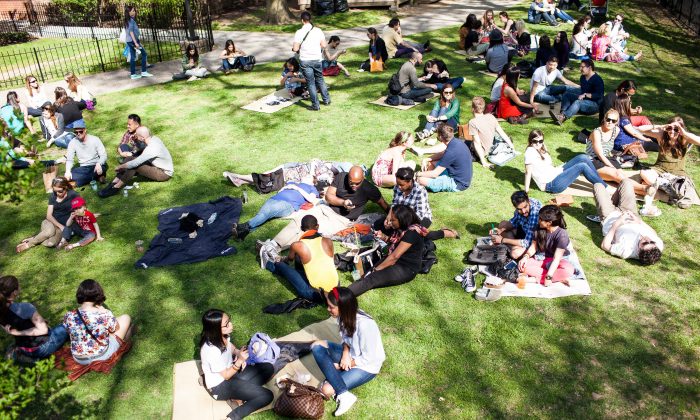 Spring food destinations are popping up, and now that you've done good on your New Year's resolutions, it's time to eat, eat, eat.
Smorgasburg opened last weekend, with quite a few new vendors. Among them: the Fort Greene restaurant Martha, bringing its famous buttermilk brined fried chicken in General Tso's glaze; Txorizeria, which offers Urugayan sausage sandwiches from scratch; LA-style seafood tostadas at El Super; and Togolese specialties at Woeza (think thick-cut yam steak fries and fine ground polenta with a savory stew). And oh—vegan donuts at Dun-Well Doughnuts. You won't be going hungry.
Saturday in Williamsburg, Kent and N. Seventh Street
Sunday in Brooklyn Bridge Park, Pier 5, DUMBO
11 a.m.–6 p.m.
Through November 2014
smorgasburg.com
Aside the art and vintage finds, delicious, artisan food is the reason to go to Hester Street Fair, which opens April 26 for its fifth season. 
Classic Hester vendors like Luke's Lobster, La Neworkina, Brooklyn Taco, Vendy-award winner Khao Man Gai NY kick off the opening weekend, joined by newbies to the fair, such as Ssam-BBQ (traditional Korean BBQ) and meat purveyor Hudson and Charles with a rotating menu that will include a porchetta sandwich and a Texas-style chili with Mexican chocolate. 
Starts April 26–27, 11 a.m.–6 p.m.
Open every Saturday and Sunday through Oct. 26
Corner of Hester and Essex streets, Lower East Side
hesterstreetfair.com
More is coming in May. Keep your eyes on the horizon for Mad. Sq. Eats (returning on May 2), Astoria Flea & Food (opening on May 4); Taste of Tribeca (May 17), the Ninth Avenue International Food Festival (May 17–18); and the New Taste of the Upper West Side (May 27–31).