Spring is nearly here. We can feel it in the way the cherry trees sway, adorned with powder pink jewels. Daffodils, hyacinths, and other flowers are beginning to burst from every neighboring field, and we can finally witness tiny seed sprouts breaking through the earth, signaling the time for growth and rebirth.
You don't need to have a spacious yard to be able to enjoy spring's harvest. A small patio, deck, or balcony will do! During this time of glorious warmth and seasonal transformation, spring welcomes all—whether young or old—to take part in the magical act of growing.
If you happen to live in a small apartment, condo, or other compact living space and are keen to start your own mini garden, then read on to discover what kind of things you can grow!
Growing Tomatoes
Tomatoes are an excellent choice for both newbie and seasoned gardeners alike. Fast-growing, fruitful, and super tasty, and nutritious for you; they make the perfect vegetable to start growing. Requiring very little space and happy to sit in a large-sized container for the whole growing season, what better way to utilize your balcony space than growing tomatoes?
Tomatoes can be bought as starter plants from your local garden nursery, or you can go all out and grow your own from seed!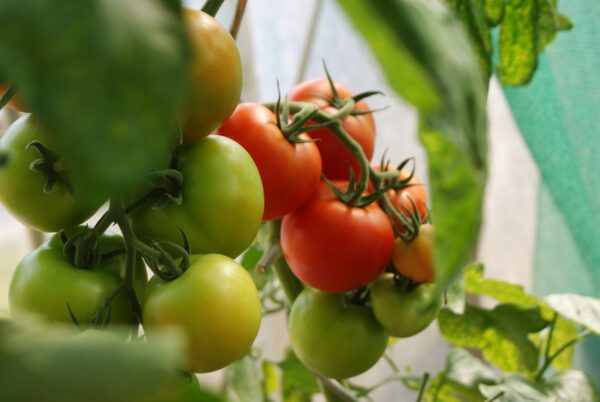 All you need to grow these juicy vegetables are:
A large 5-gallon container with a depth of at least 10 inches, with holes in the bottom for ensuring good water drainage
High-quality potting soil
A tomato cage, for guiding your tomato plant in its growing stage and later useful for stabilizing the plant when it yields fruit, preventing the likelihood of it breaking under its own weight
High-quality all-purpose fertilizer, feed every two weeks
Sun or plenty of light, consider moving your container if you feel the plant doesn't get enough sunlight as tomatoes thrive on it. At least 6 to 8 hours a day.
Regular watering, at least once a day. You'll know that it's enough once the water starts draining from the bottom of the container.
Growing Basil
These herbs are part of the mint family and are some of the most aromatic and flavorful herbs. Just a small handful of leaves are enough to transform your meal into something quite exquisite. Packed with antioxidants and skin regenerating properties, basil is a fantastic backyard herb to consider and grows very well in container gardens. With some initial love and care, these robust herbs will be thriving in no time at all. There are so many different varieties of basil to choose from, from Thai basil, sweet Italian, Greek basil, and even holy basil (Tulsi)—you are spoiled for choice!
The fun thing about growing basil is that it's so versatile that it can even be grown in a small pot placed in front of your kitchen windowsill. Consider planting in a larger container for a higher yield.

Must-have items for ensuring the optimum care for your basil plant:
High-quality basil seeds (Growing basil from seed ensures a more durable and hardier plant than working with a starter one)
A medium-to-large container, with good drainage. Ensure plenty of space is between your basil and other plants, at least 6 inches, to promote air circulation and overcrowding which can lead to fungal diseases
High-quality potting soil
Regular watering: make sure you water your plant every 1 to 2 days. Inspect regularly to ensure the pot isn't too dry or too wet.
Fertilizer: some potting soils already include fertilizer. If yours doesn't you will need to add some all-purpose liquid fertilizer every few weeks.
Plenty of sun: 6 to 8 hours of sunlight is best.
Growing Potatoes
Abundant, versatile, and excellent for any kind of main course or side dish. Potatoes are easy to grow, making them a fun vegetable to grow with your kids. Requiring very little space and producing a great yield, these root vegetables love growing underground or nestled deep inside large containers. They will eventually give rise to green sprouts that will need to be covered with more soil, using a technique called "hilling."
Once your plants have reached a height of around 6 inches, you will need to add a couple of inches of potting soil around the base of the growing stalky plant, burying the lower leaves and leaving just a couple inches of the plant exposed. The buried stems will give rise to more potatoes and is essential to ensuring a high yield.
Repeat this "hilling" process continuously and you'll be on your way to producing an abundant harvest that you can use all year long. You'll know when to stop adding more soil once you've reached the top of your container. Then, just wait for the potato plants to begin flowering, signaling it is harvest time!
A bonus to growing potatoes is that there are so many exciting varieties to choose from, so you are bound to find one you love.

What you will need:
Seed potatoes, buy them from your local nursery, or use organic potatoes from the grocery store. Organic potatoes haven't been treated with pesticides, making them an ideal option for growing.
A large container: a plastic one will do or you could even use a burlap bag. Make sure you drill drainage holes in your container as potatoes require adequate water drainage.
High-quality potting soil
Fertilizer: provide regular feedings, once every couple of weeks as container-grown potatoes need a steady supply of nutrients to grow at their optimum.
Plenty of sunlight—potato plants prefer being positioned in full sun with at least 6 to 8 hours of sunlight per day.
Water: the soil should ideally be moist, but not wet. Regularly check moisture levels by poking your finger at least an inch deep in the soil; if the dirt is dry, it's time to water.
Water until it runs out of the drainage holes.
Why Container Growing Is So Fun
Growing plants in containers is simple and rewarding. They require very minimal space and are accessible to anyone with a patio, deck, or balcony. You can benefit from consuming fresh vegetables and herbs.
And the best part about it? They are grown entirely by yourself! So why not give this fun, springtime activity a try? You can involve the whole family and kids will love being tasked with daily watering duty.