There's Something Wonderful About Korean Fried Chicken
September 23, 2013 1:03 pm Last Updated: September 23, 2013 10:23 am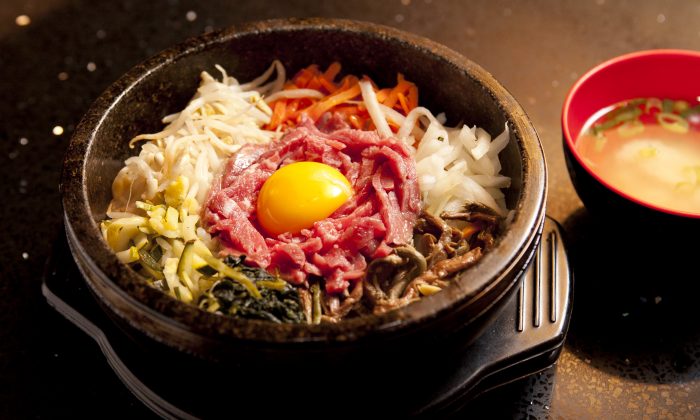 There's a new bird in town. If you're a fan of fried chicken and haven't tried Korean fried chicken, you're in for a completely different experience from the Southern type. 
With Korean fried chicken, the batter is so light it's a paper-thin coating; the chicken is double-fried to give an addictive, crunchy texture. When made well, the sauces—often soy-sauce based—don't glide off the skin but sink right into it, making for something kind of wonderful that's hard to put down.
One of the newest places in the city offering Korean fried chicken, open since last spring, is Hell's Chicken—in Hell's Kitchen. Try saying that 10 times fast.
Located on 10th Ave. between 45th and 46th streets, it's also the only place to get your Korean fix in the area, short of schlepping across the city to K-town.
It's a small place, but owner Sung Jin Min, 31, prefers it that way. He is a gregarious type who has finally given in to doing something he loves for a living. After a few years working in IT in a basement, staring at a screen anywhere from 8 to 14 hours a day, and then some time in real estate, where the practice of telling-the-truth-but-maybe-not-the-whole-truth practice left him uneasy, he found himself looking to the future and decided to make the switch. 
Hell's Chicken has its home in a sleek, industrial setting, with a stainless bar; cork walls that mimic the look of wood; mirrors that open up the narrow space; and flatscreen TVs broadcasting the latest sports games. The latter are placed so as to not be obtrusive, a bonus if you prefer dinner conversation. The playlist is eclectic.
The primary draw, true to its name, is the succulent fried chicken, which comes in three flavors: soy garlic, soy ginger, and Hell's. All come in either mild or spicy versions. The soy garlic and soy ginger tastes were a tie for me; it really depends on whether you want garlic or not.
From its name, people walk in expecting the capsaicin count at Hell's Chicken to be through the roof, but the mild is not spicy at all. The spicy version is about medium-spicy as far as Korean palates go, said Min. But he is happy to make it as spicy as you want it. 
The Hell's sauce is tomato-based. It consists of ketchup, mayo, thick rice syrup, salt, and a little soy sauce. It harkens back to the version of the sauce that was used with Korean fried chicken in the 1980s. And, interesting fact: Korean fried chicken was born, not hundreds of years ago, but in the 1970s. It was followed in the '80s with the Hell's version of the sauce, and in the '90s with soy sauce bases, said Min.
You can also get an Original Crispy version, without sauce, which I don't recommend unless you're in the mood for bland. 
How does Hell's Chicken compare to the other Korean fried chicken joints around the city? My Korean-American dining companion found it much lighter, leaving you feeling better afterwards, less salty, and less cloying. 
You get your pick of wings, drums, or mixed. The wings are large and meaty, a pleasant surprise and departure from the small dried out wings you often see in bars. Tip: you'll have to wait for the chicken. It's made to order and can take up to an extra 15 minutes. A small portion is $7.95; medium, $11.95; large, $19.95.
Finally, fried chicken calls for beer, and you have a pick of about 30 to choose from.
Other Korean Dishes
Although chicken is the big thing here, the menu includes a selection of Korean dishes.
Chef Shin Beak Chul, who worked in Koreatown and Flushing's Kum Gang San, and brings an experienced and knowing hand to the kitchen. Among the popular dishes are the katsu, or deep fried cutlet, for $12.95 (the chicken katsu seemed impossibly light), bulgogi ($22.95), and bibimbap ($12.95). 
The salad with grilled chicken ($8.95) is a perennial favorite, as is the lunch platter ($12.95, choice of meat, choice of sauce, with side salad, and rice or half-udon).
The kimchi jjigae ($12.95), a spicy stew of pork, tender tofu, and vegetables, hits the spot for those nostalgic for Korean home cooking.
The bibimbap ($12.95), traditionally served in a very hot stone bowl and creating a delicious crisp rice layer that you just have to patiently wait for, is excellent. The rice dish consists of vegetables (carrots, shiitake mushrooms, beans sprouts, squash), an egg, and your choice of meat. 
Banchan, small Korean sides, are served with the Korean dishes. The selection on the night I was there: beans sprouts, kimchi, peppers with a chili sauce, and marinated fish cake. 
Hell's Chicken is still relatively undiscovered. The night I was there, there were a lot of diners, but Min said it can be inconsistent from day to day. With the quality of the dishes, and being the only Korean spot in the neighborhood, it won't remain undiscovered for long.
Hell's Chicken
641 Tenth Ave. (Between 45th & 46th streets) 
212-757-1120 
www.hellschickennyc.com
Hours
Monday through Saturday: 11:30 a.m.–1 a.m.
Sunday: 11:30 a.m.–midnight