Theatrical Producers Take Their Hats Off to Shen Yun
April 10, 2014 3:13 am Last Updated: April 10, 2014 3:13 am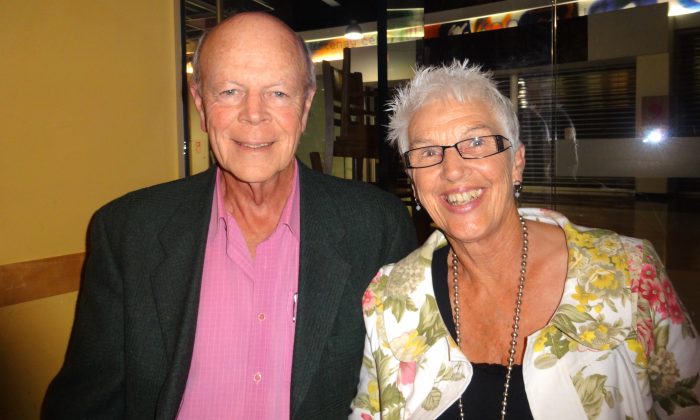 WELLINGTON, New Zealand—Stewart and Tricia Macpherson saw Shen Yun Performing Arts production in Wellington's St. James Theatre on April 9. As seasoned show producers themselves they recognised the quality of the performance.
Mr. Macpherson's felt Shen Yun was "A spectacle! It's very spectacular, very colourful."
Mrs. Macpherson added, "when the curtain went up – and the colour and the spectacle! It was fabulous! … it was vibrant! … It was beautiful, the music, the dance."
New York based, Shen Yun Performing Arts features an orchestra fusing the sounds of East and West.
The website explains, "the ability to seamlessly blend these two systems to create one fresh, harmonious sound is what makes the Shen Yun Performing Arts Orchestra unique. A Western philharmonic orchestra plays the foundation, while traditional Chinese instruments lead the melodies."
Mr. Macpherson said the live orchestra was a real strength.
Mrs. Macpherson agreed saying "The mixture worked a treat, it was fabulous."
Shen Yun's stories are introduced by two emcees; one speaks English the other in Chinese.
Mrs. Macpherson appreciated this saying, "I also enjoyed being told what we were about to see, and given the interpretation."
She added that she did enjoy the little history lesson that went with it.
Among the many aspects that distinguish Shen Yun are the dancers' rigorous discipline and wholehearted dedication to their art.
Mr. and Mrs. Macpherson are the principals of the company known as The Stetson Group. They produce and present concerts and theatrical productions in New Zealand, and they recognised the large amount of work that went into the Shen Yun production.
Mrs. Macpherson said, "We're in the same business; you have a product that you're proud of, rightly so, because it is very good."
She was very impressed with the number of dancers saying "The other thing that surprised me was how many people were on the stage. Large numbers—and I didn't expect to see that, it's great."
"I take my hat off to you all. Just to be doing it, it doesn't happen without a lot of work. We know that. It's hard work."
She was impressed with the costumes and said, "The wardrobe and the dancing, beautiful. The clothing, yes it was fabulous."
They said they were going to phone friends in Auckland telling them not to miss this opportunity to see Shen Yun. They said that Shen Yun is not just for Chinese people but was definitely for everyone to see.
Mrs. Macpherson said, "because it's so good. It is. It's extremely good."
Reporting by Lily Zhang and Judy Shakespear
New York-based Shen Yun Performing Arts has four touring companies that perform simultaneously around the world. For more information, visit Shen Yun Performing Arts.
The Epoch Times considers Shen Yun Performing Arts the significant cultural event of our time. We have proudly covered audience reactions since Shen Yun's inception in 2006.