Theater Review: 'The Threepenny Opera'
Brecht lite
April 24, 2014 4:40 am Last Updated: April 24, 2014 4:47 am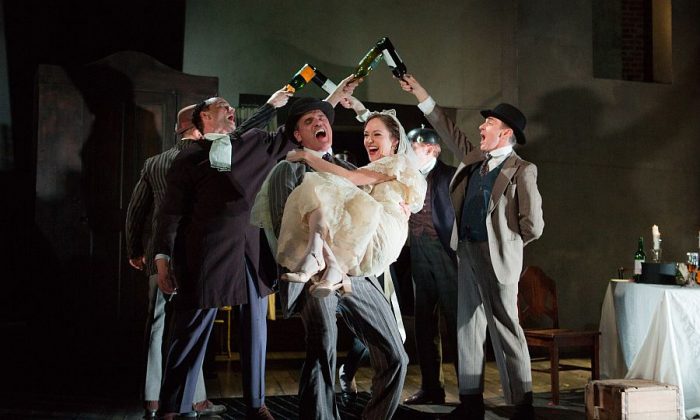 NEW YORK—From the first stirring strings of the Kurt Weill score, it is clear one is in for a musical treat with the Atlantic Theater Company's presentation of "The Threepenny Opera" (book and lyrics by Bertolt Brecht, music by Kurt Weill, English translation by Marc Blitzstein).
Though in spite of the cast's best efforts, something is lacking at the very center of this offering.
Set in the Soho section of London on the eve of Queen Victoria's coronation (circa 1837), the story looks at the haves and have-nots of those living outside the normal boundaries of society.
The city is awash in corruption, controlled by various gangsters. Among them Mr. Peachum (F. Murray Abraham) holds sway over the begging rights in his district. He dresses hungry men and women in the proper accouterments so they can earn a living in the trade, all for substantial percentage to himself.
However, Peachum is not too thrilled with the plans of his daughter, Polly (Laura Osnes), who's fallen in love with Macheath (Michael Park), a sharply dressed, calculating, and brutal thug, whom she plans to marry.
Well known for his activities, Macheath has one weak spot—his vanity. He sees himself as god's gift to women, happily and openly going from one to the next—such as prostitute Jenny (Sally Murphy), with whom Macheath shares a past.
There's also Lucy Brown (Lilli Cooper), daughter of Tiger Brown (Rick Holmes), Macheath's longtime ally on the police force. She's married to Macheath and pregnant with his child.
Considered subversive when it first premiered, "The Threepenny Opera" shines a light on those in positions of power, many of whom are willing to turn a blind eye to what's going on around them.
This point is brought home when Peachum, in order to get the police to arrest Macheath, threatens to march on the Queen's coronation with an army of beggars. The authorities don't want this group anywhere near the festivities.
Also quite striking is the ultimate amorality of the characters. Jenny feels Peachum was wrong to offer her a bribe to turn Macheath in, even though she expects her money for doing so and would certainly do so again.
The show also contains a strong anti-military bent, as shown in "The Army Song."
Yet while characters and battle lines are clearly drawn, what's missing is the feeling of danger the work should inspire. Instead, the entire piece feels so sanitized that all it brings forth is a bit of intellectual curiosity.
The work also tends to meander at times with characters changing too abruptly; particularly in the case of Polly, who goes from a seeming innocent to Macheath's willing heir apparent at the drop of a hat.
All of these problems must be laid at the feet of director Martha Clarke. She also has Park playing Macheath with not nearly the menace the role might have. Macheath comes off as a sort of happy-go-lucky dandy, who just happens to be a crook and a killer.
One also questions the idea of having a bulldog (Romeo) stand in for Queen Victoria; it distracts from the action whenever on stage. (Though to be fair, Romeo was a consummate professional.)
Abraham makes Peachum a great spokesperson for the downtrodden as well as a worried father trying to keep his daughter from making a potentially grave mistake, all the while happily pursuing his own life of crime.
Osnes is very good as Polly, a seemingly quiet girl who ultimately proves she is nobody's fool.
Outstanding is Murphy as Jenny. Her character remembers quite bitterly how things used to be with Macheath when they were looking toward the future together. Osnes and Murphy are also the standout singers among the cast.
Cooper does nice work in her brief but pivotal scene as Brown, and Mary Beth Peil as Mrs. Peachum more than holds her own with Abraham and Osnes in their respective scenes together.
Robert Israel's set works well with the story, with some judiciously placed scenery, props, and a curtain allowing the audience to fill in with their imaginations what's not visible on stage.
Donna Zakowska's costumes are good, as are the atmospheric lighting and sound design by Christopher Akerlind and Clive Goodwin, respectively.
This production of "The Threepenny Opera" makes for a valiant effort but ultimately fails to show how the dark and biting the work can be.
The score, performed by an onstage orchestra, is wonderful to hear, and the dog's performance is sheer perfection.
Also in the cast are Paola Styron, John Kelly, Cristina Spina, Jon David Casey, John William Watkins, Lindsey Dietz-Marchant, Timothy Doyle, and Sophie Bortolussi.
The Threepenny Opera
Atlantic Theater Company
336 West 20th Street
Tickets: 866-811-4111 or visit atlantictheater.org
Running Time: 2 hours, 10 minutes
Closes: May 11
Judd Hollander is the New York correspondent for the London newspaper The Stage.