NEW YORK—Never wager more than what you can afford to lose is a credo of professional gamblers everywhere, and it's the ultimate message in Conor McPherson's ominous drama "The Seafarer." The production at the Irish Repertory Theatre is the show's first major New York revival since its 2007 Broadway debut.
It's Christmas Eve in Baldoyle, a coastal suburb in County Dublin, Ireland. James "Sharky" Harkin (Andy Murray) is an ill-tempered man in his 50s with a fondness for drink and a penchant for getting into trouble. Both of these have contributed to the demise of his relationship with the woman he loved and to any possibility of continuous employment.
Sharky has given up his latest job, a chauffeur for a well-to-do couple, to come home and take care of his brother Richard (Colin McPhillamy), who was recently blinded in an accident. Sharky's relationship with the wife of the aforementioned couple may have also had something to do with his move.
Sharky's temper isn't improved by the fact that he's basically now at Richard's beck and call for everything from a drink request—of which there are many—to helping his brother to bed, to the bathroom, and anywhere else he wants to go. Richard, a garrulous sort who hasn't yet accepted his new limitations, doesn't make things easier by his incessant demands and continuous digs at his younger sibling.
On this day, the brothers are getting ready to enjoy a Christmas feast. The evening culminates in a card game with Nicky Giblin (Tim Ruddy), who is now involved with Sharkey's former love Eileen; and their good friend Ivan Curry (Michael Mellamphy), who has a serious relationship problem of his own. Ivan and Richard play cards as a team so that Richard can be involved in the evening's proceedings.
Also present is a well-dressed and rather unassuming gentlemen named Mr. Lockhart (Matthew Broderick). He met Nicky earlier in the day, and the two then enjoyed a Christmas pub crawl, ending with their arrival at the Harkin home.
However, Lockhart has come to play for stakes much higher than a few euros. He has come for Sharky's very soul. Lockhart, you see, is the Devil. He's taken on his current appearance to collect a very old debt. Twenty-five years earlier, Lockhart helped Sharky out of a serious bit of trouble on the condition that one day the two play a hand of cards; the game's outcome will determine Sharky's fate.
Sharkey, like most mortals Lockhart has aided, has conveniently forgotten what originally occurred between them—at least until his debt has come due.
McPherson has come up with a fascinating story, with the warning to always tread the straight and narrow. Otherwise, you may find yourself indebted in ways you cannot comprehend. Also present is the idea that some people throw away a second chance almost as quickly as the first.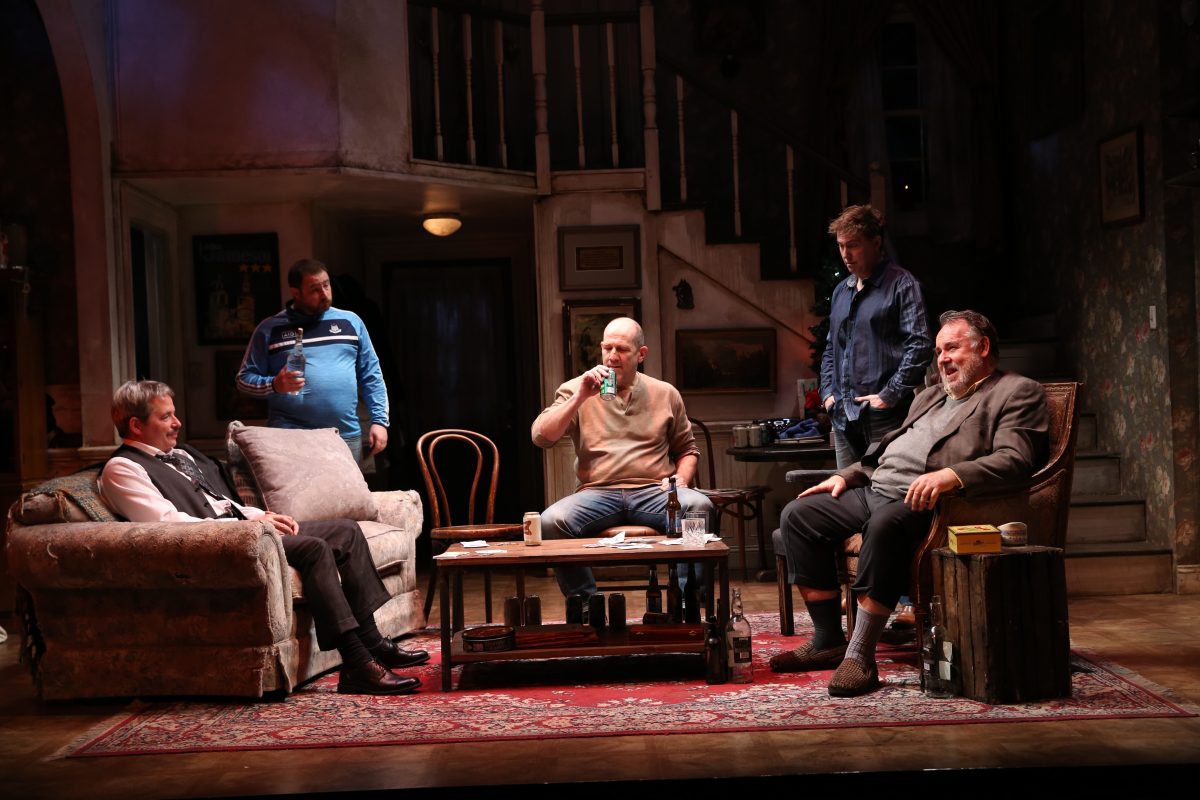 The key to the play is the Lockhart character. Broderick does a wonderful job by playing the role almost totally low key. His quiet demeanor and matter-of-fact attitude appear far more dangerous than the screaming protests or physical threats Sharky makes to Richard or Nicky. It also makes the few times when Lockhart does get angry all that more terrifying.
Rather than using the oft-portrayed premise of someone making a deal with the Devil and then leading a happy and prosperous life (at least for a while), here, Lockhart is simply content to help those in need and send them on their merry way, with no further involvement on his part whatsoever. Until he comes calling again.
Murray cuts a menacing figure as Sharky. He's a man filled with anger, particularly at his own impotence to extricate himself from his contract with Lockhart, or his situation with Richard.
McPhillamy is very good as Richard, one of those people you love to be around at social gatherings, just so long as you don't have to live with him. His mannerisms call to mind a combination Brian Cox, Brian Murray, and Zero Mostel.
Mellamphy works well as Ivan, a character currently going through his own moral decline, and Ruddy brings a nice bit of earnestness to the table as Nicky.
The characters all show themselves to be a bunch of drunks and losers in various stages of decline, at least one of whom, besides Sharky, has run into Lockhart in the past.
Charlie Corcoran's set of the Harkin household is quite good. Cramped, somewhat dirty, and in need of repair, it still manages to convey a homey feeling, which perfectly complements the characters and story.
Direction by Ciaran O'Reilly is also very strong for he allows the tale to methodically play out at its own place and doesn't force anything to occur before its time.
A well-crafted and well-played tale—so much so you totally forget the passage of time while it unfolds—this production of "The Seafarer" needs to be on everybody's must-see list.
The Seafarer
Irish Repertory Theatre
132 W. 22nd St.
Tickets: 212-727-2737 or IrishRep.org
Running Time: 2 hours, 20 minutes (one intermission)
Closes: May 24
Judd Hollander is a reviewer for Stagebuzz.com and a member of the Drama Desk and the Outer Critics Circle.