Theater Review: 'The Heir Apparent'
Funny indeed
April 17, 2014 3:50 pm Last Updated: April 16, 2014 3:48 pm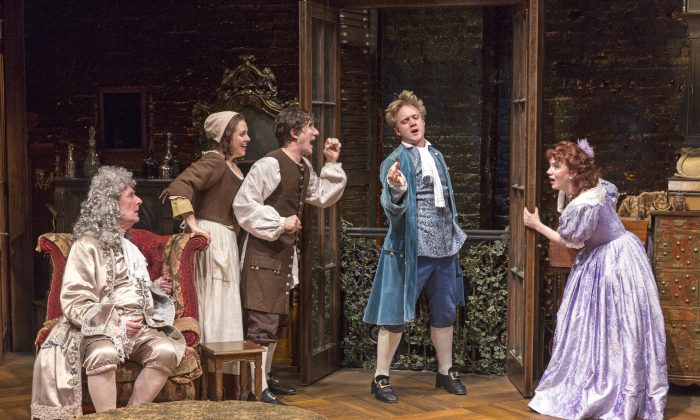 NEW YORK—Yes, money can buy happiness, but only if one understands its true value in the grand scheme of things. This is the ultimate moral in David Ives's hilarious "The Heir Apparent," adapted from "Le Légataire Universel" by Jean-François Regnard and currently at Classic Stage Company.
In 1708 Paris, France, Eraste (Dave Quay) desperately wants to marry his true love, Isabelle (Amelia Pedlow). Yet since he's as poor as a church mouse, such a union is unlikely as Isabelle's mother, Madame Argante (Suzanne Bertish), a woman chiefly concerned with social position, keeps reminding him. 
Eraste's only hope is that his aging, miserly uncle, Geronte (Paxton Whitehead), who's suffering from a host of infirmities, will leave his vast fortune to him. Rooting for Eraste are his rather cunning manservant Crispin (Carson Elrod) and Geronte's maid Lisette (Claire Karpen). These two plan to marry once Eraste inherits. 
The only thing that has kept Geronte from kicking the bucket before has been Lisette's various potions, which have kept him going—in some cases, quite literally.
However, Geronte decides instead to leave his fortune to Isabelle, as well as to marry her, thus ensuring her a sound financial future. The idea meets the approval of Isabelle's mother, and Geronte will gain a nursemaid. 
But Eraste, Isabelle, Crispin, and Lisette don't take kindly to this idea, and Crispin comes up with a plan to convince Geronte to change his mind. Sadly, Geronte once again dashes everyone's hopes, this time by dropping dead. 
Making matters worse is the fact Geronte's lawyer, a diminutive chap named Scruple (David Pittu), is about to arrive, having been previously summoned so Geronte can make out his will.
In a burst of inspiration, Crispin disguises himself as Geronte so he can make the meeting with the lawyer, though in actuality, Geronte may not be as dead as he initially appeared. This leads to some rather farcical complications as the group attempts to keep their charade intact at least until the will is signed.
Ives does a great job here, presenting a mostly tight script in rhyming verse, while also throwing in a host of modern references and allowing for the continual breaking of the fourth wall to get the audience as involved as possible. 
There's more than a bit of satire present. Everyone demonstrates the great lengths to which they will go to humiliate themselves for a slice of Geronte's financial pie. And when Crispin suddenly has the power to determine everyone's fate, he begins to use it for his own ends, much to Eraste's dismay.
Best of all are the performances by Elrod, Whitehead, and Pittu—the three operating in perfect comedic synch. Elrod is excellent as the conniving Crispin, the character donning various disguises and wonderfully hamming it up—complete with "oinks" whenever the situation calls for it. 
Whitehead is wonderfully droll as Geronte, someone who doesn't care a hoot about anyone else's happiness. 
Pittu, meanwhile, steals the show as Scruple, a self-proclaimed giant in the legal industry in every way but size. Wisely, director John Rando has Pittu play his role perfectly straight, making the character's actions even more hilarious.
If there is a problem with the play, it's that Rando lets the various farcical elements come to a head a little too soon, so there's a disjointed feeling early on. The first act could use some trimming, since some lines do not advance the plot. 
Fortunately, long before the play reaches the halfway point, comedy rides the rails as the various characters scheme their way to Geronte's fortune by any means possible. 
Quay does well as Eraste, a fellow whose best laid hopes always seem to go wrong. He also does a good not-so-slow burn. 
Karpen is great as Lisette, the most grounded of the characters and who provides a good counterpoint to the more excitable and unconventional Crispin. 
Bertish is wonderfully regal as the dowager Madame Argante, a woman whose slightest look could freeze one's blood; and Pedlow is funny as Isabelle, someone who can faint at the drop of a hat, but who, like Crispin, shows she has a good head on her shoulders.
Rando's direction is especially good in Act 2 as the script and cast ratchet up the hilarity. They move at an ever more frenetic pace to an ultimately satisfying conclusion. 
John Lee Beatty's set design of Geronte's house is appropriate, costumes by David C. Woolard are fun, and the sound design by Nevin Steinberg fits in perfectly.
Offering a wonderful breath of fresh air to an old plot device, "The Heir Apparent" works far more often than not.
"The Heir Apparent"
Classic Stage Company
136 East 13th Street
Tickets: 212-352-3101 or visit classicstage.org
Running Time: 2 hours, 10 minutes
Closes: May 4
Judd Hollander is the New York correspondent for the London publication The Stage.