NEW YORK–Sarcasm lands fast and furious in "The Front Page," a scintillating all-star Broadway revival that's still amazingly topical. Newspapermen-turned-playwrights Ben Hecht and Charles MacArthur penned the masterpiece that debuted in 1928, and today the biting satire on journalistic integrity is particularly apropos given that media coverage is now nonstop, that reporters compete to break a story or twist the truth to suit their narratives, and that people just don't seem to trust the press anymore. This year's election coverage comes to mind.
In 1928 Chicago, Earl Williams (John Magaro), a poor schmuck of an anarchist, is about to be hanged for killing an African-American police officer; that is, if another reprieve doesn't keep him from the gallows. Williams's death has been halted twice before.
Jack O'Brien's direction is letter perfect.
These reprieves, which have kept the case in the news and the public's consciousness, have allowed the city's mayor (Dann Florek) and sheriff (John Goodman), a man with a habit of politically incorrect-isms, to run for reelection on a law and order ticket. Williams's execution, set for only days before the election, is sure to guarantee the two stay in office thanks to a huge block of votes from the black community.
The play takes place in the shabby press room of the criminal courts building, where reporters file their stories on the Williams case. A hard-bitten lot, they would gladly sell their own mothers for a good bit of news, and to hell with the truth. Molly Malloy (Sherie Rene Scott), Williams's acquaintance, makes this clear when she wanders in and lambastes them for turning her chance encounter with Williams into a "love nest" for tabloid fodder.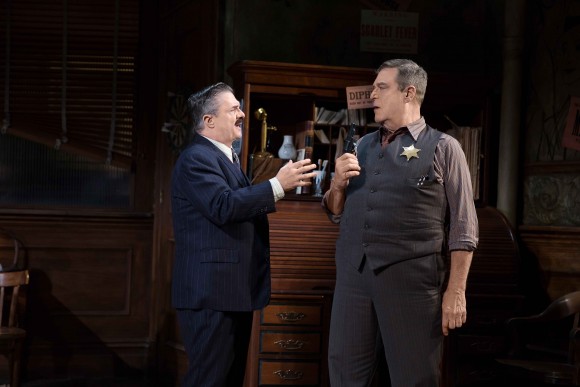 Interrupting the quiet stagnation of the reporters are calls from newspaperman Walter Burns (Nathan Lane) of the Herald-Examiner, who's trying to locate his ace reporter Hildebrand "Hildy" Johnson (John Slattery).
As Hildy explains when turns up, he's leaving the newspaper game. He's had enough of peeping through keyholes and going through other people's garbage to get a story—one likely forgotten by the next day. He's marrying Peggy Grant (Halley Feiffer), and the two are planning to leave that night, along with Hildy's prospective mother-in-law (Holland Taylor), for New York, where a new job in advertising awaits.
However, before he can leave, fate intervenes in the form of Earl Williams's dramatic escape, leaving Hildy facing the biggest story of his life—if he chooses to cover it.
A rare moment of reflection occurs when the reporters allow themselves to indulge in Hildy's dream of finding a life away from the newspaper business. For, despite their complaining about inconveniences (Williams's hanging is at 7 a.m. instead of two hours earlier when they could make the early edition), it soon becomes obvious they will stay for the adrenaline high of beating each other to a story. That and the chance to actually make a difference now and then.
Hildy's enthusiasm for the newspaper life is evident, despite his determination to leave it behind.
'The Front Page' is not to be missed.
Never far from sight is the corruption and political collusion between the sheriff's and mayor's office. At one point, Walter asks Hildy if there's anything they have on the sheriff, besides graft. Walter's tone implies that this particular offense is such an old story, no one cares about it anymore.
The cast are a team of stagecraft masters working in perfect unison, though some roles are little more than glorified, yet quite essential, cameos. Highlights include Goodman and Florek in a scene where the two discuss strategies to ensure the hanging proceeds as planned; Micah Stock as a somewhat put-upon policeman who thinks the truth about the Williams case can be found in the world of psychology; Jefferson Mays as Bensinger, a germaphobic reporter with a taste for poetry; and Lane coming in like a house on fire in the middle of Act 2 and turning an already raucous situation into complete pandemonium.
Scott offers a strong dramatic counterbalance as the distressed Molly, who is trying desperately to explain the truth to people who don't care about it, while Slattery works well as a sort of self-deluded straight man.
Related Coverage
Jack O'Brien's direction is letter-perfect, ensuring each character and each line of dialogue works to maximum effect. Douglas W. Schmidt's somewhat seedy-looking set nicely fits the characters and the atmosphere that permeates the story. Scott Lehrer's sound effects are very effective,and play a pivotal role more than once.
Completely delightful from start to finish, and often painfully true, "The Front Page" is not to be missed. 
Also in the cast are Lewis J. Stadlen, David Pittu, Christopher McDonald, Joey Slotnick, Dylan Baker, Clarke Thorell, Danny Mastrogiorgio, Patricia Conolly, Robert Morse, Michael X. Martin, Tony Ward, Joe Forbrich, Jonathan Spivey, Richard Gallagher, and Drew McVety.
'The Front Page'
The Broadhurst Theatre
235 W. 44th St.
Tickets: 212-239-6200 or Telecharge.com
Running Time: 2 hours, 45 minutes (two intermissions)
Closes Jan. 29, 2017
Judd Hollander is a reviewer for Stagebuzz.com and a member of the Drama Desk and the Outer Critics Circle.