NEW YORK—Celebrating its 40th anniversary season and planning a national tour, the Big Apple Circus offers a warm welcome and totally pleasing experience. Keenly aware of just what the concept of "circus" means to its audiences, especially the older folks who likely saw shows when they were younger, the producers eschew multimedia devices and high-tech special effects and instead present something just as thrilling: an intimate and hugely enjoyable series of performances guaranteed to either make you laugh or gasp with wonder.
Currently unfolding under a gigantic blue big top next to Lincoln Center for the Performing Arts, this one-ring extravaganza's mission is to engage the audience even before they enter the arena. Ticket holders walk past a display of circus costumes and a concession/interactive area where children can decide whether to have their faces painted, pose atop a replica of a smiling baby elephant, or both.
In the big top proper, the various acts are introduced by Ringmaster Ty McFarlan, with the frequent "help" of two distinct clowns. They are Grandma (Barry Lubin, brought back from retirement), who keeps getting into some form of trouble—such as getting caught on a cable and flying through the air—and Mr. Joel (Joel Jeske), who tries to keep tabs on his counterpart while entertaining the audience. Mr. Joel, though, appears to have bigger aspirations in life: to become a ringmaster himself, a fact Ringmaster Ty learns firsthand.
Mr. Joel and Grandma provide positive proof that one should never, ever make a clown mad—especially if that clown has access to water.
The performers, all of whom appear at the beginning of the show in an explosion of color (good work by costume designer Amy Clark), are a cross-section of jugglers, aerialists, and acrobats.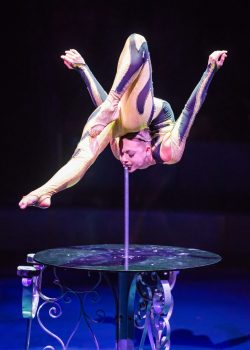 They start out relatively straightforward in their performances, and then add touches and flourishes as their acts progress. It's one thing to see a contortionist (Elayne Kramer) bend her body this way and that, but it's quite another to see her use a bow and arrow to shoot a balloon with her feet, while upside down. Or to see someone who is skilled in the art of balancing (Jan Damm) keep adding pieces, so that what he is doing handstands on gets higher and higher.
Each of the performances is accompanied by live music provided by the circus band.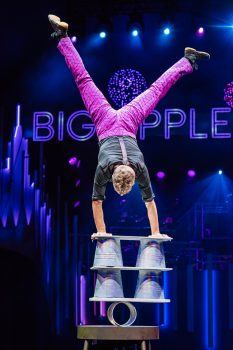 There was also a collective "ooh" from the audience during an act that featured 16 horses and ponies. Another act showcases rescue dogs, also under the able guidance of trainer Jenny Vidbel. The performance by the horses is particularly memorable, as they often move in perfect unison to almost magical effect.
Closing out the first act are the Flying Tunizianis, who demonstrate spectacular trapeze artistry, including a quadruple somersault—a feat successfully achieved by only nine performers in history.
The second half of the show features acts with a more thrilling edge to them. A particularly nail-biting sequence features Dandino and Luciana, two performers on roller skates moving faster and faster on a small drum-like apparatus. Luciana eventually is twirled around by her partner, while holding on to him via a tiny attachment between her teeth. The two are only a slip away from disaster.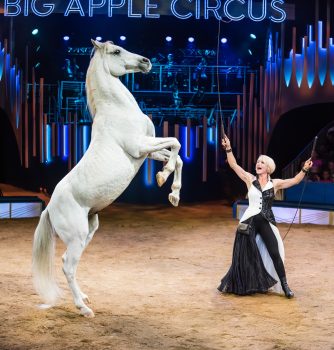 The most dangerous, however, is saved for last. The finale offers something spectacular, coupled with of a bit of circus history, with the Fabulous Wallendas (also known as the Flying Wallendas).
This family of acrobats has been performing death-defying feats for generations. Led by high-wire king Nik Wallenda and accompanied by his wife, Erendira Vasquez Wallenda, the highlight of the performance is their famous seven-person pyramid, an act that has led to tragedy for the Wallendas in the past.
Perhaps the biggest treat of all was hearing the cries of delight from the children present. Their gazes were fixed on what was going on, enjoying laughs with the clowns or following the thrilling action with widened eyes.
The Big Apple Circus offers a delightful helping of plain, old-fashioned fun. If you are looking to experience the special wonders that can only be found under a circus big top, this is the show for you.
For tour information, check BigAppleCircus.com for listings.
The Big Apple Circus
Lincoln Center's Damrosch Park
West 62nd Street (between Columbus & Amsterdam avenues)
Tickets: 212-257-2330, BigAppleCircus.com
Running Time: 2 hours (one intermission)
Closes: Jan. 7, 2018
Judd Hollander is a reviewer for Stagebuzz.com and a member of the Drama Desk and the Outer Critics Circle.