NEW YORK—There's no denying Hal Prince is a titanic force in the theatrical industry. He is a producer and director with over six decades of experience and a record-breaking 21 Tony Awards to his credit. Considering the number of hits and wealth of material he's contributed to, the real surprise of the Manhattan Theatre Club production of "Prince of Broadway," a compilation of some of his musical theater offerings, is just how inconsistent and incomplete this effort feels.
That Prince directed the work himself and, one assumes, had significant input into it, makes it even more confounding.
'Prince of Broadway' is most interesting when the narrators reveal bits of trivia concerning Prince.
David Thompson's book presents the musical numbers as little more than a haphazard collection and, for all but one song, without significant meaning to Prince. That one song is "Hey There" from "The Pajama Game," the first Broadway show Prince produced. Ironically, "Hey There" is heard only very briefly in "Prince," and when it is, it's presented offstage.
Matters aren't helped by the decision to have the show's cast of nine all act as narrators, taking on the identity of Prince himself. This would be fine if there were a reason to do so, such as portraying Prince in different stages of his life. As it stands now, each reference to Prince in the first person is distracting.
While the songs presented are powerhouses in their own right, the show's creators make the cardinal mistake of assuming the audience already knows the background and specific circumstances for each. The intros give little information about the shows or the songs, which, when presented as standalone pieces, are lessened in their emotional impact.
"Tonight" from "West Side Story," for example, should be a touching song about two young lovers caught up in the racial tensions of 1950s New York, while the title song from "Cabaret" shows a woman desperately trying to deny the changes occurring in 1930s Berlin. Yet, in "Prince," neither of these songs demonstrates the gravitas they would normally have given the proper context. (Although, it should be said Bryonha Marie Parham does an excellent job with her rendition of "Cabaret.")

The only numbers to escape this problem are those with a narrative built into the lyrics: the title song from "Company" and the nostalgia-laden "Waiting for the Girls Upstairs" from "Follies." There are also songs that are given no introduction at all.
"Prince" is most interesting when the narrators reveal bits of trivia concerning Prince. We hear how he got his first theatrical job, and we learn that the 1966 musical "It's a Bird … It's a Plane … It's Superman" earned Prince the best reviews any of his shows ever received, yet closed after only 129 performances. A show might be a critical success but a commercial failure, and vice versa.
Not surprisingly, the comedic numbers work better than dramatic ones. Janet Dacal delivers a crackerjack performance with "You've Got Possibilities" from "It's a Bird …," while Karen Ziemba does very well with "The Worst Pies in London" from "Sweeney Todd."
Of the entire cast, Chuck Cooper comes off the best, with such numbers as "Heart" ("Damn Yankees") and "Ol' Man River" from "Show Boat." Strangely, some of the lyrics to "Ol' Man River" have been changed here (and not the original controversial lyrics)—one of the few missteps by arranger, orchestrator, and music supervisor Jason Robert Brown.
Other highlights include "Ladies Who Lunch" from "Company," with Emily Skinner wonderfully channeling Elaine Stritch, and "Can't Help Lovin' Dat Man" from "Show Boat," sung by Parham with an introductory few bars by Kaley Ann Voorhees. We also learn that "Show Boat" was one of the few revivals Prince has been involved in during his career. He prefers to work on original projects.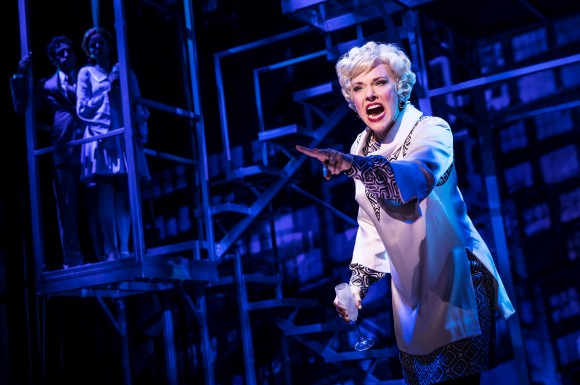 The technical elements are excellent. Set and projection designer Beowulf Boritt and costume designer William Ivey Long lovingly recreate the proper looks for the various shows. Boritt's projection work is especially striking for "Ol' Man River." Other standouts include the 1970s costumes for "Company" and circa 1887 outfits for "Show Boat."
Howell Binkley's lighting design is also quite effective, particularly in the title tune from "Cabaret." Sharing directing with Prince on this project is Susan Stroman, who also handled the choreography.
There's a lot of fun to be had with "Prince." The show contains songs that are enjoyable and a cast that is agreeable. It mostly lacks anything deeper. Both Prince and the audience deserve a better effort than what is actually presented.
Also in the cast are Brandon Uranowitz, Michael Xavier, and Tony Yazbeck.
'Prince of Broadway'
Samuel J. Friedman Theatre
261 W. 47th St.
Tickets: 212-239-6200, or Telecharge.com 
Running Time: 2 hours, 30 minutes (one intermission)
Closes: Oct. 22
Judd Hollander is a reviewer for Stagebuzz.com and a member of the Drama Desk and the Outer Critics Circle.