NEW YORK—The first thing you notice when actress Renée Taylor makes her entrance at the start of her one-person show, "My Life on a Diet," is how at ease you feel in her presence. She comes on with a bit of regal air but quickly shifts to that of a favorite aunt welcoming you into her home.
A self-described "food tramp: someone who eats around," Taylor tells an autobiographical tale that chronicles her attempts to stay thin, while at the same time exploring her very personal struggle with issues of self-esteem. Her condition was aggravated when she was told by the dean of an acting school she attended that, after playing the female lead in the school's production of "Romeo and Juliet," her "weight had sabotaged the play."
Determined to slim down, Taylor embarked on a course that caused her to try literally dozens of weight reduction programs over the years. These ranged from the more well-known Scarsdale and South Hampton diets, to the Lou Costello and Marilyn Monroe weight loss plans. There was also the Okinawa Seaweed Diet, among many, many, many others.
Taylor, who has long since come to terms with this issue, peppers her recollections with caustic and self-deprecating comments, with her delivery reminding you of a Borscht Belt comedienne. Throughout the show, information on the various diets is projected on the wall behind the desk where she sits. These slides are accompanied by a generous collection of photos, film stills, and other clips.
Taylor's dieting attempts serve as a running theme in the play as she looks back on her life and career. A Jewish girl from the Bronx, she was born Renée Wexler to a mother who dreamed of stardom on the silver screen and a father who was a professional gambler. Often on the road during her early years, and due to the family's ever-changing financial status, Taylor first became involved with diets at the age of 11, after one of her teachers remarked that "she couldn't go five minutes without a bagel in her mouth." Later, she would be advised by her mother that she'd have "to be thinner to star in plays."
Among some of the non-dietary topics discussed in the show is an early acting break—her first of many appearances on "The Tonight Show" hosted by Jack Paar; her friendships with such people as Barbra Streisand and Marilyn Monroe; and her discovery that she had an innate talent for writing, as well as for comedy. (A good example of the latter is when she describes how to cook gefilte fish.)
Receiving significant mention is Taylor's friendship with Monroe. Their time together clearly had a special place in Taylor's heart. The two met when they were both students of Lee Strasberg at The Actors Studio, with each, as it turned out, dealing with their own very personal issues.
While a good part of Taylor's life—both professional and personal—is linked with Joseph Bologna, her late husband (as of August 2017) and writing and acting partner of 53 years, his name is not mentioned until the final third of the show. This turns out to be a very wise decision, as it allows the audience to bond with Taylor herself, before Bologna comes into the picture. His presence, however, is evident throughout "My Life on a Diet" as its director and co-writer.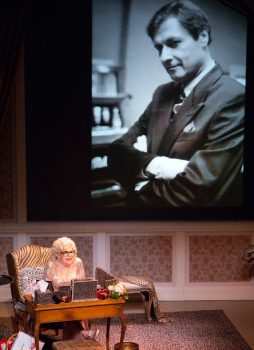 The set by Harry Feiner provides an intimate and relaxed feeling that goes well with the production. The outfit Ms. Taylor wears, designed by Pol' Atteu, is also quite appropriate, adding to the effect of the aforementioned friendly aura Taylor projects.
The show's only problem is a technical issue of matching a visual reference to whatever Taylor is speaking about. A slide would appear several seconds later than it should have, by which time Taylor had moved on to the next point in the story. These blips interrupted the show's narrative, and several times Taylor would be forced to pause while waiting for a certain image to be projected.
Nicely mixing elements poignant, personal, and comedic, "My Life on a Diet" makes for an enjoyable experience, both in terms of one woman's struggle to comes to terms with how she sees herself, and in showing the very full life she has led.
'My Life on a Diet'
Theatre at St. Clement's
423 W. 46th St.
Tickets: 212-239-6200 or MyLifeOnADietPlay.com
Running Time: 1 hour, 30 minutes (no intermission)
Closes: Sept. 2
Judd Hollander is a reviewer for Stagebuzz.com and a member of the Drama Desk and the Outer Critics Circle