Theater Review: 'Much Ado About Nothing'
February 20, 2013 3:16 am Last Updated: April 8, 2013 1:15 pm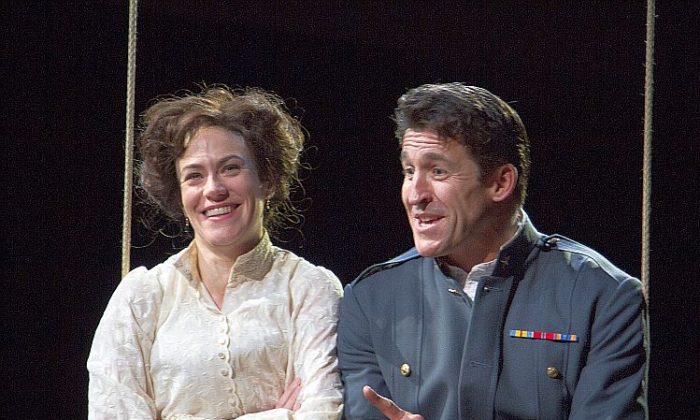 NEW YORK—There's laughter to be heard and some brilliant performances to be seen in Theatre for a New Audience's enjoyable presentation of William Shakespeare's comedy "Much Ado About Nothing."
In Messina, Sicily, the time period moved up to pre-World War I, Prince Don Pedro (Graham Winton) arrives with his soldiers after a triumphant battle and is welcomed by Leonato (Robert Langdon Lloyd), governor of the city.
During the welcoming festivities, Claudio (Matthew Amendt), one of the soldiers, falls madly in love with Leonato's daughter Hero (Michelle Beck). After Claudio confesses his feelings to Don Pedro, the prince offers his help in the matter.
However, there is evil afoot in the form of Don John (Saxon Palmer), Don Pedro's bastard brother, who secretly harbors a long-simmering jealousy toward his sibling.
After learning of Claudio's feeling and his penchant for unfounded jealousy, Don John plans to derail Claudio's chances for happiness by making it appear as if Hero is a fallen woman and thus unworthy of Claudio's hand.
As these events are unfolding, a more comedic plotline is also developing. This one concerns Beatrice (Maggie Siff), who is the orphaned niece of Leonato, and Benedick (Jonathan Cake), another of the prince's soldiers, who is also something of a rogue.
Beatrice and Benedick do not get along. The two engage in a continuous verbal battle of wits whenever their paths cross. Like Benedick, who has no use for matrimony whatsoever, Beatrice scorns thoughts of marriage and domesticity—at least until she can find someone who she feels is her intellectual equal.
Yet their friends have others ideas about that and concoct a scheme to turn Beatrice and Benedick's own pride against them in order to make them fall in love with each other.
"Much Ado About Nothing," a rather apt title, offers an interesting mix of comedy and drama. Shakespeare takes pot shots at those who think they are too proud or wise to fall in love, while also warning of the dangers of such petty emotions as jealously, suspicion, and envy.
However, this melding of the comical and dramatic can be a tricky business.
The high points of the play are definitely the scenes involving Beatrice and/or Benedick. Siff and Cake have excellent chemistry together, and their verbal duels sparkle with wit and the enjoyment of the combat.
The way their friends conspire to bring them together is played out almost like a farce, albeit a bit contrived. The would-be lovers hide to overhear what is being said about them while the others, knowing full well that they are present, proceed to milk the situation for all it's worth.
At the same time, it's fascinating to see the metamorphosis of Benedick, and to a lesser degree of Beatrice, as they realize that they are indeed in love with one another. Their minds and perceptions become open to an entirely new range of possibilities.
The Claudio and Hero storyline, unfortunately, doesn't always fare as well. Amendt comes across as somewhat one-dimensional at times and does not break out of this sameness until almost the end of Act 1. The character also doesn't have enough of an emotional backstory to really come off as sympathetic.
Beck is fine as Hero, though her character is more than a little constrained by the script, and not really able to make herself stand out until almost the final moments in the play.
Another sort of misfire occurs with the character of Don John, who's a bit less fully drawn than the usual Shakespearean villain. Palmer offers a nice bit of malevolence in his machinations, but one wishes there was more substance to the role than what is seen on stage.
Indeed, it is the comic moments that work better than the more serious ones. In addition to the scenes between Beatrice and Benedick, another enjoyable sequence occurs when a constable (John Christopher Jones) is giving those under his watch orders on enforcing the law and explaining in a perfect deadpan manner how they should react in moments of confrontation.
Director Arin Arbus stages the humorous bits so that they literally crackle with energy, while things become a bit more stilted during the somber sections, especially when events are transitioning from light to dark.
The set by Riccardo Hernandez is nicely constructed, evoking the proper tone and atmosphere, if not a specific sense of time and place. Lighting by Donald Holder works especially well, particularly in the more somber scenes.
Very enjoyable, if not always 100 percent, this presentation of "Much Ado About Nothing" still has a lot going for it with several performances that are definitely worth the price of admission.  
Also in the cast are Liam Forde, Peter Maloney, Denis Butkus, Paul Niebanck, Kate MacCluggage, Elizabeth Meadows Rouse, John Keating, and Spiff Wiegand.
"Much Ado About Nothing"
The Duke on 42nd Street
229 West 42nd Street
Tickets: 646-223-3010 or www.tfana.org
Running Time: 2 hours, 45 minutes
Closes: April 6

Judd Hollander is the New York correspondent for the London publication The Stage.