NEW YORK—A group of people standing around talking is not always the best idea for a play. Fortunately, the Second Stage production of Kenneth Lonergan's "Lobby Hero" at Broadway's Helen Hayes Theater, comes off quite well. The production uses what is basically a series of interlocking conversations to present an ultimately riveting tale.
Jeff (Michael Cera) is a security guard, a position different from a doorman (as he is quick to point out), working the graveyard shift at a Manhattan apartment building. He's gone through a rough period and is finally starting to get his life back on track, which is, however, contingent on keeping his job.
That decision is up to his superior, William (Brian Tyree Henry), a serious, by the book sort, on an endless mission to cut any dead weight he sees. William recently fired a long-time employee, less than two years from retirement, for sleeping on the job.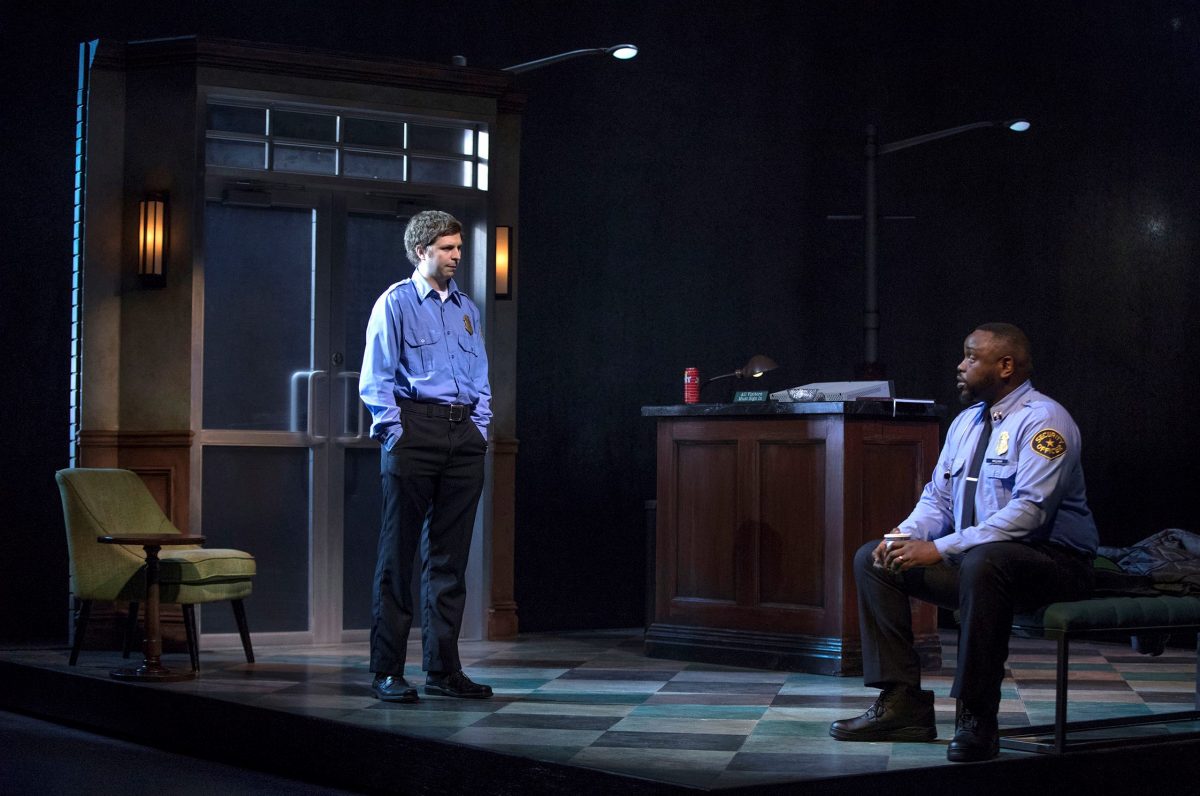 Jeff and William  have opposite temperaments. Jeff has something to say about everything and basically tries to glide through life. This cavalier attitude disappoints William, who sees a lot of potential in Jeff if only he had a more serious work ethic.
On this particular evening, William, who likes to think of himself as a pretty straight shooter, finds himself in a moral dilemma. His brother, who has repeatedly gotten into trouble with the law, has been accused of participating in a particularly heinous crime, and, having no alibi, claims he was with William that night. The brother and his girlfriend need William to confirm this story to the authorities. William, on edge about the matter, wonders if any cops have come around looking for him.
Not long afterwards, two police officers do arrive on the scene: Bill (Chris Evans), a veteran street cop, and Dawn (Bel Powley), his new partner, recently out of the academy and in her probationary period.
Bill is indeed looking to talk to William about his brother and offer support in the matter, while also attending to business upstairs of a more horizontal nature. A serial philanderer and terribly sexist, Bill has many friends in the police department and is someone who can make life difficult for anyone getting in his way. He also firmly believes one should look out for one's own kind—so he's standing by Dawn regarding her actions during a recent patrol.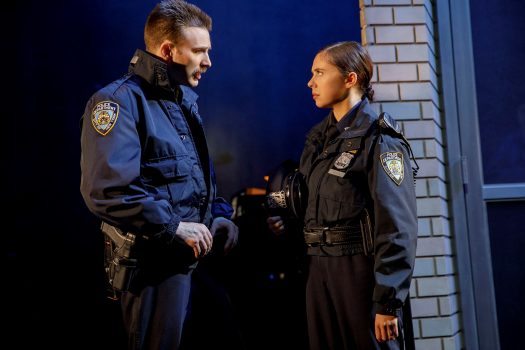 "Lobby Hero" is about doing the right thing and being true to oneself. The verbal dances and not-always-veiled threats that emerge in the conversations between the four show where each sees him or herself in a societal pecking order. All are trying to survive the best they can, while not wanting to make too many waves along the way, particularly when one is dealing with a system that seems rigged in favor of one side or another.
William, who is African-American, notes how the law has treated people of his race time and time again, especially those without the financial wherewithal to defend themselves.
Dawn, meanwhile, feels similar pressure in terms of shades of blue: her opinion is much less respected than Bill's in police circles.
As for Jeff, he's just trying to maintain neutrality and the non committance he seems to value so highly.
At the same time, the play makes clear that being unhappy with the way things are is not an excuse to conceal the truth. Or, as Dawn notes at one point, "You can't lie to the police. I don't know why, [but] you can't." Doing so only contributes to the systemic dysfunction that already exists.
The entire cast is excellent. Each of the characters is initially locked into their own particular worldview, but all are eventually forced to acknowledge that not everyone sees things the same way.
Cera is fine as Jeff who, through no wish of his own, eventually becomes the play's moral center. His outwardly easygoing manner and sometimes roundabout way of saying things, shows him at heart to be a person of conscience.
Powley is good as Dawn, who wants to be a "good girl," so to speak, by following the lead of her partner while making her own way up the police ladder.
Evans is very strong as the cynical Bill, a cop who, if he hasn't broken a rule or two, has certainly bent many of them quite far. He's a survivor and a good man to have on your side when things get bad.
Henry does quite well as William, an officious, but fair, supervisor. He refuses to take guff from others, yet he's not willing to simply toss them away just because they disagree with him.
Trip Cullman's direction is pitch-perfect here, allowing the intertwining stories to slowly come together until they merge in an explosive crescendo of tension and humor. David Rockwell's set of the lobby in question also works quite well.
The true power of "Lobby Hero" is the penetrating, yet deceptive simplicity of its text. It illustrates the importance of telling the truth, and the painful repercussions doing so may bring.
'Lobby Hero'
Second Stage Theatre at the Helen Hayes Theatre
240 W. 44th St.
Tickets: 212-239-6200 or www.2st.com
Running Time: 2 hours, 25 minutes (one intermission)
Closes: May 13
Judd Hollander is a reviewer for Stagebuzz.com and a member of the Drama Desk and the Outer Critics Circle.