NEW YORK—Musical comedy and pathos walk hand in hand in "Little Shop of Horrors."
Based on the 1960 low-budget horror film, the show burst full bloom upon the Off-Broadway stage in 1982 and later became a major film in its own right. It was revived on Broadway in 2003. The current Off-Broadway revival at the Westside Theatre offers just the right amount of schlock and silliness, along with some painful reminders about how grim life can be.
The story takes place on Skid Row, where winos congregate, and most of the inhabitants have long since given up hoping for anything better. This includes Seymour (Jonathan Groff), an awkward and shy young man, who works in a flower shop owned by Mr. Mushnik (Stephen Berger, subbing for Tom Alan Robbins the afternoon I saw the show).
The shop's only other employee is Audrey (Tammy Blanchard), a woman with a good heart but absolutely no confidence. Her boyfriend named Orin (Christian Borle) has a definite mean streak.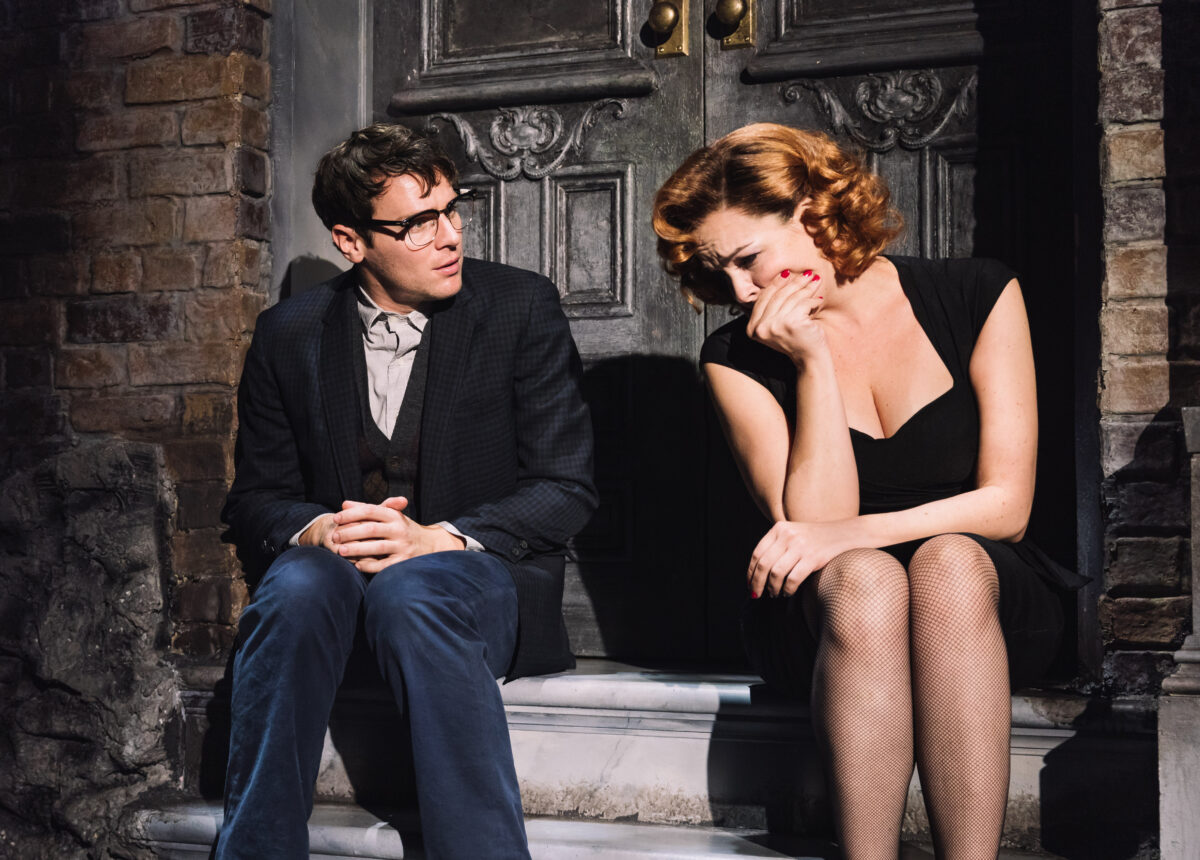 Seymour's one joy, other than pining for Audrey, is working with exotic plants. One day during a total eclipse of the sun, he finds and purchases a strange-looking plant, which he names Audrey II (voiced by Kingsley Leggs), and brings it back to the flower shop. In no time at all, Audrey II becomes the talk of the town, with people coming from everywhere to view this strange phenomenon.
The shop, which was previously on the verge of closing, suddenly receives an avalanche of publicity and business. Seymour, meanwhile, finds himself hailed as a botany genius and begins to see a future filled with possibilities.
However, Audrey II has a very specific dietary need: human blood. The plant's ever-growing hunger matches its growth spurts. At first, Seymour, dreaming of a life with Audrey, goes along with the plant's demands. But it's not long before matters quickly spiral out of control, and people start disappearing.
A Wonderful Production
What could easily be a simple parody becomes something much more in the hands of the show's creative team, as they take the source material and fashion it into something both touching and wildly entertaining. The wonderful score by Howard Ashman and Alan Menken is the real star here, as it brings both the story and the characters vibrantly to life.
The number "Skid Row (Downtown)" perfectly sets the mood; it paints a bleak picture while still maintaining the show's underlying sense of fun. The song delivered by, among others, a trio of street urchins (Ari Groover, Salome Smith, Joy Woods), serve as a sort of doo-wop chorus.
Other standouts include the heartbreaking ballad "Somewhere That's Green," sung by Audrey as she dreams of a life far different from her current existence; and "Suddenly, Seymour," when Seymour and Audrey begin to realize the possibility of a future together.
Howard Ashman's book is also filled with period references; it's interesting to see how many the audience picks up on. There's the names of the three Urchins (Ronnette, Chiffon, and Crystal—remember the Ronnettes … ?). There's also Borle strutting around as a leather-jacketed, motorcycle-riding Marlon Brando or Elvis Presley wannabe.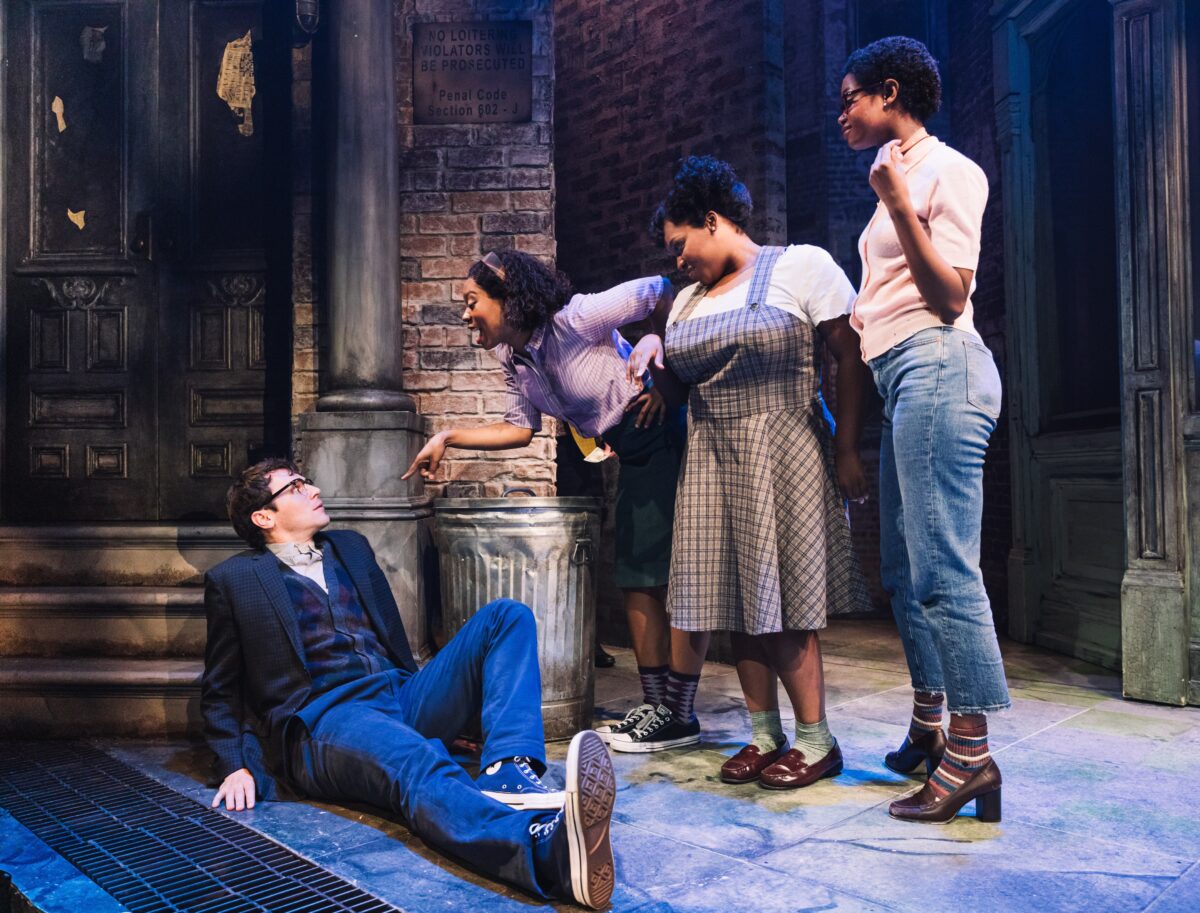 Thematically, the show also offers a warning to beware of things that seem too good to be true, as well as the dangers of looking out only for yourself. The end definitely does not justify the means here.
As far as the actors: Groff perfectly shows Seymour's turmoil and loneliness—somebody who just wants to be loved. Blanchard is a perfect match for him as Audrey, a woman with her own self-esteem issues.
Berger is blustery as Mushnik, while Borle does a great job playing multiple roles, and he and the offstage crew deserve great credit in flawlessly pulling off several quick costume changes. Groover, Smith, and Woods do a fine job as the Urchins, both musically and also when flinging occasional verbal zingers.
Credit also must go to the Audrey II tech team of Eric Wright and Teddy Yudain.
Julian Crouch's sets beautifully embody the depressing ambience necessary for what is to come. A particularly nice touch occurs during a renovation sequence at the flower shop, where despite some cursory changes—new furniture, more flowers—Mushnik, Seymour, and Audrey, can't quite eliminate the previous bleakness of the place, as evident by the cracks in the walls.
The only major problem is with the show's sound design. It's often hard to hear Ashman's lyrics, especially during the group numbers. Also, the costumes that the three Urchins initially wear seem a bit too tidy, given the surroundings.
Alternatively poignant and sidesplittingly funny, "Little Shop of Horrors" presents a tale of lost souls in the most unusual of circumstances. Not to mention a fast-growing plant with a mission of its own.
'Little Shop of Horrors'
Westside Theatre (Upstairs)
407 W. 43rd St.
Tickets: 212-239-6200 or Telecharge.com
Running Time: 2 hours (one intermission)
Closes: Jan. 19, 2020
Please note: the upstairs theater is not wheelchair accessible
Judd Hollander is a reviewer for Stagebuzz.com and a member of the Drama Desk and the Outer Critics Circle