NEW YORK—It may be true that one person can make a difference, but when going up against a system set in its ways, that person's priority can quickly become one of simple survival. Sarah Burgess makes this point in her intelligent political drama "Kings," now at The Public Theater.
New to the House of Representatives is Texas congresswoman Sydney Millsap (Eisa Davis), a war widow who won her seat in a special election. She's also the first woman, and the first black woman, ever elected from that particular district. This fact is repeated several times during the play, almost like a mantra.
Lauren (Aya Cash) and Kate (Gillian Jacobs), two 30-something Washington lobbyists, each tries to match their clients and their causes with whatever politician they think will help.
Although Millsap may care deeply about doing the right thing for her constituents, among the political realities she despises are attending fundraisers, having to make calls to party donors, and dealing with lobbyists.
In an amusing verbal tête-à-tête, Millsap puts Kate on the spot when she tries to get the lobbyist to explain why she should be interested in a proposed law that seems primarily to benefit podiatrists.
Millsap is more interested in a bill that will close a tax loophole in regard to capital gains, something business-friendly elements in Congress are roundly against. Refusing to heed the warnings of those around her, she votes for the bill anyway, and as a result, she's told the party will not back her in the upcoming general election.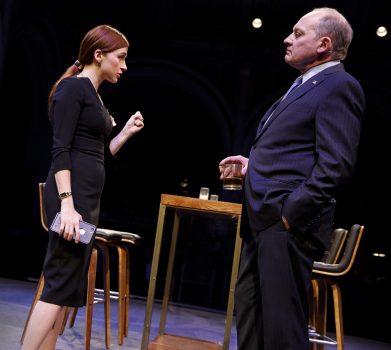 Millsap responds by announcing her intention to run for the seat held by longtime Texas senator, and party favorite, John McDowell (Zach Grenier).
As "Kings" clearly shows, an entrenched establishment—in this case, politics in general, rather than any one political party—is all too often determined to silence anyone who doesn't play by its rules.
Kate is impressed with Millsap's straightforward way of speaking, and perhaps sees something of herself in the congresswoman's desire to make a difference. But it's not long before Kate finds herself being squeezed from all sides, and she learns that the price of helping Millsap may be the loss of everything she's ever worked for.
Davis is excellent as Millsap, who brings a much-needed breath of fresh air to a stale business-as-usual climate. Calling out politicians and lobbyists alike, she's realistic enough about the political process to accept the necessary evils of her job, such as corporate donations, yet she refuses to be beholden to them.
Grenier is very strong as McDowell, a career politician who perhaps has been in the game too long and is all too willing to make his donors happy in order to consolidate his power base. Yet he never comes off as threatening or dangerous, just quietly matter-of-fact in his movements.
Cash does well as Lauren, a hardcore lobbyist whose worldview cannot permit the actions of outsiders such as Millsap.
Jacobs makes Kate the most realistic character of the four as she finds herself wondering if there is something more in this business than just trying to satisfy whatever special interest group is currently paying her. It's this need of Kate's to believe in something that makes her the one most affected by what occurs.
The only place where the play is lacking is in the number of characters it presents. It would have been more effective with a larger cast (many are mentioned but never seen) and, through them, a deeper exploration of the subject matter.
The play is tightly directed by Thomas Kail, keeping the overall cynical nature of the work front and center, as well as its ultimate lesson: Those who can adapt when their political fortunes suddenly shift will survive, while those who cannot or chose not to change had better start looking for other work.
All told, "Kings" proves to be a powerful and all-too-true reminder of how things often play out in politics.
'Kings'
The Public Theater
425 Lafayette St.
Tickets: 212-967-7555 or PublicTheater.org
Running Time: 1 hour, 40 minutes (no intermission)
Closes: April 1

Judd Hollander is a reviewer for Stagebuzz.com and a member of the Drama Desk and the Outer Critics Circle.