NEW YORK—You know you're in for something special when the audience starts applauding as the overture begins. With Bette Midler in the title role of the Broadway revival of "Hello, Dolly!", this long-overdue return of the 1964 Broadway classic is a triumph on every level.
Set in New York City circa 1890, the play based on Thornton Wilder's "The Matchmaker" centers on Dolly Gallagher Levi (Midler). Since the death of her husband 10 years earlier, the middle-aged woman has survived as a sort of jack-of-all-trades, with the various business cards to prove it. Dolly's chief employment comes from her services as a marriage broker. She helps people of all ages and types find companionship, romance, and even love.
Dolly's current client is Horace Vandergelder (David Hyde Pierce) of Yonkers. The well-known half-a-millionaire and widower is looking for a second wife. The front-runner in that regard is Irene Molloy (Kate Baldwin). Irene, who runs a millinery shop in New York City, is totally sick of the hat business and is looking to make a move of her own.
Dolly however, has her own plans for Horace. Something he knows nothing about yet.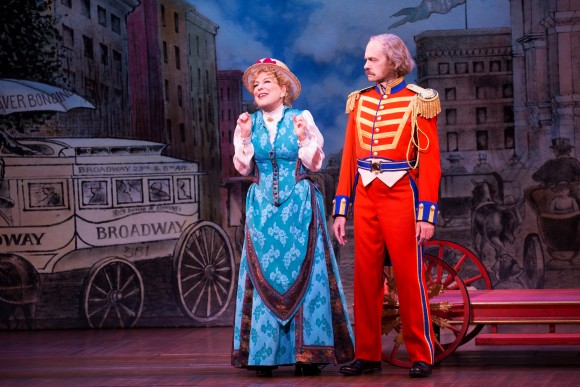 Dolly is also trying to arrange a happily ever after for Horace's niece Ermengarde, (Melanie Moore) and her starving artist boyfriend Ambrose (Will Burton). The practical Horace, Ermengarde's legal guardian, disapproves of the match.
With Horace off to the city to meet Irene, his employees Cornelius (Gavin Creel) and Barnaby (Taylor Trensch) take advantage of their boss's absence to have a New York adventure of their own. All these events take place over a July weekend.
The genius of Michael Stewart's book is that it makes Dolly more than just the title character. She's the sun around which the others orbit. Moreover, the way the narrative is structured, Dolly is not present on stage all of the time, thus allowing the other characters to come into their own.
David Hyde Pierce gets his own moment to shine in 'Penny in My Pocket.'
Best of all, Midler deliberately underplays Dolly in the beginning. She is forward thinking and determined, but never overbearing. Midler's presence in the role grows bit by bit, until finally she comes down the stairs of the Harmonia Gardens Restaurant in a blaze of glory.
"Hello, Dolly!" is a musical about second chances. Dolly, Horace, and Irene have all previously lost someone and are now being given the opportunity to find love again. Outwardly, it may be for reasons of security and comfort, as shown in the comic number "It Takes a Woman."
But it becomes apparent just how lonely these characters are. In these moments, such as when Dolly implores her deceased husband to let her go, the characters feel completely real.
Pierce gets his own moment to shine in "Penny in My Pocket." The number was cut from the original Broadway production, but is wisely restored here, allowing him to show the human side of Vandergelder.
Bette Midler deliberately underplays Dolly in the beginning.
It's also fun to watch the interplay between Midler and Pierce; the two have excellent chemistry and a good sense of comic timing together.
Counterbalanced with this idea of second chances is that of first love. Cornelius, Barnaby, and Minnie Fay (Beanie Feldstein), Irene's assistant at the hat shop, fall into this category.  
It's interesting to note that while Dolly purports to be a matchmaker, the only match she seems intent on securing is her own. Ermengarde and Ambrose were already in love when they hired Dolly to come up with a way for Horace to approve their union. The show's creators seem to be saying that the best type of love is one that finds its own way. (Though a little push in the right direction certainly can't hurt.)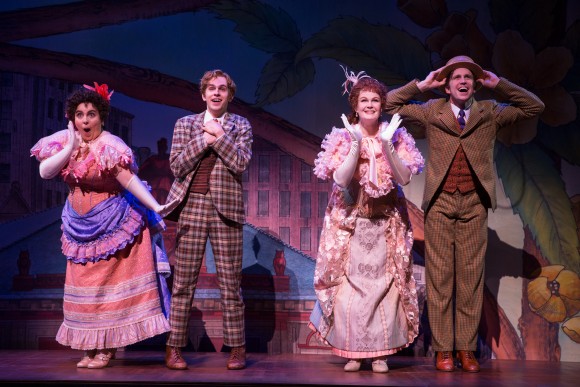 The production allows Jerry Herman's gloriously hummable score to sparkle throughout. Add to this the excellent sets and costumes by Santo Loquasto and perfectly balanced lighting by Natasha Katz, some of the musical numbers come together in a brilliantly staged tableau. These include "Put on Your Sunday Clothes"—complete with a train—and "Before the Parade Passes By."
Other good songs include the satirical "Elegance"; the haunting "It Only Takes a Moment," beautifully sung by Creel and Baldwin; and the title tune, which brought the audience to its feet.
Helping to tie the elements together is Warren Carlyle's choreography and Jerry Zaks's finely tuned direction, which doesn't allow a single moment to feel wasted or extraneous. 
Boasting an absolutely top-notch cast, and without a false note anywhere, this production of "Hello, Dolly!" allows the audience to rediscover a show that is clearly a star vehicle and yet chock-full of characters with their own problems, hopes, and dreams.
Welcome back, "Dolly!" You have been sorely missed.
'Hello, Dolly!'
Shubert Theatre
225 W. 44th St.
Tickets: 212-239-6200 or Telecharge.com 
Running Time: 2 hours, 35 minutes (one intermission)
Open run
Judd Hollander is a reviewer for Stagebuzz.com and a member of the Drama Desk and the Outer Critics Circle.