Theater Review: 'Donnybrook!'
March 26, 2013 11:07 pm Last Updated: April 6, 2013 5:51 am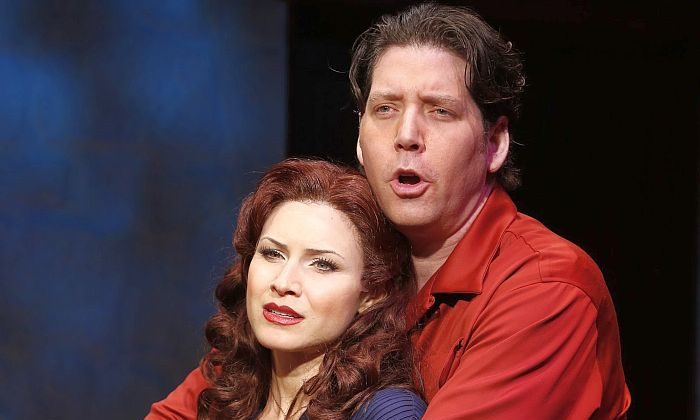 NEW YORK—The musical "Donnybrook!" (the term being slang for a knock-down, drag-out fight), which came and left the Broadway stage rather quickly in 1961, makes a return to New York with a somewhat revamped production at the Irish Repertory Theatre. The Irish Rep production offers up, as they say in fight parlance, a split decision.
The fact that it is based on the film "The Quiet Man," with book by Robert E. McEnroe, and music and lyrics by Johnny Burke (additional music and lyrics by Richard Farrelly, additional music by Jimmy Van Heusen), is referenced in the show program.
Set in Innisfree, Ireland, in 1951, the story tells of Irish-born, American-raised Sean Enright (James Barbour) returning to the town of his birth. A tall, strapping fellow, he quickly becomes enamored of the feisty and beautiful Mary Kate Danaher (Jenny Powers).
Sean's American ways—far more forward than the reserved Irish practices when it comes to courting and marriage—quickly antagonizes Mary Kate's perennially short-tempered elder brother Will (Ted Koch).
Sean, it turns out, is running from his past. A former fighter, he had 87 bouts in his career, which abruptly ended after he killed his last opponent. Now seeking a quiet life with Mary Kate, Sean finds Will barring his way to happiness. It's a situation that can only be settled with fisticuffs between the two men, something Sean refuses to do.
It doesn't help that upon his arrival, Sean purchased a piece of land from Kathy Carey (Kathy Fitzgerald), a widow and owner of the local pub—property that Will himself wanted.
While McEnroe's book presents a powerful and absorbing tale, it is one with a clash of cultures at its heart. Those who have never seen "The Quiet Man" will have no trouble getting into the flow of the story, yet the musical score is rather weak.
Even more troubling, several of the early songs aren't needed. Powers's first number "When Is Sometime?" is sung very well by the actress but doesn't advance the plot. The tune imparts information that could easily be covered in a few, brief sentences.
It also does not bode well when the traditional Irish tunes that were added specifically for this production have more resonance than anything in the original score. The delivery of the show's title tune and its reprise also seem particularly forced.
Another problem lies with director Charlotte Moore's presentation of the work. The show never really feels as if it's taking place in the time and era depicted.
Additionally, many of the dramatic or emotional scenes—including one involving Sean and Mary Kate at a train station and another when Sean kicks down a door—seem overly staged and at several points almost farcical.
However, it must be said that the climactic battle between Sean and Will is done extremely well. Good work by fight director Corey Pierno in the latter case.
Barbour does a fine job in bringing the conflicted Sean to life, while Powers does excellent work as Mary Kate, the two having strong chemistry together.
Koch is good as Will, though his character is left somewhat hanging at the end. It's as if the show's creators basically forgot about tying up that particular plotline.
A real treat are the characters of Mikeen Flynn (Samuel Cohen), the village matchmaker, and Kathy Carey. The two have a secondary storyline that adds some extra flavor to the overall tale.
Fitzgerald is good as a feisty woman who knows what she wants, while Cohen is funny as the matchmaker who will do whatever he can for his clients, even it means telling a little white lie or three. However, he prefers the bachelor life for himself. Or so he thinks.
The rest of the actors do their jobs quite well, though none stand out particularly.
On the face of it, "Donnybrook!" would seem to be perfect musical material and a perfect fit for the intimate Irish Rep space. However, it doesn't quite turn out that way.  
Worth seeing as a curio piece and for the strong performances of several of the actors, the show itself leaves something to be desired. In that regard, it's surprisingly similar to "New Girl in Town," another recent Irish Rep offering that also didn't come together as it should have.
Also in the cast are Patrick Cummings, Mary Mallen, David Sitler, Terry Donnelly, Barbara Marineau, Kevin McGuire, and Kern McFadden.
"Donnybrook!"
Irish Repertory Theatre
132 West 22nd Street
Tickets: 212-727-2737 or visit www.irishrep.org
Running Time: 2 hours
Closes: April 28
http://www.irishrep.org/donnybrook.html
Judd Hollander is the New York correspondent for the London publication The Stage.