NEW YORK—Currently holding court at the Atlantic Theater Company is the world premiere of the one-person show "Derren Brown: Secret," and, yes, there is a special significance to the final word in the title.
Brown offers a mystifying and quite fluid presentation of magical and mental acuity. It will leave you wondering just how he could know so much about those in the audience, all people he has never before met.
Brown's greatest talent is his ability to put the audience immediately at ease.
At least some of the answer has to do with Brown's understanding of how every human is, on a visceral level, totally alone, locked in his or her own separate skull.
Brown, an expert in the field of psychological magic, is able to recognize this fact and thus partially breach that barrier. That is, he has not only a knack for the "now-you-see-it, now-you-don't" method, but also a deep familiarity with the tics, quirks, and unconscious giveaways every person telegraphs in their behaviors. It's a handy skill to have when you're sitting down to a high-stakes poker game, a major diplomatic negotiation, or, as in Brown's case, a masterful stage performance.
Brown shares the technique of a well-placed misdirection and explores the communications in subliminal messages. Both methods pay off handsomely at different points.
He explains his methods as he goes along: pointing out the different ways a person reacts when lying or telling the truth; even when audience members attempt to conceal themselves by deliberately controlling their body movements (a dead giveaway). 
Brown's greatest talent is his ability to put the audience immediately at ease. He's not afraid to share a bit of himself as he explains what he does—though whether is he always telling the truth is open to question. Dishonesty and a well-placed lie is also a part of his routine, as he says early on.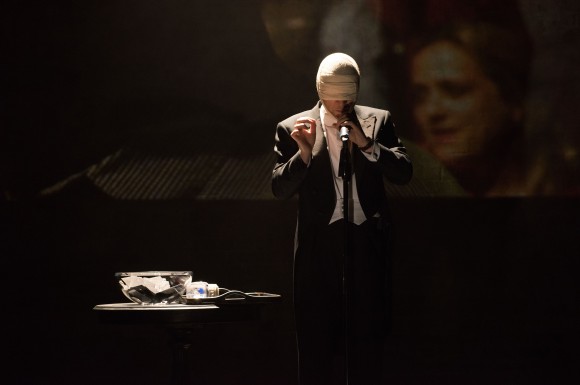 Being too specific about what goes on would spoil the chance for future audiences to be enthralled, amazed, and downright astonished by the performance, and Brown, who wrote the piece with Andy Nyman and Andrew O'Connor, specifically asks those attending not to do that. I concur with that request.
I can relate, though, that there is a good amount of audience participation, and that when the show was finished, I had absolutely no idea how Brown was able to so precisely direct the flow of events to end the way they did, an ending he clearly desired.
While the show is rather long for a one of this type, the entire piece moves briskly. The only point when one is actually aware of the passage of time is when Brown himself makes reference to it as a lead-in to the final sequence.
Credit must also go to Nyman and O'Connor in their roles as the show's directors. They keep the different segments nicely blended from one to the next, and also allow Brown latitude to interact with the audience while staying in complete control of the entire process.
Featuring a genial performer with keen insight into human behavior, "Derren Brown: Secret" is a fascinating and surprisingly intimate experience. You just might want to go back and see it again, if only to catch what you missed the first time around—or to try to beat Brown at his own game. Not going to happen.
'Derren Brown: Secret'
Atlantic Theater Company at the Linda Gross Theater
336 W. 20th St.
Tickets: 866-811-4111 or AtlanticTheater.org
Running Time: 2 hours, 30 minutes (one intermission)
Closes: June 25 
Judd Hollander is a reviewer for Stagebuzz.com and a member of the Drama Desk and the Outer Critics Circle.