SPRING GREEN, Wisc.—"Cyrano de Bergerac" has often been reduced to a story of unrequited love, perhaps the most famous of its kind in all of dramatic literature. But the character the play is named after is so much more. Director James DeVita, who drew from four translations of the play to write his adaptation, emphasizes the character's admirable bravery, his wit, his poetic gestures, his flights of rapid-fire fancy, and his irrefutable honor, upheld with tenacity.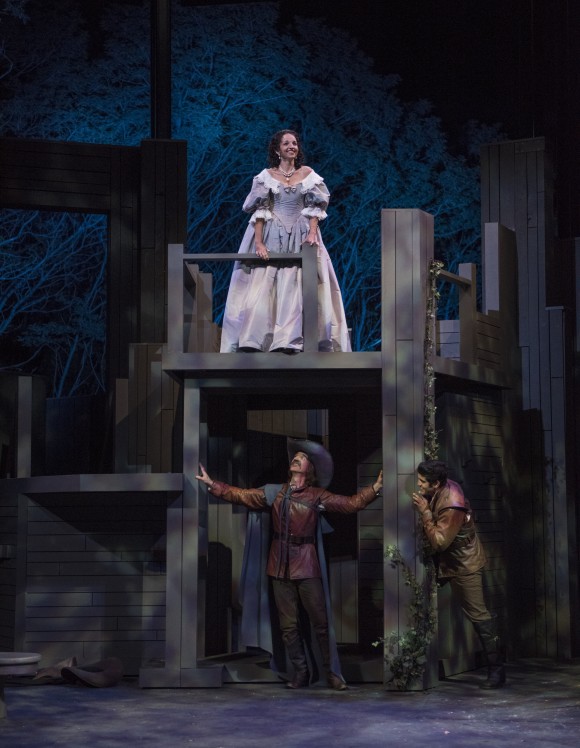 Cyrano (James Ridge), a 17th century Gascony soldier (think musketeer), is as brilliant a poet as he is a swordsman. So skilled is he at both wit and swordplay that he can compose a poem while dueling. And win.
That Cyrano often duels can be attributed to his often feeling insulted, whether the slur is intended or not. The slights he cannot abide are those aimed at his proboscis. "Nose" is simply too short a word for his monstrous appendage.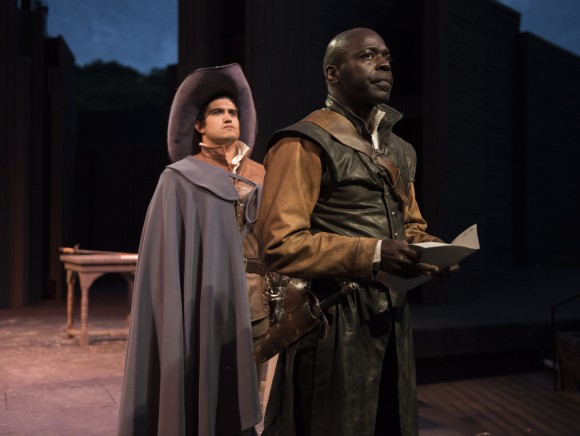 However brave his heart, however clever his imagination, he is decidedly ugly and suffers dreadfully from it, for he is in love with his beautiful cousin Roxane (Laura Rook). But Roxane's eye has become fixed on the very handsome Christian de Neuvillette (Danny Martinez), a new cadet in Cyrano's regiment, and Christian is enthralled with her in return.
Now Roxane expects a letter from her admirer, and Christian is at a loss. He hasn't a way with words. If only he were a poet like Cyrano, and on Cyrano's part, if only he had a handsome face like Christian's. Cyrano decides to lend his skilled pen to Christian to win Roxane's heart.
The Performance
Although the lovers, Christian and Roxane, feel the most updated of the characters, with Christian having some of the most direct lines in the play, and Rook adding a measure of contemporary swagger to her visit to the battlefield, it is the characters who highlight or contrast the theme of honor who are most memorable.
John Taylor Phillips, as counterpoint to Cyrano's honor, initially portrays Count de Guiche as a worldly cynic, but he learns to respect Cyrano over time.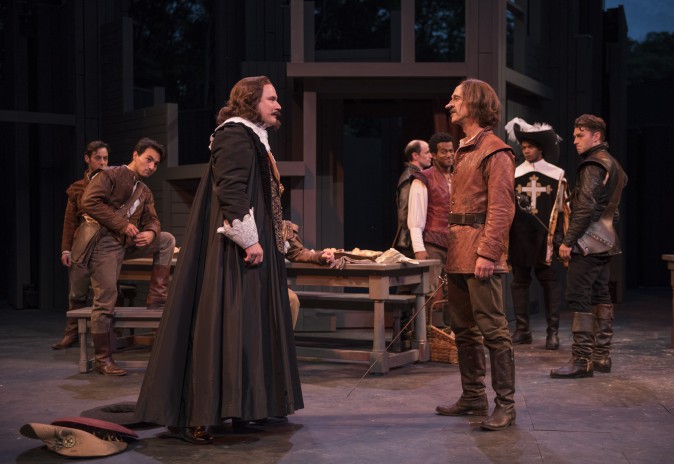 Also in contrast to Cyrano are his friends. Cyrano's best friend LeBret, a realist rather than idealist, is portrayed by Chike Johnson as a warrior, protective and worried for his friend. David Daniel, as Cyrano's other close friend, the pastry chef and poet Ragueneau, is big-hearted and humble rather than demanding and proud.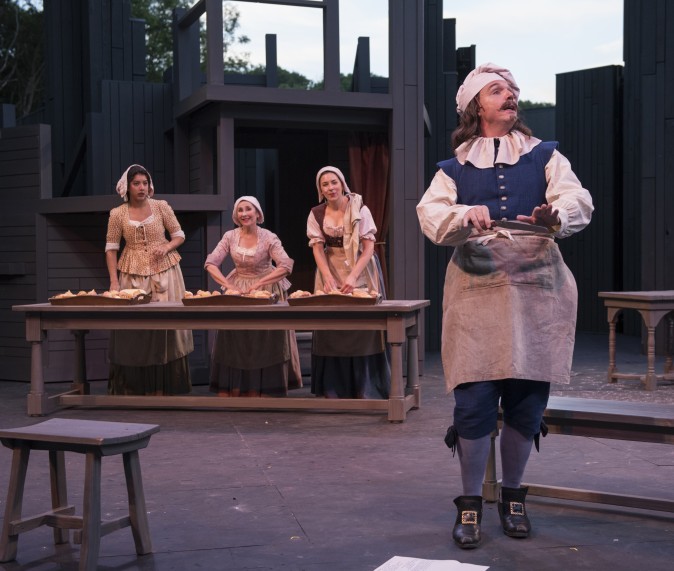 As Cyrano, Ridge embraces the full range of the character's emotions—from his despair at first hoping beyond hope that Roxane loves him to his concealed torment at discovering that she doesn't, from his intoxicating freedom at the moment he can finally unleash his heart to her from his own lips to his resignation that she will never be his.
We see his delicacy in sparing both Christian and Roxane from the truth of his feelings, his imaginative zeal in the spontaneous fabrication of how he managed to visit the moon, and in his last flailings, a man who long ago accepted his fate, however much he would fight it. 
Augmenting the depth of the acting are creative touches that mirror Cyrano's poetic world. When Act 2 opens we see workers in the pastry shop whirl through their daily chores, poetry in motion; and later, the slow-motion battle scene is replaced, actor by actor, by a choir of nuns and the serenity of passing time.
Mathew J. LeFebvre's costumes are splendid, whether Cyrano's battered leather tunic or the delightful excesses of actor Montfleury's (Brian Mani) feathered headdress over a vermilion wig of period curls.
A Hero Against Weakness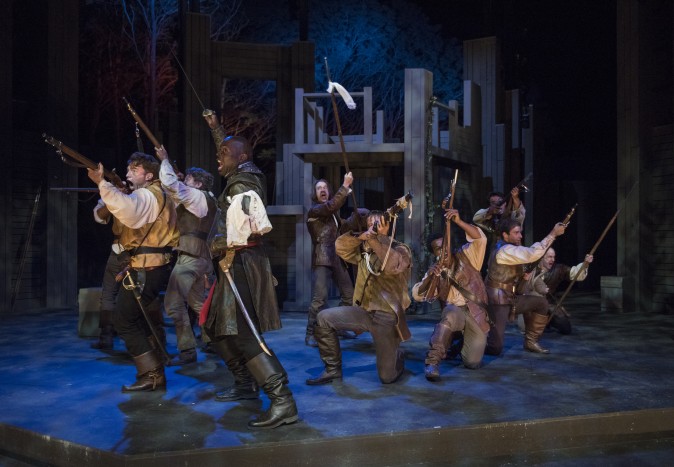 That Cyrano is heroic is unquestionable: fighting 100 men to help a friend; inspiring men on the battlefield when they are starving and about to face an attack of overwhelming odds; and on that battlefield, risking his life daily to cross enemy lines and post love letters to his beloved.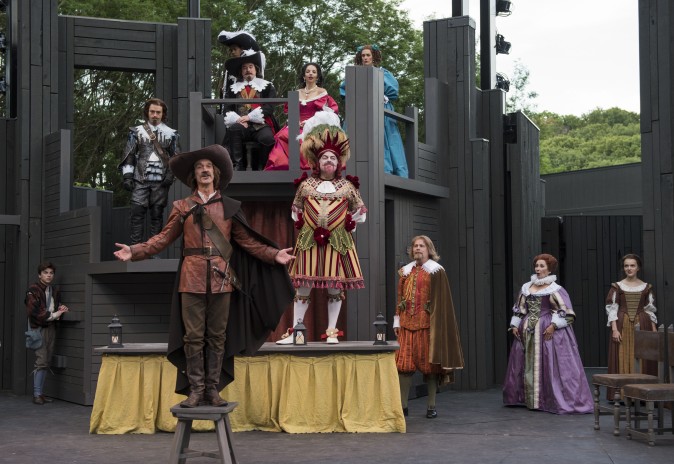 And he's heroic in the deepest sense of the word. He is willing to give everything, suffer anything, either for his honor or for his love. Of the two, honor surmounts love. He would never take advantage of any situation for his own benefit, including the chance to have Roxane for himself after he won her for another.
On the other hand, as LeBret points out repeatedly, Cyrano makes enemies wherever he goes.
Cyrano hates many. He loathes the pompous and ridiculous stage actor Montfleury, refusing to let him take the stage; Cyrano despises foppish courtiers who revel in ribbons more than deeds, he abhors wily count DeGuiche who outsmarts the enemy on the battlefield with artifice rather than facing them bravely.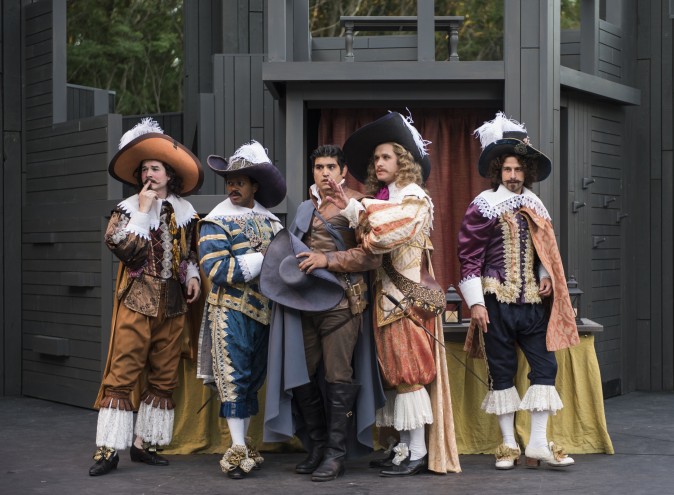 As Cyrano says at the play's end, his enemies include hypocrisy, compromise, falsehood, prejudice, cowardice, and ignorance. His hatred for humanity's weaknesses, his intolerance, is epitomized by the fact that his own regiment dare not even look at his nose without his taking it as a slight.
Cyrano is self-righteous and yet we allow him to set himself as judge of the sins of the world. Why? Because his hero's heart is pure. 
'Cyrano de Bergerac'
Hill Theatre 
5950 Golf Course Rd.
Spring Green, Wisconsin
Tickets: 608-588-2361 or AmericanPlayers.org
Running Time: 3 hours, 10 minutes (one intermission)
Closes: Oct. 6