NEW YORK—When the curtain rises to the music of "The Candy Man," with Christian Borle appearing seconds later in a purple coat, green pants, and orange vest (not to mention a top hat and cane), the audience bursts into applause at seeing a childhood memory come to life. Sadly, the Broadway musical "Charlie and the Chocolate Factory" fails to keep faith with its source material, proving to be an uneven mixture of satire and wistfulness.
Young Charlie Bucket (Ryan Foust, who shares the role with Jake Ryan Flynn and Ryan Sell) lives with his widowed mother and four bedridden grandparents. The family is so poor, they can only afford secondhand vegetables for food. Charlie's one escape is his love for all things chocolate. He constantly comes up with ideas for new confections. But due to his family's limited resources, Charlie must content himself with one chocolate bar a year, which he receives on his birthday.
The story has one of the kids hacking into Wonka's computer systems and finding the location of one of the tickets.
Everything changes when the mysterious candymaker Willy Wonka (Borle) makes an announcement. Wonka was once king of the chocolate world, until, after seeing his secrets stolen by corporate spies, he dismissed his entire workforce and shut up shop. While he eventually restarted the business, the gates to his factory have remained closed to the outside world.
Now Wonka announces that he's opening up his factory to the finders of five golden tickets, which have been hidden in Wonka chocolate bars somewhere in the world.
Watching these events from a TV set in a local candy store, Charlie sees one winner after another revealed, until he finds the final ticket himself. Charlie is accompanied to the factory by his Grandpa Joe (John Rubinstein), whose love for Charlie prompts the older man to get out of bed for the first time in over 40 years.
There is great material to work with here based on the novel by Roald Dahl and featuring songs from the 1971 film "Willy Wonka & The Chocolate Factory," particularly when it comes to the characters of Charlie and Wonka.
Despite the hardships he's endured, Charlie still believes in happy endings. And Wonka still has the soul of a boy; he feels an almost magical sense of delight when coming up with a new taste treat.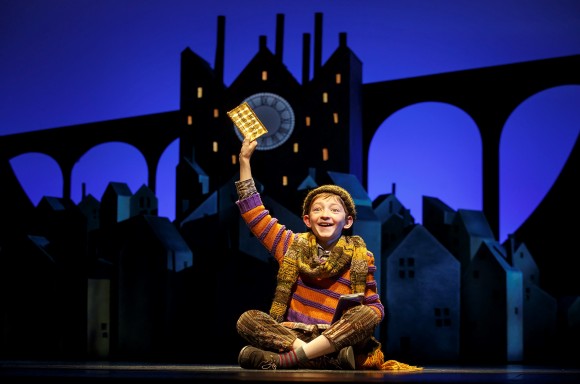 The production stresses the importance of never losing one's inner child, while showing that those among us who are not pure of heart will ultimately get their just desserts.
However, the show's creators aren't sure whether to present a childhood fantasy or a dark allegory. David Greig's book concentrates too much on the bad apples in this bunch: the four not-so-nice children who found the other tickets. These kids, all played by adults, represent sins such as gluttony, greed, and self-aggrandizement and further paint Charlie as the sympathetic underdog.
This tactic is fine, but doing a music number introducing each one feels like overkill since the audience is not meant to identify with any of them.
And each time one of them is announced as a winner, Charlie bemoans another lost chance. Since it's obvious he's going to be one of the winners, stretching these scenes adds unnecessary padding.
There are also a few gaps in the overall narrative logic. If, as Charlie states, Wonka candy has fallen so far out of fashion that only old people buy it, why the worldwide hysteria when Wonka announces the contest?
In addition, the musical numbers written by Marc Shaiman and Scott Wittman especially for the stage are not nearly as strong as the Leslie Bricusse/Anthony Newley tunes in the film. The two exceptions are Borle's "It Must Be Believed to Be Seen," which is basically Wonka's mantra on life, and the brilliantly biting "Vidiots," which takes aim at our obsession with technology. In a nod to the modern age, one of the kids hacks into Wonka's computer systems to find the location of one of the tickets.
The biggest misfire occurs when the audience is introduced to the wonders of Wonka's candy factory. Though as the sequence begins there is childlike wonder on the faces of all the winners and the adults accompanying them, what is shown to the audience does not go far enough toward the gigantic immersive experience it should be.
But Borle does an excellent job of giving Wonka a combination of wild eccentricity, ominous mystery, and frenetic energy. Foust appeals as Charlie, and Emily Padgett offers a bit of pathos as Charlie's careworn mother with dreams of her own. Rubinstein is a fun Grandpa Joe, and Jackie Hoffman offers comic moments as the alcoholic mother of one of the ticket winners.
"Charlie and the Chocolate Factory" tries hard to succeed, but reminds one of a rather misshapen cake. It may taste okay, but the proper effect is lost.
Also starring Ben Crawford, Kathy Fitzgerald, Alan H. Green, Trista Dollison, F. Michael Haynie, Emma Pfaeffle, Michael Wartella, and an ensemble cast.
'Charlie and the Chocolate Factory'
Lunt-Fontanne Theatre
205 W. 46th St.
Tickets: 877-250-2929 or Ticketmaster.com
Running Time: 2 hours, 30 minutes (one intermission)
Open Run
Judd Hollander is a reviewer for Stagebuzz.com and a member of the Drama Desk and the Outer Critics Circle.