NEW YORK—In the beginning of the two-person play "About Alice," the character of Calvin Trillin (Jeffrey Bean) recalls some of the condolence cards he'd received from complete strangers following the death of his wife (Carrie Paff) in 2001. Alice died of complications from lung cancer, ending a fight with the disease that had begun 25 years earlier.
Many of these cards began, "Even though I never really knew Alice."
"About Alice" is author and playwright Calvin Trillin's way of not only letting people know who Alice was, but also showing just how much she was part of his existence. She was everything from a wife, mother, and companion to a muse, creative sounding board, and someone he referenced frequently in his published works. He wrote, by his own admission, "thousands of words about her."
Based on Trillin's book with the same name, "About Alice" offers an alternately lighthearted and somber journey through points in the couple's life. To his credit, Trillin doesn't take the standard biographical route of laying things out in strict chronological order. He instead adopts a collage approach, interweaving his own recollections with his wife's commentaries.
While the specter of Alice's illness is ever-present, it's the relationship between the couple that forms the linchpin of the story, particularly the way they complement each other. When they first meet, they come across as complete opposites: Trillin's cynical and wry attitude is a counterpart to Alice's idealistic responses, which at times have a bit of naiveté to them—or strength of character. She once made Calvin turn over to the police a 20-dollar bill they found on the street, just in case someone had reported it missing.
Most of Alice's dialogue—she being an author in her own right—is taken from the essays and letters she wrote over the years. These show her to be a smart, outgoing, and determined woman, and one with a great zest for life.  She is also seen as the person in the family who keeps them all on an even keel. This point annoyed her somewhat, as she felt people with such an outlook often missed out on some of the fun life had to offer.
Alice's underlying strength comes powerfully into play when she's first diagnosed with cancer. She vows to stay alive to watch her two daughters grow up—even though the survival rate from her condition at the time was only 10 percent. She eventually takes the lessons she learned through her ordeal to try to help others with their own traumas.
Alice was determined to make her situation count. She makes this clear when testifying at a hearing on whether to ban smoking in all public places in New York City.
Paff does an excellent turn as Alice. She takes what material is offered via Trillin's memories and his wife's writings to make her, if not always a three-dimensional figure, certainly one who is interesting and appealing.
Paff is also able to bring forth the attributes of the character, including Alice's beauty, a factor that allowed her to get off with a warning 132 separate times when she was stopped for speeding.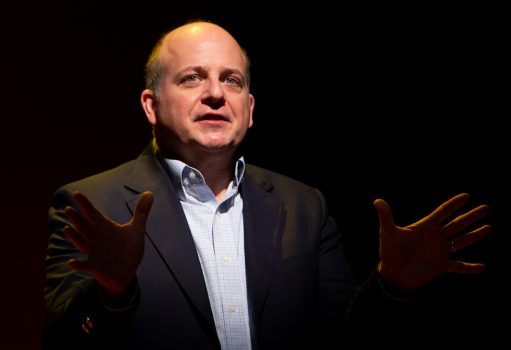 Bean is very good as Calvin Trillin. He plays a genial sort of everyman, who's always ready with a quiet zinger or gentle put-down. Yet he is also able to show the emotion of someone who knows he has met his soulmate. At one point, you hear a catch in Trillin's voice as he describes writing for Alice, and you really believe what he's feeling.
Bean also makes for a smooth narrator of the piece. He easily steps out of the show to address the audience directly, before slipping back into the story.
Leonard Foglia's directorial efforts here show him to be totally at ease with combining comedic and dramatic elements in an ever-changing narrative. Each succeeding scene is a perfectly natural extension from what has come before, with nothing feeling forced or overdone.
Riccardo Hernandez's set, basically a raised platform with a table and two chairs, makes for a perfectly functional playing area. The space adapts to whatever situation or setting the script calls for. The story is also helped by Joshua Schmidt's sound design, Russell H. Campa's lighting, and Elaine J. McCarthy's projections.
A heartfelt love letter from one life partner to another, "About Alice" tells a touching story of a somewhat familiar yet quite unique, very moving journey.
'About Alice'
Theatre for a New Audience
Polonsky Shakespeare Center
262 Ashland Place
Brooklyn, N.Y.
Tickets: 866-811-4111 or TFANA.org
Running Time: 1 hour, 15 minutes (no intermission)
Closes: Feb. 3
Judd Hollander is a reviewer for Stagebuzz.com and a member of the Drama Desk and the Outer Critics Circle.