Nov. 11, 2020, marks 100 years since Britain's Unknown Warrior was buried at Westminster Abbey in London, to honor all those who lost their lives in World War I. 
Britain had suffered mass bereavement, with over 700,000 men being killed in the war and hundreds of thousands of those men recorded as missing in action, explained National Army Museum curator Justin Saddington in an email.
Those warriors gave the most precious things they could for their nation—their lives. Ultimately, their sacrifice ensured freedom for generations to come.
"Nearly every family had been denied a funeral for their lost loved one," Saddington said.
Saddington explained that grieving families had nowhere to mourn. The graves that did exist were overseas near the battlefields where the men lost their lives, so they were hard to access. The Unknown Warrior commemoration provided "a symbolic funeral for all the nation's dead and a surrogate grave for all those that had none," he said.
Saddington curated the National Army Museum's exhibition "Buried Among Kings: The Story of the Unknown Warrior." He's collated paintings, photography, and personal testimony from the period.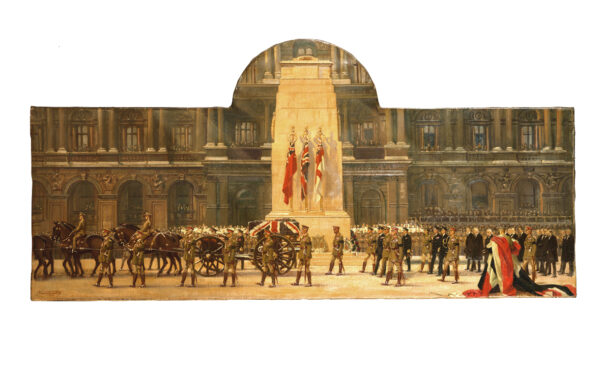 Two notable objects on display are a fragment of the original 1919–1920 wood and plaster cenotaph (an empty tomb), erected as a temporary memorial in London for Britain's war dead, and a painting depicting the Unknown Warrior's burial procession, titled "The Passing of the Unknown Warrior, King George V as Chief Mourner, Whitehall, 11 November 1920," by Frank O. Salisbury.
First, a Padre's Epiphany
In 1916, Rev. David Railton M.C. came up with the idea of an Unknown Warrior memorial while stationed on the Western Front. Despite Railton's having seen many war casualties and deaths, it was during the stillness of one particular day's dusk that an anonymous soldier deeply moved him, at Erkingham near Armentières in France.
With the daylight fading fast, except for some officers playing cards in the billet behind him, Railton was all alone in the billet garden. "I remember how still it was. Even the guns seemed to be resting, as if to give the gunners a chance to have their tea," he wrote in "Our Empire" in 1931.
Standing in that silence, he spotted a wooden cross inscribed with the haunting words "Unknown British Soldier" and underneath in brackets "of the Black Watch."
At that moment, the distraught voice of a soldier's mother may have entered his mind: "'Where—exactly where—did you lay to rest the body of my son? … I have been officially notified that he is 'missing, believed killed.'" Railton had written about how padres (chaplains in military service) stationed with infantry would often be asked such questions by the loved ones of soldiers missing in action. 
He was certainly tormented: "So I thought and thought and wrestled in thought. What can I do to ease the pain of father, mother, brother, sister, sweetheart, wife and friend? Quietly and gradually there came out of the mist of thought this answer clear and strong, 'Let this body—this symbol of him—be carried reverently over the sea to his native land.'"
A Nation Mourns
Britain's post-war busyness prevented Railton from sharing his idea. Although Nov. 11, 1918, marked the Armistice, it wasn't until June 1919 that peacetime could be truly embraced after the Treaty of Versailles was signed. And it took time to dismantle the machinery of war and demobilize troops. 
It was a tumultuous time. The turmoil of warfare had finished, but an inner turmoil continued. 
"Men and nations stumbled back like badly wounded and 'gassed' warriors to their homes. The endless shedding of blood ceased but there was no real peace in the souls of men or nations," Railton wrote.
In 1919, architect Sir Edwin Lutyens erected a wood and plaster cenotaph by the government buildings of Whitehall to commemorate the nation's war dead. On Victory Day, July 19, 1919, thousands of military personnel paraded passed the cenotaph and, along with the public, paid tribute to a hard-won war with many sacrifices.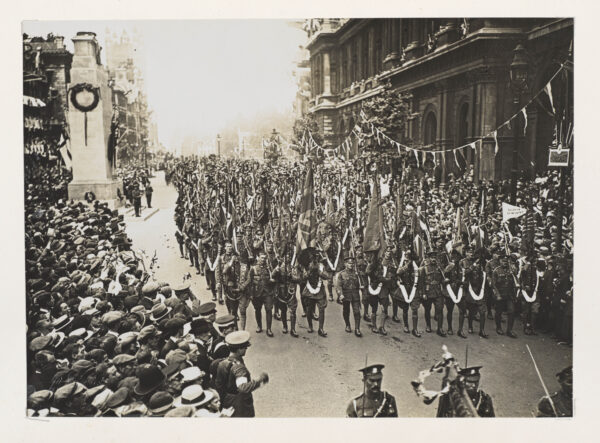 "Near the memorial there were moments of silence when the dead seemed very near, when one almost heard the passage of countless wings," The Morning Post wrote on July 20, 1919.
Selecting the Unknown Warrior
But it wasn't until August 1920 that Railton shared his idea, outside of his family, for an Unknown Warrior memorial. He wrote to Herbert Ryle, the Dean of Westminster, with little more than a humble hope to make the national commemoration happen. 
Ryle petitioned King George V and Prime Minister David Lloyd George, and others in authority. A committee was formed in mid-October that year to bring Railton's idea to fruition. 
With no official record of the Unknown Warrior selection process, Saddington explained, "historians have had to rely on divergent and less reliable accounts of the men who were involved." 
Before the burial could happen, a secret selection process took place. The commander of British forces in France and Belgium, Brigadier General Louis Wyatt oversaw the process.
One such account is from Wyatt himself. In November 1939, 20 years after the Unknown Warrior was buried, Wyatt wrote of his experience in The Daily Telegraph. Four digging parties were dispatched to four different battle areas of the Western Front—Ypres, Somme, Aisne, and Arras—Saddington explained, and each was tasked with bringing back one body to a chapel at St. Pol near Arras, Wyatt's headquarters.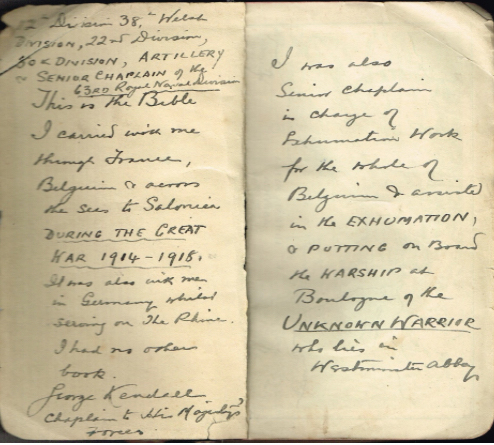 On Nov. 8 and 9, Wyatt and a colleague randomly selected the Unknown Warrior. The three remaining bodies were reburied. The Unknown Warrior traveled by ambulance to the French port of Boulogne, the beginning of his journey to be finally laid to rest on home soil.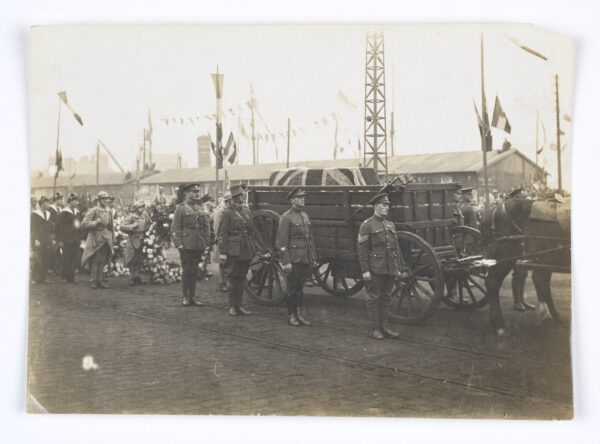 Great Britain's Surrogate Grave
On Nov. 11, 1920, King George V led the burial procession of the Unknown Warrior in London. The procession passed the newly unveiled Portland stone cenotaph on the way to Westminster Abbey before the soldier was buried among Britain's most illustrious citizens.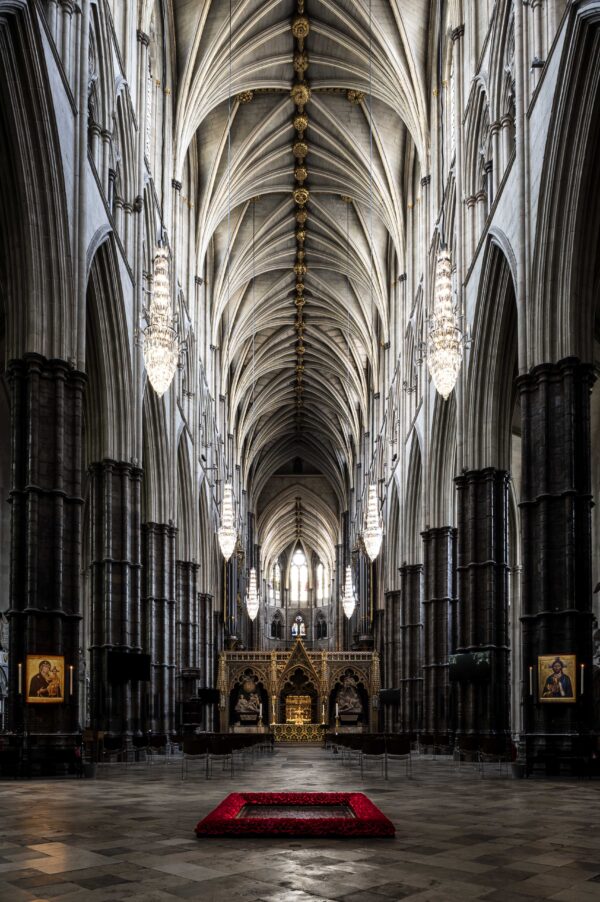 Thousands attended the procession to pay their respects in a collective outpouring of a nation's grief. 
One hundred sandbags of French soil filled the grave. And the union war flag was raised. The flag, called Padre's Flag, had belonged to Railton. He'd used it throughout his war chaplaincy. It had covered boxes, tables, and altars for Holy Communion and other ceremonies. 
It had another solemn purpose. "It was the covering–often the only covering–of the slain, as their bodies were laid to rest," Railton wrote.
"It is not a new 'bit of bunting' bought for the occasion but a real symbol of every Briton's life. Indeed, it is literally tinged with the life-blood of fellow Britons," he added. 
Railton had wanted the flag to be left with the Unknown Warrior, and in 1921 he got his wish. The Padre's Flag hangs in Westminster Abbey, in St. George's Chapel, next to the Unknown Warrior's grave.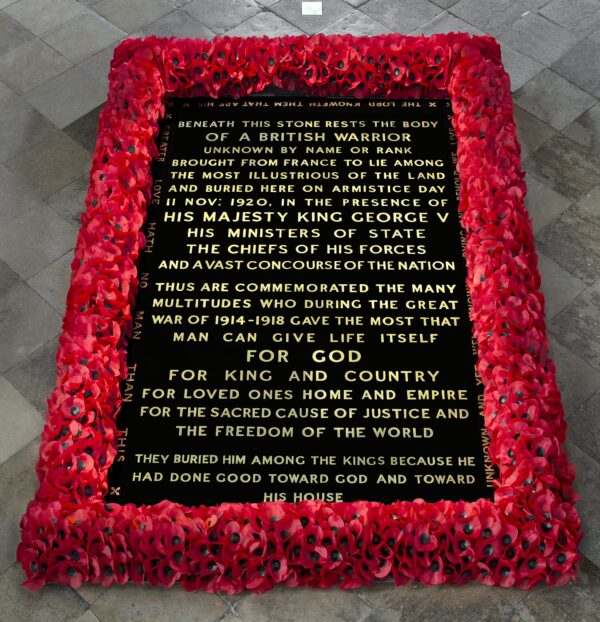 In honor of all who died for king and country, the last line of the dedication on the Unknown Warrior's grave states: "They buried him among the Kings because he had done good toward God and toward his house."
To find out more about the National Army Museum's exhibition  "Buried Among Kings: The Story of the Unknown Warrior," which runs until February 10, 2021, visit NAM.ac.uk