"Cake just makes people's days," Odette Williams says. The Brooklyn-based baker, writer, and apron and bakeware designer's new cookbook, "Simple Cake," is a collection of happy moments waiting to happen.
It's a "choose-your-own-adventure cake book," as Williams puts it, offering recipes for 10 base cakes and 15 toppings, the classic mainstays in her own household, that can be mixed and matched to your liking. A chart of compatible combinations, plus 30 suggestions paired with special occasions, pushes beginning bakers in the right direction.
The "simple" part is key. There are no fussy chiffon nor extravagant layer cakes—"there's a modesty and nostalgia to these cake recipes," Williams writes, from classic vanilla, best drizzled with "Nana's Simple Glaze;" to a lamington cake piled with coconut flakes, a tribute to the Australian expat's home.
"I really advocate for the kind of baking that anyone can do. You don't have to be a baker," Williams said. The recipes are straightforward and quick to throw together, guided by Williams's warm instructions; many need no more than two bowls, a whisk, and wooden spoon in the realm of equipment. To save time, she suggests that any base can be simply dusted with confectioners' sugar in lieu of frosting.
"I'm really trying to get that cake in your mouth and mine as soon as possible," she said.
And as for the intimidation factor that often surrounds baking, Williams is quick to dispel it: "I fully support slightly wonky cakes or slightly lopsided cakes, and I fully support cutting a cake impatiently while it's still warm—because honestly, that's when cake is truly at its best." It doesn't have to be perfect—that's the beauty of homemade cake.
That said, she does set a handful of rules to guide you toward success. Always grease your pans, line with parchment paper, and grease again ("it's an insurance policy," she writes). Don't overpack your measuring cup with flour (or if you do and your batter ends up too thick, thin it out with a tablespoon or two of liquid before baking). Set a timer while baking "because you will forget;" and don't over-bake: Check the doneness of your cake with a skewer into the center (it should come out greasy but not wet, with a few crumbs clinging to it) and a gentle press of the fingertips on top (it should lightly bounce back). These and other tips are laid out in an "Advice From This Home Baker to Another" section of the book.
Here's another one, non-essential but perhaps just as invaluable: to perk up day-old cake—provided yours lasts that long—pan-fry a slice in brown butter until golden brown, about a minute each side, and serve it hot with a scoop of ice cream. "It's ridiculously good; just don't tell your cardiologist," Williams writes.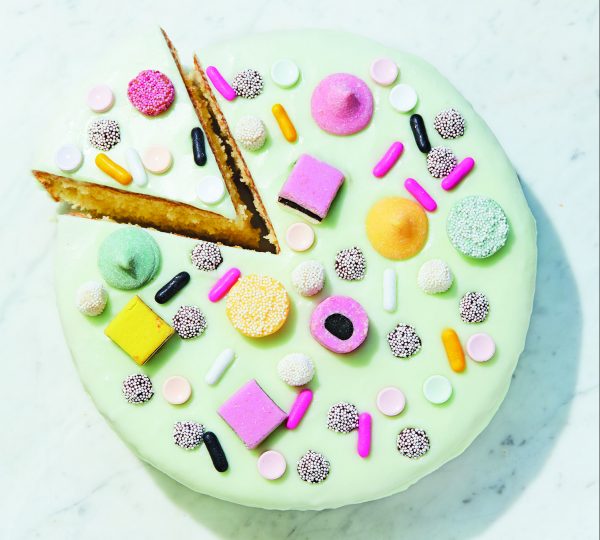 Lopsided Love
The impetus for the book came in a photograph. After her father's unexpected death, Williams was in the midst of organizing his funeral when she came across an old photo, capturing a scene from a childhood birthday party: her father lighting the candles on a bunny-shaped birthday cake, her tiny hands helping shield the flames from the wind.
Then a newly divorced, single parent in his late 30s, her father had made the cake for her from "The Australian Women's Weekly Children's Birthday Cake Book"—essentially "the bible for kids' parties around the country" in the 80s, from which she also drew inspiration.
"When I saw that, I thought, this is what it's all about. It's these small gestures that show how much you love or care for someone," she said. "It's this simple cake, but it was the fact that he went to the effort to do that for me … I was just racked with this emotion that I didn't get to thank him for the cake."
"Simple Cake" became her way of saying thank you. It's her way of sharing "the importance of cake": its power as an everyday expression of love, a gift of kindness just as sweet when baked to celebrate a birthday, to help a friend through a rough day, or to brighten up an ordinary one.
Her recipes are simple so as to encourage such everyday cakes; the 30 "cake-worthy moments" and suggested combinations inspire plenty of reasons to make them.
There's the chocolate "How Did You Get So Big?" birthday cake, for instance, with silky marshmallow icing and rainbow sprinkles; or the mascarpone frosting-swirled vanilla "Have Another Cup of Tea" Cupcakes, ready in under an hour for impromptu visits. The chocolate-on-chocolate, sea salt-sprinkled Bribery Cake is made to "help you or a loved one get across the finish line;" while the Over the Moon Cake, cut into moon and star shapes, is the "you did it!" prize waiting on the other side.
"Bake for the people you love, and they'll surely love you for it," Williams writes. "Baking a cake for someone shows that you've put them at the forefront of your mind, that you've used your time and creativity to love them. Even if it's lopsided love."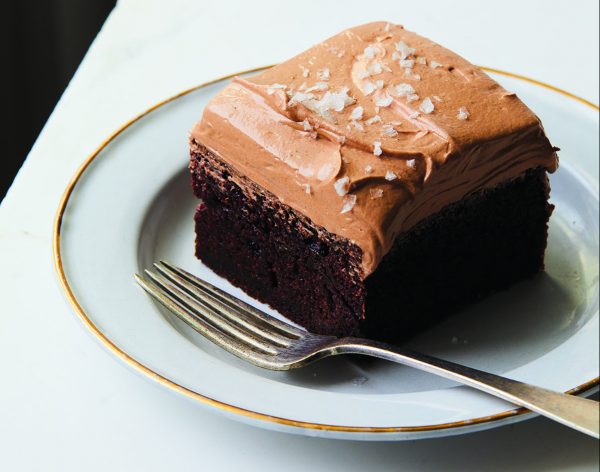 Baking With Kids
Williams got her start baking at a young age, learning to whip up a quick snack of cake batter for herself—often eaten before it made it to the oven—to satisfy her after-school sugar cravings. "I just was crafty, and what was in the pantry was stuff that you could make a cake with," she recalled.
Her daughter Opal has "inherited this cake gene," she writes, having grown up always wanting to help her bake. (Her eponymous apron brand started with one she made for Opal to wear in the kitchen.) Her teenage stepdaughters, Dixie and Matilda, often ask to bake when they're together; her youngest, Ned, joins in if only to "crack the eggs and lick the bowl."
To other parents seeking advice on baking with kids, Williams prescribes, first of all, a stiff drink. That's followed by "the patience of a grandparent," and the acceptance that you'll have to surrender some control.
In the end, it's a worthwhile long-term investment—and the returns are sweet, in more ways than one.
With now 10-year-old Opal, for instance, "we just got to this place where all of a sudden she doesn't need assistance," she said. "All those years of putting in the work, and she now knows how to work the beaters, she can use the oven, and she's a great little baker."
The day that "Simple Cake" published, Williams returned home to find that Opal had made her a cake from the book.
"'That's amazing!'" Williams gushed. "And that's exactly the premise of the book! You make a simple cake to celebrate someone, or help someone, or tell them that you love them."
RECIPE: Bribery Cake
RECIPE: Little Treasures Cake
RECIPE: Big Daddy Pavlova