The first time I had Kevin's homemade chocolate, he wasn't my brother-in-law yet. He was my sister's new boyfriend, and he'd come to spend New Year's with us at my parents' house in the mountains of New York. He met us for the first time there, covered in snow, armed with white boxes wrapped in crisp navy ribbon. 
The boxes contained beautifully packaged mini chocolates of every variety: mint-filled squares, peanut butter cups, coconut-filled ones, and chocolate-covered cherries, each one somehow more delicious than the last. 
"We've just had Christmas," we protested when he showed up with more sweets. "We can't eat any more chocolate." 
But the boxes were passed around, then passed around again, and by the end of his first evening with us, there were hardly any left. 
A Family Tradition
Kevin's family has been gifting friends their homemade chocolates for as long as he can remember. 
"My dad wanted to start some kind of tradition that we—my brothers and I—could participate in together," he said. Chocolate Day quickly became an anticipated annual event.
Every year, Kevin's dad melts down a 10-pound bar of chocolate he buys from an Amish store near their home in Pennsylvania. Then, using molds and a variety of fillings, he makes hundreds of tiny chocolates, boxed into packages of good cheer and gifted to friends near and far. 
"Our boxes usually have about 20 chocolates in each one. My dad would fill dozens of boxes by the time Chocolate Day was over," Kevin said.
He remembers Chocolate Day as a happy, productive time when he was allowed to be in the kitchen working alongside his dad. "My favorite part was chopping up all the chocolate the night before." 
Our family fell in love with Kevin almost as quickly as we did his chocolates, and every year, we asked him to bring more at Christmas.
A few years ago, Kevin and my sister, Amy, decided to start their own Chocolate Day, wanting to continue the tradition for their own future family. This year, they're adding a new variety of chocolate to their repertoire: chocolate-dipped Oreos. 
Sharing Our Hearts
Making edible gifts at Christmas time has long been a popular idea. Homemade food gifts are a thoughtful, fun, and generally inexpensive way to share the season with others. 
My husband and I spent a few years making homemade marmalade. We boiled oranges and lemons for hours, then poured the golden jam into cans for our friends. 
My friend Aletheia Mellott grew up making caramel corn for her neighbors at Christmas time. They poured the sweet popcorn into brown lunch bags, hole-punched the tips, and tied curly sparkly green ribbon to close them. 
"It was a fun way for us kids to be involved in gift-giving," she said. The process for her was a joyful and exciting one.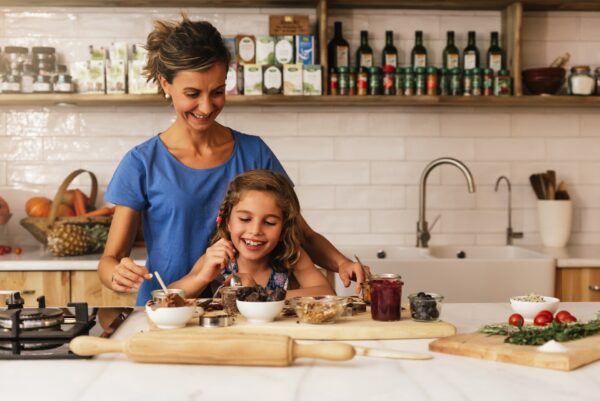 Another friend, Rachel Morehouse, packages peppermint biscotti into small, colorful tins and gifts them to teachers, coworkers, and friends, taking a tin with her wherever she goes during the holiday season. 
My mother-in-law is a talented baker and sometimes sends cookie platters with me to my parents at Christmas. Somehow they still taste fresh days later, and are more flavorful than any store-bought cookie. She packages them in beautiful boxes, or tucks them into trays covered in plastic wrap. 
The kitchen is an extension of who we are. The heart of the home is the kitchen, and it makes sense that we would want to share that part of ourselves with others.
This year especially, when holiday parties, family gatherings, caroling nights, and cookie exchanges won't fill the calendar the way they normally do, homemade food gifts might become even more meaningful. 
We don't know yet whether we'll be able to gather in person this Christmas, but if we can't, a box of homemade chocolates in the mail will be the next best thing. 
Tips For Packaging and Mailing
Almost nothing beats a package of homemade edible goodies in the mail. Here are a few tips for packaging and mailing, to ensure your gifts arrive intact and delicious. 
Send foods that can withstand the travel. There are few things more discouraging than spending hours on a delicate treat only to find it has crumbled in transit. I had this happen to me with a box of peppermint cookies that crumbled en-route. Opt to send foods that are sturdy enough to make the trip, such as firmer, denser cookies, boxed chocolate, popcorn, bark, or hard candy.
Wrap it well. Make sure any cakes or cookies are well wrapped in plastic or shrink wrap. Freezing a cake or batch of cookies before sending can help them stand up to travel. 
Ship in a sturdy container. Well-wrapped packages of treats should be placed in tins or sturdy boxes to preserve their shape. Place the package in your shipping container at least 2 inches from the walls, then fill the space with paper or packing peanuts to protect your items. Bubble wrap also works well between boxes to add padding and preserve freshness.
Kevin's Coconut Cream Chocolate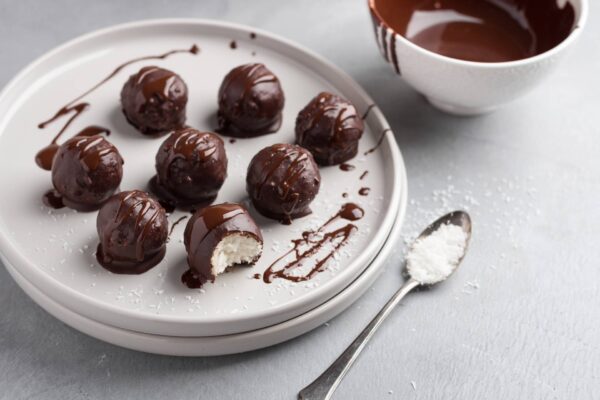 Makes about 6 dozen (1-inch) chocolates
1 pound dipping chocolate, melted 
1 3-ounce package cream cheese, softened
1/3 cup sifted powdered sugar
1 teaspoon vanilla extract
1 cup flaked coconut
1/2 cup finely chopped nuts
Fill a tray of chocolate molds halfway with melted chocolate. Scrape excess chocolate off. Freeze for 30 seconds to allow chocolate to solidify around the outside of the molds. 
Discard excess chocolate (or eat it separately!) and allow mold to sit at room temperature for 20 minutes. 
Meanwhile, make the filling: Whip together the cream cheese, sugar, and vanilla extract until light and fluffy, about 3 minutes. Add coconut and nuts, and mix well to combine. 
Distribute the filling into the chocolate "shells" now in the molds. Pour more chocolate over the tops to cover the filling, scraping off the excess. 
Freeze for 10 to 15 minutes, then turn chocolates out onto the counter and let sit until room temperature. 
Aletheia's Homemade Caramel Corn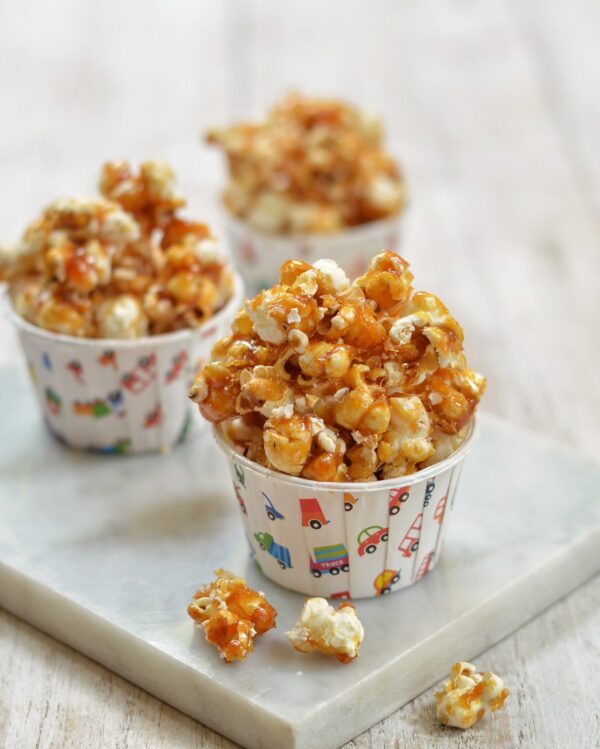 Makes 10 servings 
8 to 10 cups of popped popcorn
1 cup (2 sticks) butter
1 cup light brown sugar
1 teaspoon Himalayan sea salt
2 teaspoons vanilla extract
1/4 teaspoon baking soda
Line a baking sheet with parchment paper and place the popcorn in a large mixing bowl. Set aside.
In a small saucepan, melt butter over medium heat. Stir in brown sugar. Stirring continuously, bring the mixture to a boil. Boil for 5 minutes, then stir in salt, vanilla extract, and baking soda.
Drizzle the mixture over the popcorn. Stir with a spatula to combine. 
Pour the popcorn mixture out onto the lined baking tray and allow to cool for 15 minutes.
Rachael Dymski is an author, florist, and mom to two little girls. She is currently writing a novel about the German occupation of the Channel Islands and blogs on her website, RachaelDymski.com