AUCKLAND, New Zealand—It's the closest I've come to a "Narnia" experience, where I've walked into something utterly unexpected. Here, the wardrobe in Narnia is replaced by a warehouse on the edge of the Corban Estate Art Center in Henderson, West Auckland, on New Zealand's North Island.

At the warehouse entrance, I'm faced with what seems like an ocean of concrete. I follow the sound of singing in a language foreign to my own. As I cross the concrete, I am warmly greeted by a woman crowned with a garland of flowers and clothed from head to toe in color: the traditional dress of Tuvalu, a South Pacific island nation consisting of nine coral islands between Hawaii and Australia.

"You must be hungry. Come eat," she gestures, as she welcomes me in.
Further into the warehouse, I can see the singing comes from where the Tuvaluan community members have gathered on an island of 50 mats. Each mat has been woven by a woman from the community for the occasion.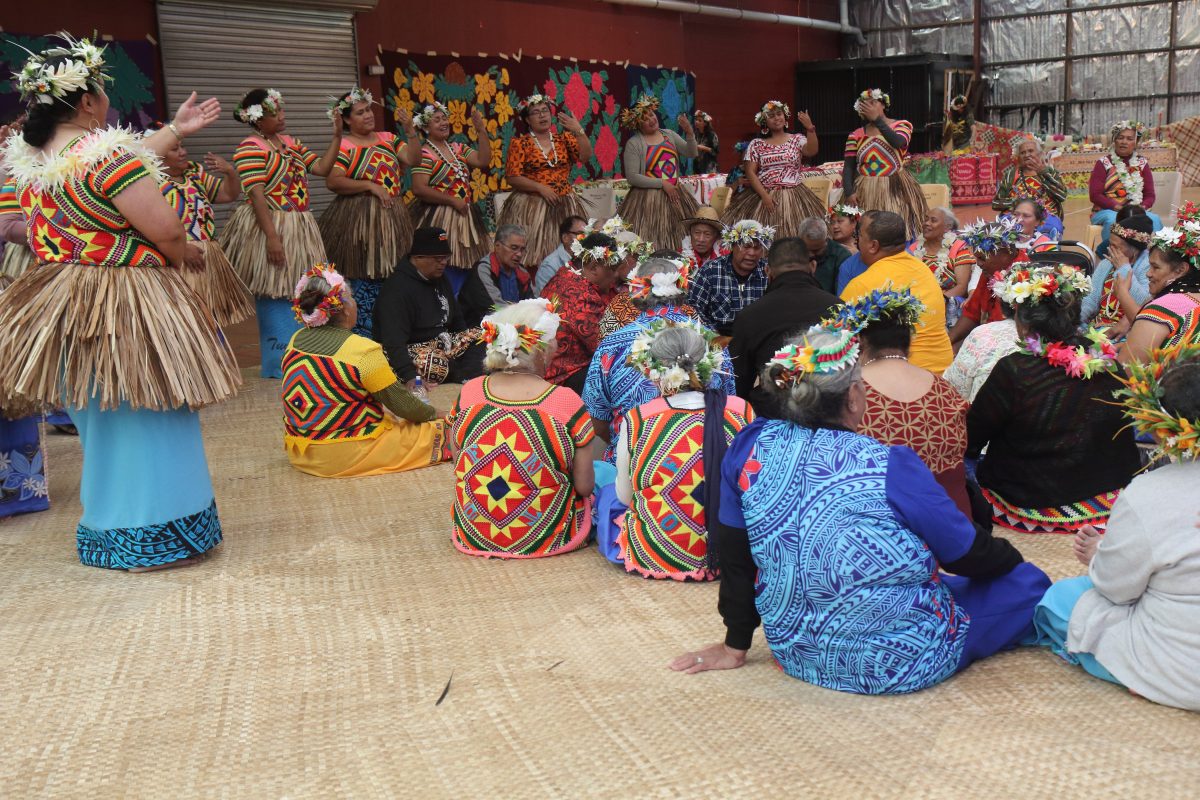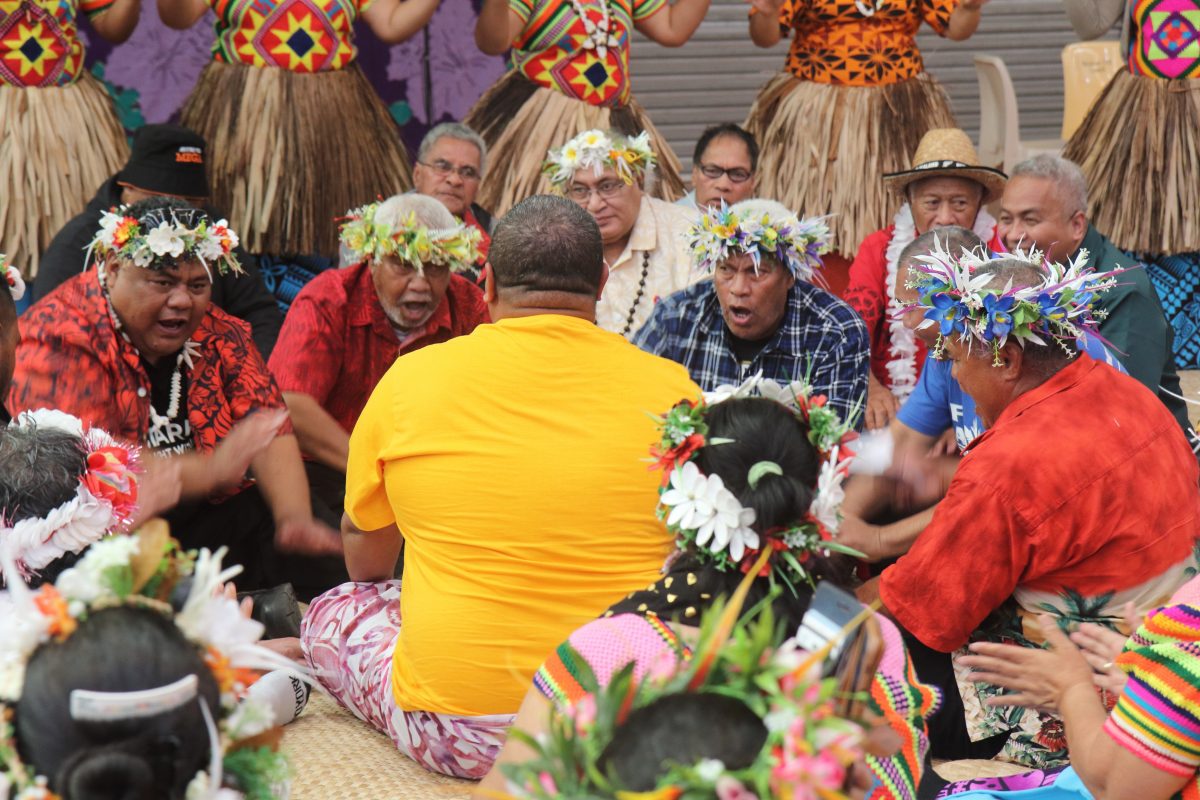 The men sit in a circle near the front of the group, drumming on the mats, keeping the rhythm for the rest of the community to chant, sing, and dance. The rhythm gets faster and faster, with more and more laughter.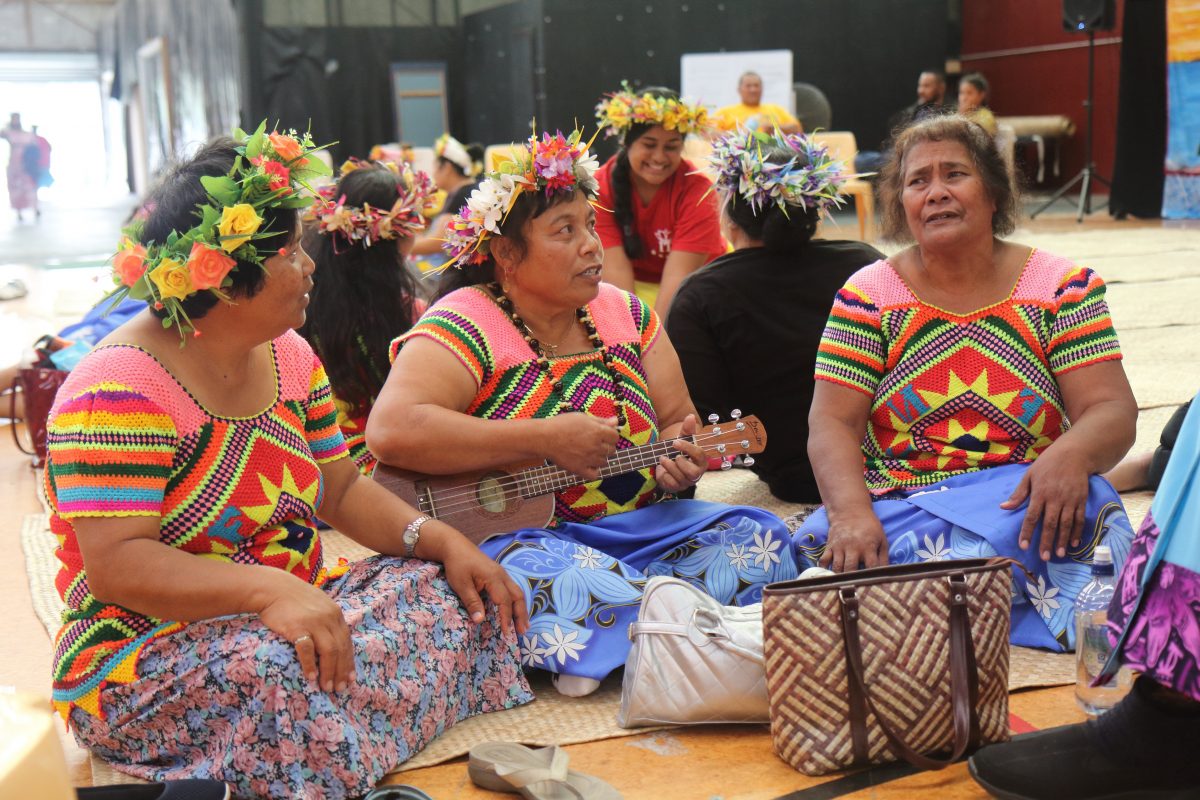 The songs convey messages, tell a story, or recall historic events. I am told this particular song is about keeping to your word. About eight women dance the traditional "fatele" (pronounced far-tell-eh), joyfully swaying and wearing the pandanus skirts, which we often call "grass skirts." However, contrary to our notion that these are made of grass, the pandanus, or screw pine, is actually a type of tree with palm-like leaves.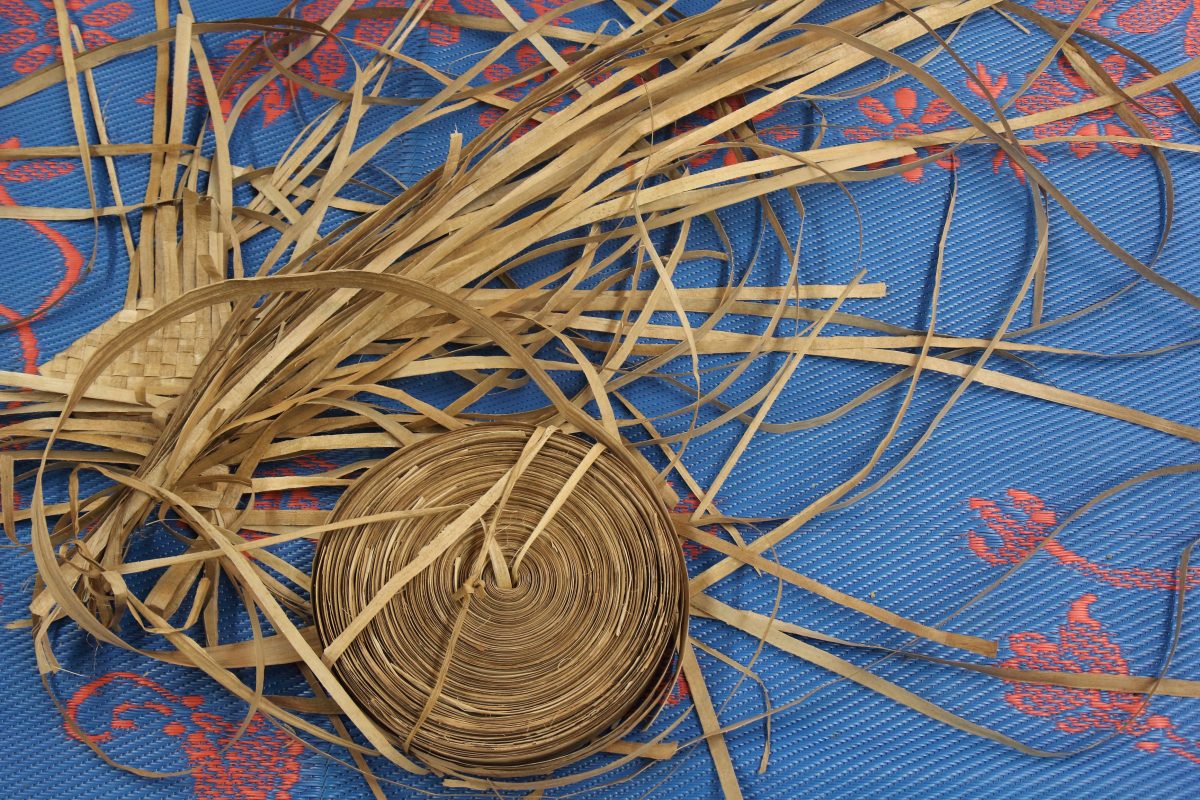 There seems to be celebration in each song. I can't help but smile and even feel that I belong here.

Of course, this is no Narnia. What I witness in front of me are the true traditions of the Tuvaluan people at the inaugural Tuvalu Arts Festival, an event to share and preserve the knowledge of their nation. The festival is hosted by the Fafine Niutao Aotearoa, a group of women from Niutao Island in Tuvalu who live in New Zealand (Aotearoa) and are committed to passing on Tuvalu's traditions to their community.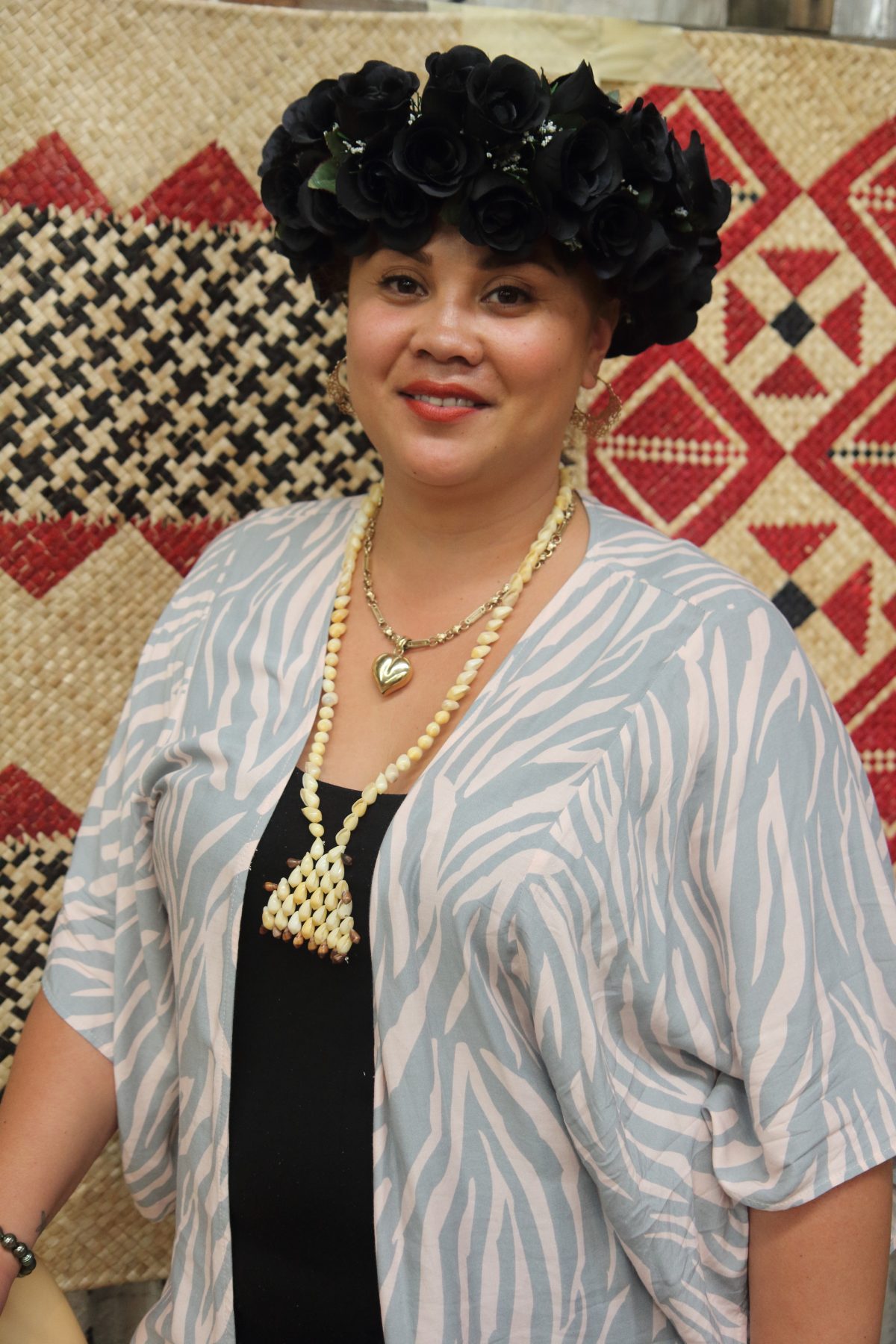 I've been invited to the festival by Jarcinda Stowers-Ama, director of the Pacifica Arts Center, at the Corban Estate Arts Center. She heads up the organization that supports these events.  

The Pacifica Arts Center was established in the late 1980s by the Pacifica Mamas, a group of heritage artists who were all first-generation Pacific immigrants to New Zealand and are all keen to preserve their island traditions. Stowers-Ama's mother, Mary Ama, is a founding member of the group.
Here, Stowers-Ama introduces us to a little piece of Pacific Island life, both on the islands and in New Zealand.
The Epoch Times: What do you do at the Pacifica Arts Center?
Jarcinda Stowers-Ama: We are a home base so people can come together from all around the Pacific to practice their arts, to gather, to share, to socialize, really to find a safe space and do what you've experienced here today, through our dance and through our crafts.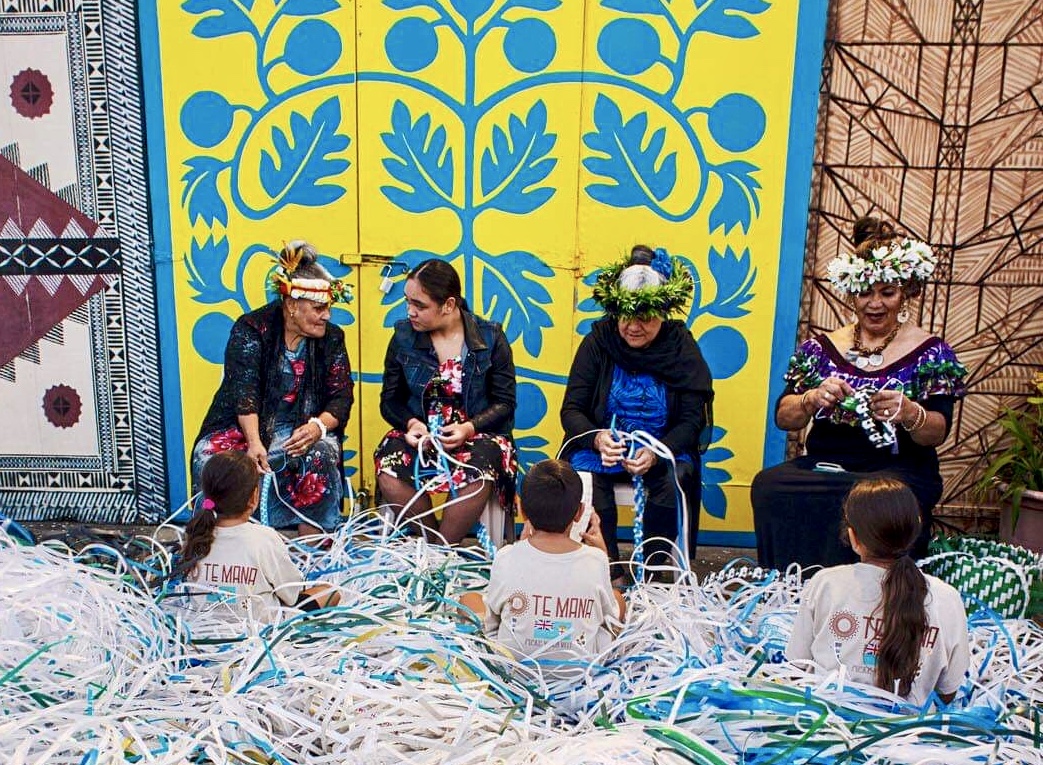 I say "safe space" because a lot of our Pacifica people that live here in New Zealand live very busy lives. A lot of these people you see here today live in a community where they may be the only Pacific Island person and may not feel completely comfortable doing their cultural practice or feel OK speaking their language.
When you walk into our space, there is no judgment. You can do what you do, you can be who you are, and that's the beauty of it.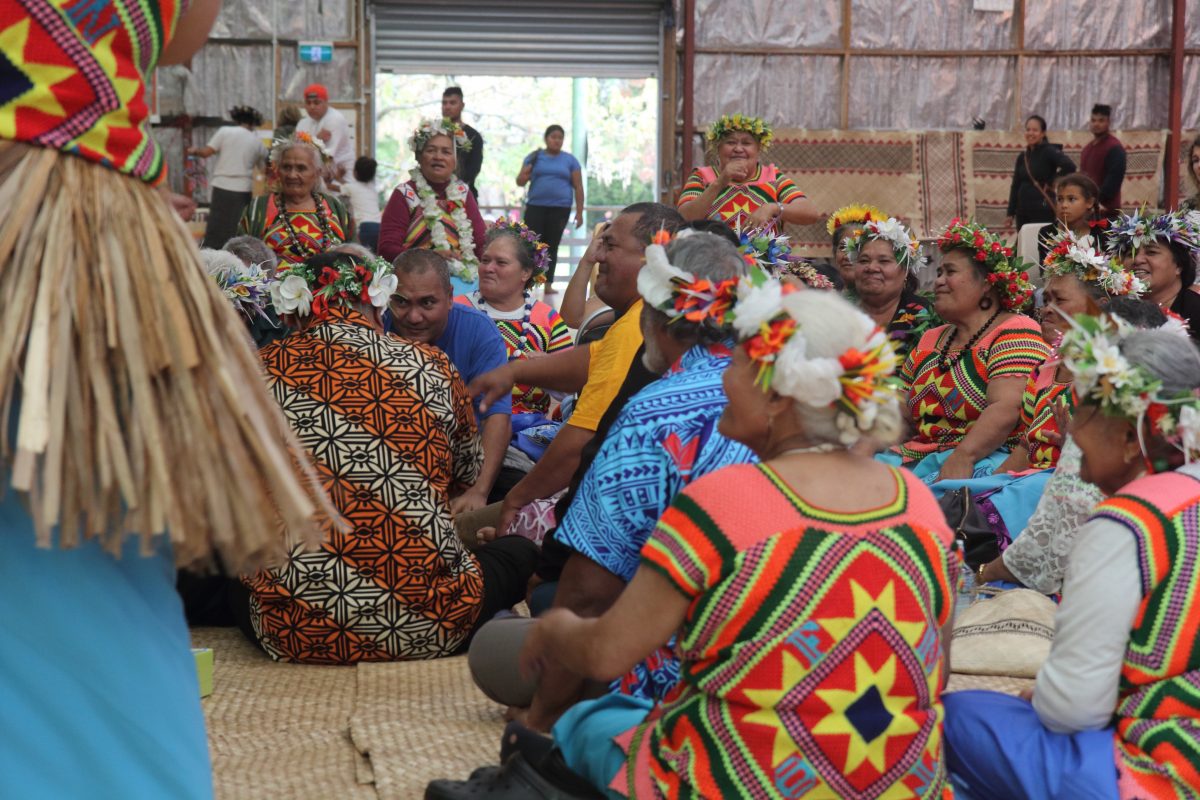 The Epoch Times: What does the word "Pacifica" mean?
Ms. Stowers-Ama: Pacifica is a coined phrase used to sum up people of the Pacific Islands. For a long time, we've used the term Pacifica, and we're now starting to go back to our indigenous languages.  
We are changing the terminology we use at the Pacifica Arts Center, including looking at our organization's name.
A lot of our own names have been shortened: But if people can say "tiramisu," they can say our names. If they can learn to say that, or all these different gelatos, I'm sure they can learn to say our indigenous languages and names.
The Epoch Times: What role does traditional art play in Pacific Island communities?
Ms. Stowers-Ama: In general, we don't distinguish art from breathing: It is part of who we are; it is part of what we do. It runs through our blood—it's our way of life.
For us, the term "art" was a Western concept and a term that many of us were unfamiliar with until moving to New Zealand, and people saying to us: "What you do is art."  
I will make a very general statement about the people of the Pacific, in the sense that our art is special because it's who we are: It's in the way we move, the way we chant, and the way we pray. All of it to us—our rituals and our protocol—is our way of life, and art is a new term that we've only just learned.
My parents are both artists. My father is a musician and my mother is a well-known visual artist, but I'd never heard the word "artist" until I was in high school, and I'd studied art history. I was like, "Ah, that's what it is," because I just thought it was life.
The Epoch Times: Can you talk me through some of the Pacific arts?
Ms. Stowers-Ama: There are so many different art forms when we look at the Pacific. From island to island, you'll find there are similarities, but you will still find something unique to a specific island that no one else does.
The easiest way, if we have to categorize them, is that we have visual arts in terms of what you see around you, in terms of our fans and mats, and these can quite often be referred to as craft.
We are also very strong in our performing arts—so our singing, chanting, dancing, and drumming. Besides those two categories, the list is huge.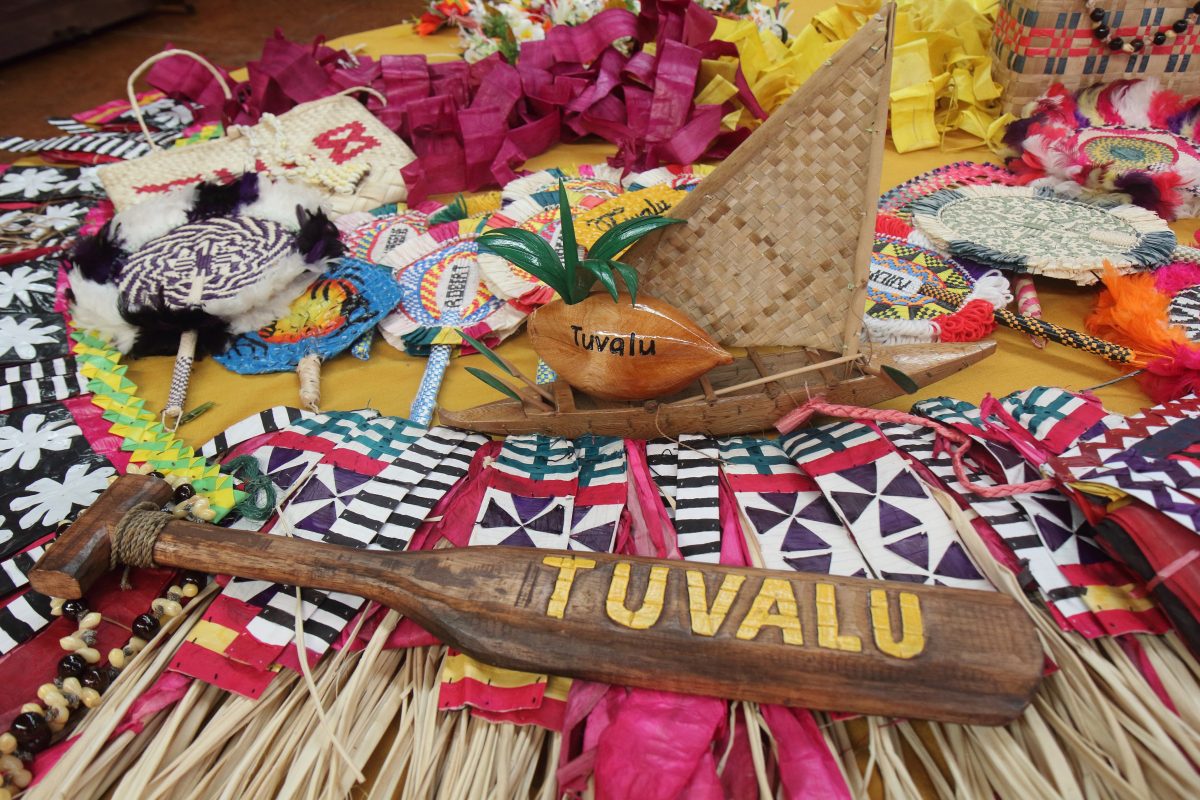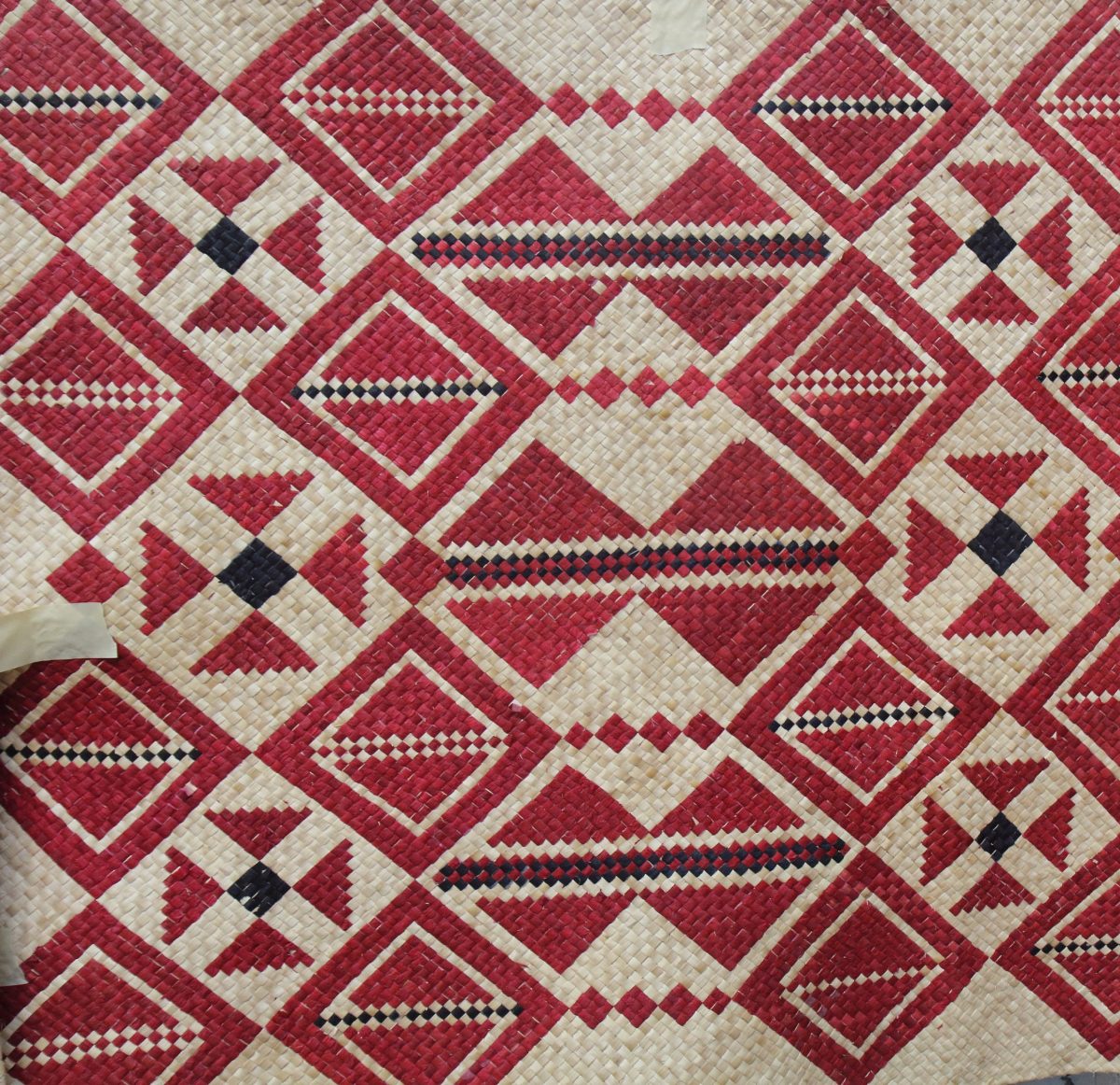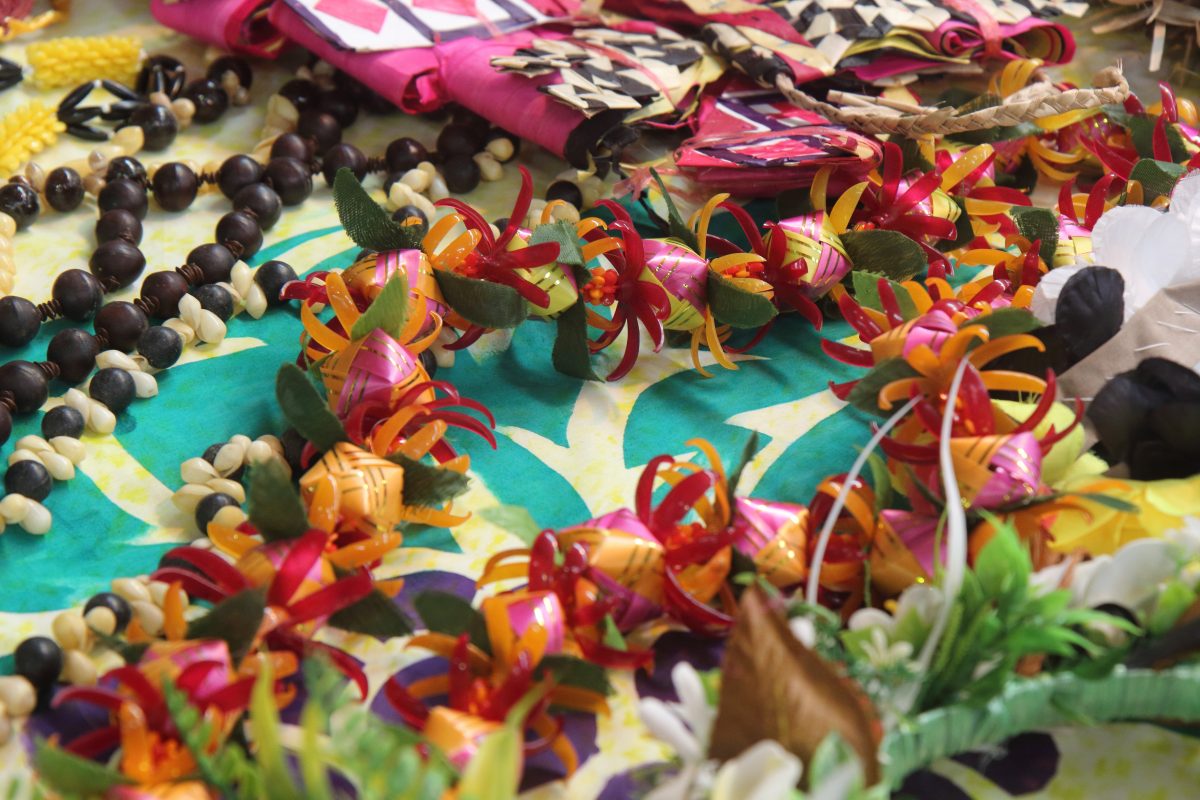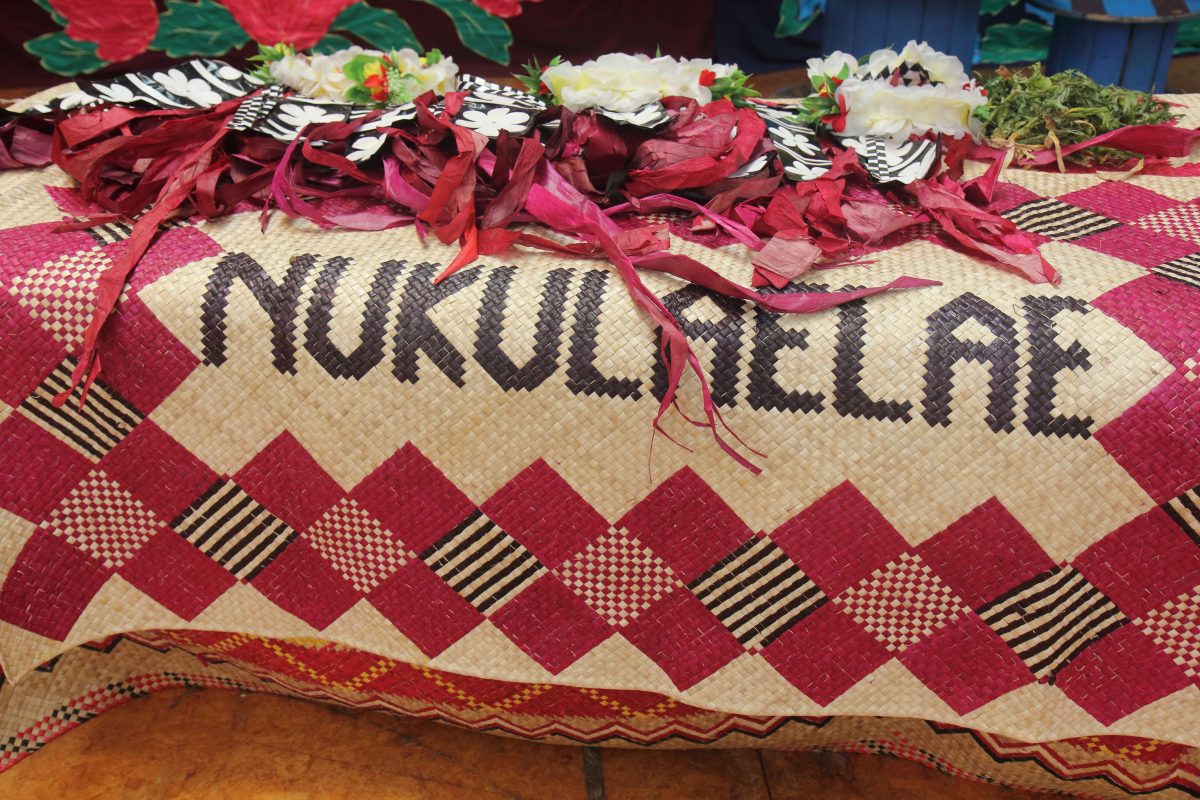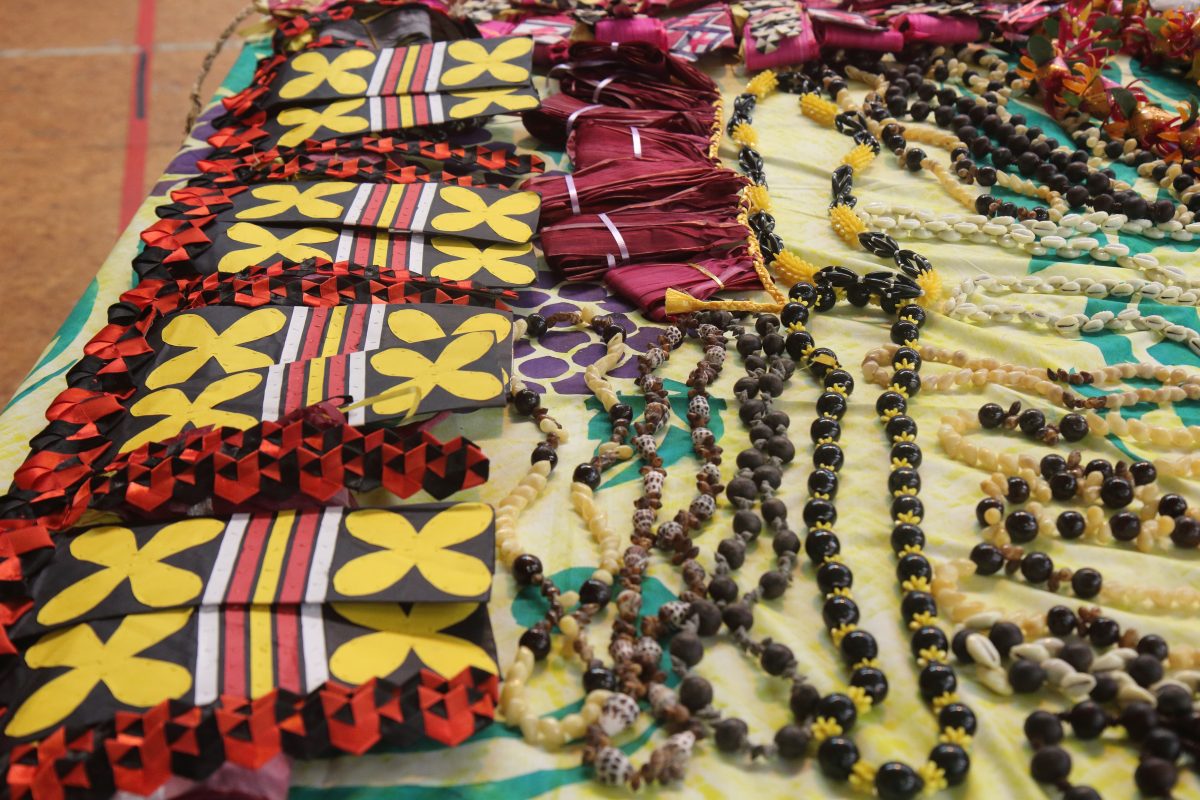 The Epoch Times: What about the flower headdresses; are they found across the Pacific?
Ms. Stowers-Ama: Yes. On the Cook Islands, where I come from, we call them an "ei katu" pronounced "Ay kah-too." A lot of your readers will probably be familiar with the term "lei," which is Hawaiian.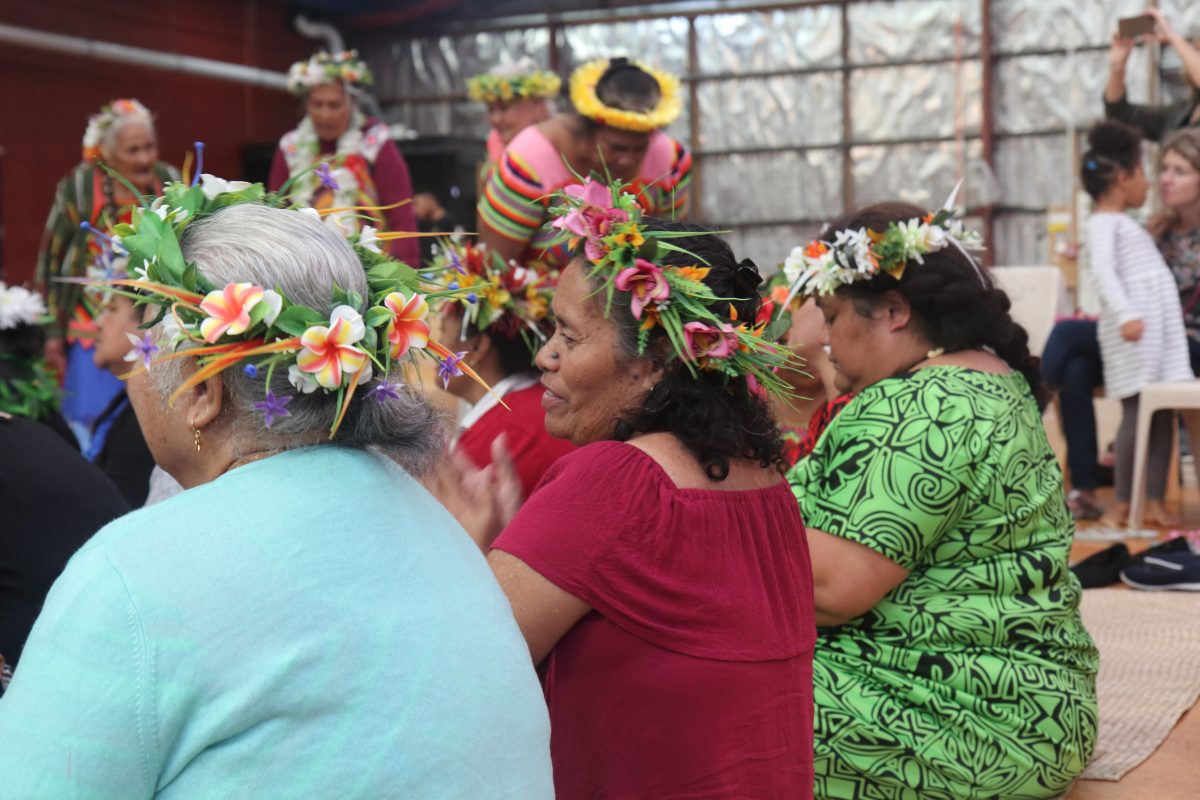 Normally, they're something we make for someone as a gift, as a sign of love, or out of respect.
I can look around the room, and depending on the type of flower someone has used [in their headdress], I can tell where someone comes from. If they're really good, and they've done the colors of the village, sometimes I can tell what village someone's from.
The Epoch Times: Are the headdresses worn day-to-day?
Ms. Stowers-Ama: Yes, they can be, absolutely. So you might have your everyday one, and then you might have an occasion one that you bring out that might have a bit of black pearls or something in it.
The Epoch Times: The fatele, Tuvalu's traditional dance that we just saw, can you tell us about that?
Ms. Stowers-Ama: To our Tuvaluan community, it is a dance about bringing people together to connect—young and old. It's more about a feeling as opposed to a performance or a dance.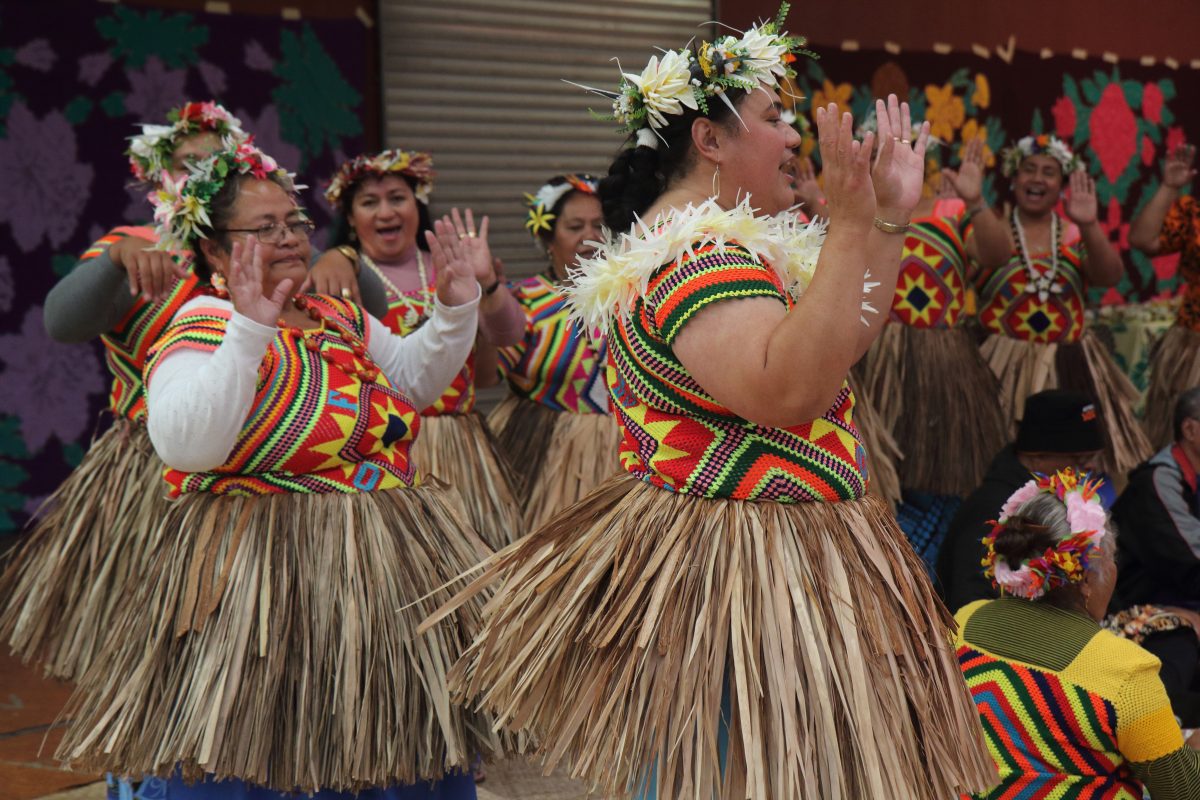 I know that you said that when you came here you felt happy; that's the whole idea of that dance. It's about that feeling of community and connection.
Now, I'm not Tuvaluan, but that's the way that it was explained to me the first time I saw it some 20 years ago. That's always stuck with me: Don't dance it, don't sing it—feel it.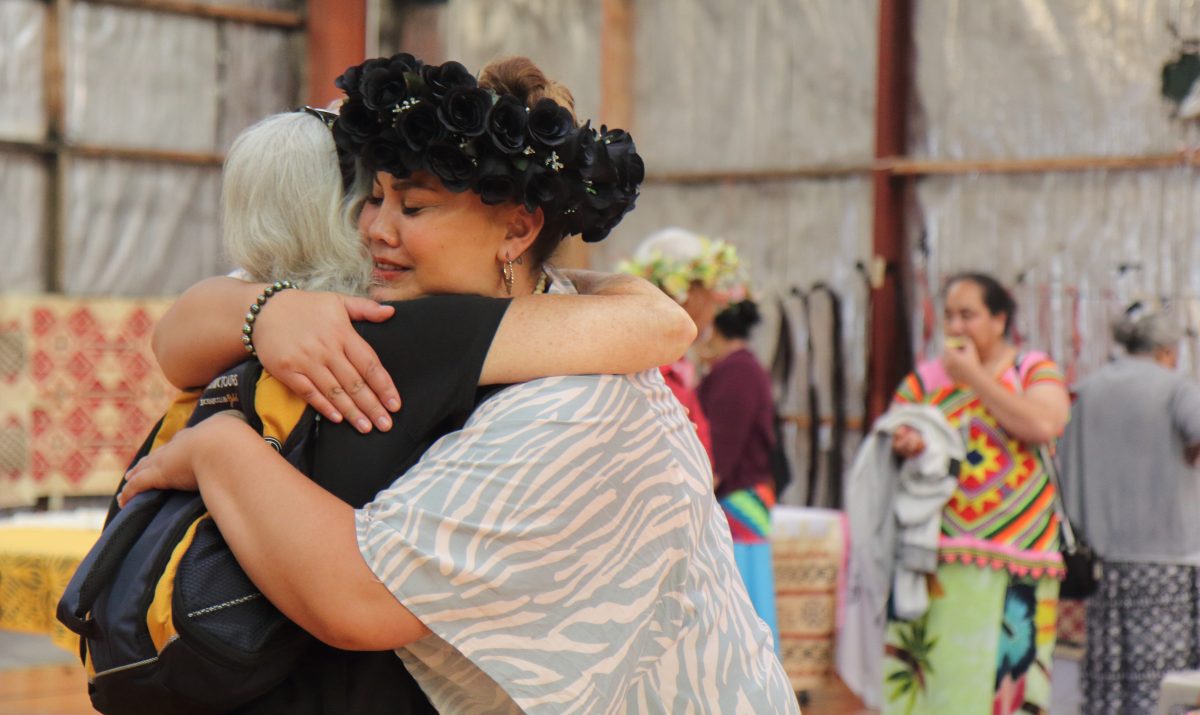 The Epoch Times: What's your favorite art or craft piece in your culture?
Ms. Stowers-Ama: For me as a Cook Islander, it has to be the "ei katu," the flower headdress, that I have on my head. I am naturally drawn to the art forms from my homeland.
My father is Samoan-German and my mother is a Cook Islander, but both came to New Zealand, so I'm a first-generation New Zealander.
I am fortunate enough to come from a family of orators and artists. A lot of my artwork at home comes from my family, including my mother, and even great-great-grandfather. In fact, my great-great-grandfather currently has his work in an exhibition at the New Zealand Portrait Gallery in Wellington. His work is held in the collections of the Museum of New Zealand Te Papa Tongarewa.
I'm really lucky. Not only do I have my family that I can connect to through art, but I work in a space where I'm surrounded by art and culture every single day. I'm really, really fortunate.
I think for us, it's really important to know where we come from, the legacy that's already been built for us. We come from the greatest navigators in the world; we come from these heroes that are fantastic; and somewhere along the line, I think we forgot that.
The fact that my ancestors were fantastic has set the foundation for me now going forward.
The Epoch Times: How do you balance being in New Zealand, as a first-generation New Zealander, and practicing your cultural heritage?
Ms. Stowers-Ama: I have never found it difficult to balance. I've been really fortunate that I've grown up with really strong role models.
I think it comes from the fact that I know where I come from. I'm strong in that.
For me, it's been really important being here in New Zealand and understanding "tangata whenua," meaning the native people, the Maori culture—knowing the people of this land that we are on now, and respecting that.
I think it's a really beautiful thing to be living here and being able to contribute my culture to the landscape of what's already here in New Zealand.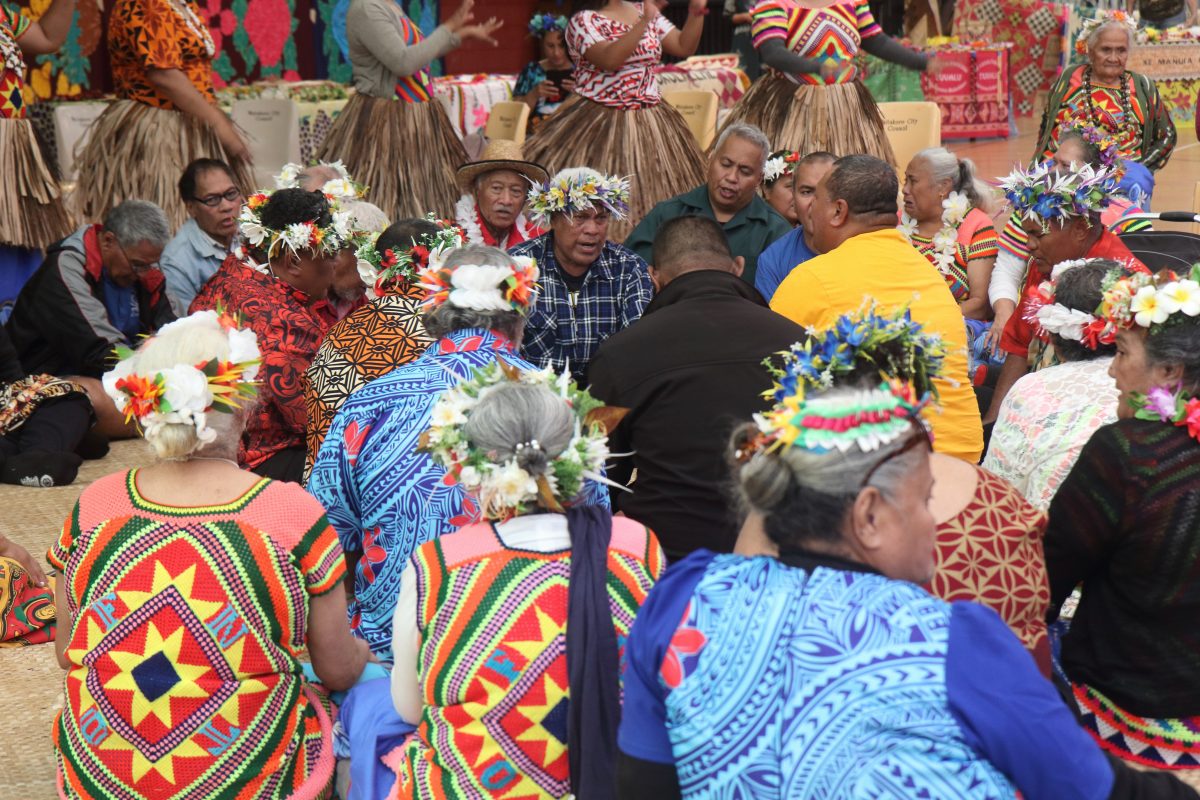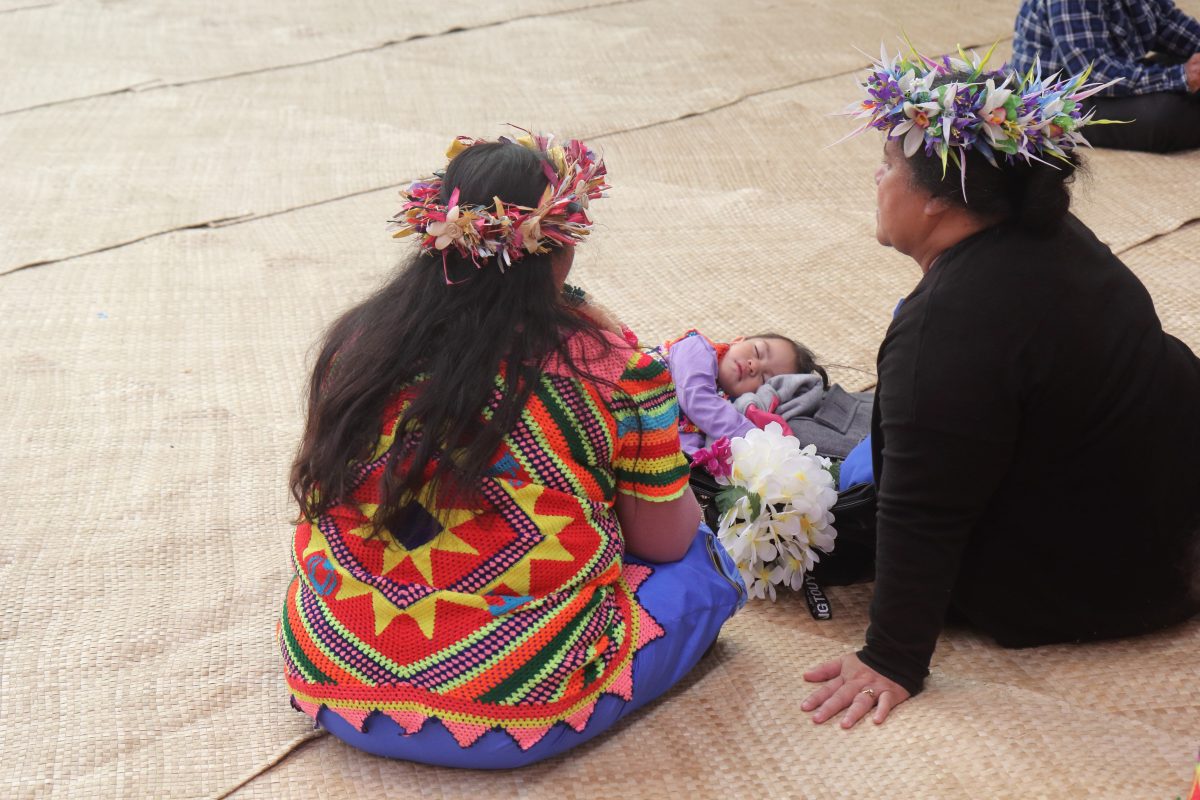 The Epoch Times: What can other cultures learn from Pacific Island cultures?
Ms. Stowers-Ama: I'm not sure I would use the term "learn," but what I will say is that when I think about our Pacific people in general, I think about connection, I think about family, I think about being strong with their values—whether that be religious, or family values.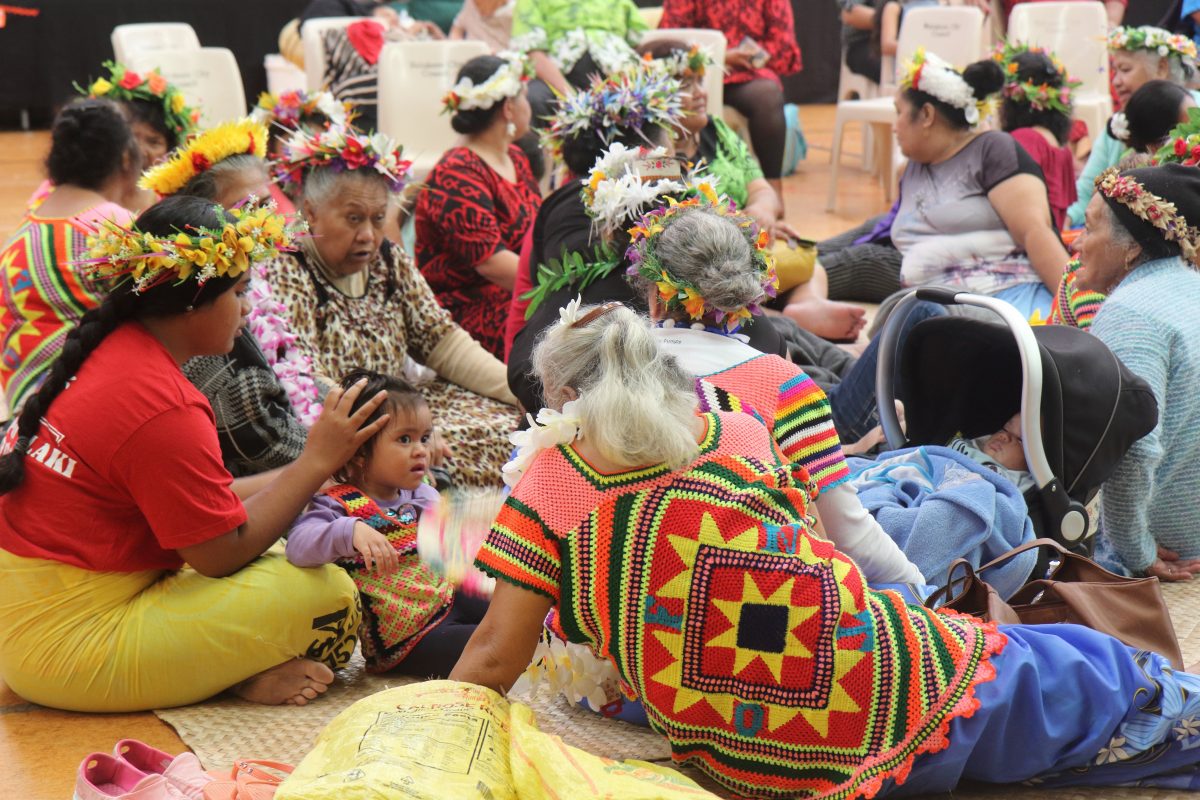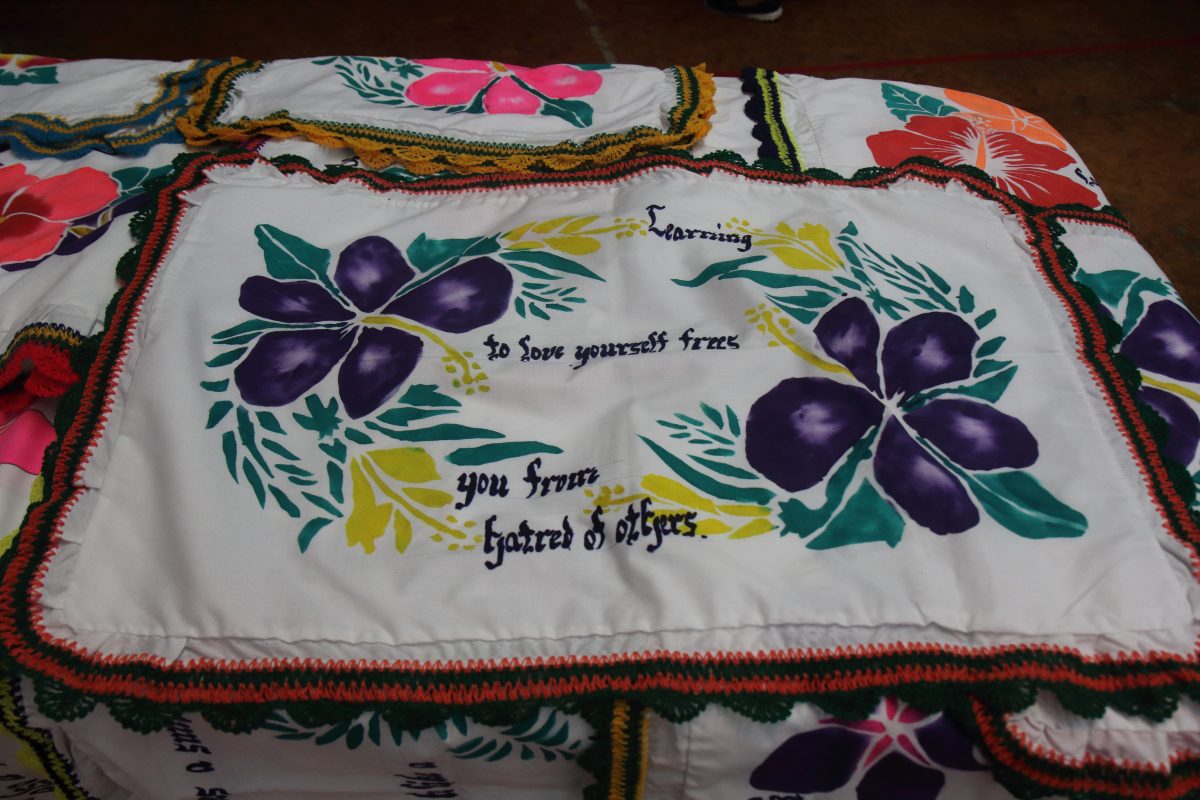 One thing I will say is that our communities are generous; we're generous with "aroha" (love). You will never walk away from a home hungry, because we share everything.
I know I'm really fortunate to grow up in this community and just be surrounded by that all the time and always feel like I am supported. And even though I was born here in New Zealand, I always think of the Cook Islands and Samoa as my homeland when I go back there.
The fact that you're here with me today at a Tuvaluan function, and I'm not Tuvaluan and I feel totally at home, and the fact that you can come in and sit on the mat straight away and probably everybody's asking you to eat something. I think that's an indication of our hospitality, and our connection to, and our love for other people.  
To find out more about the Pacifica Arts Center, visit PacificaArts.org