On a road trip through the Upper Peninsula—the U.P.—of Michigan, my wife and I stopped in Ironwood, just over the border from Wisconsin, a region where many of my immigrant forbears on both sides of the family settled to find work in the region's mines back in the early 20th century. 
On visits to relatives years ago, my family never came here without stopping for a pasty (PASS-tee) at Joe's Pasty Shop, and this trip would be no exception. We picked up a couple of the savory D-shaped pastry pockets and a handful of ketchup packets before continuing down the road.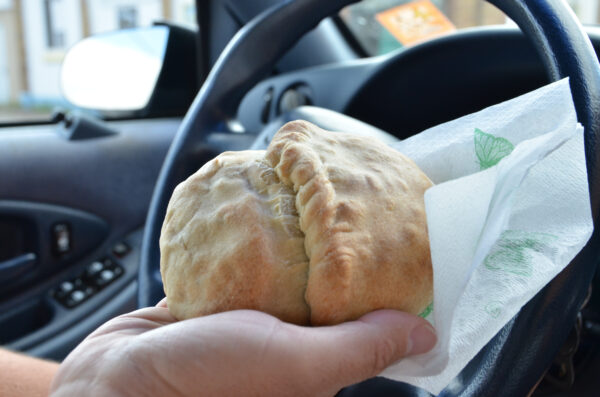 Founded in 1946 by the Barbera family, Joe's serves up a family pasty recipe that includes traditional (ground beef, onion, and potato filling) and Cornish (the same plus rutabaga) options. A few booths are there for seating, but customers file in all day for carryout, either hot or frozen to bake at home later.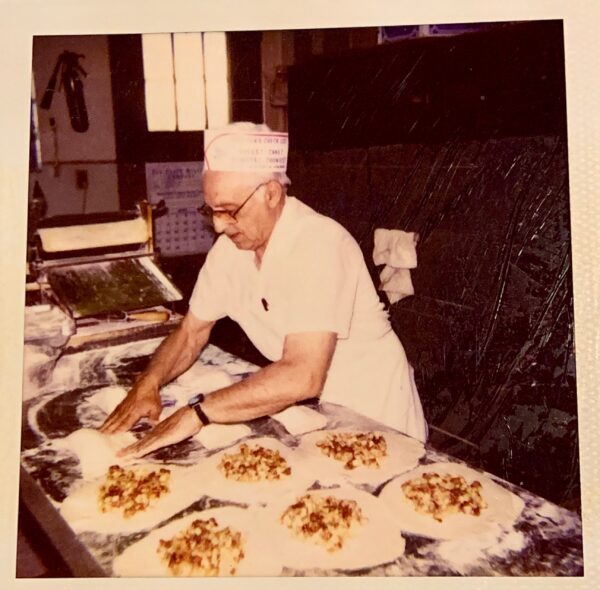 The pasty has been in my own family for generations. My mother typically made them with venison that my father had hunted that fall. 
My Finnish great-grandparents met in Wakefield, Michigan, where my great-grandmother worked in a boarding house. My great-grandfather, a miner, was one of the residents. I can't say whether her pasties were what brought them together, but I do know she, like so many other Finns, learned to make them, and passed the skill on to my grandmother, who in turn made them for my father even in her later years. 
The Slovaks on the other side of the family also got by on pasties in Ironwood. Says my great-aunt Marge, "We had pasties at least once a week, maybe more. The women used to make them before their husbands went to work in the morning, so they were still hot by the time they ate them at noon." 
Many miners would carry them in their work clothes, a literal hot pocket, but Marge remembers my great-grandfather's lunch pail made of aluminum with a double container: one for coffee in the bottom and a top tray for the pasty. At almost 100 years of age, Marge makes them still, though now she often buys pre-made pie dough. 
In the U.P., pasties are associated with the Finns, but in fact, Cornish miners in the mid-18th century brought them first. The first wave of Finns picked up the recipe and passed it on to the next wave, so the confusion is understandable.
Today a true Cornish pasty enjoys "protected geographical indication" status in the same way Champagne does. Even in the UK, the pasty is old school, with textual references dating back to at least the 13th century, and some evidence suggesting the pastry pocket and even the word "pasty" actually originated with the French. Be that as it may, the pasty's fate is now in the hands of a younger generation. 
The second generation of the Barbera family runs Joe's these days, but daughter Jessica Barbera opened another shop in Rhinelander, an hour and a half south in Wisconsin. She and her husband, Larry Lapachin, still produce the traditional and Cornish varieties, but are focusing on incorporating local ingredients and healthier options, including grass-fed meats. They have added a whole variety of fillings, from Greek or Italian ingredients to a pesto veggie version with a whole wheat crust.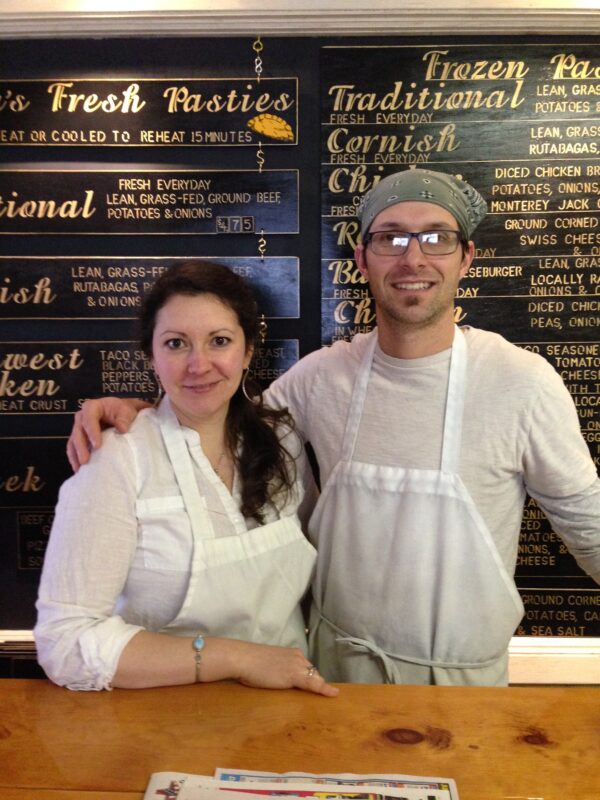 You may still find pasties in other parts of the country, in areas that once drew miners, such as Northern Minnesota, Pennsylvania, Western Montana, and Southwestern or Northern Wisconsin. They are served hot with ketchup where I come from, but in Minnesota and Montana you are more likely to find them smothered in gravy. 
But if your path doesn't lead you to those places, don't worry: both of Joe's locations sell online to those pasty lovers who have wandered too far from pasty country.
Joe's Pasty Shop
116 W. Aurora St.
Ironwood, Mich.
JoesPastyShop.com
Joe's Pasty Shop
123 Randall Ave.
Rhinelander, Wis.
ILovePasties.com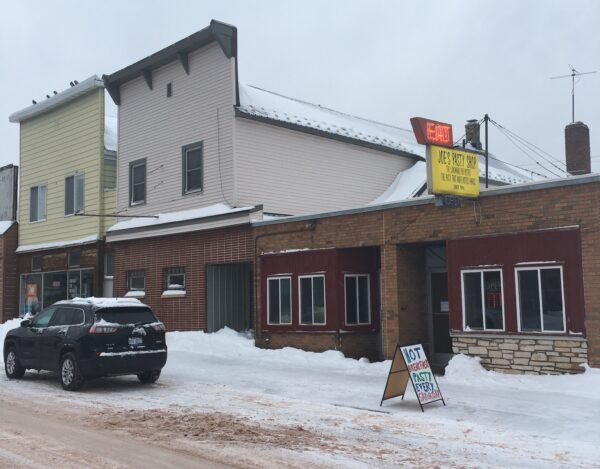 Pasties (Meat Hand Pies)
Take this recipe with a grain—or teaspoon—of salt. Everyone has their take on the measures, and in the case of my mother and grandmother, I was only ever told "some." As in, "Take some flour, add some lard…" 
For the pastry:
4 cups flour

2 teaspoons salt

1 1/3 cup lard 

1/2 cup water, or as needed
For the filling:
3 pounds red or Yukon Gold potatoes, peeled and cubed

2 medium onions, diced 

2 teaspoons salt

2 teaspoons black pepper

1 1/2 pounds ground or cubed beef, pre-cooked or raw (you don't want anything too greasy) 

A few tabs of butter
To make the pastry dough, mix the flour, salt, and lard together, working it with a fork or pastry blender so that you end up with small pea-sized pieces of lard in the flour. Add the water in gradually until you can form a ball. Do not overwork the dough. Kneading it like bread will ruin your crust. Wrap it in plastic wrap or a moist towel and let it chill in the fridge for an hour.
Meanwhile, prepare the filling. Mix together all ingredients except the meat and butter. If using pre-cooked meat, mix it in as well. If using raw meat, you'll want to add it to each pasty in a separate layer before adding the rest of the filling.
Divide the dough into four pieces. Roll each of them out to be about 1/8-inch thick and circular, like an 8-inch diameter pie crust. 
Now distribute the filling. For each circle of dough, spoon the filling onto one half of the circle, leaving room along the edge. (If using raw meat, lay it down first.) Place a tab of butter on top of the filling. 
Stretch the other half of the pastry dough over the filling and pinch along the edge to close it, moistening it a bit to make it stick, if necessary. Cut small slices into the top so that steam can escape as the pasty cooks. You might also brush the top of the crust with an egg wash to give it a shiny golden surface as it bakes. 
Preheat the oven to 350 degrees F. Bake the pasties on ungreased baking sheets for about 1 hour, by which time they should turn a golden color. Then serve with ketchup (or gravy) on the side.
Kevin Revolinski is an avid traveler and the author of 15 books, including "The Yogurt Man Cometh: Tales of an American Teacher in Turkey" and several outdoor and brewery guidebooks. He is based in Madison, Wis., and his website is TheMadTraveler.com