"Stupendous and beyond all description … the incomparable carving of our Gibbons, who is without controversy the greatest master both for innovation and rareness of work that the world ever had in any age," wrote 17th-century diarist John Evelyn about Grinling Gibbons, the greatest decorative carver in British history.

This year marks 300 years since Gibbons's death, and the Grinling Gibbons Society has put together a yearlong festival to mark the tercentenary: Grinling Gibbons 300. One of the events is the exhibition "Grinling Gibbons: Centuries in the Making."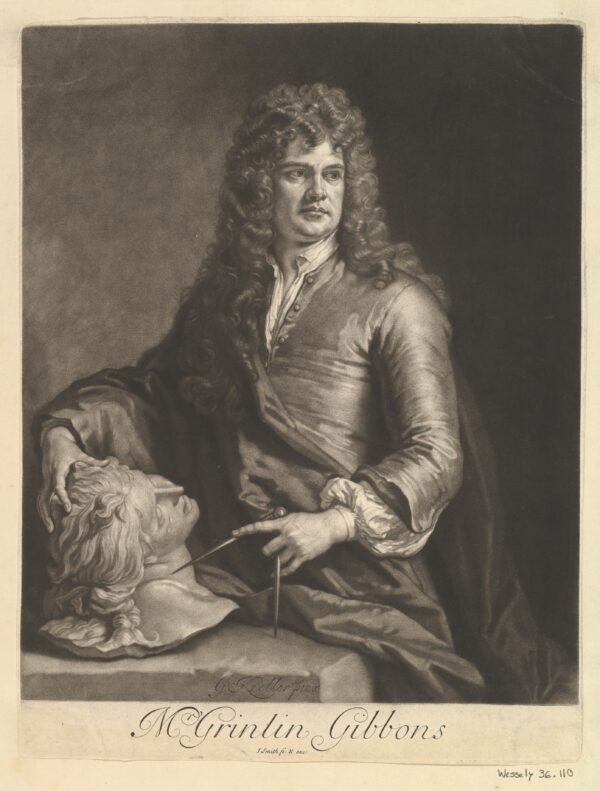 Hannah Phillip, Grinling 300 director and the exhibition curator, explained in a telephone interview that the exhibition aims to highlight Gibbons's life and legacy and to shine a light on where to enjoy Gibbons's work in situ. 
To that end, the Grinling Gibbons Society has created an online catalog called "Grinling Gibbons Online" to record the artist's work worldwide. Any works attributed to Gibbons and his followers, or works that are questionably his are included in the online catalog in the hope of opening up debate about his work. 
Discovering a Diligent Carver
In his diary, Evelyn described how he first met the 19-year-old Gibbons. While walking across fields near his home in Deptford, South London, he happened upon a solitary thatched cottage. Inside, he could see Gibbons carving a copy of an Italian Renaissance painting from an engraving. The painting was Tintoretto's "The Crucifixion." Evelyn recognized the work because he also had an engraving, having purchased it in Venice during his Grand Tour. (The painting is regarded as one of the best examples of the Venetian style of painting.) 
Evelyn was astounded by Gibbons's work. "The curiosity of handling, drawing and studious exactnesse, I never had before sceene before in all my travells," he wrote.  
Puzzled, Evelyn asked Gibbons why he worked in "such an obscure & lonesome place." Gibbons replied that it was so he could apply himself to his profession without interruption. 
Evelyn was well-connected. Seeing such skill, he suggested that he could introduce the young Gibbons to great men who could employ him. Gibbons insisted that he was just a beginner, but that "The Cruxificion" carving he was working on could be sold. 
Evelyn described the carving: "There being nothing even in nature so tender, & delicate as the flowers & festoones about it, & yet the work was very strong."
That chance encounter was fortuitous for the young artist. He made a deep impression on Evelyn, who found him very civil, sober, and discrete in his discourse. Evelyn, in his diary, recounted what he had told King Charles I about Gibbons's work: "I would adventure my reputation with his Majestie that he had never seene any thing approch it, & that he would be exceedingly pleased, & employ him." 
Gibbons's meeting with the king resulted in his receiving the first of many royal commissions. His first was the remodeling of Windsor Palace for Charles I. He then worked as the official royal carver and sculptor for monarchs from Charles II to George I. 
As part of the royal court, he worked alongside the court architects, one of whom was the preeminent architect Sir Christopher Wren, who was helping to rebuild London after the Great Fire in 1666. Gibbons's most illustrious commissions were for Wren: the Quire (the choir stalls) at St. Paul's Cathedral in London, and the ornamentation of Wren Library at Trinity College in Cambridge, to name a couple.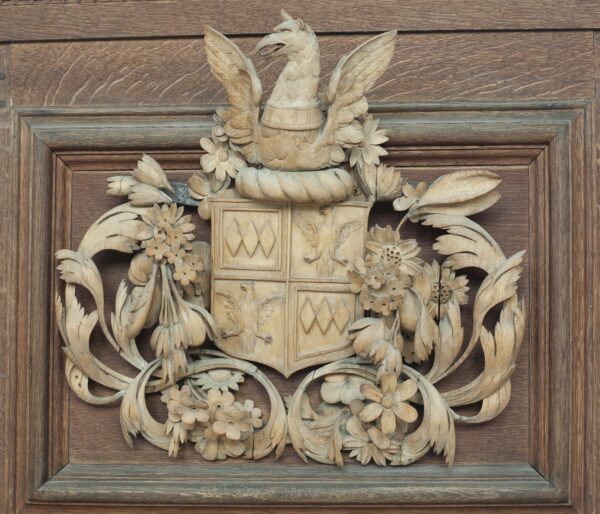 Grinling Gibbons
His father was a merchant, and his mother (whose maiden name is his first name, as per tradition at the time) came from a family of tobacco merchants. 
The family lived in Rotterdam, in the Southern Netherlands, where Gibbons was surrounded by a myriad of artistic influences. It was the Dutch Golden Age, after all, when the Netherlands became world-renowned for its trade, military, science, art, and culture. 
Dutch architecture, carving, sculpture, and the interest in still-life, flower, and genre (daily life) paintings flourished. "It was an amazing array of influences that he would have been able to imbibe. And we can … see how he channeled that through his work," Phillip said.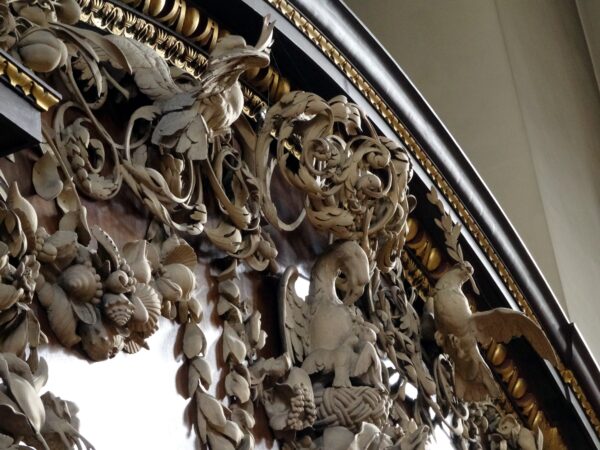 "Gibbons's carvings are almost the equivalent of still-life paintings, but in wood," she said. She described a panel in the exhibition from St. James's Church in Piccadilly, where an array of fruits, flowers, and animals appear real. "Not only does he draw on the natural world, but he does very successfully imitate it as well," she said.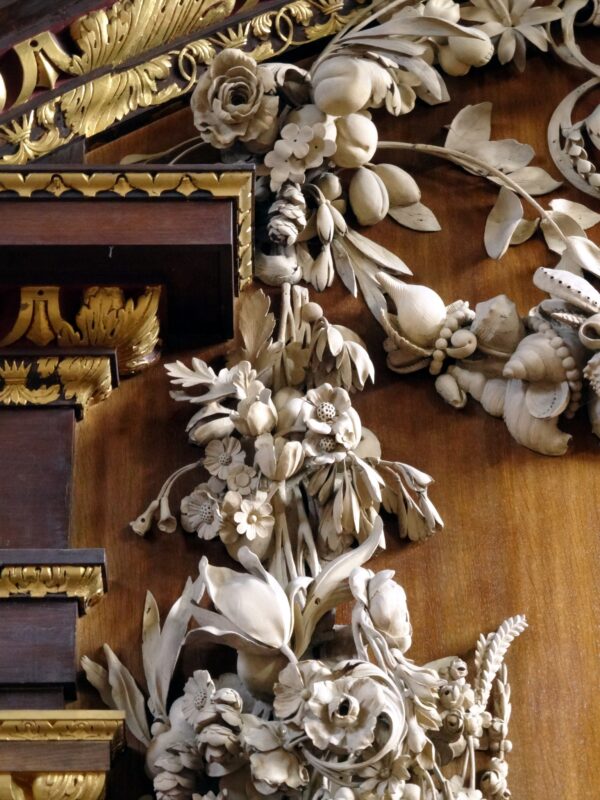 Early Influences 
It's unclear exactly who trained Gibbons, but there are a couple of theories. Documents detail that he once worked in Artus Quellinus the Elder's workshop in Amsterdam. Quellinus was the foremost sculptor at that time, specializing in stone, and so some scholars surmise that Gibbons may have developed his amazing skills under Quellinus's tutelage.
But Phillip explained that recent research by Ada de Wit has put forward another theory. De Wit is the curator of works of art and sculpture at the Wallace Collection in London, and has written her doctoral thesis on Dutch carvers operating in England. De Wit believes that Gibbons took an apprenticeship locally in Rotterdam with the van Douwe family of sculptors whose workshop was very close to where the Gibbons family lived. 
Carving was part of Rotterdam's thriving shipbuilding industry. "It would have been a profession on his doorstep," Phillip said. She explained that the designs and carvings that were being created for the vessels were more than just little embellishments. "This was not a bit of extra detail being put on. They're very lavish and ornate forms of ornamentation." Gibbons would have been surrounded by this carving industry.  
In the 1660s, Gibbons traveled to England where he first worked as a journeyman for the preeminent architect and craftsman John Etty, in York, in the north of England. Eventually he traveled south, and settled in Deptford, South London, the center of British naval shipbuilding where his fortunes changed when he met Evelyn.
When Gibbons came to England, wood carvings were executed in oak, but he pioneered the use of limewood. Phillip explained that woodcarving in England at that time was quite flat, and oak was traditionally used to ornament houses. 
Limewood is different from oak. "It allows [for] much finer cutting and detailing, which is what Gibbons's work is all about—that realism, that lightness, and fluidity. … He also exploited the color of limewood, which is very pale, and so set against oak, which is usually somewhat darker, it really brings forward the carving in its own right," she said.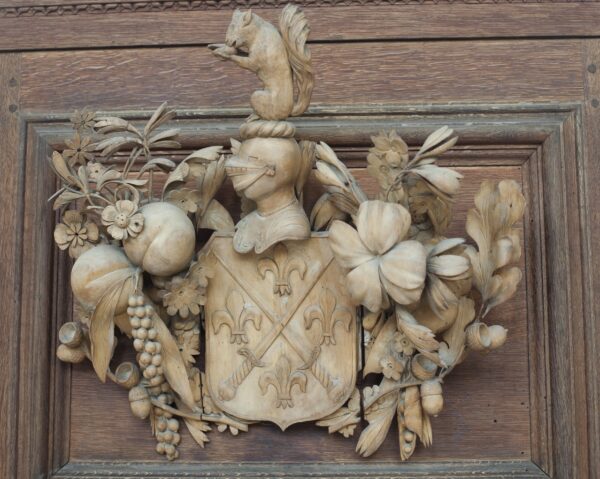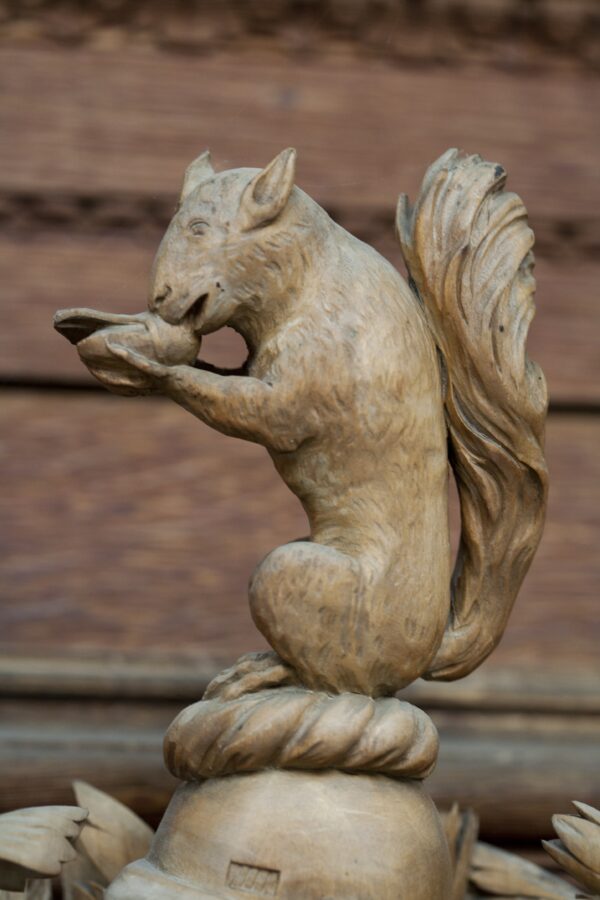 The flair with which Gibbons created his carvings to ornament houses made his carvings "art works in their own right; they are almost forms of sculpture pinned to the wall," Phillip said. 
"He's innovating in terms of materials, style, and influences," she said. But he's also elevated woodcarving to an art form, she added. "Gibbons had great skill in undercutting and understanding the dimensions of things."
"He was an amazing draftsman, as well as a carver. Some people can be technically very good at what they do, but they don't necessarily have that understanding of design and he had both," Phillip said. 
One iconic Gibbons carving in the exhibition demonstrates his virtuosity: A cravat carved in limewood that imitates Venetian point lace so delicately that it's astounding. The 18th-century art connoisseur Horace Walpole, who once owned the piece, decided to wear the fashionable cravat to a dinner party of distinguished French, Spanish, and Portuguese visitors at his neo-Gothic Strawberry Hill House in Twickenham, London.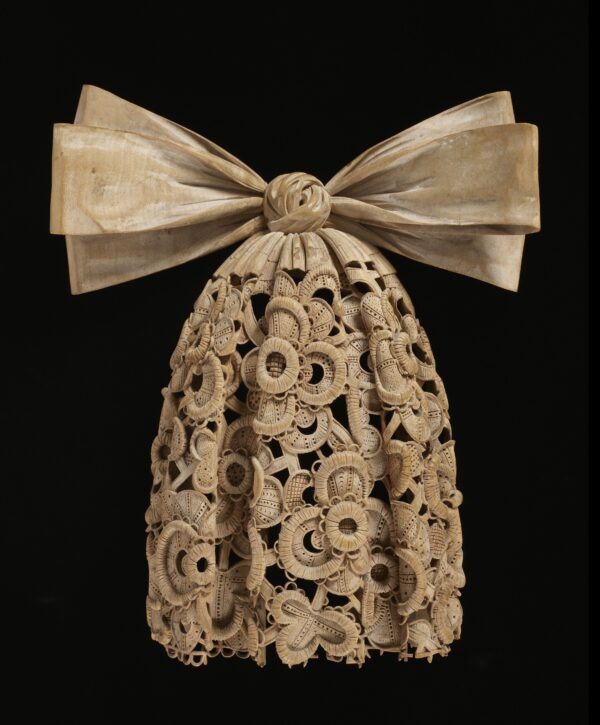 The Business of Making Masterpieces
From Gibbons's correspondences, we see that he had an astute business acumen, perhaps inherited from his merchant father. Phillip explained that he was always looking for his next project, and he didn't hesitate to write and ask his contacts for an introduction to anyone who might be having a house built. 
Gibbons had a workshop of woodcarvers and stone sculptors whom he would call upon to help create his commissioned works. Much like a painters' workshop, Gibbons would direct the work of craftsmen who specialized in particular elements. For instance, certain woodcarvers might excel at creating cherubs, while others might be better at creating architectural details. "In a sense, you would see his hand in everything because he would have been the master of the overarching design," Phillip said. 
"His works have this great liveliness and three-dimensionality, and partly that's due to how they are constructed. They are made in layers and pinned in place," she explained.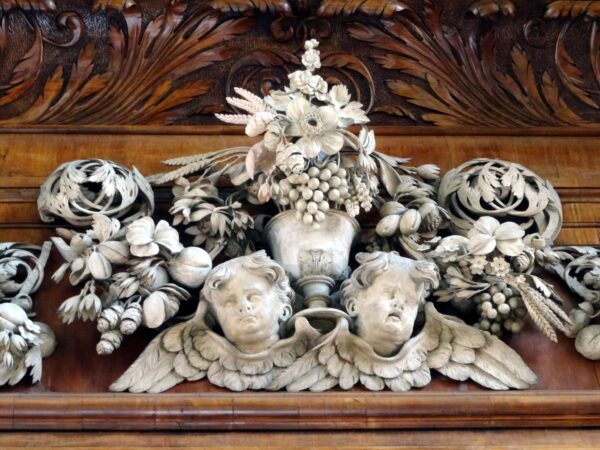 The main architectural feature of Gibbons's carving is called a swag, which surrounds a picture or is an ornament around a fireplace. These swags would consist of a couple of drops at the sides and a crest on the top. Phillip explained that often the drops were made up of a number of components and pieced together with iron pins. Occasionally, those components were rearranged, so that the bottom part of a drop then became the top of the drop. This rearranging typically happened in country houses, where Gibbons's carvings would be reconfigured due to renovations, or sometimes parts of the carvings were completely separated and kept as fragments somewhere else. "It can be a real detective puzzle to work out how they [the fragments] were originally intended," she said.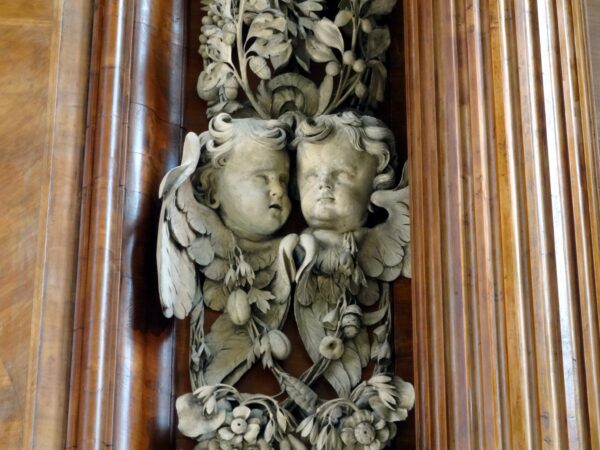 Exhibition Challenges
Most of Gibbons's work is part of the fabric of buildings, which meant that arranging an exhibition of his works was a "phenomenal undertaking," Philip said. "You obviously don't want to arrange an exhibition at the risk of the objects." 
One of the works on show is part of the Quire in St. Paul's Cathedral, where the choir still sings. It's a stupendous piece and remarkable that it's on display. "The Quire is his tour de force carving," Phillip said. In the 19th century, the cathedral Quire was shortened and the organ was moved. The part of the Quire that was removed is in the exhibition.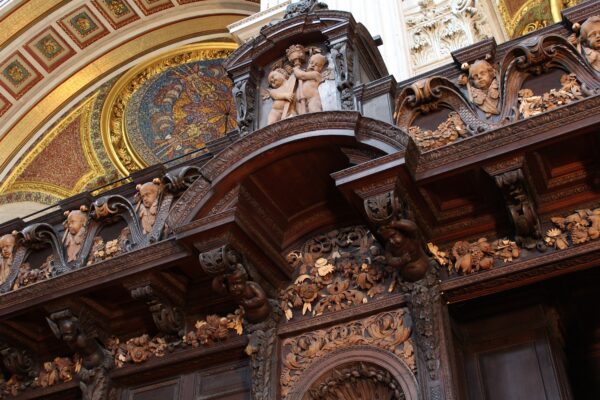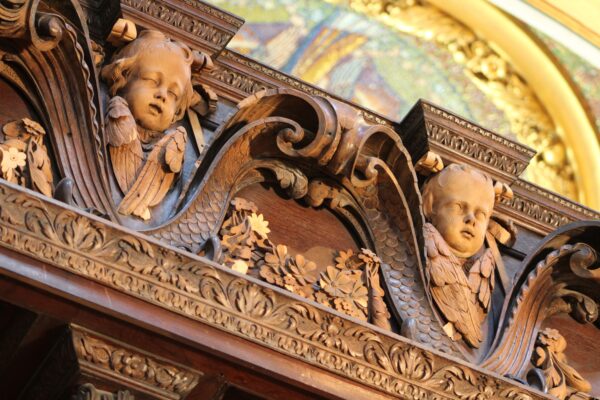 Phillip explained that one of the private loans came from a rearranged carving, and because it had been rearranged, it meant that the Gibbons Society didn't have to do any invasive removal of the work to borrow the piece for the show. 
Phillip hopes that the exhibition not only highlights Gibbons's life and legacy, but that visitors understand that carvers today continue to emulate and be inspired by him. Grinling Gibbons endures as the Michelangelo of wood.
The Grinling Gibbons Society exhibition: "Grinling Gibbons: Centuries in the Making" is at Bonhams, New Bond Street, London, until Aug. 27. Compton Verney Art Gallery & Park, in Warwickshire will host the exhibition Sept. 25–Jan. 30, 2022. To find out more, visit Grinling-Gibbons.org